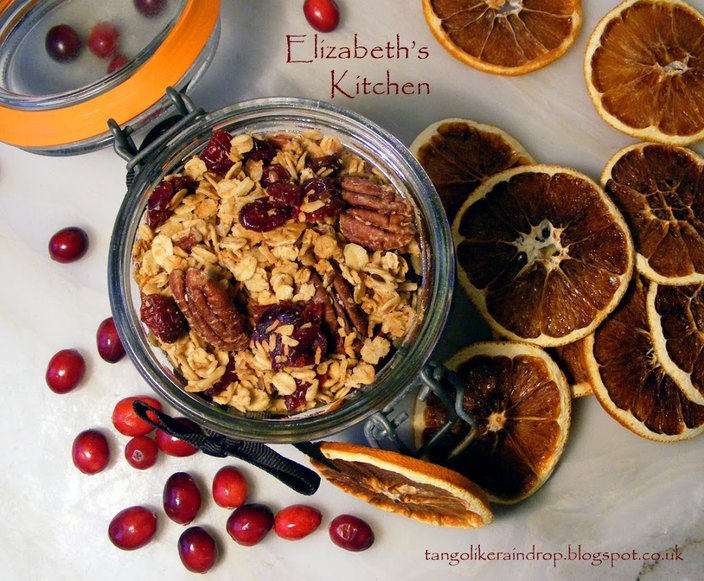 Regular visitors to my blog will notice that I am particularly fond of granola. I like to try out new varieties because who wants to have the same kind of cereal for breakfast every morning? I started making my own a few years ago because commercial brands were so expensive, so full of sugar and fat and, well, they just don't hold a candle up to homemade! I came up with the this Christmas granola the other day and tried it out on the youngest guinea pig (3) who ate three helpings in a row!
The cinnamon creates a lovely, festive, warming feel to the granola while the tart cranberries offer a sharp contrast to the maple syrup sweetened oats. This Christmas granola would make an ideal gift for someone; package it up in a glass jar adorned with a festive bow and away you go!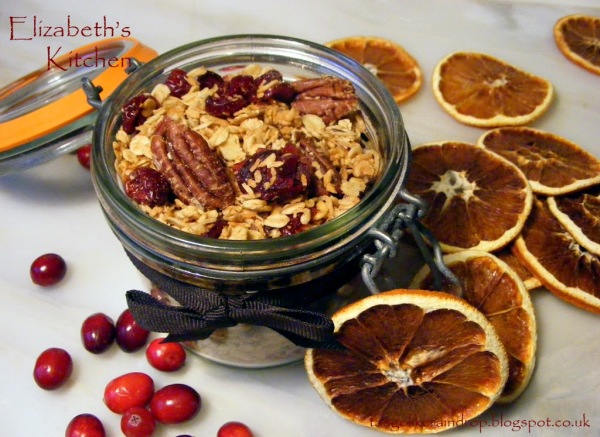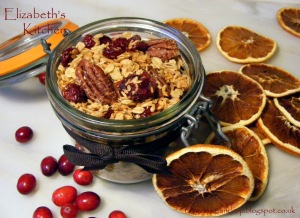 225 g jumbo oats
2 tbsp linseeds
45 g pecans
45 g coconut
3 tbsp vegetable oil
80ml maple syrup
1 tbsp fresh lemon juice
2 tsp grated orange peel
1/2 tsp cinnamon
100g dried cranberries
Preheat oven to 140 C.
Combine oats, linseeds, pecans and coconut together in a bowl. In a medium saucepan heat the oil, maple syrup, lemon juice, orange peel and cinnamon until warm. Mix in the oat mixture and stir until evenly coated.
Spread granola out on a baking tray and bake for 40 minutes, stirring every 10 minutes, until golden.
Remove from tray, cool and stir in cranberries. Will keep for 2 weeks in an airtight container.