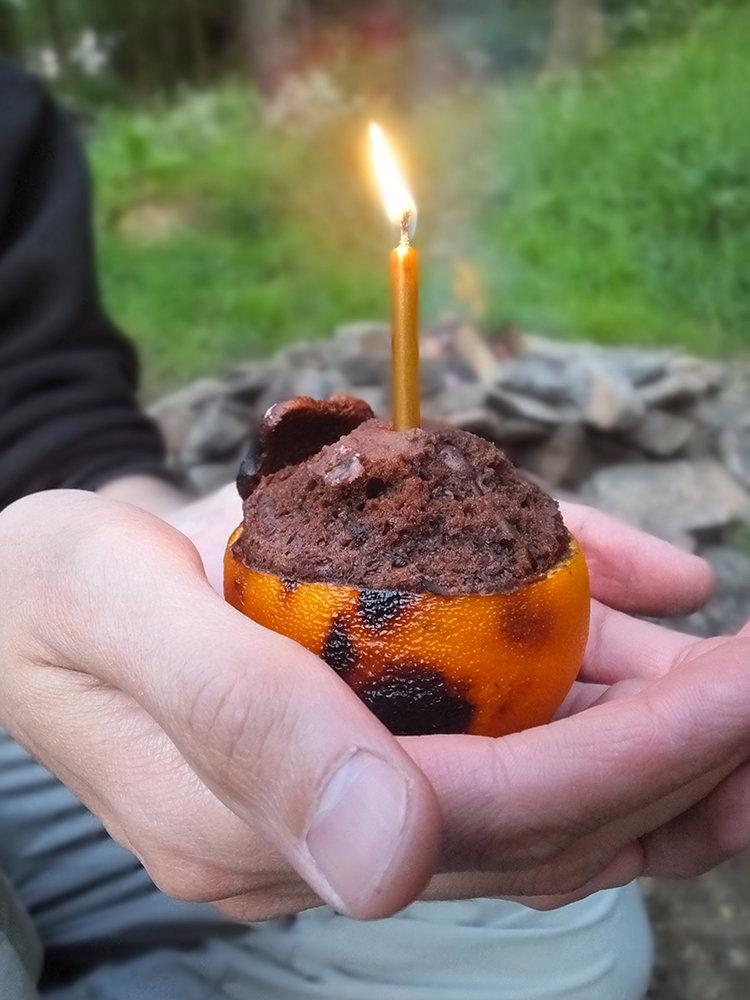 My regular readers might have noticed my blogging silence over the last fortnight – that's because as a family we've been away adventuring! We spent 12 days away; covering 1500 miles and camping in the Lake District in England and in the heart of the Cairngorms in Scotland.
I've plenty of adventure stories to share with you and a few recipes, but I've been really excited to share this particular recipe with you all.
My husband celebrated a birthday while we were camping in the Lake District, so I wanted to make him something special. It didn't matter that we were in the forest surrounded by glorious trees and only had a camp-fire (and gas ring) to cook with. In our household if there is a birthday a cake is most certainly required.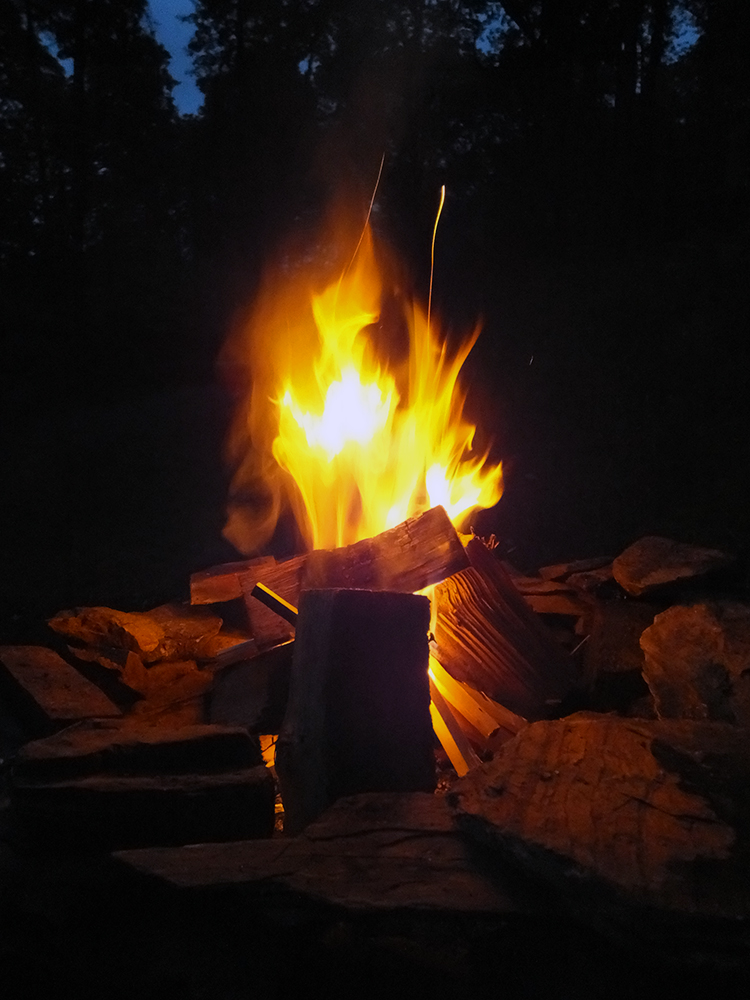 An online search brought up recipe after recipe for gorgeous well-photographed chocolate cakes cooked in oranges and every single one of these recipes used a boxed cake mix. I'm very sorry, but if a "recipe" includes a boxed cake mix then it is not a recipe, in my humble opinion. I did, however, like the thick-skinned orange idea to bake the cake in.
So I set to work.
I adapted my gluten-free chocolate mug cake for outdoor camp-fire use, preparing all the dry ingredients in advance and storing them in a securely lidded plastic container just large enough to add the egg, juice and oil. On the birthday boy's day, I hollowed out two oranges, prepared the batter, wrapped the oranges in foil and baked them in the embers at the side of the fire.
It was a resounding success! The cakes rose beautifully and they were deliciously moist with a lovely hint of orange flavour throughout. Although the outside of the orange skin was scorched (added visual appeal!) the cake inside was of the perfect cake consistency. My husband was most impressed as we ate our still-warm cakes with squirty cream left over from the raspberry meringue nests we'd eaten the day before (kept cool in an icebox).
This recipe makes two generous camp-fire cakes, but if there are more in your party I'm sure it would scale up just fine.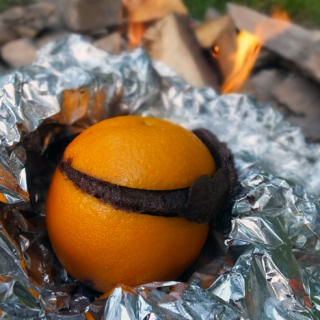 Chocolate Orange Campfire Cake
A deliciously moist chocolate orange camp fire cake made using real ingredients - no boxed cake mixes found here!
Print
Rate
Affiliate Links
This recipe card may contain affiliate ingredient and equipment links. As an Amazon Associate I earn from qualifying purchases.
Instructions
Before you leave home for your camping trip, mix together the flour, sugar, cocoa powder, salt and skimmed milk powder in a small plastic container.

Cut off the tops of your oranges, about an inch from the top to make a flat lid.

Over a bowl, carefully scoop out the flesh of the oranges. This will be a juicy mess, but try and reserve as much of the juice as possible. Wash and dry the oranges.

Mix the orange juice, sunflower and egg with the dry ingredients.

Stir in the coarsely chopped chocolate and spoon the mixture into the prepared oranges, filling each about 2/3 full.

Wrap each orange loosely in aluminium foil, taking care to keep the oranges upright.

Place your wrapped oranges on the edge of your camp-fire, out of direct flame but close enough to the embers to the cakes will bake.

After 25 - 30 minutes remove the cakes from the heat and carefully unwrap. You should see cooked cake peeking out between the orange bowl and lid. Leave to cool for 15 minutes before peeling off the lid.

Eat as it is or with squirty cream kept cool in an ice box.
Notes
Use the bottom of another bowl to crush the remaining orange pulp to remove as much juice as possible - there you go, you've got freshly squeezed campfire orange juice!
Environmental Information
You might also like:
Grilled Celeriac and Apple Cake with Apple Ice Cream and Salted Bourbon Butterscotch Sauce by Veggie Desserts. If you're a fan of the whole chocolate orange flavour combo, you might also like these chocolate orange muffins from The Hedgecombers.