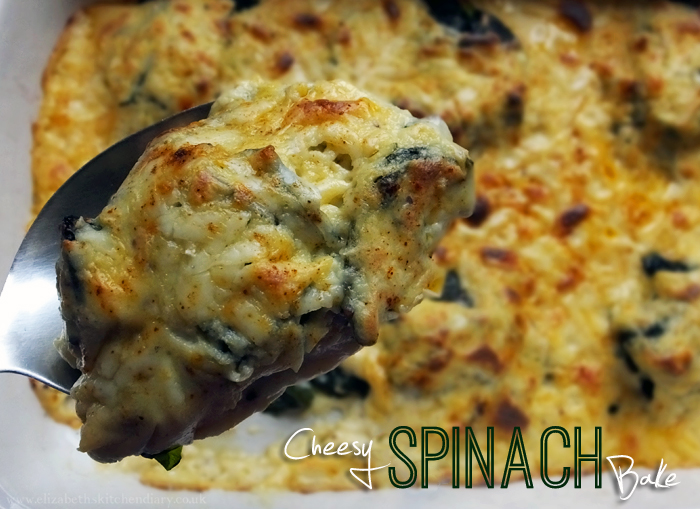 Spinach has been regularly making an appearance in my Turriefield Veg Box. Baby leaf spinach gets eaten raw in salads and sandwiches or occasionally juiced, while the tougher older leaves get cooked. One of my favourite recipes is gently sautéing the spinach and serving with spiced puy lentils and a poached egg (pictured below right with asparagus kale), or adding it as a layer with mozzarella cheese into a meatloaf (below right).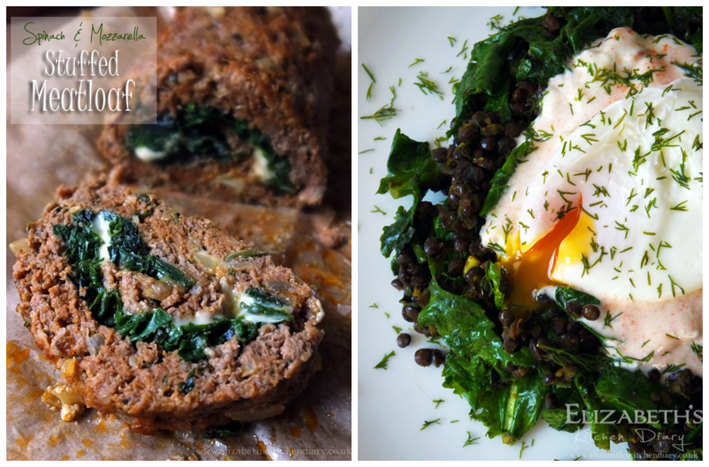 Another of my favourite ways to  use up older spinach, or spinach that perhaps has been sitting in the fridge a little longer than it should have, is by smothering it in a wholegrain mustard flavoured cheese sauce and baking it until it's golden and bubbly. Total comfort food! My father showed me how to make this several years ago and it's nigh time I blogged it!
I think this side dish goes really well with the meatloaf pictured above (giving you a double dose of spinach in one meal!) or even with bangers and mash. It makes a great vegetarian side dish too for nut roasts and the like, acting like a spinach-infused sauce.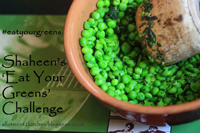 I'm linking this recipe up with a new food blogging challenge by Shaheen over at Allotment 2 Kitchen: Eat Your Greens and Citrus Spice UK's In My Veg Box challenge hosted by Mireille at East-West Realm which is all about spinach this month.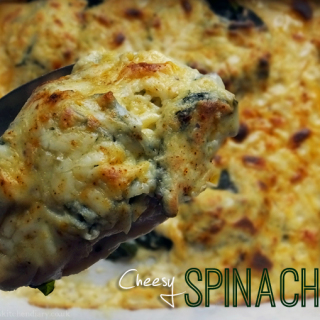 Cheesy Spinach Bake
Lightly sautéed spinach smothered in cheese sauce baked until golden and bubbly.
Print
Rate
Affiliate Links
This recipe card may contain affiliate ingredient and equipment links. As an Amazon Associate I earn from qualifying purchases.
Instructions
Preheat oven to 200 C.

Wash spinach thoroughly and place in a large, dry pan.

Heat, with the lid on, for a few minutes, until the spinach starts to wilt. Do not overcook, the spinach should still have some bite in it and be a vibrant green colour.

Transfer spinach to a colander to drain while you make the cheese sauce.

To make the sauce, heat the butter in a medium sized saucepan over a medium heat until it starts bubbling.

Stir in the flour and cook, stirring constantly, for one minute.

Remove from the heat and whisk in the milk. Return to heat and stir until thickened; this will only take a few minutes.

Remove from heat and stir in 85 grams of grated cheese and the mustard.

Divide your spinach into six portions and arrange in a large casserole dish.

Pour the cheese sauce evenly over the top.

Sprinkle with the remaining 35 grams grated mature cheddar, and sprinkle with paprika.

Bake for 20 minutes until golden and bubbly. Serve immediately.
Environmental Information
You may also like these other spinach recipes:
Thai-style squash noodle and spinach soup
by How To Cook Good Food
Greener Colada: Pineapple, Coconut & Spinach Smoothie
by Fuss Free Flavours
Spinach & Feta Chickpea Burgers
by Amuse Your Bouche