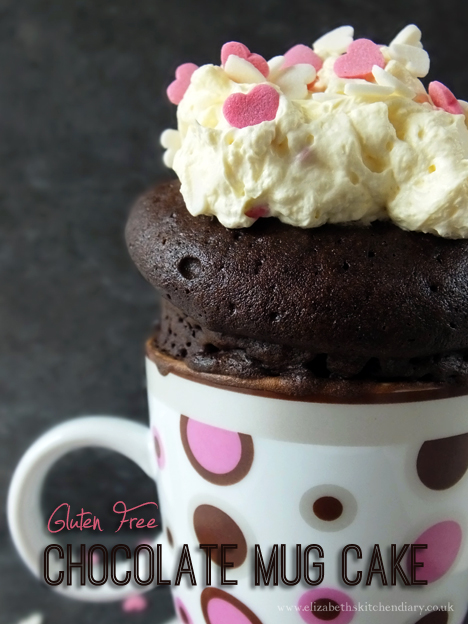 A few weeks ago I had a late night chocolate cake craving. Both Gingey Bites and the BritMums Bibs 2014 Food winner Lucy over at Supergolden Bakes came to the rescue with recipes. I didn't have all the ingredients for either of their cakes, so I improvised, and I was very pleased with the results. There are a gazillion chocolate mug cake recipes out there already, so I didn't blog it.
However!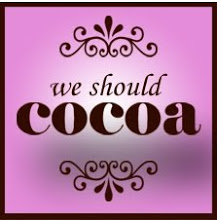 This month's We Should Cocoa food blogging challenge by Choclette over at Chocolate Log Blog and hosted by Michelle over at Utterly Scrummy is all about gluten free chocolate bakes.
I pondered: could I make my new recipe gluten free? I picked up both self-raising and plain gluten free Dove's Farm flours and set to work.
Twelve chocolate mug cakes later (much to the delight of my taste testing family) I bring you this recipe! On the way some cakes exploded (don't try and put chopped cherries into the batter – it will set the fire alarm off), some were really dry (gluten free flour needs extra moisture), and some were too moist. I think I got the balance right here, and served warm with some sweetened whipped cream and sugar sprinkles this is sure to satisfy any late evening chocolate cravings.
Self-raising gluten free flour doesn't make as nice a chocolate mug cake for some reason, but a pinch of xanthan gum in the plain flour combined with dark brown sugar, cocoa powder and some coarsely chopped dark chocolate makes for a nice satisfying cake. You could always add an extra 1/2 tbsp of oil if you wanted your cake a little bit more moist. Make sure you use a large mug and don't fill it more than 2/3rds full, or it will ooze down the sides while baking. It's still edible, just messy. Also be warned that if you add the optional chocolate chunks it's more likely to rise more, for some reason, and ooze melted chocolate down the sides of your mug (which is totally ok!).
The original wheat flour version I made has 1 tbsp less flour, 1/2 tbsp less sunflower oil and no xanthan gum, if you aren't gluten intolerant.
I'm linking this post up with Lucy's #CookBlogShare linky.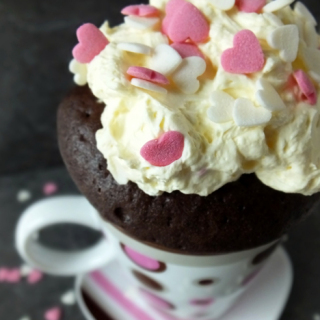 Gluten-free Chocolate Mug Cake
Gluten free chocolate cake in 90 seconds! A quick fix for those late night chocolate cravings.
Print
Rate
Affiliate Links
This recipe card may contain affiliate ingredient and equipment links. As an Amazon Associate I earn from qualifying purchases.
Instructions
Place all the ingredients in a medium sized bowl and stir together with a fork until well combined.

Spoon into a large mug making sure it doesn't fill it more than 2/3 full.

Microwave on high for 90 seconds. Lower watt microwaves (like my 700W) may need a further 30 seconds.

Serve warm with whipped cream or ice cream and plenty of sugar sprinkles.
Environmental Information
You might also like these gluten free bakes:
Lemon, Apricot and Almond Cake
by Hungry, Healthy, Happy
Black Forest Chocolate Cherry Avocado Mousse
by Veggie Desserts
Spiced Chocolate Orange Cake
by Cook Sister
Chocolate Walnut Fig Cookies
by Franglais Kitchen
Hazelnut Brownies by FishFingers For Tea