A Redmond Multicooker recipe.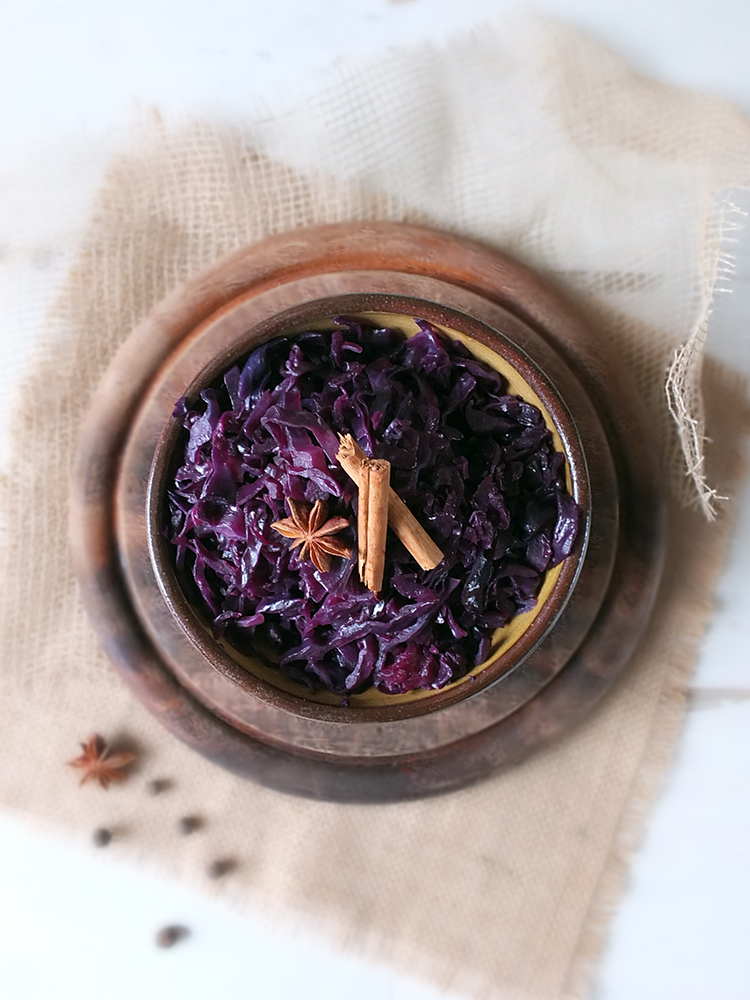 I was never really a fan of cabbage up until a few years ago. I had a fantastic Sunday dinner at Busta House Hotel in Brae, Shetland, and they served an incredibly delicious braised red cabbage on the side. I've been hooked ever since, especially since red cabbage often makes an appearance in my veg box this time of year.
It's a pretty vegetable, isn't it – with its ribbons of deep purple and white. Cutting this cabbage in half reminded me that years and years ago I'd taken a fancy to attending art college in Halifax, Nova Scotia. One of the requirements for your entry portfolio was to draw the cross section of a cabbage. I ended up not applying because they didn't have student accommodation, and as I was only 16 the thought of living on my own in a flat in the city terrified me.
The secret to a good braised red cabbage, I believe, is slow cooking, the addition of something sweet, something sour and an apple – a sharp eating apple like a Cox or Granny Smith.
Last year, around this time, I also discovered how fantastically easy it was to make braised red cabbage in my Redmond Multicooker. Have you ever been slaving over a hot stove all day preparing a Thanksgiving or Christmas meal and wish you had an extra hob (or set of hands)? My Redmond Multicooker has come to the rescue on many such occasion! It's an extra hob that you don't have to worry about – a bit like a slow cooker, but with many more handy functions.
All you need to do is soften the red onion in a bit of butter for a few minutes before stirring in the rest of the ingredients, shutting the lid, and ignoring the entire thing until the recipe has cooked, leaving you free to do other things, for example, go for a walk up the hill behind your house and enjoy the view of the first snowfall of the year!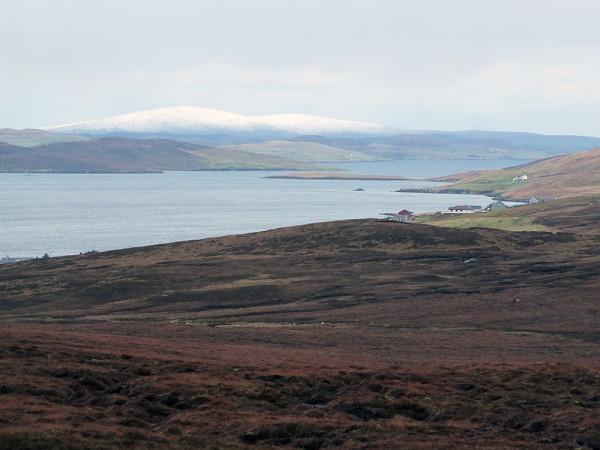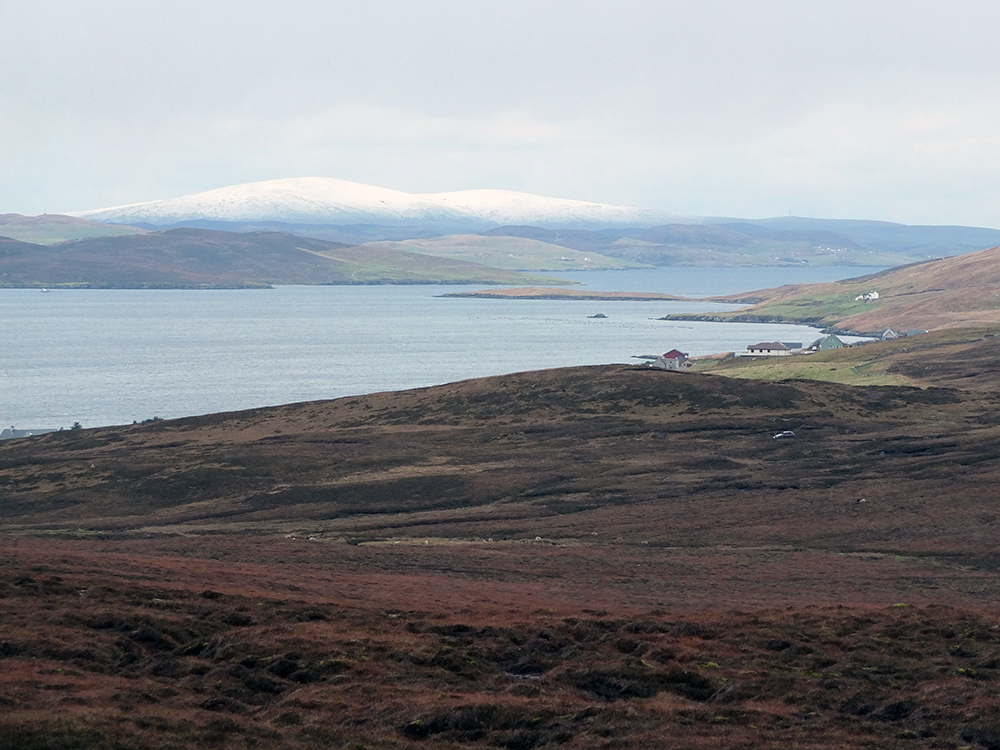 The Redmond Multicooker also has a keep warm function which automatically switches on when the automatic cooking program has finished, meaning if you've spent too much time up said hill (and checking in on your poorly neighbour next door) it won't burn.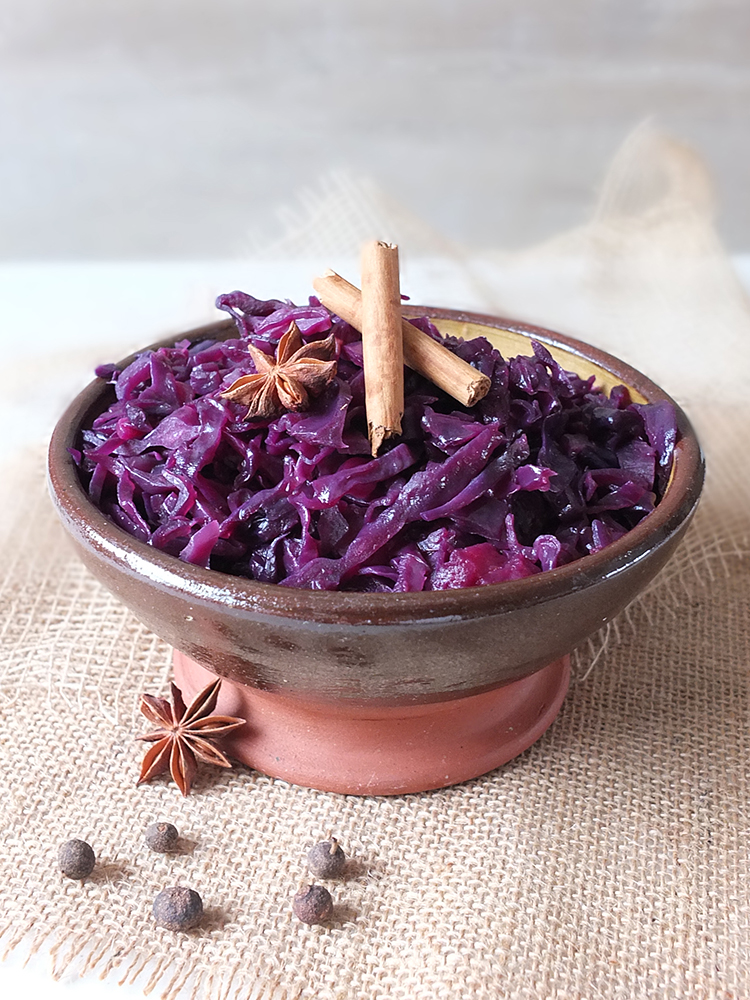 I've added some spices and a squeeze of orange juice to my braised cabbage recipe – a whole cinnamon stick, a few whole star anise and some whole allspice berries – just to give it that little hint of warming spice. Make sure you remove these before serving (you could even put them into a small muslin bag before cooking, to make this easier).
How do you make your braised red cabbage? Do you have any recipe tips to share? Let me know in the comments!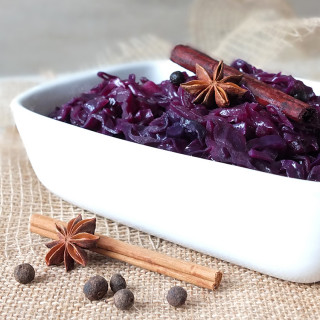 Braised Red Cabbage with Star Anise
Batch cook this cinnamon, star anise and allspice spiced braised red cabbage recipe and freeze for later.
Print
Rate
Affiliate Links
This recipe card may contain affiliate ingredient and equipment links. As an Amazon Associate I earn from qualifying purchases.
Instructions
Discard the 3 or 4 tough outer leaves of your red cabbage, cut in half and remove the core. Either finely shred the cabbage, or, if you prefer a little extra texture, coarsely chop it. Set aside.

Peel and halve your onion, and finely slice into half rings. Set aside.

Add the butter, cubed, to your Redmond Multicooker bowl and select the fry function.

Melt the butter and fry the sliced red onion for five to seven minutes, stirring frequently, until the onion softens but does not colour.

Add the remaining ingredients and stir well to combine.

Select the Stew function and set the time for 60 minutes. Close the lid.

If you are eating this on the day, the Redmond Multicooker will keep this braised red cabbage warm until you need it. If not, open the lid, leave the cabbage to cool, remove the cinnamon stick, star anise and allspice berries, and then freeze in portions.

To reheat, add a small knob of butter to the Redmond Multicooker bowl and add the defrosted red cabbage along with a splash of water. Stew until reheated - about 10 minutes.
Environmental Information
LINKING UP WITH A FEW FOOD BLOGGING CHALLENGES
Slow Cooked Challenge
by Farmersgirl Kitchen (Theme: meat-free)
Cook Once, Eat Twice by Searching for Spice
OTHER SUNDAY DINNER SIDE DISHES YOU MIGHT LIKE
Crispy Coated Roast Potatoes by Fab Food 4 All
Baked Parsnips with Lancashire Cheese by Kavey Eats
Maple-glazed Sprout Tops with Crispy Pork and Creamy Polenta by Elizabeth's Kitchen Diary
Cauliflower Broccoli Cheese by Recipes from a Pantry
Three Variations on Potato Dauphinoise by Kavey Eats
OTHER REDMOND MULTICOOKER RECIPES ON ELIZABETH'S KITCHEN DIARY
One Pot Lemon Pepper Chicken with Country Vegetable Rice
Deep Dish Apple & Sultana Crumble
Chocolate Hazelnut Hot Fudge Pudding Cake
If you want to be kept up to date on my recipes, occasional craft tutorials, adventure stories and giveaways then please subscribe to my weekly newsletter; it gets sent out every Monday morning if there is new content. Your email address won't be passed on to anyone, you will never be spammed and you are free to unsubscribe at any time, no questions asked. Make sure you confirm your subscription or you won't receive the newsletter – if it hasn't arrived check your junk mail folder.
[wysija_form id="1″]
This is a commissioned recipe for Redmond Multicookers.