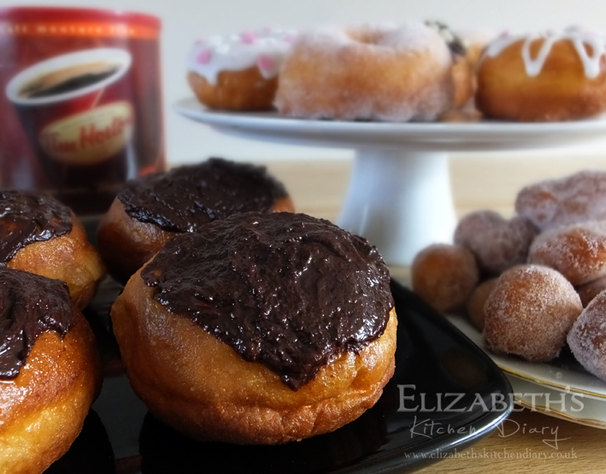 I haven't made doughnuts since 2009. I know this because there is a photo of them on my Facebook "food" photo album, where I used to put food photos until I began blogging in 2011. Five years is a very long time to go without having a decent doughnut (those stale supermarket ones just don't cut it) .
I'm also an expat Canadian. If there's one things Canadians love it's doughnuts, and one of the things I miss about living in Canada (besides four clearly defined seasons and fireflies) is the presence of a doughnut shop on every corner. Tim Hortons is a prominent feature of Canadian life. The nearest shop to where I grew up was a 45 minute drive (we lived rather rurally) and when I hit my mid-to-late teens I would often hitchhike there to meet up with friends. I spent a lot of time in that doughnut shop, I drank a lot of coffee (double-doubles) and I ate more than my fair share of doughnuts.
My favourite was the Boston creme doughnut and it was only until this time last year I made the connection between the famous Boston creme pie and the doughnut – it's a gorgeous yeast doughnut filed with crème patisserie and topped with chocolate icing.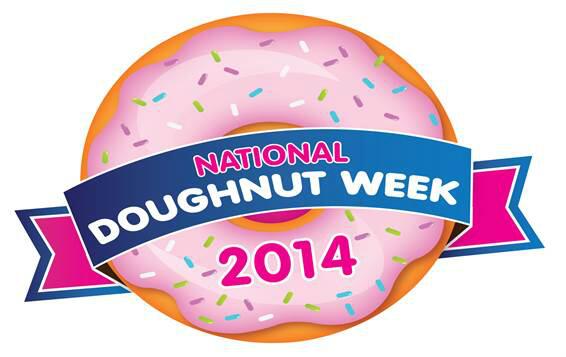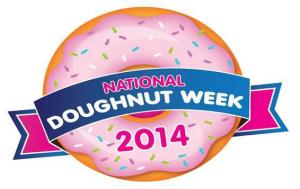 This week sees National Doughnut Week here in the UK. Its aim is to raise funds for The Children's Trust, the UK's leading charity for children with brain injury. Craft bakers and coffee shops up and down the country are participating, but there are no venues in Shetland, as far as I am aware. So, I made my own doughnuts and texted my donation.
Text DNUT13 £amount to 70070 to donate to The Children's Trust and make a difference today.
So, back to my local Tim Hortons. There was one time, when I was 18, I was trying to get home for a visit during the university holidays. I only had enough money to take the bus to the town with the Tim Hortons and I had to use the reverse charge facilities at the payphone to call my mother and beg her to come collect me. It was dark out and I didn't fancy hitchhiking home in the dark. I said I'd meet her at Tim Hortons.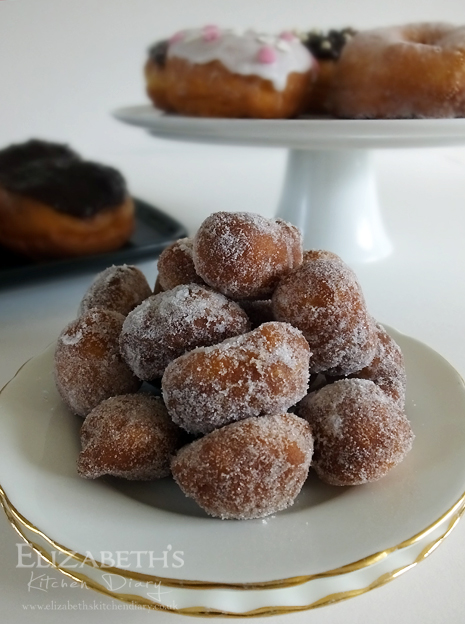 I sat on the sidewalk next to the shop sporting a snazzy black mohican, wearing my plaid shirt and baggy skater trouser with skateboard in hand, penniless and hungry, craving Timbits, waiting patiently for my mother to arrive. There were loads of kids hanging about the doughnut shop, as kids were wont to do. One of them, a kindly blonde, became worried for me.
"Oh, is the little boy lost?" she squealed in a very girly teenage voice.
I was horrified. This teen was several years younger than me and I probably didn't respond in the most appropriate manner. I was neither little, nor a boy, nor lost. I did make a mental note to perhaps start dressing a little bit more feminine.
I got one of these phone calls two nights ago from my own daughter. I thought I had a few more years before the late night pick up calls from town would start. She'd been dropped off with all the other island Brownies for a Big Brownie Sleepover and she was really excited about it, although she was feeling rather shy (and looking a little grey, but I thought that was because she was nervous about the noisy crowd).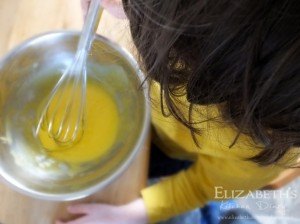 10pm the phone rings, it's her Brownie leader. DD's developed a roaring fever and she is screaming with a headache. I drove the half hour into town to collect her, dosed her up with neurofen and she slept soundly the rest of the night. The next morning she woke up happy and alert, played some card games with her little brother and lay on the couch to watch cartoons. I put on the doughnut dough to rise and pottered about the kitchen. DS (5) helped make the creme pat.
Late morning she started screaming again with the headache, and she was white as a sheet and shivering violently. I dosed her up again with some neurofen and checked her temperature: 37.8 C. I checked again half an hour later as she was very warm to the touch and still in quite a lot of pain with a headache: 40.6 C! That's 105 F!! I panicked and phoned the NHS 111, who, after a long series of questions, decided she needed to be seen by a doctor straight away. Our rural doctor's surgery is closed on a Sunday so my husband drove her into town to the hospital. We didn't think they'd be long, a quick dose with Calpol and sent on her merry way sort of thing. I was going to finish up the doughnuts and put on a roast chicken dinner for them to eat when they got back.
He hasn't come back with her yet.
They can't figure out why she has a fever as she has no other signs of infection/inflammation. They've taken bloods, urine samples, swabs and they're doing loads of tests to find out why she's got this fever. She's in fairly good humour, taking everything in her stride, but she started violently shivering again before her fever spiked while she was there, so the doctor's wanted to keep her in over night as a precaution. They're still waiting on test results.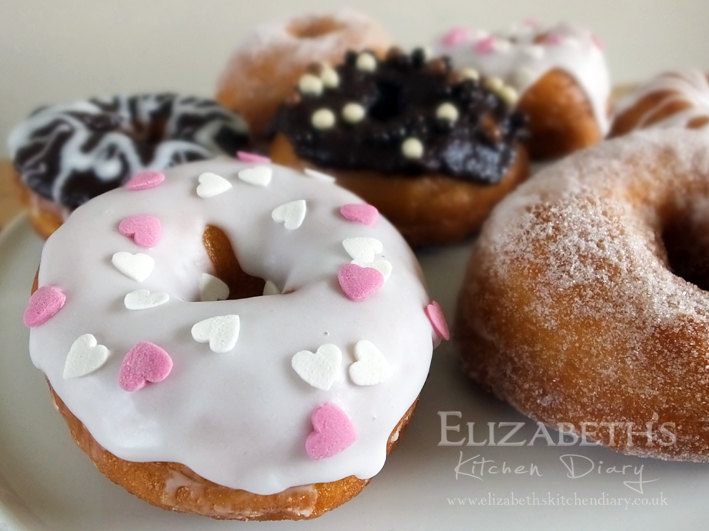 Meantime, I've been worrying and pacing at home while taking care of our other two children and waiting for updates. I made up a doughnut especially for DD as she loves these heart sprinkles, so she'll have that to look forward to when she gets home.
The night at the hospital was thankfully uneventful and she's feeling a bit better this morning, so they're just waiting for the doctor to do the rounds and check her over before she can be discharged later this afternoon.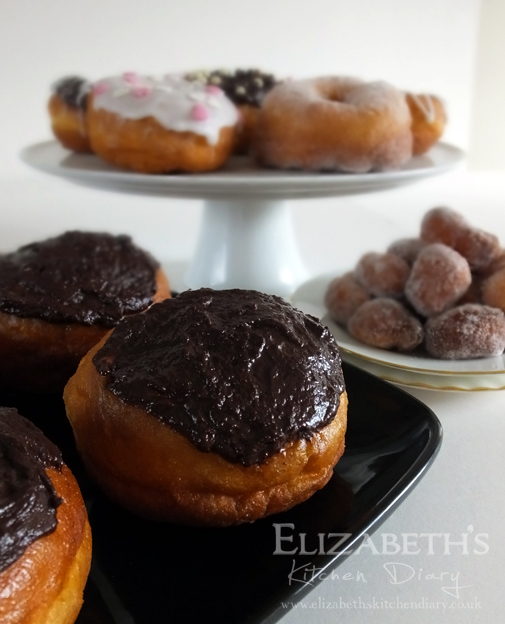 So. here's the recipe for the Boston creme doughnuts I made yesterday while frantically worrying. The ganache separated and I couldn't be bothered to waste ingredients to try again for the sake of a photograph; it tastes the same whether it's separated or not. I also hurried the crème patisserie so it was a bit runnier than it should have been and loads leaked out of the doughnuts, but enough stayed to make them taste amazing.
The doughnut recipe itself is Paul Hollywood's from the Great British Bake Off book: How to Turn Everyday Bakes into Showstoppers, but I made the dough in the bread machine, and I made iced ring doughnuts and doughnut holes too.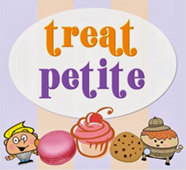 As such, I am linking this post up with a few food blogging challenges:
Treat Petite co-hosted by Stuart at Cakeyboi and Kat the Baking Explorer: This month their challenge is all about World Baking Day and baking for those you love. I made these doughnuts for my family, but special care and attention was put into the white frosted ring doughnut with the heart sprinkles for my little baby girl in hospital.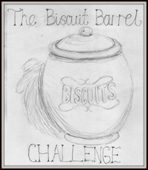 Biscuit Barrel by Laura over at I'd Much Rather Bake Than… is all about favourites this month. Boston Creme Doughnuts are certainly one of my favourites!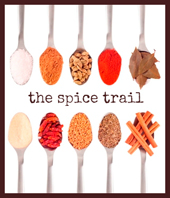 Lastly, I'm linking up with The Spice Trail by Vanesther at Bangers & Mash and guest hosted this month by Solange at Pebble Soup. This month's theme is vanilla, and the creme pat used to fill the Boston creme doughnuts contains vanilla.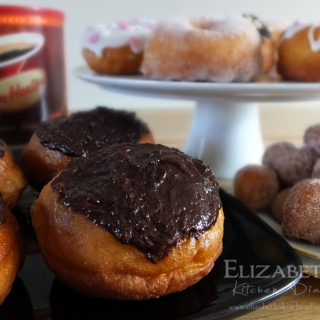 Boston Creme Doughnuts
A sweet yeasted doughnut filled with creme patissiere and topped with chocolate ganache. Excellent with a cup of strong coffee.
Print
Rate
Affiliate Links
This recipe card may contain affiliate ingredient and equipment links. As an Amazon Associate I earn from qualifying purchases.
Instructions
Place the yeast, flour, sugar, salt, butter, eggs, milk and water in your bread machine in the manufacturer's recommended order. Select the dough setting and let it run through it.

To prepare the filling, heat the cream and milk together in a small saucepan.

In a medium sized bowl, whisk together the egg yolks and sugar until light and creamy. Add the flour until it well combined.

Pour the hot milk onto the egg mixture and whisk until combined.

Pour the mixture back into the saucepan and stir, with a wooden spoon, constantly until it bubbles and thickens.

Stir in the vanilla and set aside to cool.

When the dough cycle has finished, turn dough out onto a floured board, knock back and knead gently.

Cut into 12 even sized pieces and form into balls.

Place dough balls on a floured baking tray and cover with a tea towel; leave for an hour until doubled in size.

Heat oil in a large, heavy based pan to 180 C. Keep a lid nearby in case of fire.

Cook the doughnuts in the hot oil for about 3 minutes on each side, or until well browned. Keep an eye on the temperature of the oil as it can get hot quickly.

Drain on kitchen towel before transferring to a wire rack to cool completely.

Meanwhile, make the ganache. To prepare the ganache, combine all the ingredients in a small saucepan and gently melt together, stirring constantly.

When the doughnuts are cool, fill a piping bag with a pointed nozzle with the filling. Use the nozzle to poke a hole in the side of the doughnut and fill gently.

Top with the ganache and set aside to set.
Notes
Alternatively, you could set up your own doughnut "shop" in your kitchen. I made 6 Boston Cremes and rolled out the remaining dough to a 1 inch thickness. Using a 3 inch round cutter I cut rounds out of the dough, and I cut another 1 inch round out of the centre of each circle. The doughnut "holes" take about 90 seconds to cook while the ring doughnuts take about 3-4 minutes. Frost with a little icing sugar mixed with enough water to make it runny and decorate as desired with sprinkles. Roll the doughnut holes in caster sugar, or cinnamon sugar.
Environmental Information