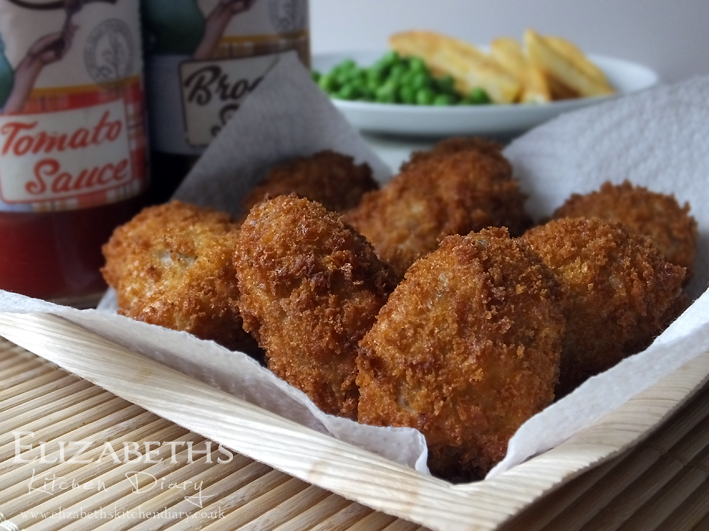 I had a friend ask me the other day if I ever just eat junk for dinner. I do! It's not unknown for me to pop a frozen pizza in the oven, or serve oven chips with baked beans, sausages and a poached egg. One of my favourite quick meals just now is a poached egg dropped into the centre of a steaming bowl of baked beans. Easy peasy, no effort.
I'm quite partial to chicken nuggets too, but I loathe buying them. Have you read the ingredients list on a bag of frozen chicken nuggets? No thanks! I quite often make them from scratch using leftover roast chicken, served with a generous helping of peas and oven chips.
As for accompanying sauces to serve we're a divided family. The boys like tomato sauce and the girls are partial to brown sauce, so when Maw Broon's Kitchen contacted us and asked if we'd like to try some of their newly launched sauces, we said "Yes, please!"
For those who don't know, Maw Broon is a character from The Broons, a weekly comic strip published in The Sunday Post. It's been on the go since 1936 and I would expect every household in Scotland which has ever had a child in it has at least one Broon's annual on a shelf or box somewhere!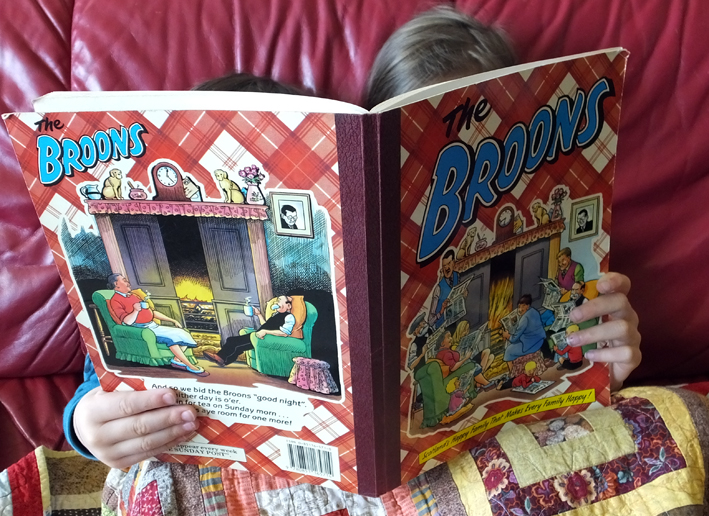 Maw Broon's sauces are made using traditional Scottish recipes, with no artificial colourings, flavourings or sweeteners, simply good old fashioned delicious Scots fare. Exactly what you'd expect from Maw Broon's Kitchen.
So, I whipped up a batch of chicken nuggets and as a family we tested out the sauces. Upon reading the ingredients list I noticed that the brown sauce didn't list tamarind, a key ingredient in a leading brown sauce brand, and, I suspect, the reason why the boys in our house dislike brown sauce so much (and the reason us girls love it).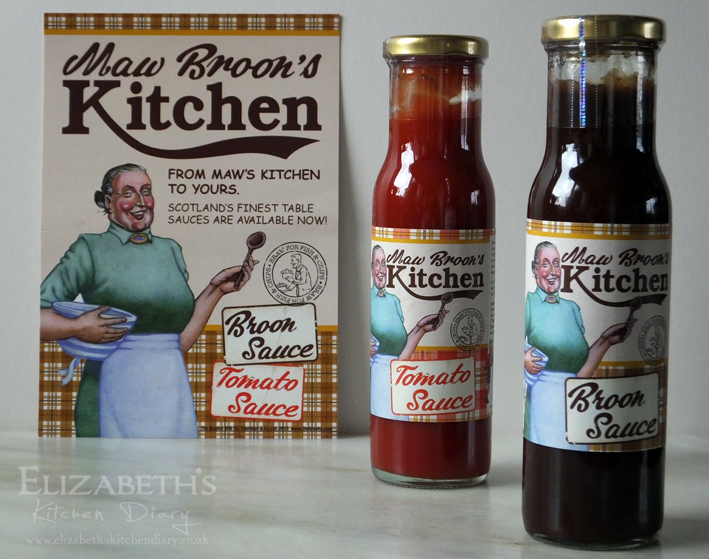 The boys all tried the brown sauce, and went back for seconds and even thirds! Us girls liked it too, but I did miss the tamarind kick. The tomato sauce was very nice, we thought it was better than a leading tomato sauce brand, although after becoming accustomed to plastic squeeze top bottles it took some practise before we could pour the sauce out of the bottles in the proper quantities (there might have been some tomato sauce flooding on one plate, not that the children minded!).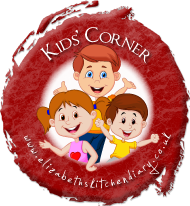 At £3 a bottle these sauces are a little out of our budget, but that is what you would expect to pay for a good quality sauce made in small batches.
The children loved the fun packaging, as Broons fans, and I am quite partial to the old fashioned bottle shape which is recyclable here in Shetland (plastic isn't, as of yet).  Since the children in Elizabeth's Kitchen have helped review this product I'm linking it up with Kids' Corner, my new weekly blogging linky all about kids' opinions on products. Kids' Corner is a Blog Hop, so scroll down to the bottom of this post to see what other kids have been reviewing!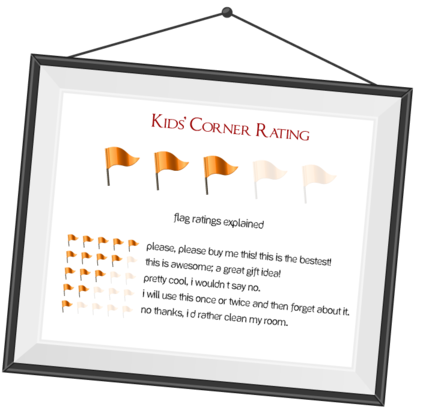 I am also linking up with a couple blogging challenges. Credit Crunch Munch, co-hosted by Camilla at Fab Food 4 All and Helen over at Fuss Free Flavours asks us to share our frugal family recipes. These chicken nuggets made with leftover chicken and frozen home made breadcrumbs certainly fit that bill! This month Gingey Bites is guest hosting.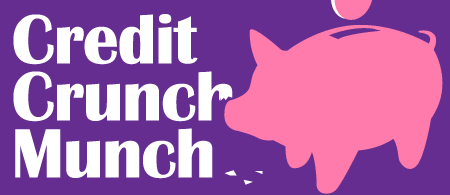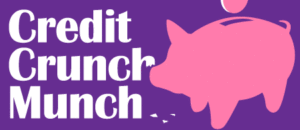 Family Foodies, co-hosted by Vanesther at Bangers & Mash and Louisa over at Eat Your Veg, is all about cheap and cheerful family recipes this month.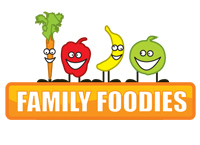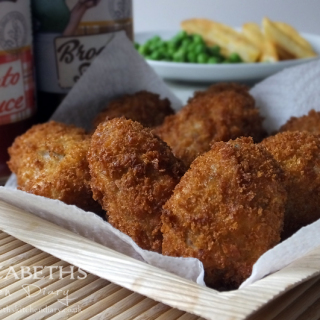 Chicken, Apple & Sage Nuggets
No junk chicken and apple nuggets with a touch of fresh sage - ideal for children and adults alike!
Print
Rate
Ingredients
350

grams

leftover cold chicken

finely chopped

1

apple

peeled and grated

1

tbsp

fresh sage

finely chopped

1/4

tsp

smoked sea salt

finely ground

freshly ground black pepper

freshly ground, to taste

50

grams

plain flour

for dredging

2

free-range eggs

beaten with 1 tbsp cold water

150

grams

fresh breadcrumbs

1

litre

sunflower oil

for frying
Affiliate Links
This recipe card may contain affiliate ingredient and equipment links. As an Amazon Associate I earn from qualifying purchases.
Instructions
Mix finely chopped chicken, grated apple, sage, salt and pepper together in a bowl.

Using a tablespoon measure, scoop out spooonfuls of mixture and form into 1 x 2 inch nugget shapes. The moist apple helps keep it together.

Dredge the nuggets first in flour, then the egg dip before coating in breadcrumbs. Set aside on a lightly floured baking tray.

Heat oil to 180 C in a large heavy based pan (keep a lid nearby in case of fire).

Fry the nuggets, in batches, for 2-3 minutes each until golden. Drain on kitchen towel and serve immediately.
Notes
Stale ends of loaves can be blitzed in a food processor to make fine crumbs and then stored in the freezer until needed. I always use my breadcrumbs from frozen.
Environmental Information

Elizabeth's Kitchen Diary was sent a selection of Maw Broon's Sauces for review. All opinions expressed are our own. This is not a paid post.