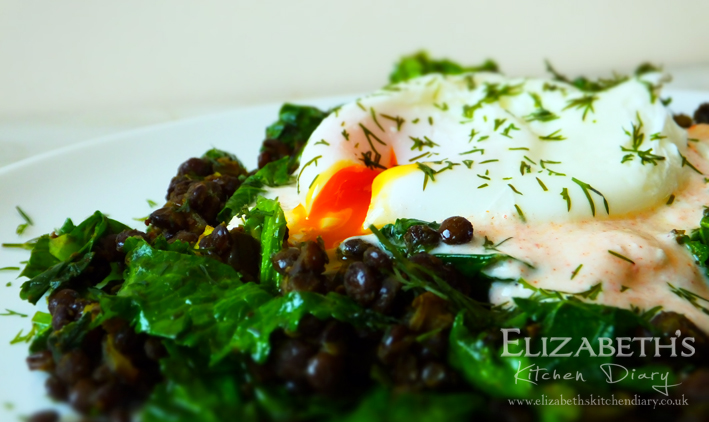 I am absolutely addicted to this dish. Every time I do a supermarket shop I pick up a packet of Merchant Gourmet ready-to-eat puy lentils (two if they are on offer). They're one of my store cupboard essentials along with tinned tomatoes, kalamata olives and baking chocolate.
I was introduced to this dish by its creator, Kelly over at Kellie's Food to Glow. She'd shared it in a Breakfast Club blogging challenge I was guest hosting around this time last year and I just thought, at the time, it was just plain weird. What a bizarre breakfast! Intrigued, I simply had to try the strange concoction, and I've been eating it at least twice a month for the last year. I am completely hooked.
If you think this dish looks weird too, give it a chance just once. Everyone I've ever served it to has become hooked as well!
I started by following the recipe instructions as Kelly wrote them, for breakfast or lunch, but then I began improvising and adding more than the recommended handful of greens to make it into a more substantial evening meal. I have since learned that if you eat 100 grams of cooked spinach in one go you get very furry teeth (spinach comes in 200 gram bags, this meal serves two). Don't ask me why you get furry teeth as I don't know. (Ok, the scientist in me had to find out why: it's because of the high oxalic acid content found in spinach. The oxalate crystals end up coating your teeth and you end up with that gritty, 'spinach teeth' feeling.)
I have recently discovered that a large quantity of kale does not produce this unpleasant toothy sensation. I waited patiently for my next Veg Box delivery from Transition Turriefield, a not-for-profit scheme based on the west side of Shetland, just a few miles (as the crow flies) from where I live. Lo, in the next delivery was a great big bag of freshly picked spring asparagus kale. I made my favourite dish, slightly adapted over the past year to be a hearty evening meal, and decided I simply had to share it with you.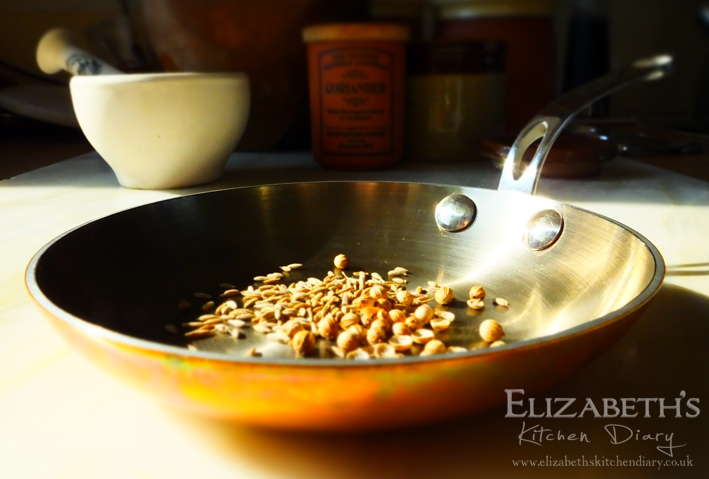 One of my main adaptations is doubling the quantity of spice and using whole seeds instead of ready ground powder. Freshly toasted spices take a dish to a completely different level, something that can't be accomplished with dried spices that have been sitting in a drawer or on a shelf for months. I have a nifty little ProWare tri-ply mini copper pan which is of the ideal size for toasting spices. I've also increased the quantity of yogurt/feta as I didn't think the original was enough. I've also included recipe instructions for the timing of poaching the egg, something I think I've managed to perfect over the last year.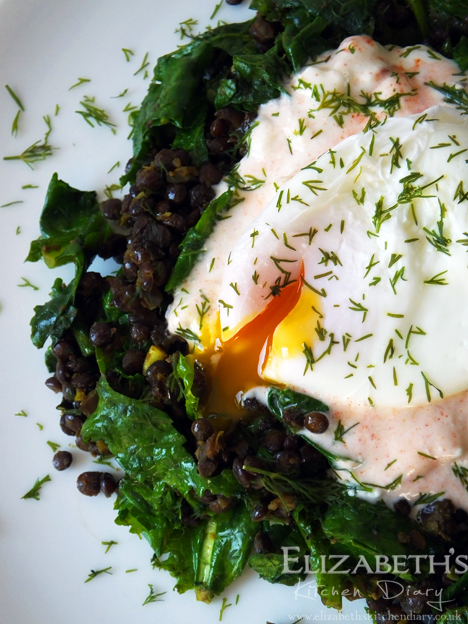 While on the subject of pans, you might have noticed I've had a little bit of blog revamp. I've moved from Blogger to a self-hosted WordPress website and to celebrate the relaunch of my website ProWare have kindly offered a fantastic giveaway that you can find here.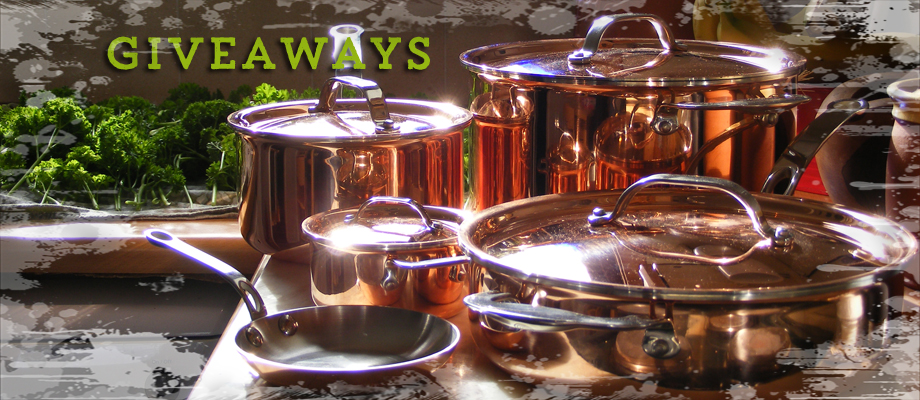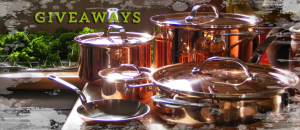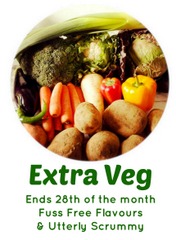 Four heaped tbsp of cooked kale is considered to be one portion of our recommended 7 a day, and since this meal contains quite a bit more than that I am sharing it with Extra Veg, a food blogging challenge by Helen from Fuss Free Flavours and Michelle at Utterly Scrummy, guest hosted this month by Shaheen over at Allotment 2 Kitchen.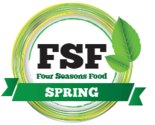 Louisa over at Eat Your Veg and Anneli at Delicieux co-host the Four Seasons Food challenge. This month since it's Spring, they're featuring Spring recipes. The asparagus kale in this recipe came from my first proper full veg box of the year, where this year's spring vegetables are just starting to be harvested, so I am sharing this recipe with them.
Nayna over at Simply.food is hosting a Lets Cook with Pulses event and Karen over at Lavendar and Lovage is hosting her Cooking With Herbs challenge, which I am also linking up to. Karen's challenge is a blog hop, so scroll down to the bottom of this post to see what other foodies have been cooking with fresh herbs!
Many thanks to my Shetland reader, Janet, who sent some smoked paprika home with my husband. It will be mostly used while making this dish over the next year!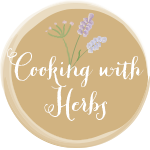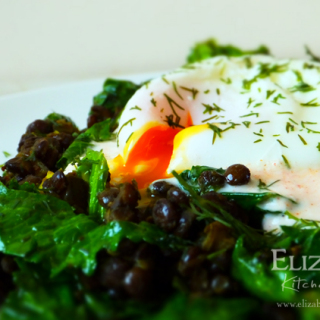 Poached Egg with Spiced Puy Lentils & Asparagus Kale
Gently sautéed asparagus kale with coriander, cumin and ginger spiced puy lentils topped with a poached egg and paprika-spiked yogurt.
Print
Rate
Affiliate Links
This recipe card may contain affiliate ingredient and equipment links. As an Amazon Associate I earn from qualifying purchases.
Instructions
Mix natural yogurt, feta cheese and paprika together in a small bowl and set aside.

Toast the cumin and coriander seeds in a dry pan. The cumin seeds will start to pop and jump when they are ready.

Grind the toasted seeds in a small mortar and pestle. Add grated ginger and turmeric powder to the mortar and set aside.

Heat olive oil in a large wok. Sauté onion until tender, about 2-3 minutes.

Meanwhile fill a small skillet with cold water to a depth of one inch. Add the apple cider vinegar and place over a medium-high heat.

Add the spices in the mortar to the wok and stir-fry for one minute.

Add the pouch of lentils and the coarsely chopped asparagus kale.

Stir fry until the kale is wilted. Season to taste with smoked sea salt and freshly ground black pepper.

By now the poached egg water should be simmering. Crack the eggs into separate coffee mugs (trust me!) and gently pour into the simmering water. Set timer for 2 minutes.

Meanwhile, arrange kale/lentil mixture onto two plates. Spoon the yogurt/feta mixture over the centre of the kale mixture.

With a slotted spoon, gently remove each poached egg and place on the top of the yogurt mixture.

Sprinkle with fresh dill and serve immediately.
Notes
Feta cheese can be kept in the freezer. Crumble any leftover cheese from the packet and freeze until needed.
Fresh dill can also be kept in the freezer! Just grab what you need from frozen and the heat of the dish will defrost it.
Environmental Information
An InLinkz Link-up