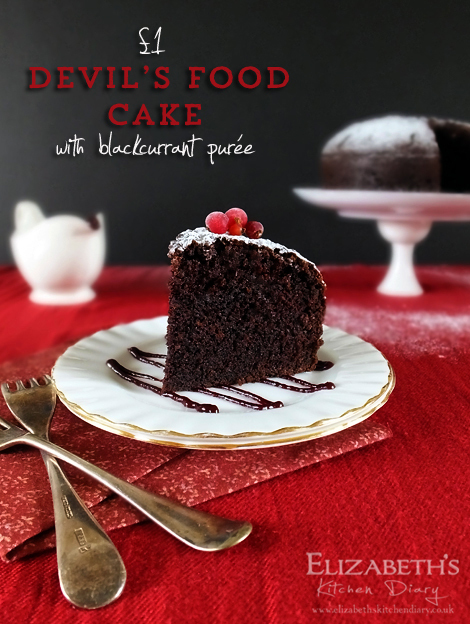 This May and June thousands of people in the UK, USA and Canada are taking part in the Live Below The Line Challenge by the Global Poverty Project. This challenge asks people to spend £1 or less, per person, for food and drink every day for five days in a bid to help us understand the challenges faced by the 1.2 billion people around the world living in extreme poverty. One of the people undertaking this challenge is my friend Jill Clark. She, along with many others, are fundraising for crucial anti-poverty initiatives, and you can donate here.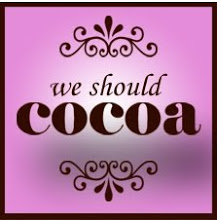 This month, for Choclette's We Should Cocoa food blogging challenge over at Chocolate Log Blog, we have been challenged to make a chocolate cake for less than £1.
At first, I wasn't even sure it was possible, but the first cake recipe that sprang to mind was Clara's Arizona Devil's Food Cake, a handwritten recipe in my cookery notebook from my childhood. I'm not sure where the original recipe came from, but it was the first chocolate cake recipe I made when I got into baking around the age of 12.
It's my cheap, fail-safe go-to chocolate cake recipe. It also makes a large two-layer cake, so why not halve the recipe and see how much it would cost?
Using the cheapest ingredients I could find in our local supermarket a half batch of Clara's Arizona Devil's Food Cake comes in at 92 pence. It also makes a reasonably sized cake; enough for 6 to 8 people. Plus, it's delicious! There is no compromise on flavour.
Here's the breakdown:
Cookeen vegetable fat: 69p for 250 grams. 56 grams = 15.4p
Lyle & Tate Fairtrade granulated sugar: £3-85 for 5kg. 186 grams = 14.3p
Tesco Everyday Value eggs: £1-35 for 15. 2 eggs = 18p*
Tesco Everyday Value plain flour: 30p per kg. 140 grams = 4.2p
Tesco bicarbonate of soda: £6-36 per kg. 1 tsp = 0.03p
Tesco cocoa powder: £1-99 for 250 grams. 30 grams = 23.9p
Dr. Oetker Madagascan vanilla with seeds: 39.8p per 10ml. 1/2 tsp = 10p
Tesco British UHT full fat milk: 80p per litre. 76ml = 6p
Tesco distilled vinegar: 59p for 568ml. 1 tsp = 0.5p
Silver Spoon icing sugar: £1-88 per kg. 5 grams = 0.009p
Grand Total: 92p
*I didn't use these eggs, but I have, in the past. I was given a half dozen gorgeous blue-shelled Shetland hen's eggs recently, and those were used in this particular cake, so the total cost for this photographed cake was only 74 pence!
I was really surprised to learn that the most expensive ingredient in this recipe was the vanilla. The original recipe calls for 2 tsp and to halve it would cost 19.9p, taking the recipe over the £1 mark, but 1/2 tsp is sufficient, especially as I used Madagascan vanilla with seeds.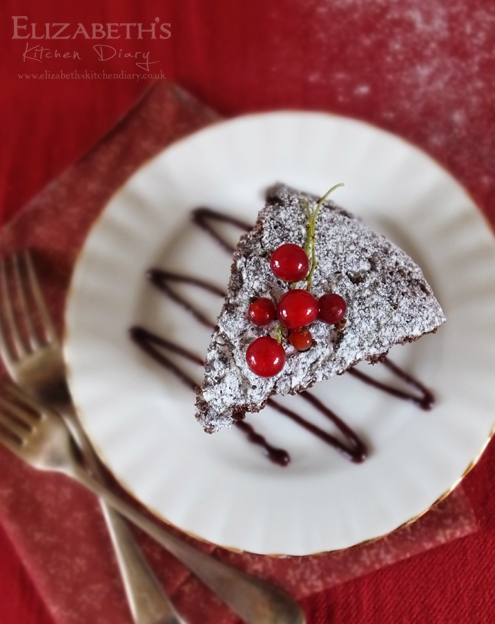 There was no money in the budget to make a frosting for this cake but I wanted to serve it with something. Fishing around in the deep freeze I found two ice cream containers filled with a mixture of frozen black and red currants, harvested from a friend's garden surplus last year. These free berries were combined with 3.9p worth of granulated sugar to make a purée, so the recipe still falls below the £1 budget.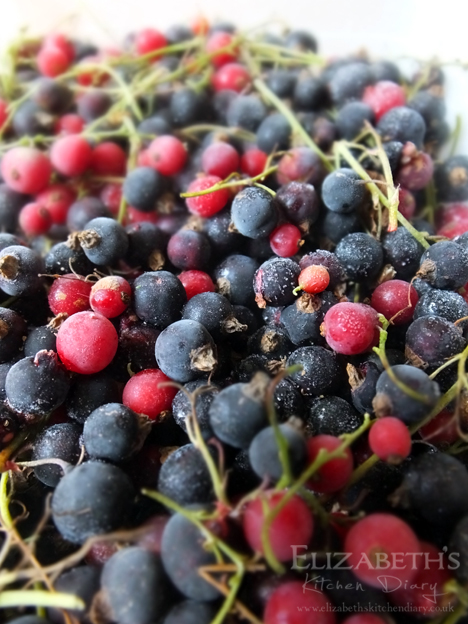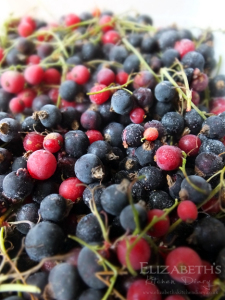 I do have some of my friend's blackcurrant cuttings growing in my garden. This is year three, so I am hoping they will be big enough (and sheltered enough by the willow trees I planted last year) to start producing fruit of their own. Blackcurrant bushes are inexpensive enough to buy and once they get going you've got a yearly supply of fresh fruit. If you've got a glut you're trying to use up why not try my friend Jane's cassis recipe.
Alternatively, foraged hedgerow fruit could be used such as raspberries or blackberries. My Canadian childhood summers were filled with days picking and eating these wild fruits.
I really liked the combination of rich chocolate cake with the tart blackcurrant purée. The children liked having their names spelled out in purée on their dessert plates, but it was too tart for their tastes.
I also liked the fact this cake could be served in eight reasonably sized slices. Quite often a large frosted cake will call to me, silently, late at night, from the fridge. "Come! Come eat me! You want to eat all of the cake!" Then, slice by slice, I make the cake disappear from the fridge only to reappear as excess weight on my hips and thighs. There was just enough of this cake for each of us to have a slice after tea for pudding, one for me late at night and two for the older children's packed lunchboxes the next day. At 11.5 pence per slice, that's not bad!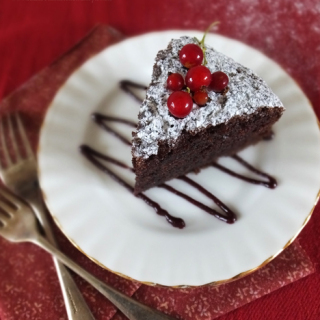 £1 Devil's Food Cake with Blackcurrant Purée
A deliciously moist chocolate cake which comes in at 11.5 pence per serving
Print
Rate
Affiliate Links
This recipe card may contain affiliate ingredient and equipment links. As an Amazon Associate I earn from qualifying purchases.
Instructions
For the Devil's Food Cake
Preheat oven to 180 C/ 350 F

Grease and flour a 6" round cake tin

Cream together vegetable fat and sugar until light and fluffy.

Add eggs and beat well.

Mix cocoa powder and boiling water together in a small saucepan. Gently heat and bring to a simmer. Simmer until it thickens slightly.

In a medium sized bowl, sift together flour and bicarbonate of soda.

Stir vinegar into the milk and add to the egg mixture along with the flour mixture and cocoa mixture.

Stir well until thoroughly combined.

Spoon batter into the prepared tin and bake in the centre of the oven for 35 minutes, or until a skewer inserted comes out clean.

Leave to cool in the tin for 10 minutes before transferring to a wire rack to cool completely.

When completely cool sift the icing sugar over the top.

Cake will keep for several days stored in an airtight container. Serve with blackcurrant purée.
For the Blackcurrant Purée
Mix blackcurrants, water and sugar together in a small saucepan and bring to a simmer.

Simmer until the berries are softened, stirring occasionally, for about 5-7 minutes.

Purée mixture with a hand blender and press through a fine wire sieve.

Serve purée with slices of cake.
Environmental Information