Beauty and chocolate have not necessarily been associated. Until now. Liora Beauty Chocolate offers a range of artisanal, small-batch chocolates therapeutically attuned to benefit a variety of ages and skin types, and designed to help enhance your overall health and beauty. Vegan-friendly.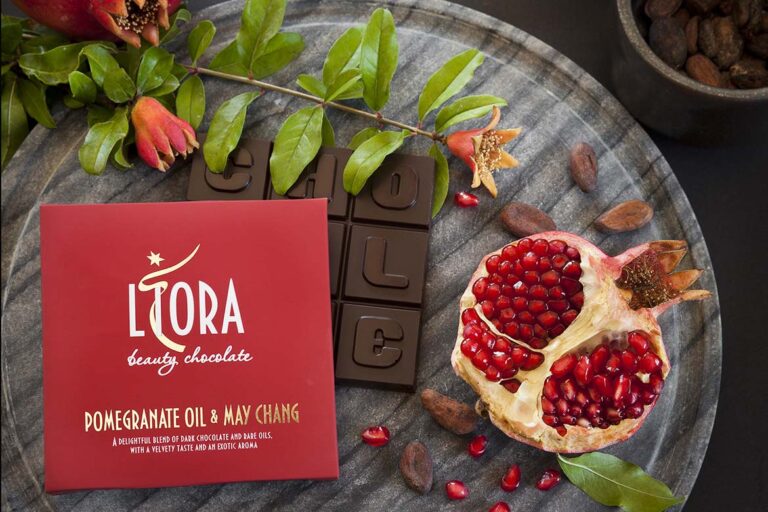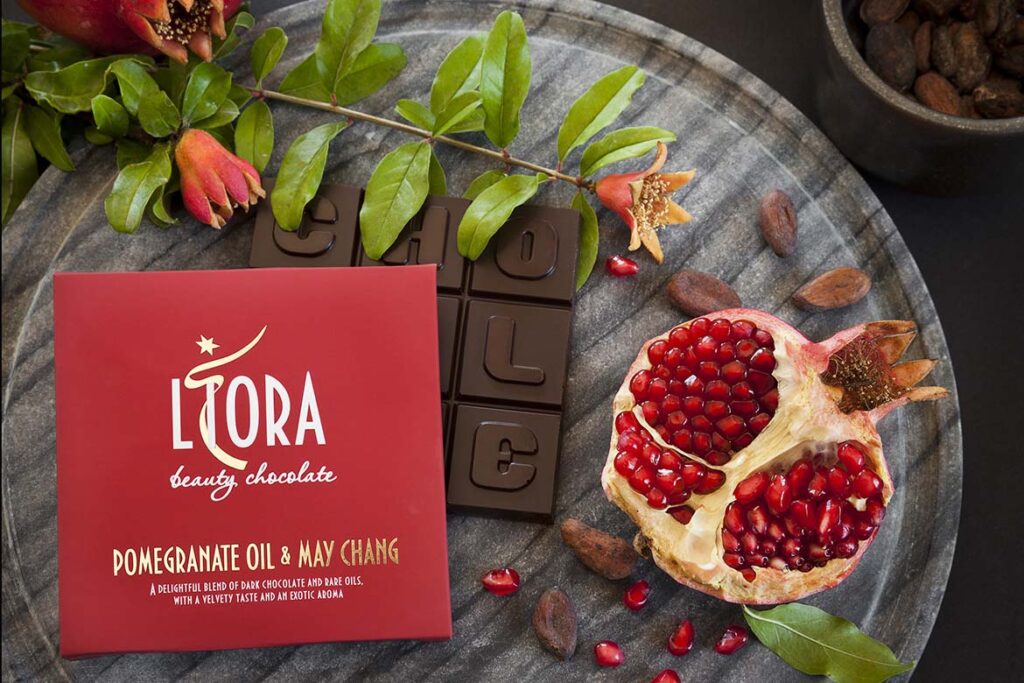 Science is now revealing the extraordinary health-giving properties of chocolate and because they thought they could improve on those benefits, LIORA beauty chocolate has developed an exciting new range of gourmet therapeutic chocolate. Their chocolate base is made of 54% dark chocolate – a mixture of two fractions from Venezuela and Ghana – flavoured with 100% natural vanilla from Madagascar. To this, they've added carefully selected organic natural oils (all certified by the UK Soil Association) packed with phytonutrients, trace elements and essential fatty acids – oils that appear to be particularly beneficial to both body and mind.
Persephone's Paradise: Pomegranate Oil & May Chang from LIORA beauty chocolate
Pomegranate seed oil (Punica granatum) has been appreciated since antiquity for its beautifying properties. Extracted from the tiny seeds inside the ruby-red, jewel-like 'avils' (segments) of the pomegranate fruit, their cold-pressed, softly amber-coloured oil with a mildly fruity fragrance comes from Turkey.
Originating in Persia 4,000 years ago, the pomegranate ('seeded apple') has symbolised hope, prosperity, fertility and abundance across the ancient cultures of Greece, Rome, India and China. Modern science is now revealing the life-giving, reinvigorating properties of the rich, red pomegranate as suggested by myth and legend: its highly prized pomegranate seed oil (also called punicic acid) is extremely nutritious with potent biological effects. It has three times the antioxidant activity of red wine or green tea – with anti-inflammatory, anti-aging and antiviral actions – and has been used to treat heart disease, cancer, high blood pressure. It's also reputed to be an aphrodisiac.
May chang (Litsea cubeba) uplifts with a sunny, stimulating effect similar to lemon verbena or lemongrass; in aromatherapy, may chang is used as a pick-me-up tonic for the blues. It also has antiseptic, antiviral and antifungal properties. Sometimes called 'Chinese Pepper' or 'Mountain Pepper', their may chang is sourced in China and adds a fresh lemon-citrus note reminiscent of traditional sherbet lemons to this refreshing and revitalising chocolate.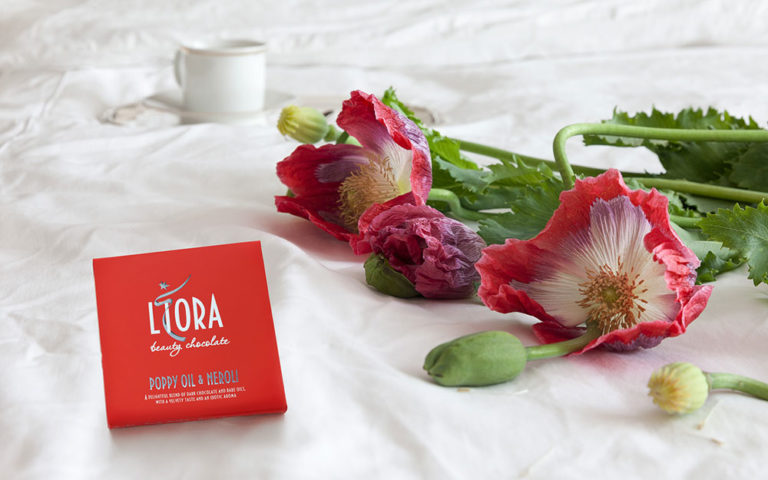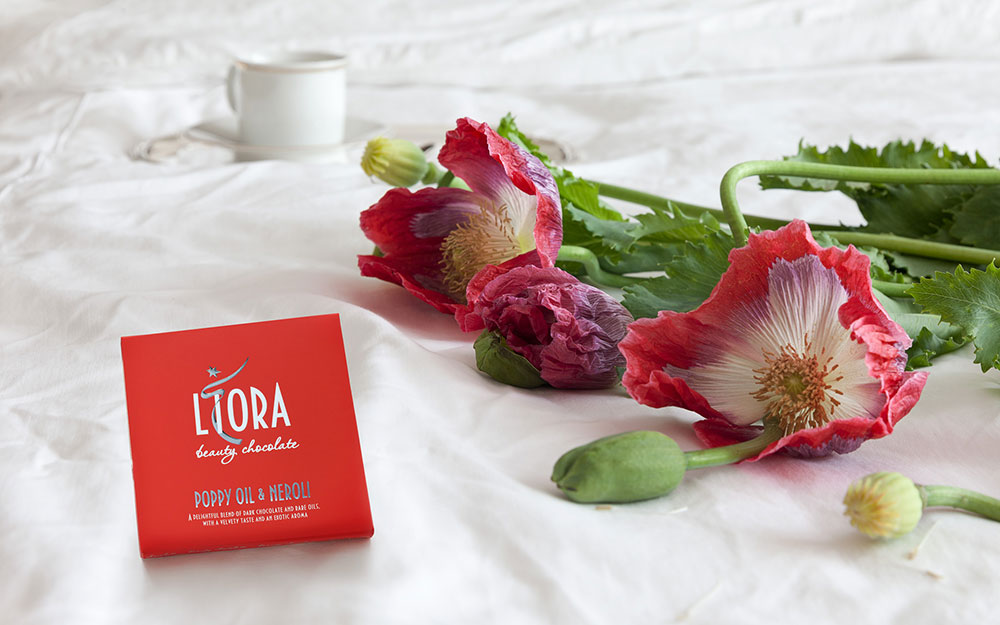 Uplifting Orange: Poppy Oil and Neroli from Liora Beauty Chocolate
Poppy seed (Papaver somniferum) oil comes from the small, dark seeds of the poppy flower, one of the world's oldest cultivated plants. With a smooth, subtly nutty flavour, Liora's Turkish poppy seed oil is high in Vitamin E, essential fatty acids, omega-3s and minerals calcium, iodine, magnesium, manganese and copper and zinc – which is so essential for skin renewal.
Neroli (Citrus aurantium v. amara) essential oil is distilled from the hand-picked flowers of bitter oranges. It lends an intoxicating mix of citrus and floral aromas to this gorgeous chocolate blend. Deeply calming, neroli oil reduces blood pressure and cortisol levels, soothing the nervous system. It is used by aromatherapists to combat grief and despair and to relieve symptoms of the menopause. Liora's neroli oil is sourced in Morocco.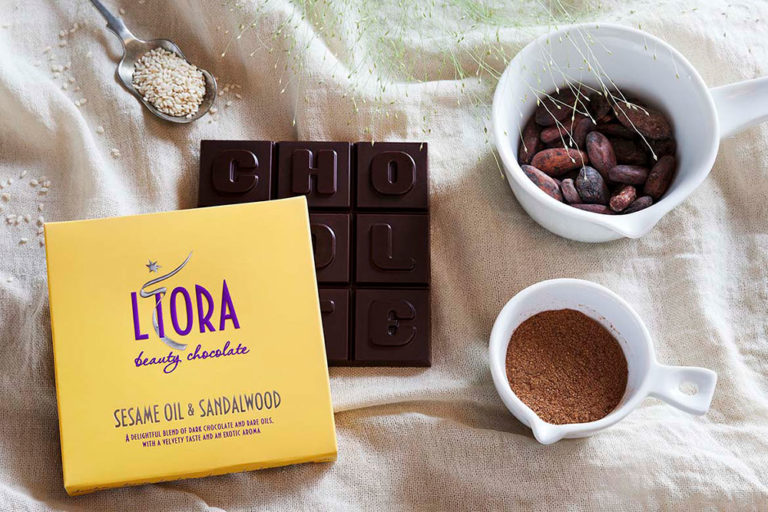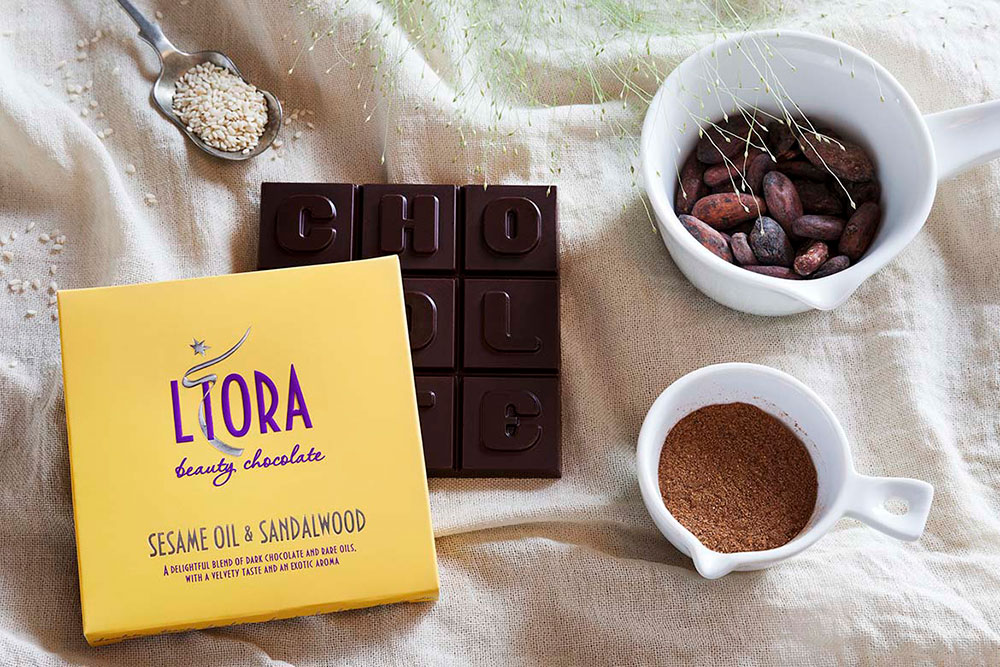 Scheherazade's Secret: Sesame Oil and Sandalwood from Liora Beauty Chocolate
Sesame oil (Sesanum indicum), derived from the small yellowish brown seed, has been celebrated in ancient medical traditions for over 5,000 years. Nutritious and invigorating, it is rich in vitamin E (a potent antioxidant) omega-6 fatty acids and zinc, all of which promote skin elasticity, repairing damaged cells and boosting the collagen production. Liora's sesame oil is sourced in Burkina Faso.
Sandalwood (Santalum spicatum) is one of the oldest known perfume materials, popular since antiquity. Rejuvenating, relaxing and sensual, this softly warm and woody aromatic oil also gives a wonderful boost to dry, dehydrated skin. Their sandalwood essential oil comes from Australia.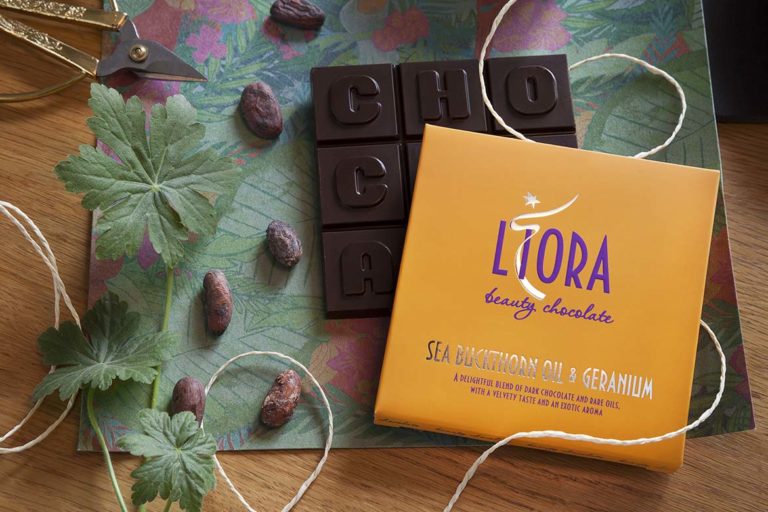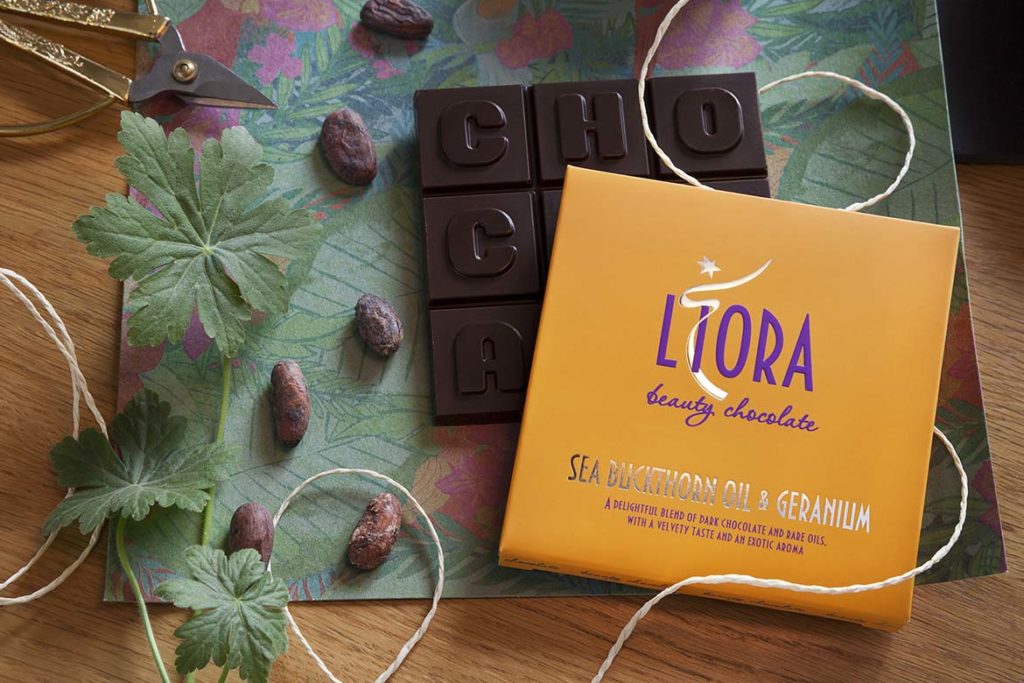 Tibetan Treasure: Sea Buckthorn and Geranium from Liora Beauty Chocolate
Sea buckthorn (Hippophae rhamnoides) is an incredibly rich and nourishing oil from a plant that originated far from the sea, high in the Himalayas. The oil from the yellowy orange berries was known by Ancient Greeks, and its healing powers are referred to in ancient Tibetan texts as 'God sent medicine' and 'liquid gold'.
Liora source their sea buckthorn oil from Germany. Packed with therapeutic bioflavonoids and phytonutrients, it is one of the most powerful antioxidants. A particularly potent source of Omega-7s, it has been used to treat a host of conditions including adrenal fatigue. Sea buckthorn oil is especially soothing and rehydrating to the skin, enhancing the natural healing process.
Geranium oil (Pelagonium graveolens roseum) is pleasant and uplifting, combining floral and mint notes. Distilled from the leaves of a pretty pink-flowered South African native plant, geranium oil is an all-round tonic. It is celebrated for its ability to balance female hormones and harmonise emotions (particularly around the menopause), relieve stress, aid depression, reduce inflammation and irritation, improve skin health, circulation and dental health, boost kidney health, and reduce blood pressure. Liora source their geranium oil from Egypt.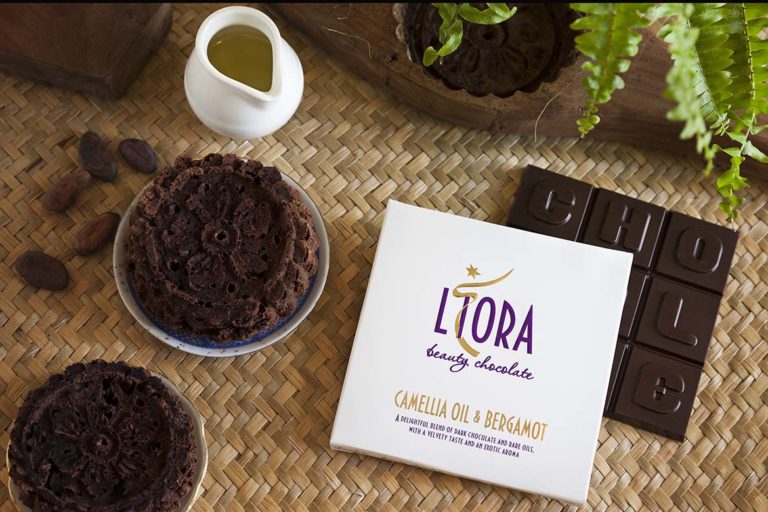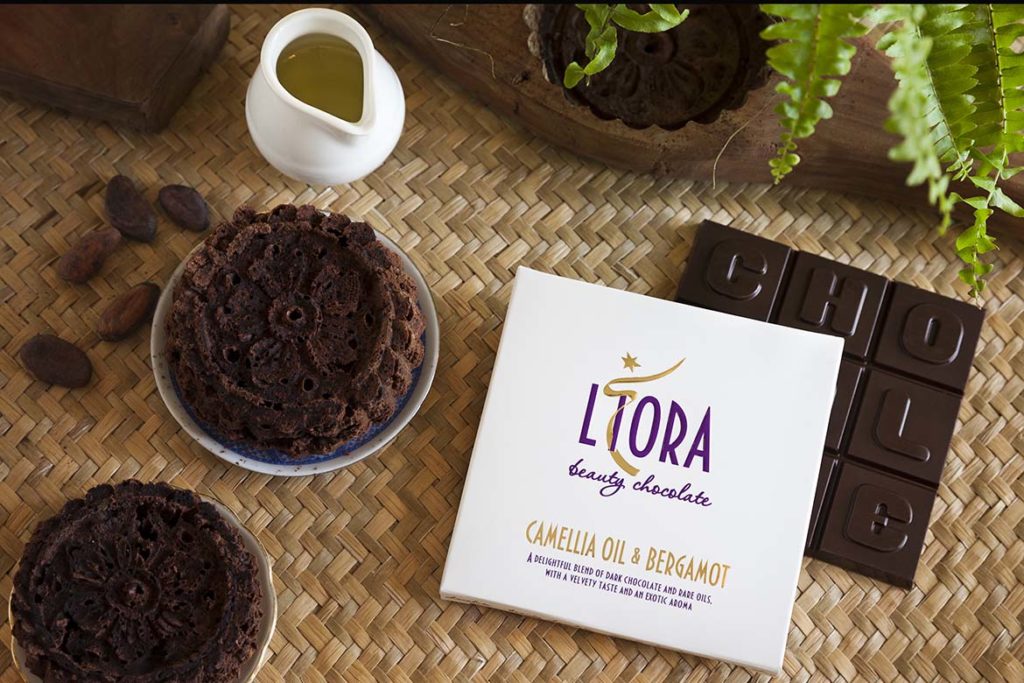 The Way of the Tea: Camellia Oil & Bergamot from Liora Beauty Chocolate
Camellia oil (Camellia oleifera), extracted from the seeds of the tea shrub has been used in the East for centuries to rejuvenate and revive the skin. Japanese geishas, guardians of the tea ceremony, have long understood the oil's ability to keep skin flawlessly smooth and hair lustrous.
Liora's cold-pressed, refined organic camellia oil is sourced in China. Rich in antioxidants, as well as the fat-soluble vitamins A, D and E, its subtle, sweet, slightly herby aroma blends beautifully with the clean, uplifting citrus of their Italian bergamot essential oil – extracted from the rind of the bergamot orange, with an enigmatic flavour registering midway between lemon and grapefruit – to create this exotic fusion inspired by the classic combination of Earl Grey tea.
Bergamot (Citrus bergamia) originated in Calabria, Italy, in the mid-seventeenth century: the naturally occurring cross-pollination of a lemon and a bitter orange. The aromatherapeutic benefits of its stimulating, reviving oil are said to include the relief of stress, anxiety and depression. It's also reputed to balance hormones and support the immune system. Possessing several active ingredients, and rich in polyphenolic compounds, vibrant bergamot is the only citrus to contain melitidin and brutieridin – both known for their anti-cholesterol action. Bergamot's delicate, beguiling aroma is also a favourite ingredient used by the luxury perfume industry.
Visit the Liora Beauty Chocolate website to find out more!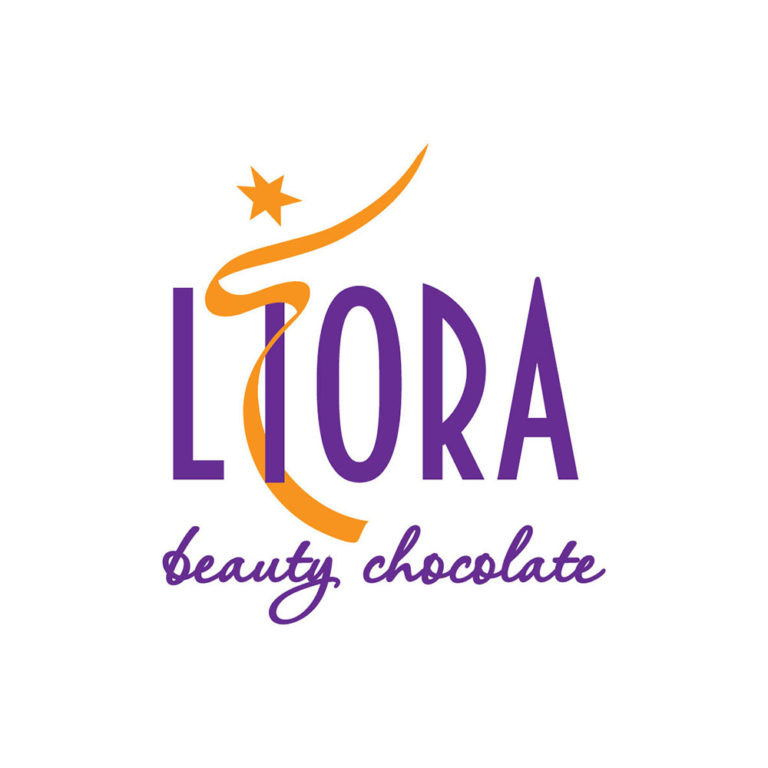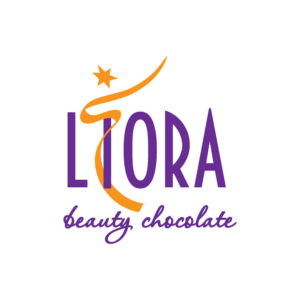 LIORA BEAUTY CHOCOLATE GIVEAWAY
Each 80-gram bar of Liora Beauty Chocolate retails for £6.96 and they deliver (with varying shipping fees) throughout Europe. However, Liora have very kindly sent me one of each of the above chocolate bars for a giveaway for one of my UK readers! That's five chocolate bars worth £35! To enter, simply fill out the Rafflecopter form below!
TERMS & CONDITIONS
This giveaway is open to UK entries only. Entrants must be age 18 or over. The winner will need to respond within 28 days of being contacted; failure to do this may result in another winner being selected.
The prize is offered and provided by Liora. The prize is to win five Liora Beauty Chocolate bars worth £35. There is no cash alternative and the prize is not transferable.
There is no entry fee and no purchase is necessary to enter this giveaway.
The promoter (Elizabeth's Kitchen Diary) reserves the right to cancel or amend the giveaway and these terms and conditions without notice.
Entry into our giveaways will be deemed as acceptance of these terms and conditions.
If you need some help using Rafflecopter, here's a quick clip to show you how. Rafflecopter will pick the winner at random from all the entries received. I will be verifying entries.
Closing date is midnight (that's 00:00 hours, 12 am on Sunday night/Monday morning) on Monday 28 May 2018 (GMT). The winner will be announced afterwards.
This is not a paid post.