In collaboration with Dr. Oetker Baking.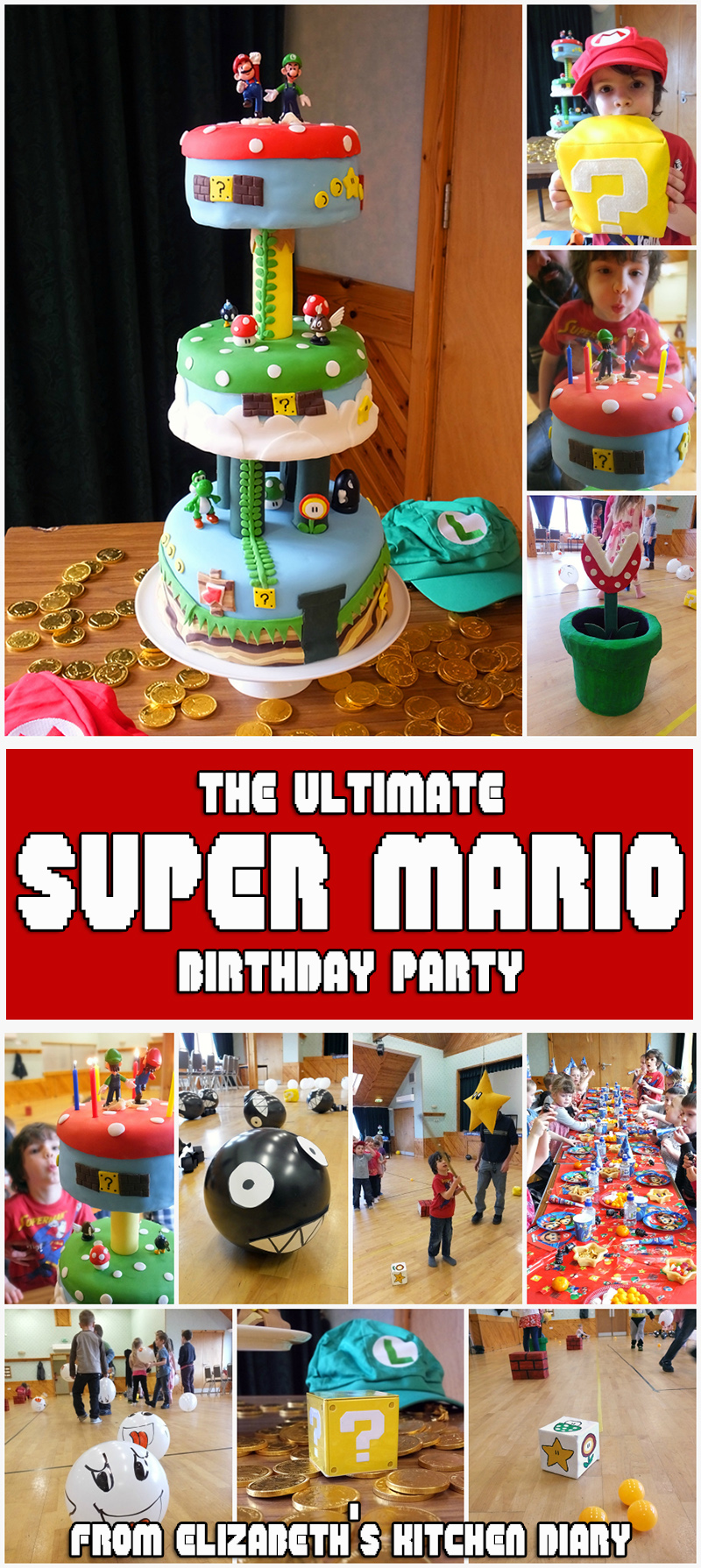 I absolutely love organizing and throwing birthday parties for my children. It's one of those things I can get completely immersed in what with all the planning and creativity. I also might be overcompensating for the fact I've never had a birthday party of my own! They don't get a big party every year, sometimes it's just cake and ice cream with a few friends, but every now and then we go all out and throw a whopper of a party.
This week saw our youngest son turn six years old. A perfect time for throwing one of those no-holds-barred birthday parties where the entire class gets invited for a spree.
Our youngest wanted a Super Mario birthday party, so, although it took a bit of forward planning, a super Super Mario party he got!
THE INVITATIONS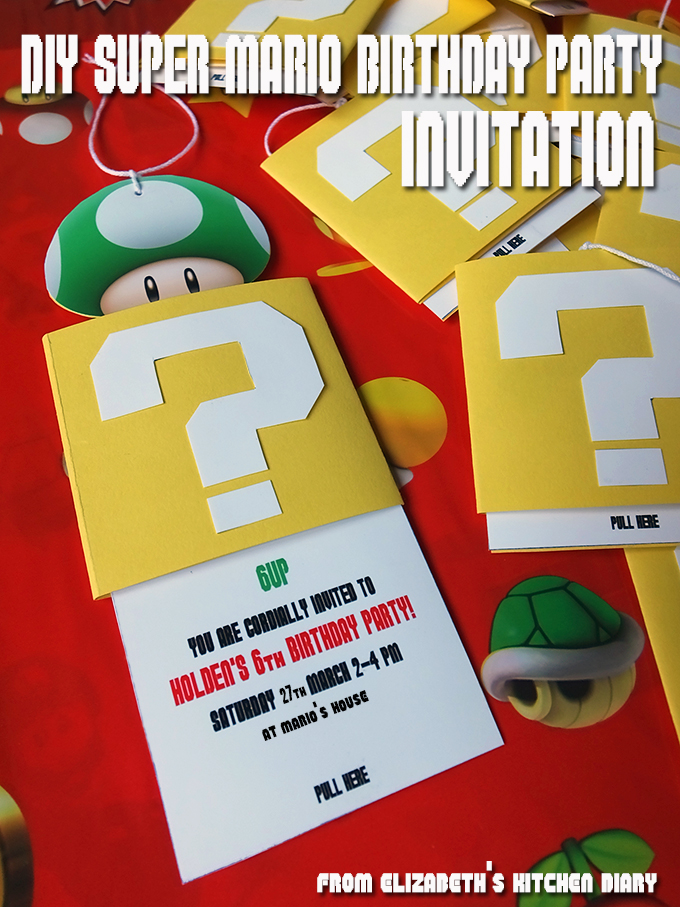 First thing is first, a top-notch party requires top-notch invitations! There is quite a variety of ready-made Mario themed invitations out there, but for this party that wouldn't do. I had to make something unusual, and when I found this idea over on Celebrate the Big and Small I knew those were what I wanted to make, with a few adaptations.
You can find a step-by-step tutorial of how I made these pop-up slider Super Mario Birthday Party Invitations here.
THE FOOD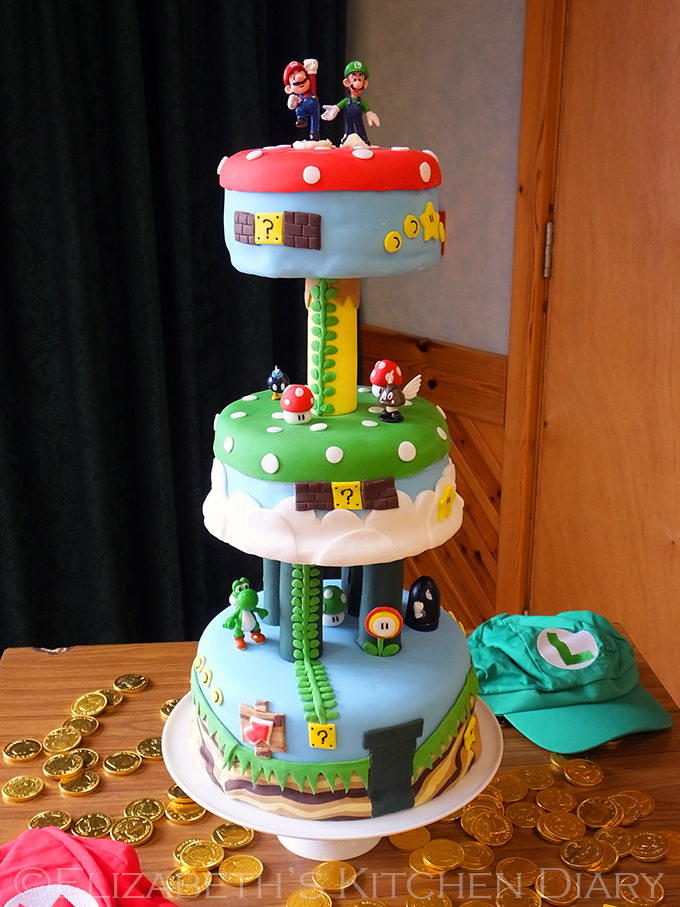 No matter where you are in the world, festive gatherings almost always involve food. There's just something thoroughly enjoyable about feasting with friends and family.
The centrepiece of any birthday party is, of course, the birthday cake. A search through Google Images for Super Mario Cake inspiration led to my nearly six-year-old (at the time) discovering the wonderful Super Mario wedding cakes on the net. He was in awe of the sheer grandness of them and really, really wanted one.
So I made one! When else was I going to get the chance to play with coloured ready-to-roll icing on a scale like this?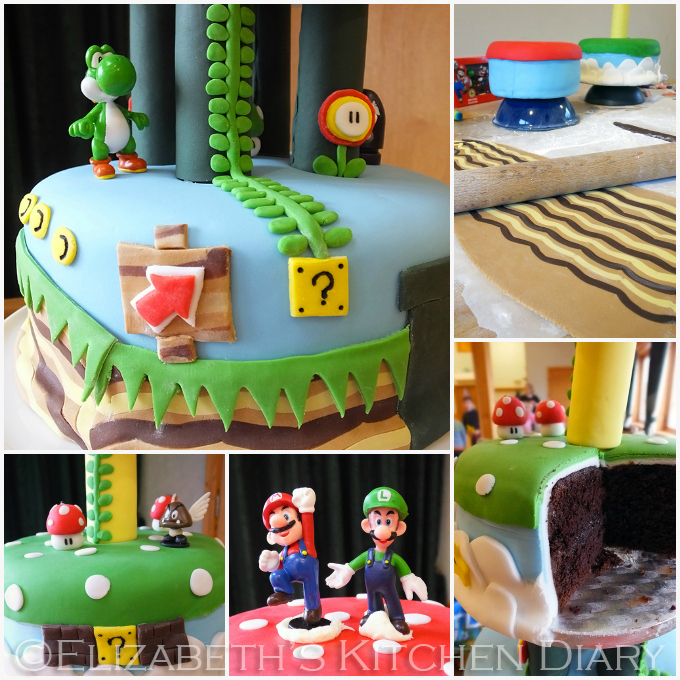 SUPER MARIO BIRTHDAY PARTY CAKE
I made a three-tiered cake, as you can see. It took one full day to make. In the morning I made, using no fewer than 12 eggs:
Bottom layer: 2 x Nigella Lawson's Buttermilk Birthday Cake. Get the recipe.
Middle layer: My tried and tested Wicked Chocolate Cake recipe (using Dr. Oetker cocoa powder). Get the recipe.
Top layer: Dr. Oetker's Celebration Lemon Madeira Cake. Get the recipe.
The following afternoon I set to icing and decorating. I cheated by using Betty Crocker's ready-made vanilla buttercream and chocolate fudge frostings to sandwich the layers together and spread a thin crumb layer over each cake. Dr. Oetker Regal-Ice Ready to Roll Icing in white was used to cover each cake as a base for the coloured frosting.
[amazon_link asins='B00W3B5OZK,B0051C16PA,B00XEPJCVQ' template='ProductCarousel' store='elizskitcdiar-21′ marketplace='UK' link_id='5a666549-188f-11e8-9366-457b970641de']
The next few hours were spent with Google Images open with various Super Mario video game screenshots, getting ideas to play with the copious coloured ready to roll icing I had on hand.
The pillars? Repurposed button tubes from our local arts & crafts shop! I washed and dried them and pushed the open end through the cake to the cake base and covered the outside in coloured icing. Super glue was used to fix them to the cardboard cake tray base above.
[amazon_link asins='B002TIF8D0,B0091GQSD2,B01MECRUQ0′ template='ProductCarousel' store='elizskitcdiar-21′ marketplace='UK' link_id='849c5da5-188f-11e8-b6ec-83a372bcb35b']
A Super Mario figurine set was used to put the final touches on the cake. A cake on this scale might look grand and scary to attempt to make, but I assure you, it was really quite simple, just time-consuming.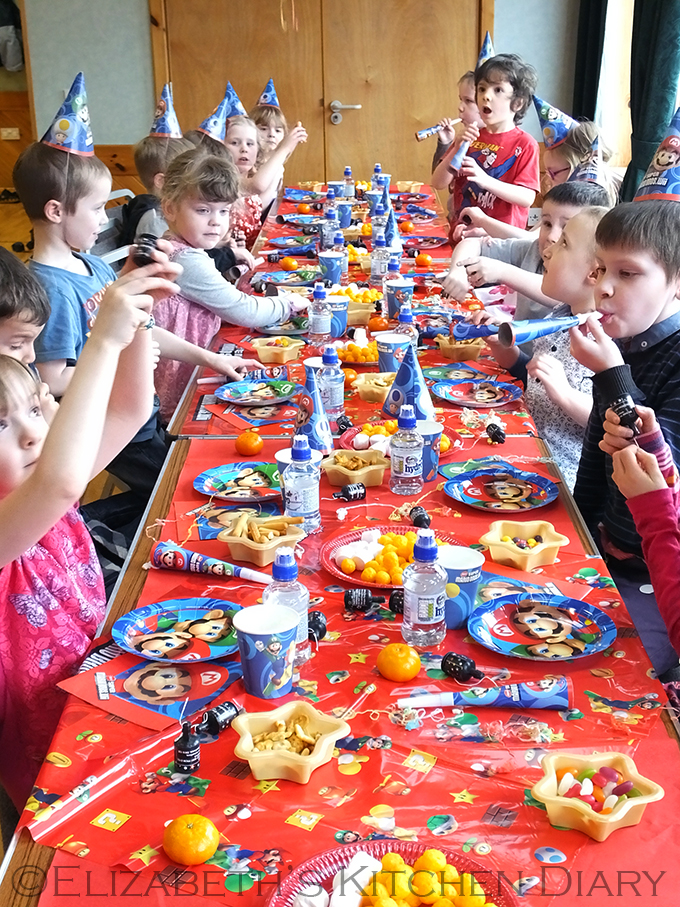 Party food was mostly fresh fruit, snack crackers, bread sticks, cheese puffs (fireballs!), marshmallows (ice power!), and assorted sweeties. Most of my effort had gone into making the cake and game components, so I cheated by using ready-made party foods.
[amazon_link asins='B072QWJRK2,B01EAWKKPS' template='ProductCarousel' store='elizskitcdiar-21′ marketplace='UK' link_id='a53565e6-188f-11e8-8a84-69cf69588d6a']
I did, however, make Dr. Oetker's Mint Chocolate Chip Cupcakes to share with all the kids. The recipe was super quick to whip up and bake. I made the minty frosting (with the addition of an extra tablespoonful of milk as the frosting was too thick to pipe) and spooned it into a piping bag to bring to the party venue. I couldn't, for the life of me, source any polka dot sprinkles on Shetland (I tried 15 different shops!) so I substituted with gold pearls instead (fireballs!).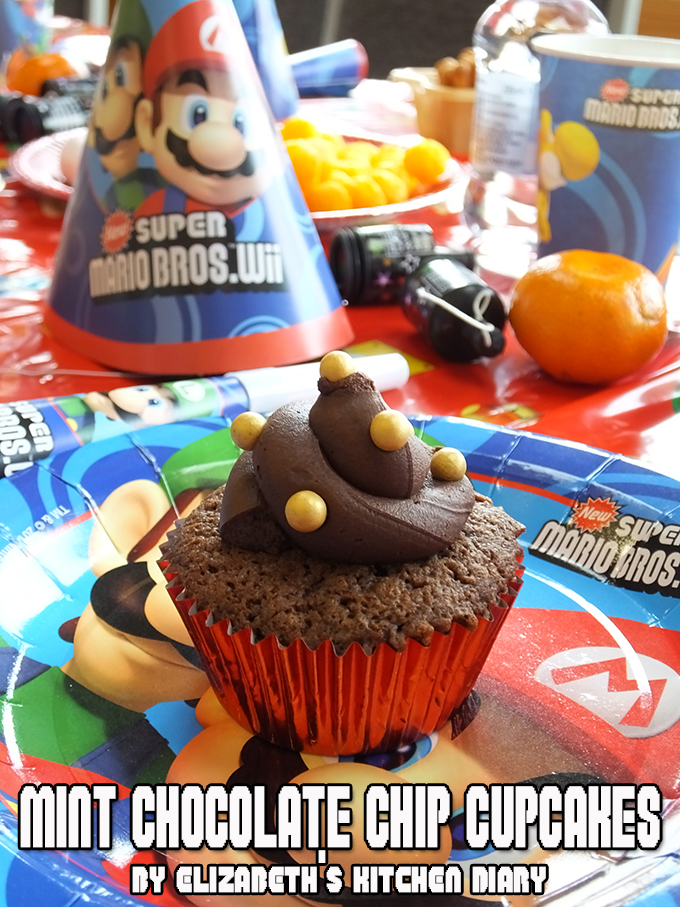 The children were due to arrive in about 10 minutes by the time I began to pipe the frosting on the cupcakes, and I realised I'd brought the wrong piping nozzle, so I didn't use one. I hastily pressed some gold pearls onto the frosting and DD came up to me and said: "Mam, that looks like dog poo!". Gold-studded dog poo!
A clear case of when a recipe goes terribly wrong and looks nothing like the photograph on the website! Nonetheless, they tasted lovely and chocolatey and there were no leftovers (I managed to scoff a bite of my daughter's cupcake to at least taste-test it!). You can find the recipe (and what they're supposed to look like over on the Dr. Oetker website).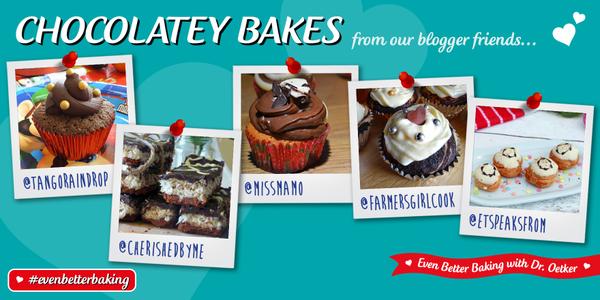 Dr. Oetker wants to celebrate all things chocolate this March, so they are challenging all bakers to make and share a chocolatey bake. Tweet @DrOetkerBakes using the hashtag #evenbetterbaking with a photo of your bake, tell them who you are sharing it with and you might win a deluxe hamper of chocolate products! You can also find them on Facebook.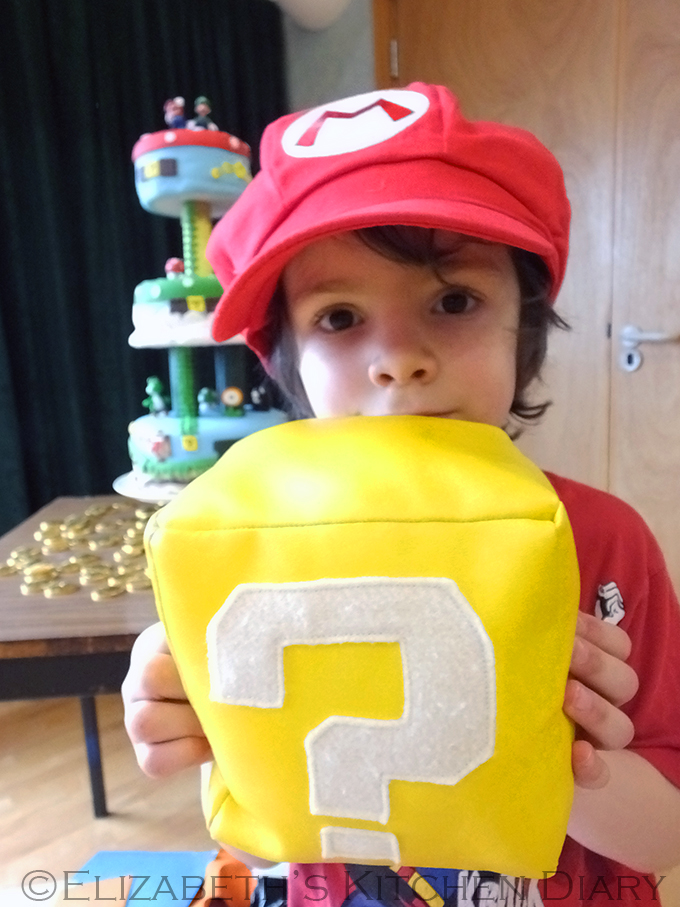 THE GAMES! THE GRAND SUPER MARIO OBSTACLE COURSE!
Now, I'm quite lucky in that my husband is a sound engineer and enjoys a good challenge. "What about a Super Mario Obstacle Course?" one of us thought, and the other added: "With sound effects!". "The children get to BE the characters in the video game!"
Have a listen to the audio clip above – this was played over the speakers when all the party guests had arrived.
Well, that was it. The kitchen was papier mache central for the next week with obstacle course components in the making. My husband, aka Audioboy Productions, set to work on the soundboard – an app he downloaded onto my iPad and added all the game sound effects. He stood in the corner, watched the children go through the course, and played the appropriate sound effect for each room/action.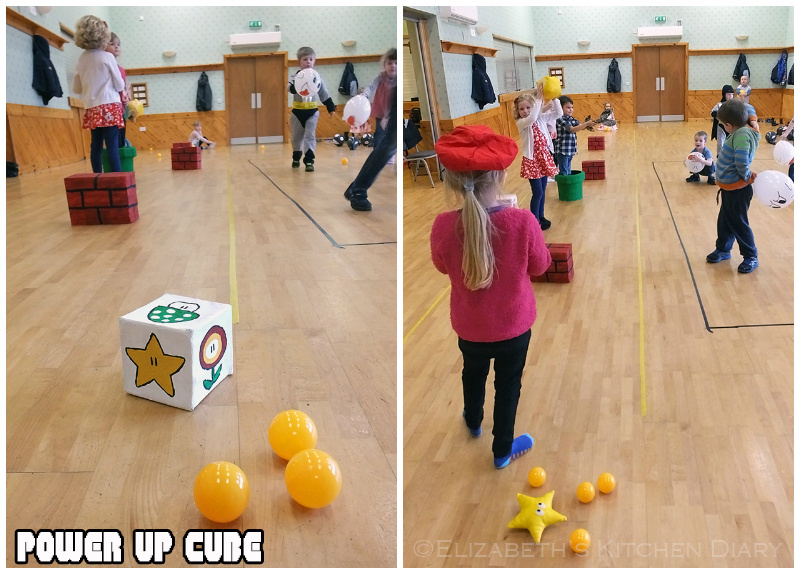 1. START – THE SUPER MARIO POWER UP CUBE
The games began with each child rolling the Super Mario Power Up Cube. They were awarded either a 1UP (a second go if they got caught during the course), Fire Power (orange ball pool balls) or Invincibility (a handmade fabric star which made them invincible for a short while).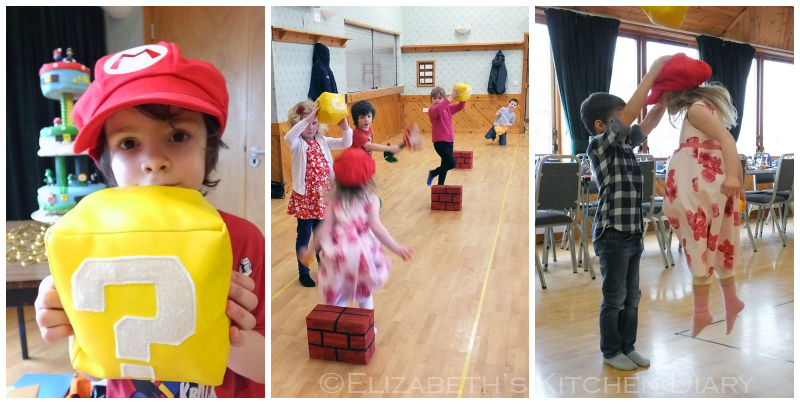 2. JUMPING OVER THE BRICKS AND BANGING THE COIN BOXES WITH YOUR HEAD
The children took turns playing the different characters in the games. Some held foam filled fabric coin boxes, which, when bumped with the head, the corresponding sound played and a gold foil covered chocolate coin dropped to the floor (it had been balancing on the top). They also had to jump over bricks (standard Amazon.co.uk boxes filled with fabric scraps for weight, covered in papier mache and painted to look like bricks).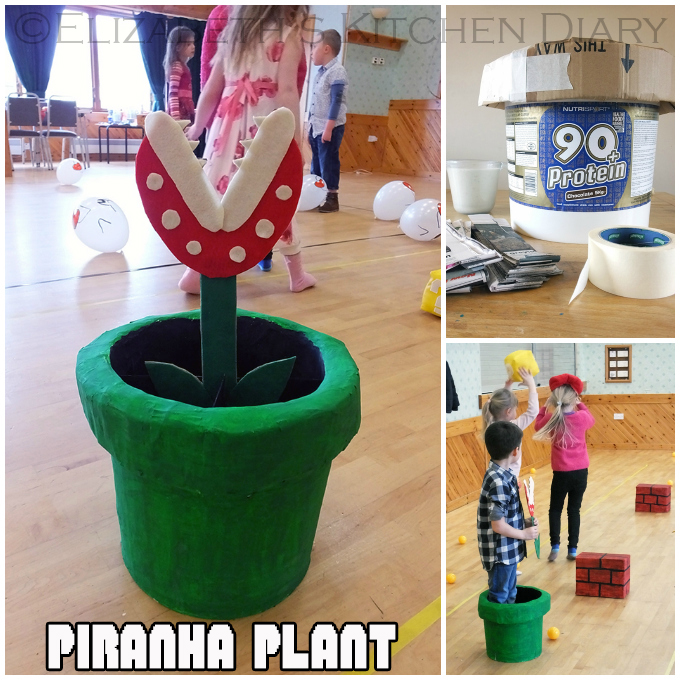 3. DODGE THE PIRANHA PLANT!
One child got to be the piranha plant, standing in a giant papier-mache covered protein powder bucket while holding the felt piranha plant itself (hastily created that morning with cardboard, felt and super glue!).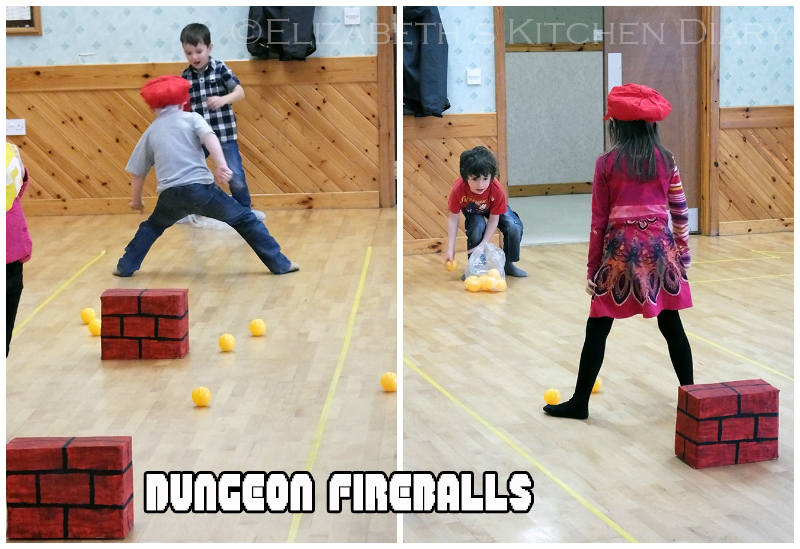 4. THE DUNGEON FIREBALLS!
Cue the dungeon music and an onslaught of fireballs. The children seemed to love jumping over this obstacle the most, spending quite a bit of time here. If they spent too much time, though, the music changed to indicate hurry up!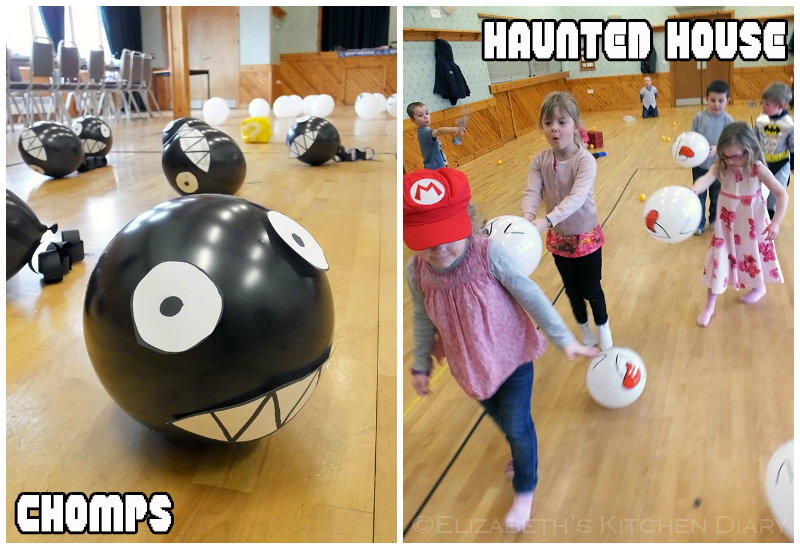 5. CHOMPS!
A square of black electrical tape signified the area where the chomps had to be carefully dodged. These black balloons, with mouths and eyes glued on, were taped to the floor via a length of black cardstock chain.
[amazon_link asins='B001Y7LU52,B004JUONR8′ template='ProductCarousel' store='elizskitcdiar-21′ marketplace='UK' link_id='581ddf37-1890-11e8-90d0-2797074efdc8′]
6. THE HAUNTED HOUSE!
Then, the haunted house music began and each child had to dodge the Boo ghosts! Anyone who has played Mario will know the ghosts can only come towards you when your back is to them, so this made for a very interesting obstacle! The ghosts were white balloons with black and red permanent marker faces.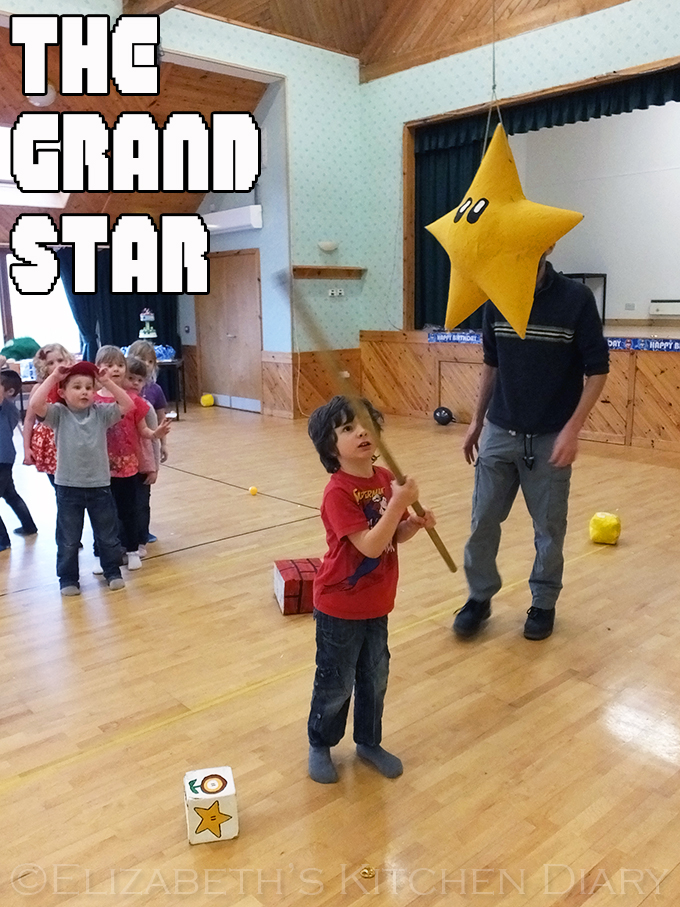 7. JUMP TO REACH THE GRAND STAR (PINATA!)
The finale was where they had to jump to reach the Grand Star Pinata. Afterwards, the children took turns to try and break the papier-mache pinata open with a broom handle. It was filled with sweeties and gold covered chocolate coins.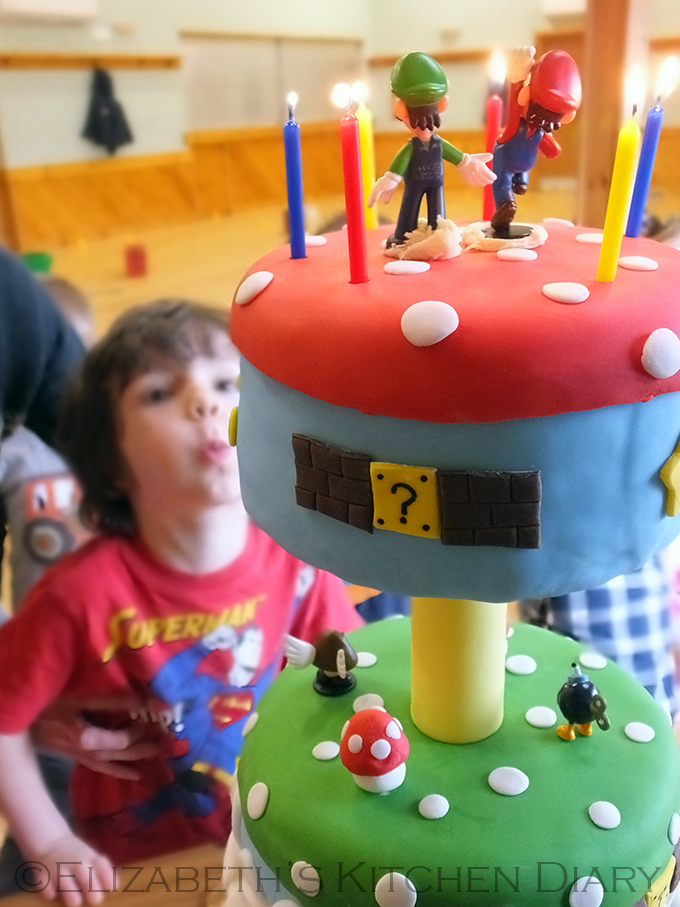 All in all, it was a pretty fantastic party, and the birthday boy and all the guests had a blast. Have you ever had a Super Mario Birthday Party? Do you have any tips to add? What would you have done differently?
Elizabeth's Kitchen Diary received a Dr. Oetker chocolate hamper and a supermarket voucher for ingredients to make and share a recipe from their website. All opinions expressed are our own and this is not a paid post. This post contains Amazon affiliate links. If you click through to Amazon through any of them and make any subsequent purchase within the next 24 hours we will earn a small commission.