Hams of Muckle Roe: old Norse for havens (or harbours) of the big red island.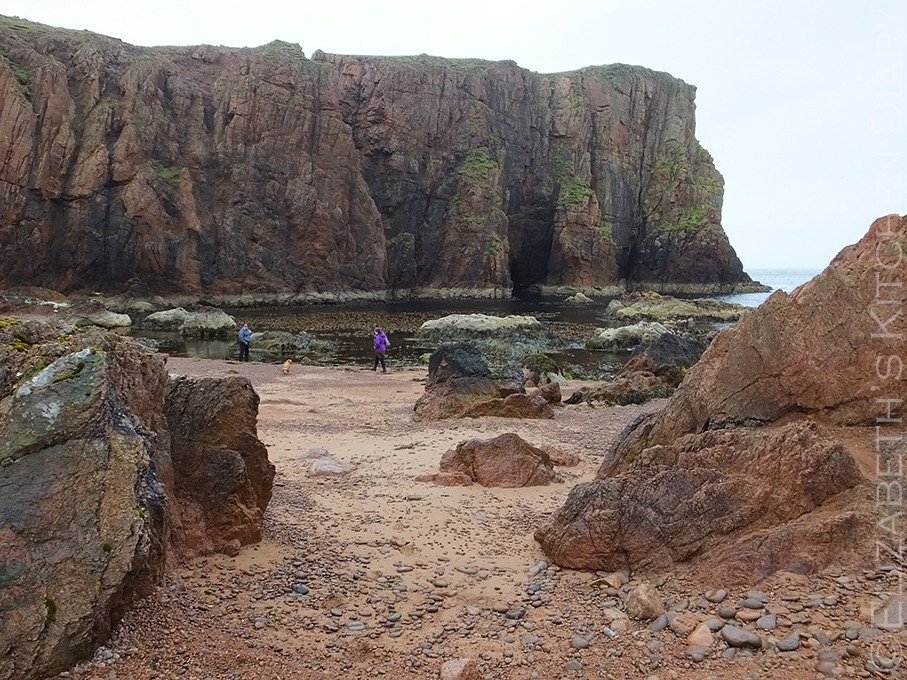 I lost the entire month of July to working full time and then August seems to have flown by. The winter weather is going to be starting up again soon, confining us indoors again.
This last week has given us some lovely weather which I've taken advantage of by spending the day at the beach, exploring some fossil fish ruins (crossing #14 find a fossil fish, off my 40 Things I Want to Do Before I Turn 40 list) and hiking with my youngest out to a Pictish broch for a spot of geocaching.
My weekly FitBit step count was at an all time high, and I didn't want to lose my momentum. Come Sunday morning, I realised (due to my lack of organization) that the two events I thought I was supposed to be attending that day  were, in fact, on the following two Sundays, so I started planning. An unexpected free day!
The weather was supposed to be reasonable (overcast with a slight chance of a small shower mid-afternoon), and I was restless. I wanted to go for a hike.
My family wanted to stay in their pajamas all day and play Minecraft!
So I put out out a call on Facebook and an hour later my Moroccan Shetland lamb stew was in the slow cooker and  three of us were heading up into the hills to the Hams of Muckle Roe, a place I have only ever seen by water before.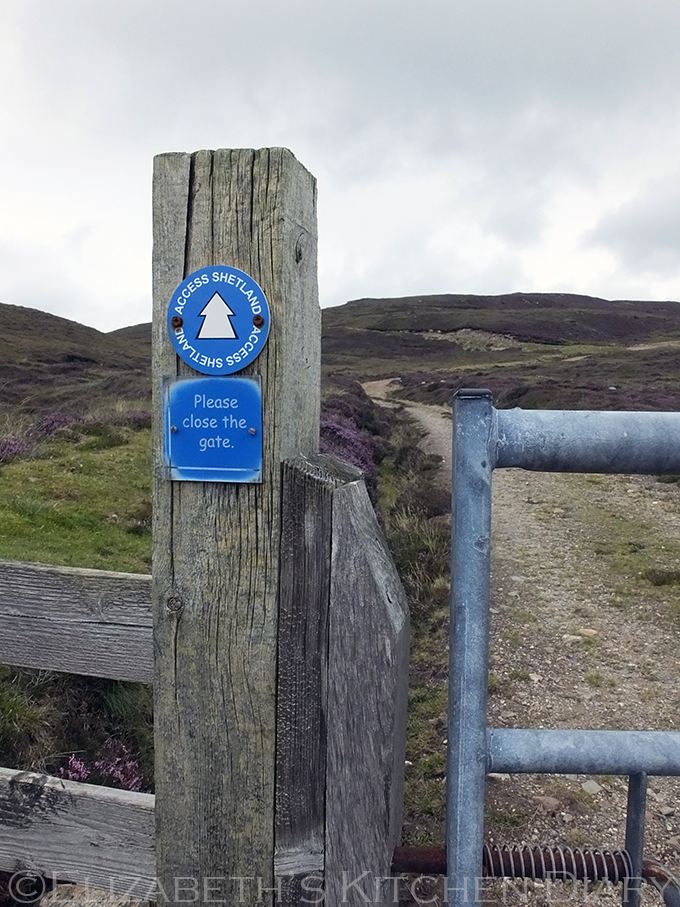 Muckle Roe is a picturesque island connected by a small bridge to the mainland and it's a place I've visited previously with my family on a walk to the lighthouse. This time, however, my friends and I drove to the end of the road, crossed to the hill near to the beach and then headed up a well maintained crofting track north, flanked on both sides by gorgeous hills covered in purple flowering heath and heather, running alongside a small burn.
4 km later we arrived at North Ham, the site of an abandoned settlement.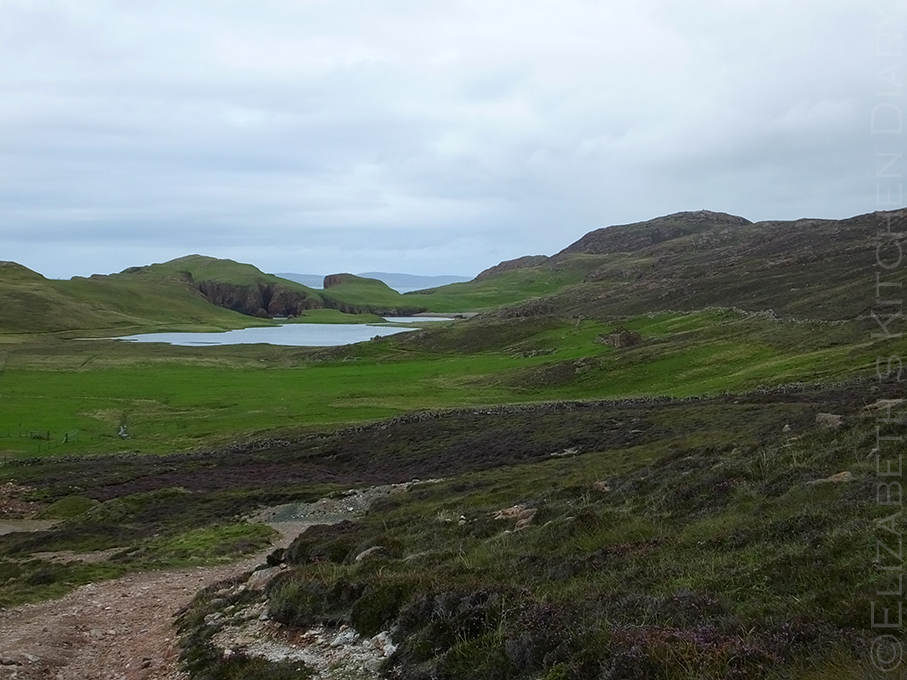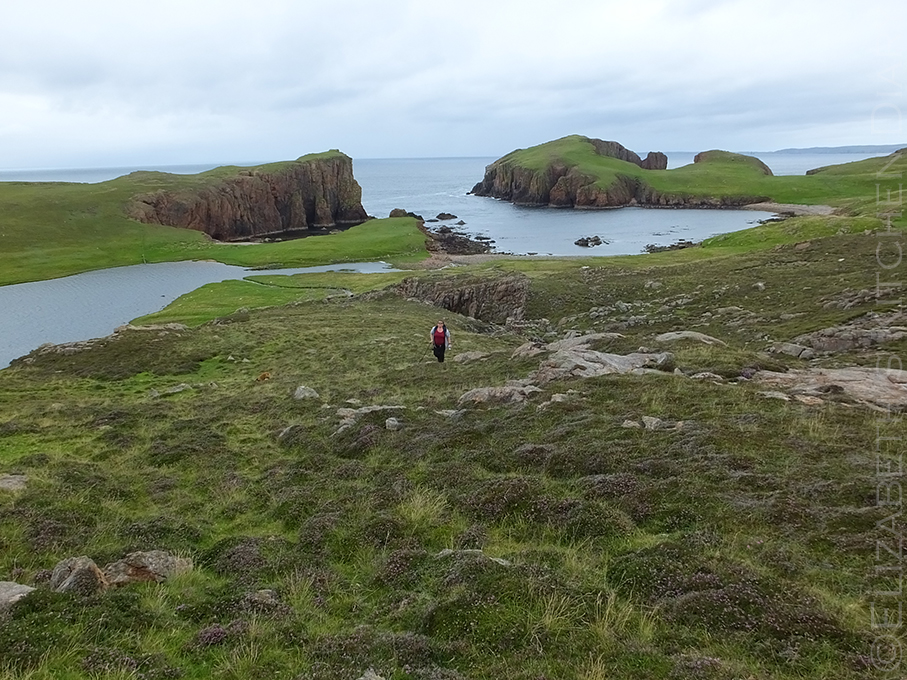 We had a good explore around the area including an old Norse watermill, complete with the millstones!
We found a geocache with a super trackable item in it – my new friend is going to come on a few adventures with me over the coming weeks!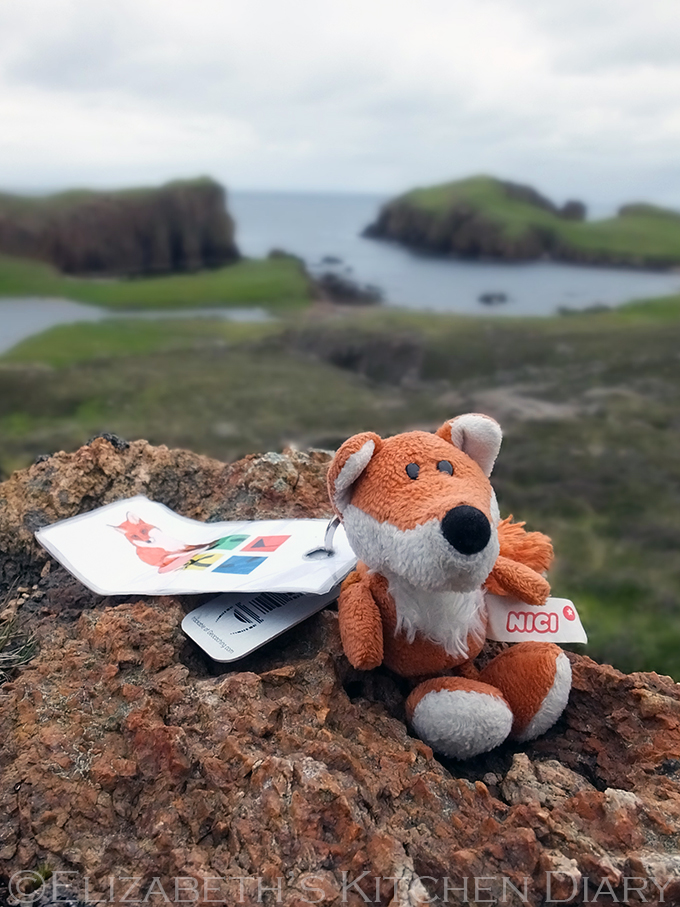 After the mills we went for a wander around the beach, sheltering from the brief rain shower by some cliffs. We ate the traditional tiffin slices I'd picked up at the Hayfield Croft honesty cupboard on the way to my friend's house. Mmmm… chocolate!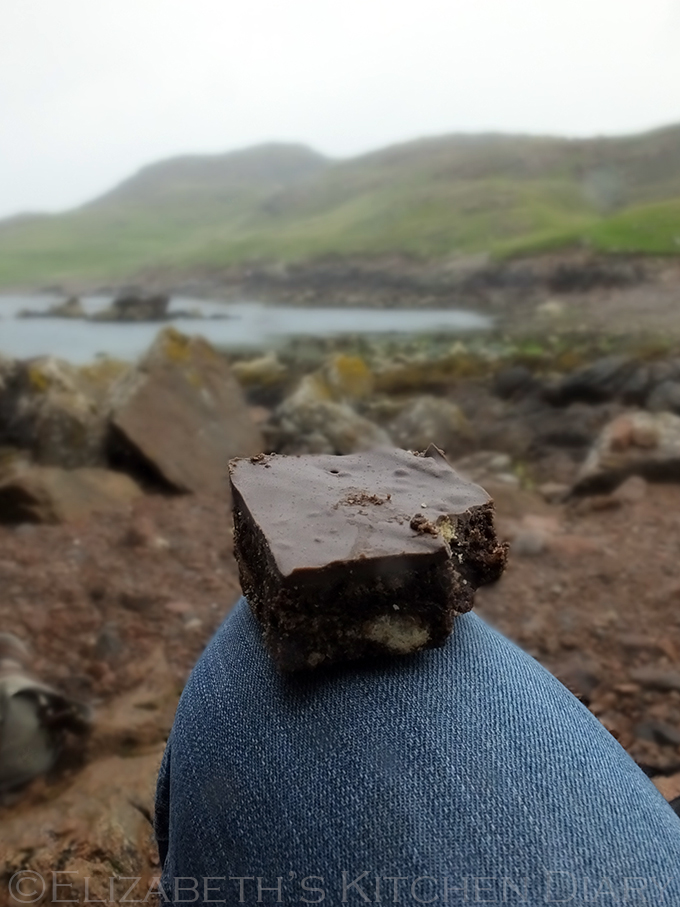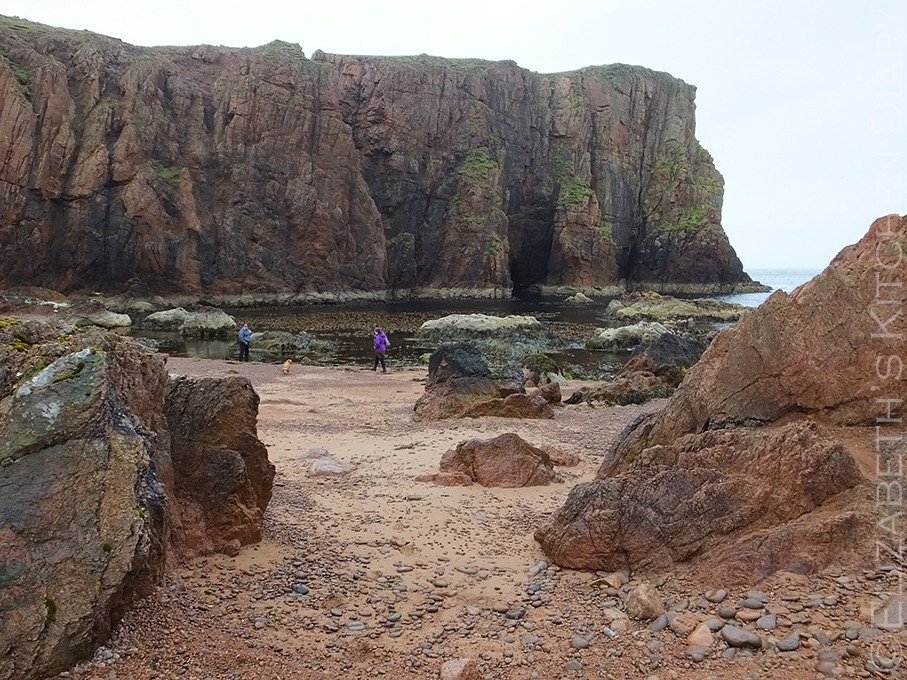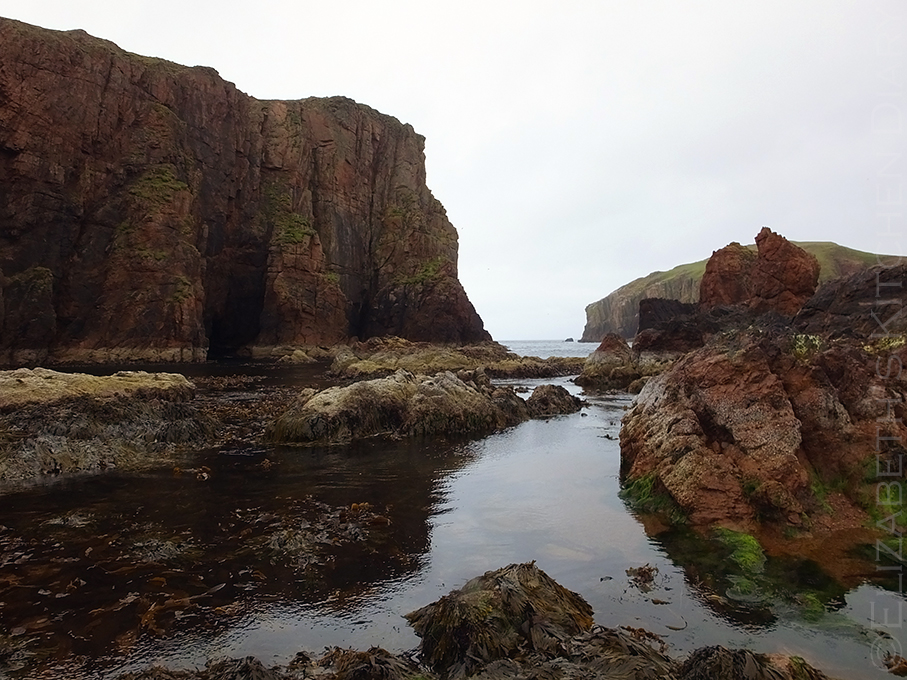 After a poke around North Ham we took the path to South Ham where some seals were basking on the wharf. We followed the trail around the hill and back down to the car park area – a total walk of approximately 10 miles/ 16 kilometres.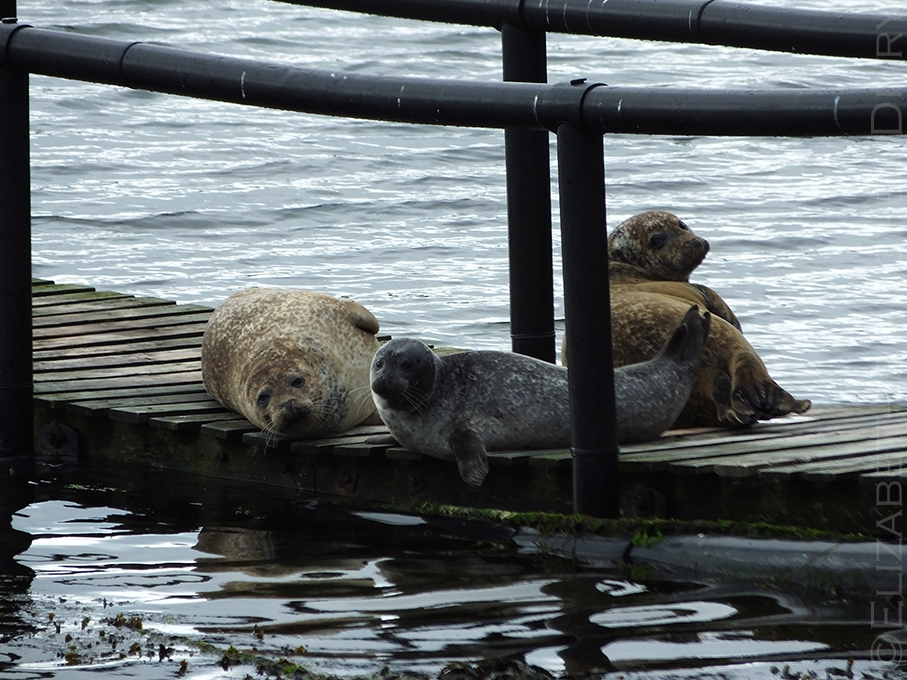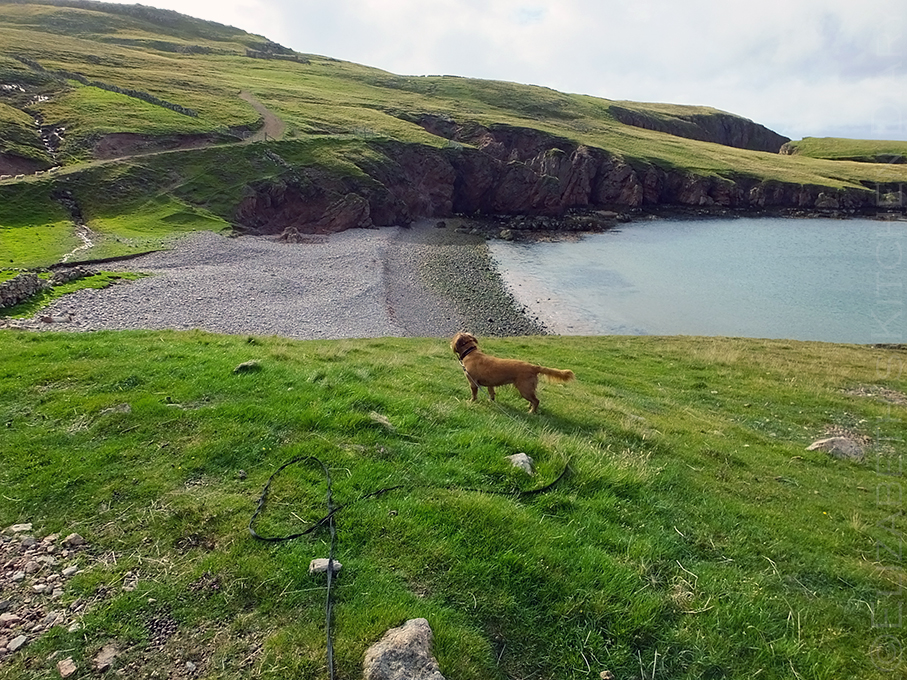 All in all it was a fantastic afternoon in good company! Upon my return home and syncing my Fitbit with my iPad I received two emails: I'd achieved 25,000 steps in one day (first time since I bought my Fitbit in February!) and climbed over 125 floors in one day, earning me two badges. I really do love my Fitbit!
Follow Elizabeth's Kitchen Diary's board Shetland on Pinterest.


If you want to be kept up to date on my recipes, occasional craft tutorials, adventure stories and giveaways then please subscribe to my weekly newsletter; it gets sent out every Monday morning if there is new content. Your email address won't be passed on to anyone, you will never be spammed and you are free to unsubscribe at any time, no questions asked. Make sure you confirm your subscription or you won't receive the newsletter – if it hasn't arrived check your junk mail folder.
[wysija_form id="1″]