In collaboration with Villetta Annessa & Garda Trentino Tourism.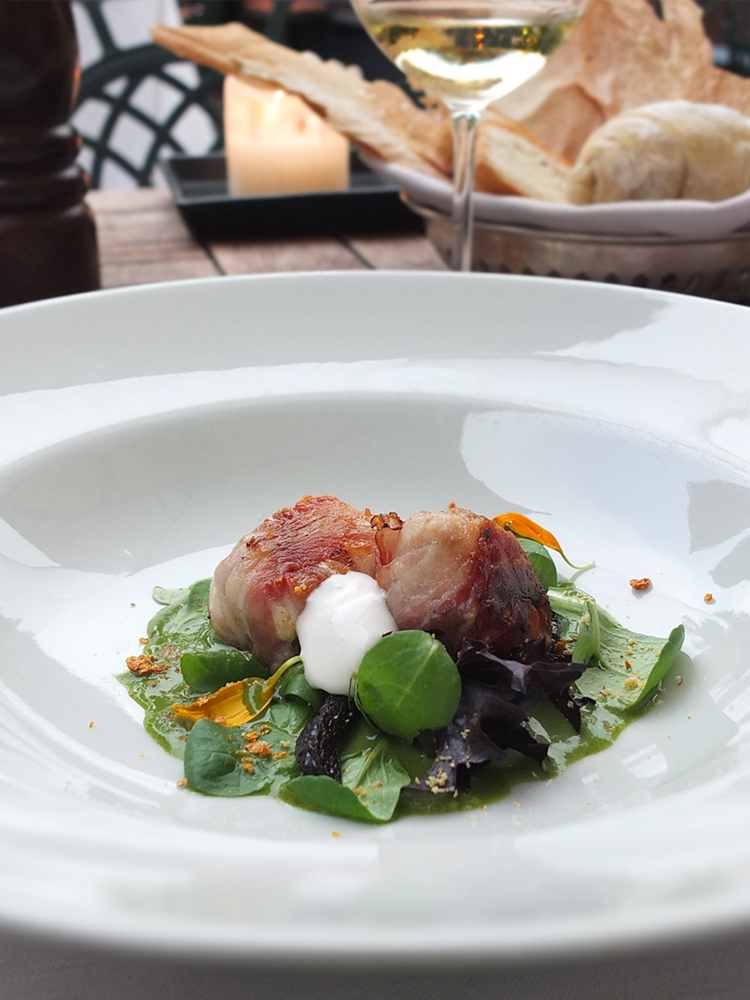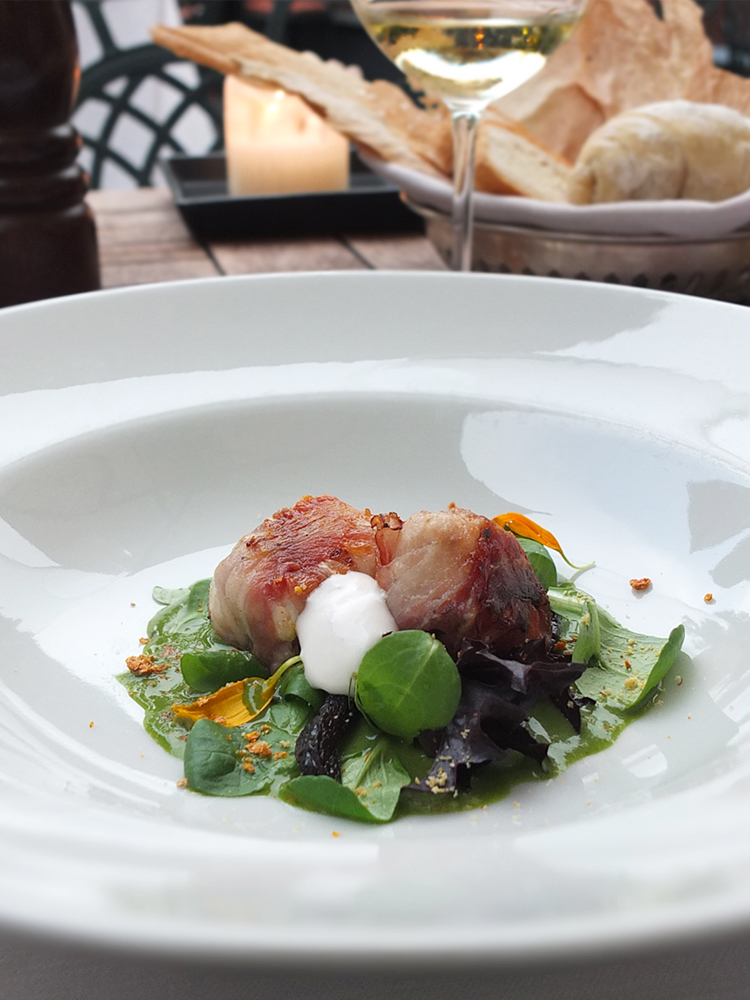 One of the many things I love about visiting new places is the opportunities that arise to try new and interesting dishes local to the area. I like to actively seek out ingredients and recipes I've never before tasted, and the more unusual the better!
I had one of these wonderful culinary experiences while visiting Riva del Garda in Northern Italy last year, through a private cookery demonstration at Villetta Annessa one afternoon followed by the most extraordinary eight-course tasting menu later on that evening.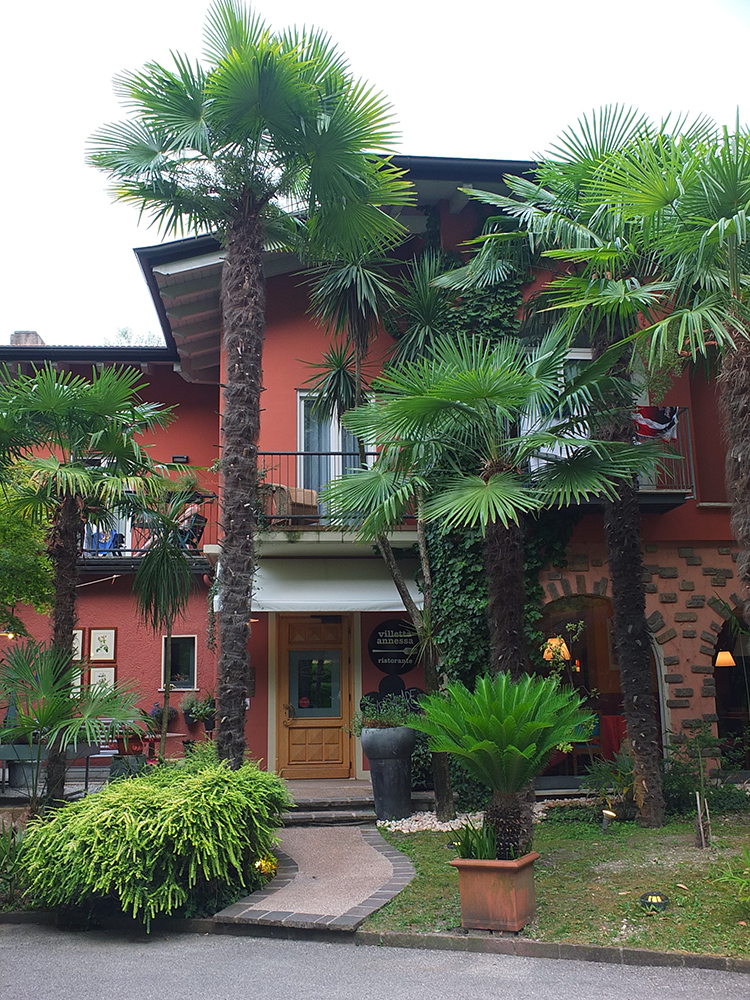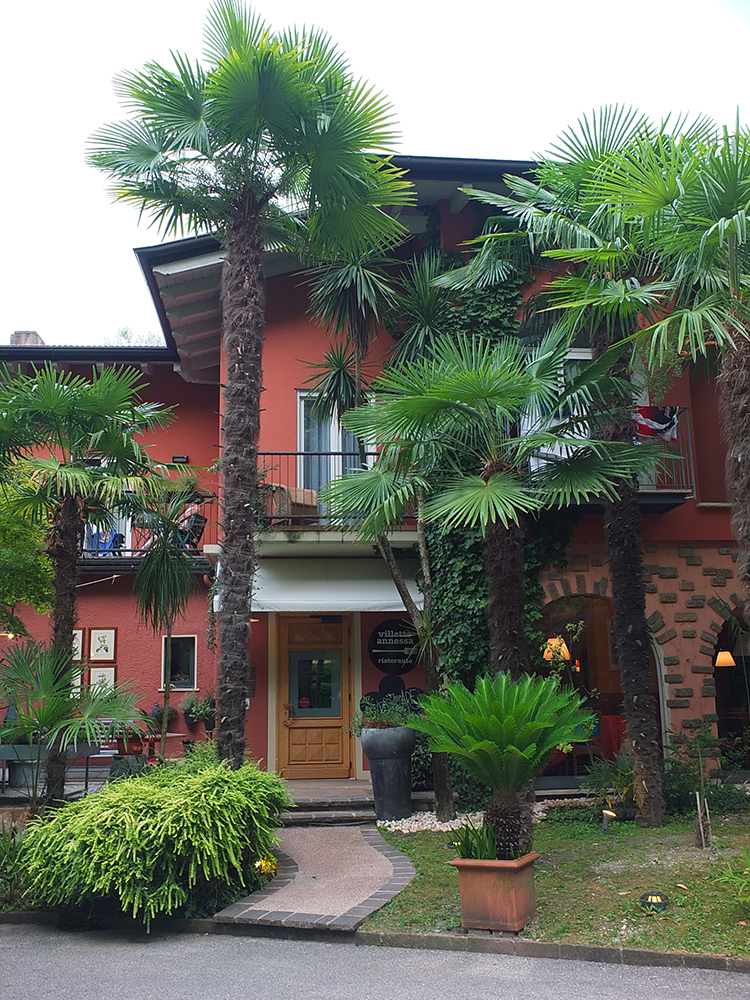 Villetta Annessa is part of Villa Miravalle, a hotel that has been operating on the shores of Lake Garda since the early 1900s. The new restaurant replaced the original "Il Girarrosto", which in the sixties gained a Michelin star for its excellent food. You can dine indoors, or, during the warmer seasons, in their stunning garden terrace with its citrus trees and vines.
I had the pleasure of meeting their chef Luca Bombardelli whose passion for local ingredients and techniques shines through in each and every dish he prepares; a beautiful mix of technique, imagination and tradition. Despite not speaking a word of English to me (with special thanks to my translator, Daniele!), Luca explained how to prepare one of the signature dishes of Villetta Annessa: pan-seared rabbit loin salad with pancetta and plums.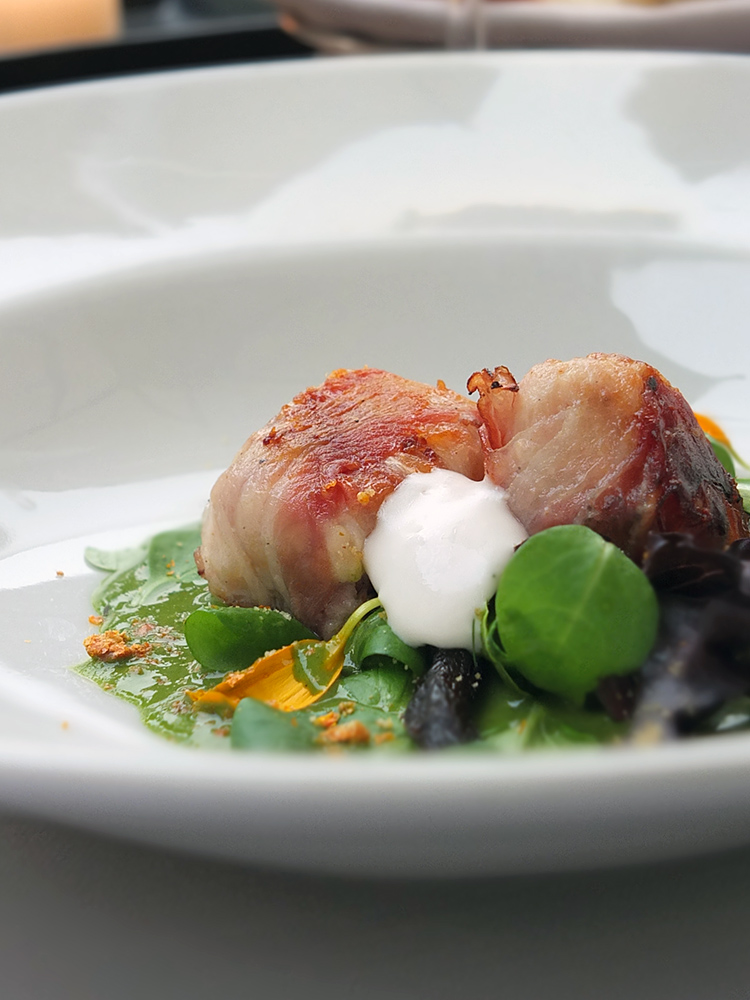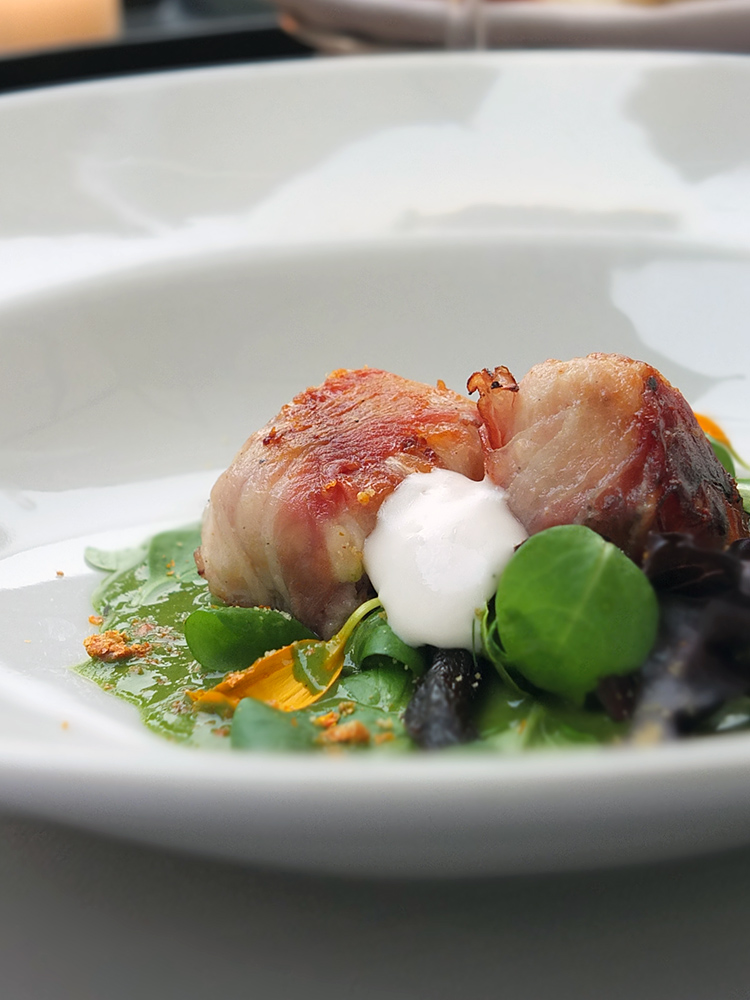 For this recipe, Luca slow cooks rabbit loin in a sous vide water bath with plenty of locally produced olive oil at a low temperature for several hours. This results in a delicious, tender medallion of meat which he then wraps in pancetta and pan-sears until golden all over.
The pancetta, he explains, is a little fatty, so it helps caramelise the rabbit loin medallions and imparts a gorgeous flavour to the dish. The pancetta wrapped rabbit is placed in a cold non-stick pan which is then heated so that the fat melts and caramelises.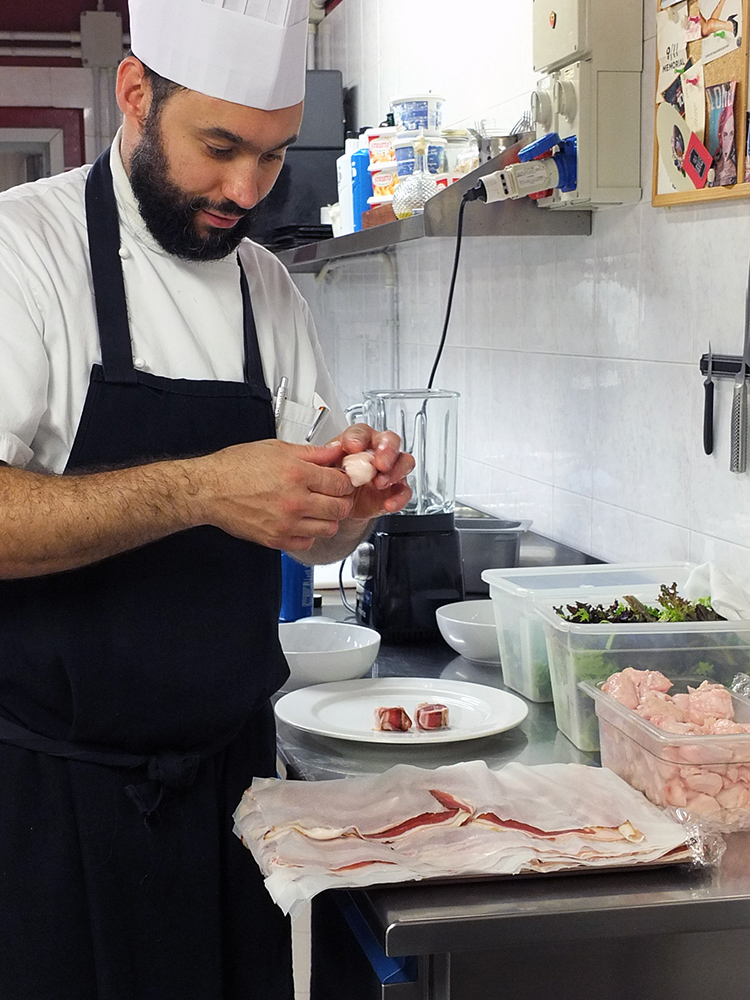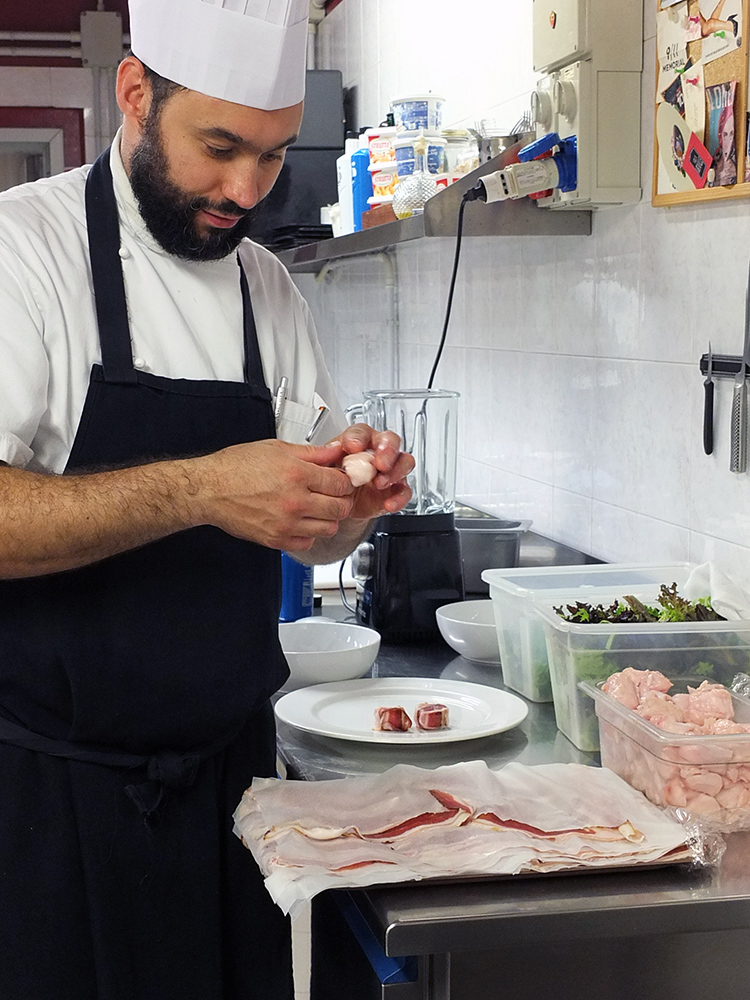 The juices from the sous vide bag are reserved and then blended in a matter of seconds with some more local olive oil to make a simple homemade fake mayonnaise. Luca uses this 'foam' to garnish the salad with at the end. Alex explained that the proteins in the cooking liquid act like the proteins in the eggs used in mayonnaise to make the mixture thicken, just like mayonnaise does.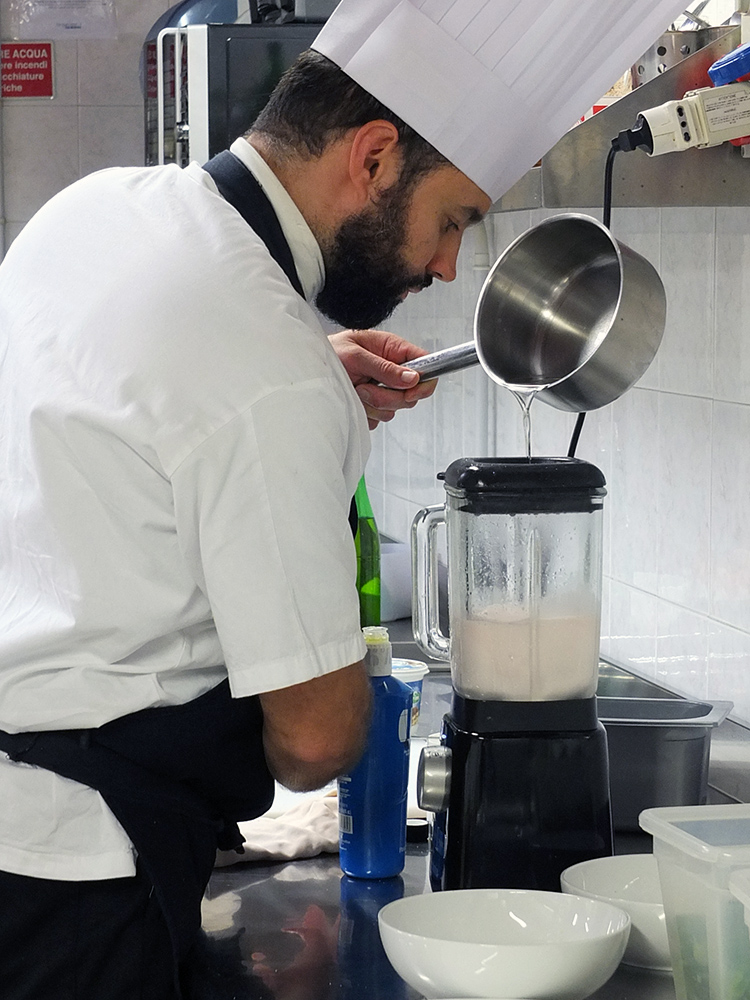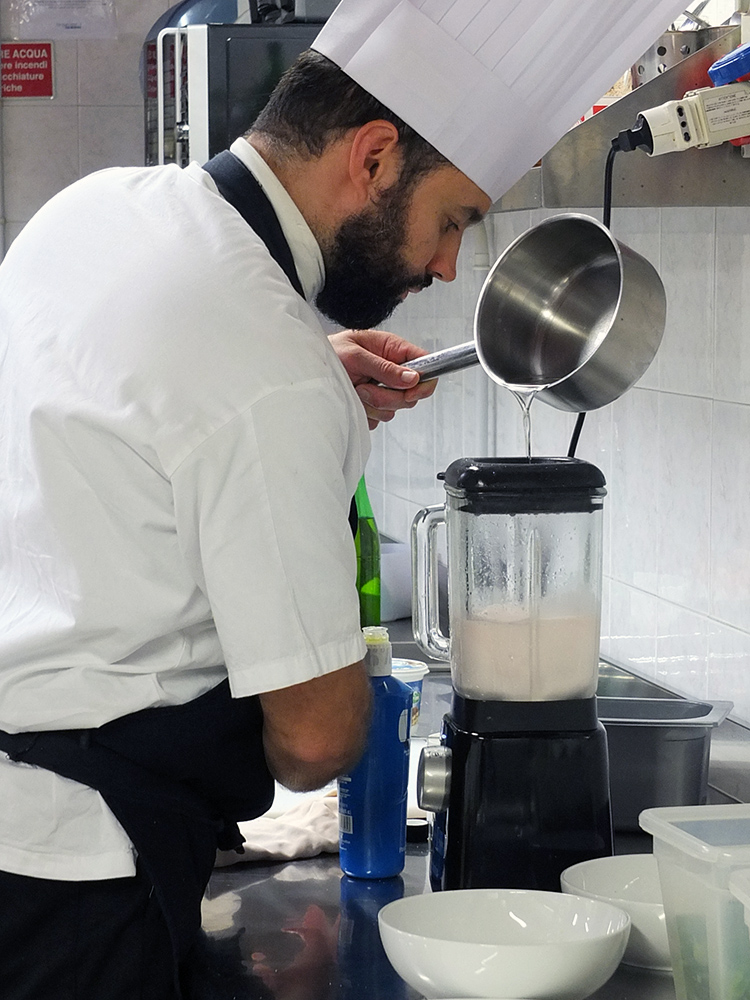 The salad itself is an interesting concept I've never encountered before in that it's a liquid salad! Fresh salad leaves are blanched in boiling water, drained and plunged into a waiting bowl of cold water to revive. Take care not to use red leaves or bitter leave such as rocket for this. The blanched salad leaves are then blended with a little of the rabbit cooking liquid to create a thick foam-like consistency. Xanthan gum is used to help it condense.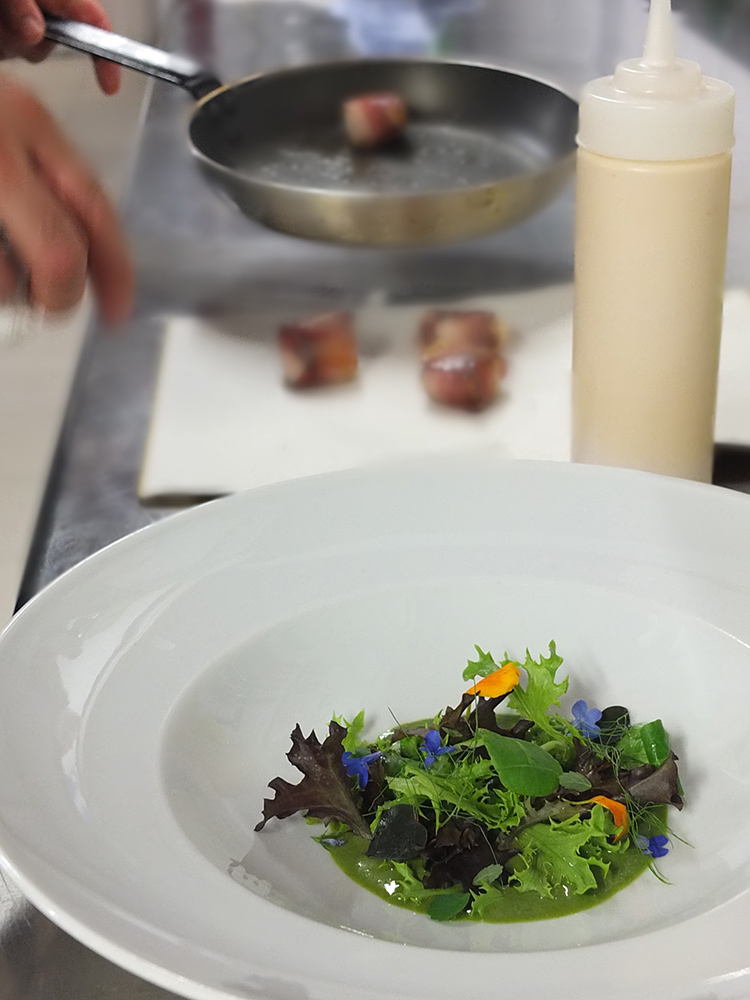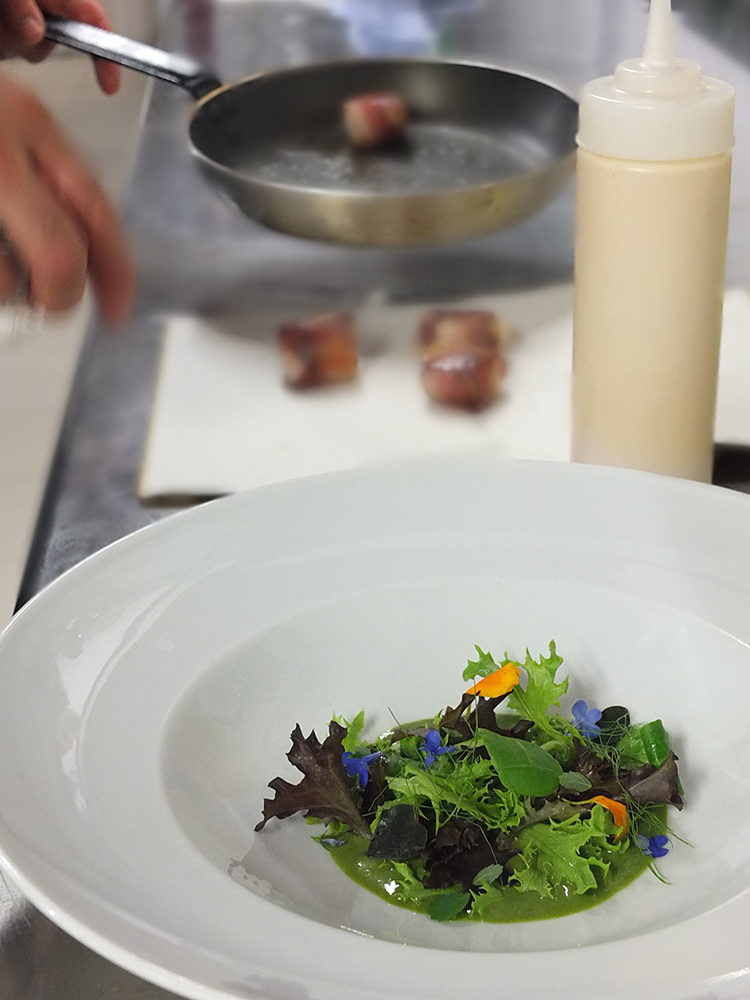 Some of this liquid salad is poured into the bottom of a serving plate and topped with fresh salad leaves, edible flowers and herbs from Villetta Annessa's own private herb garden.
This is then topped with the pancetta wrapped rabbit loin pieces, some dried Dro plums (a famous plum from the region where the chef originates) and is then garnished with a crunchy topping prepared from Trentino Grana cheese, locally grown polenta and dehydrated pomodorino tomatoes.
Finally, the dish is garnished with the fake mayonnaise and then served with four pieces of the rabbit as an antipasto dish, or two pieces of the rabbit as part of the Villetta Annessa tasting menu.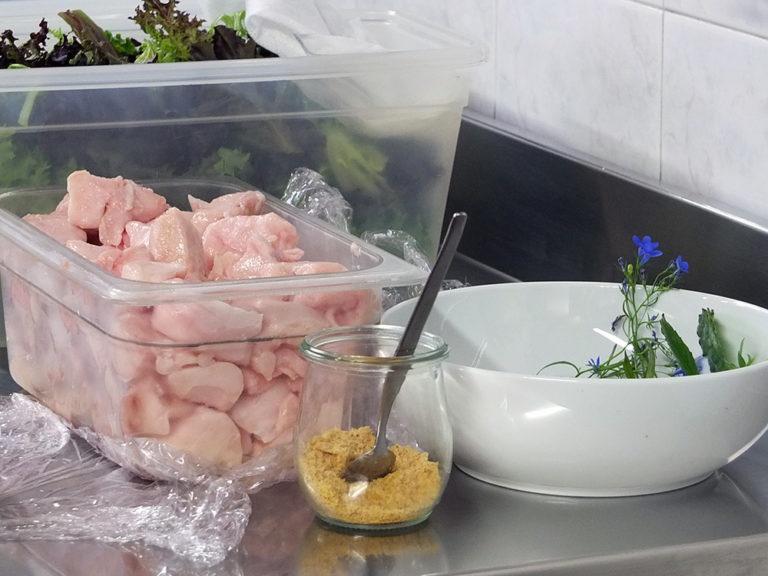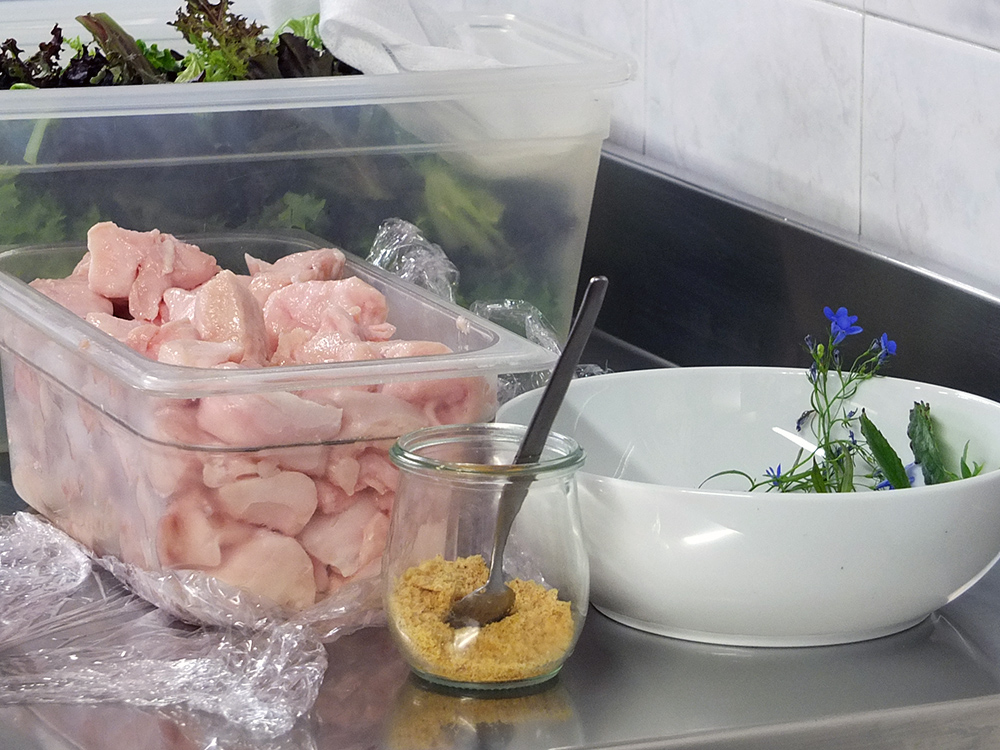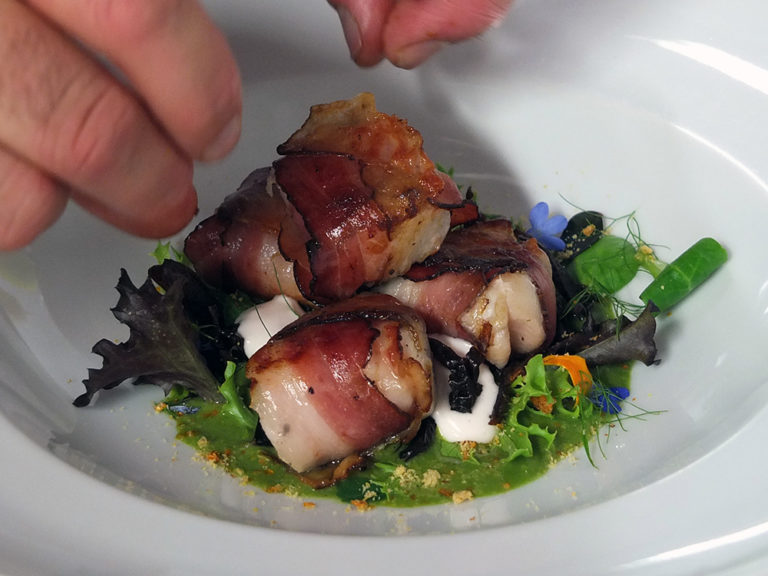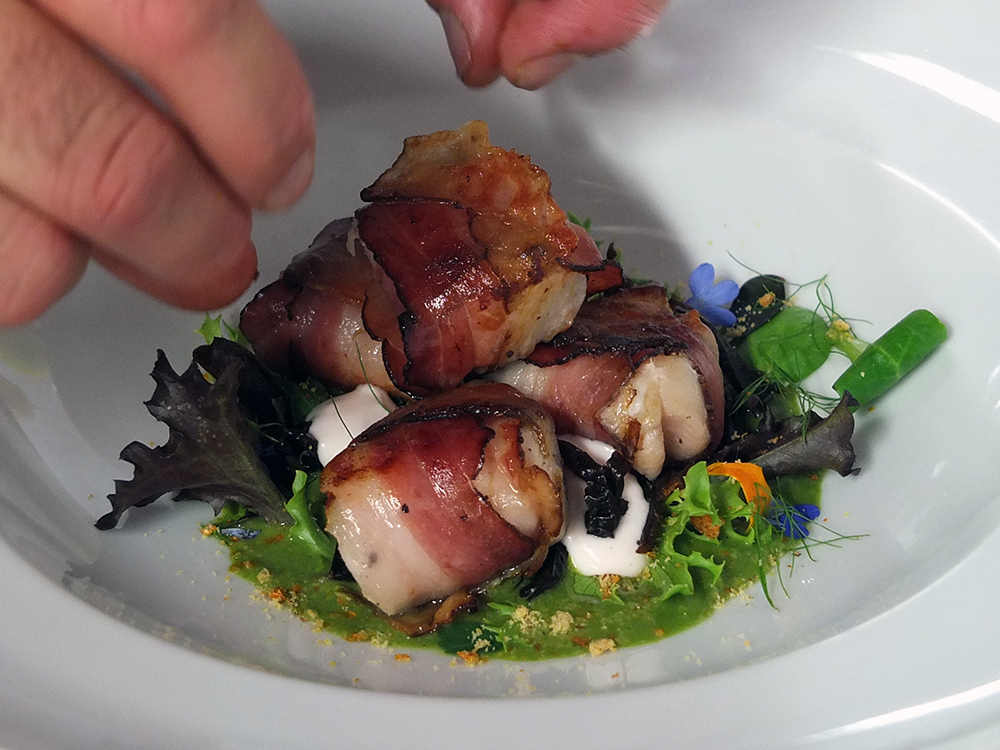 I enjoyed this dish as part of an eight-course tasting menu later on that evening (a separate blog post will follow about that). If you're visiting Riva del Garda I would highly recommend treating yourself to an evening meal at this restaurant – the food and service were superb and staff were incredibly knowledgeable with regards to wine pairings for each course.
Villetta Annessa is located in historic city centre of Riva del Garda in the Hotel Villa Miravalle near the base of the mountains overlooking Riva del Garda. Enjoy the cooling ora breeze off the lake as you enjoy an evening meal on their garden terrace.
For more information about Villetta Annessa visit their website and for more information on Riva del Garda, including how to get there and things to see and do, visit the Garda Trentino website.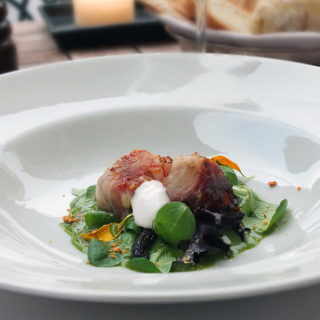 Italian Pan-Seared Rabbit Loin Salad with Smoked Pancetta & Dro Plums: A Villetta Annessa Recipe
Pan-seared sous vide rabbit loin wrapped in smoked pancetta served with a liquid salad and Dro plums. Recipe by Luca Bombardelli from Villetta Annessa, Riva del Garda.
Print
Rate
Ingredients
4

rabbit loin fillets

100

grams

green salad leaves

plus extra, to serve

35

grams

olive oil

0.3

grams

xanthan gum

6

dried Dro plums

sliced

edible flowers

to garnish
Affiliate Links
This recipe card may contain affiliate ingredient and equipment links. As an Amazon Associate I earn from qualifying purchases.
Instructions
Clean, salt and cut the rabbit loin fillets into bite-sized pieces.

Place the rabbit in a sous vide bag along with the olive oil and cook for three hours at 63 degrees Celcius.

Remove the bag from the sous vide and carefully drain and reserve the cooking liquid, sieving out any pieces.

Meanwhile, blanch the salad leaves (take care not to include any red leaves or bitter green leaves such as rocket) in hot water and cool again in cold water.

Blend the blanched salad leaves with a little of the rabbit cooking liquid until it reaches the desired consistency. Season well with salt and pepper and thicken with the xanthan gum. Set aside.

Wrap each of the cooled rabbit loin pieces in a slice of smoked pancetta and place in a cold, non-stick pan. Heat to a medium-high heat and sear the rabbit until browned, crispy and heated through. This will take 7-8 minutes.

Pour a little of the liquid salad onto a plate and top with salad leaves and edible flowers.

Place the pan-seared rabbit on the top and dot the dish with homemade 'mayonnaise', if desired (see recipe notes). Finish off with the sliced Dro plums. Serve immediately.
Notes
To make the homemade 'mayonnaise' place the remaining rabbit sous vide cooking water into a blender, season well with salt and pepper and blend until thick.
You can also sprinkle the salad with a special toasted topping made with equal parts Trentino Grana cheese, cornmeal and dehydrated pomodorino tomatoes.
Environmental Information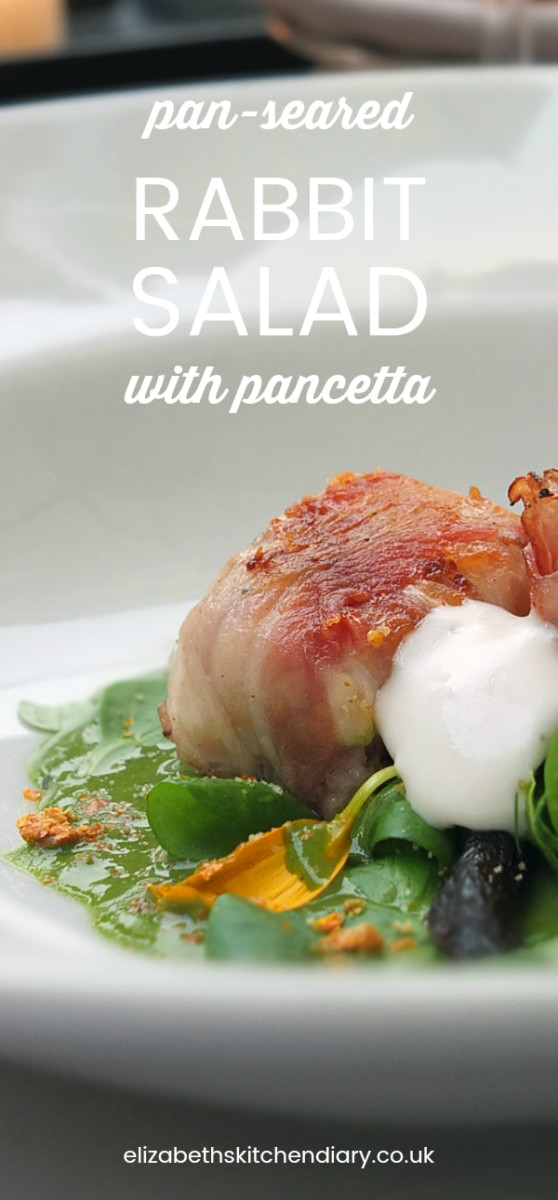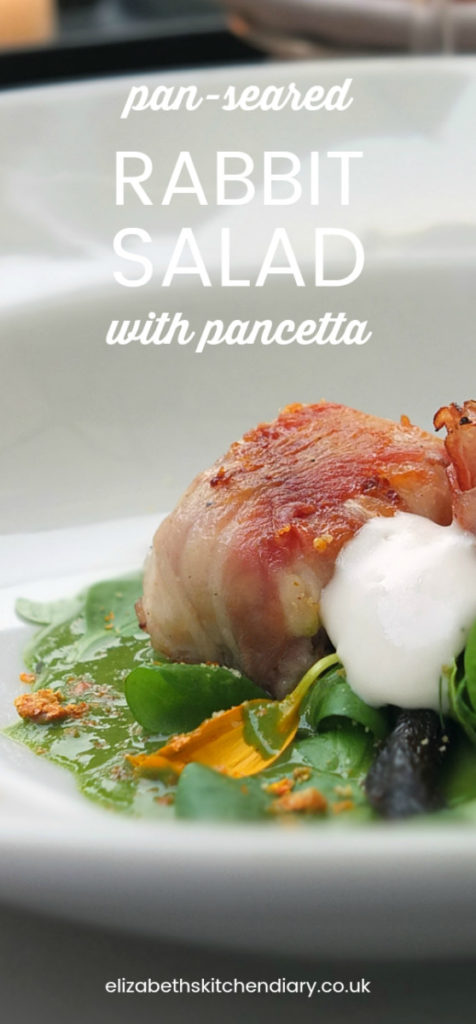 Elizabeth's Kitchen Diary was a guest of Garda Trentino Tourism. With thanks to Villetta Annessa for the beautiful meal, the cookery demonstration and for the recipe.