A cheat's bread machine focaccia recipe PLUS a fantastic giveaway!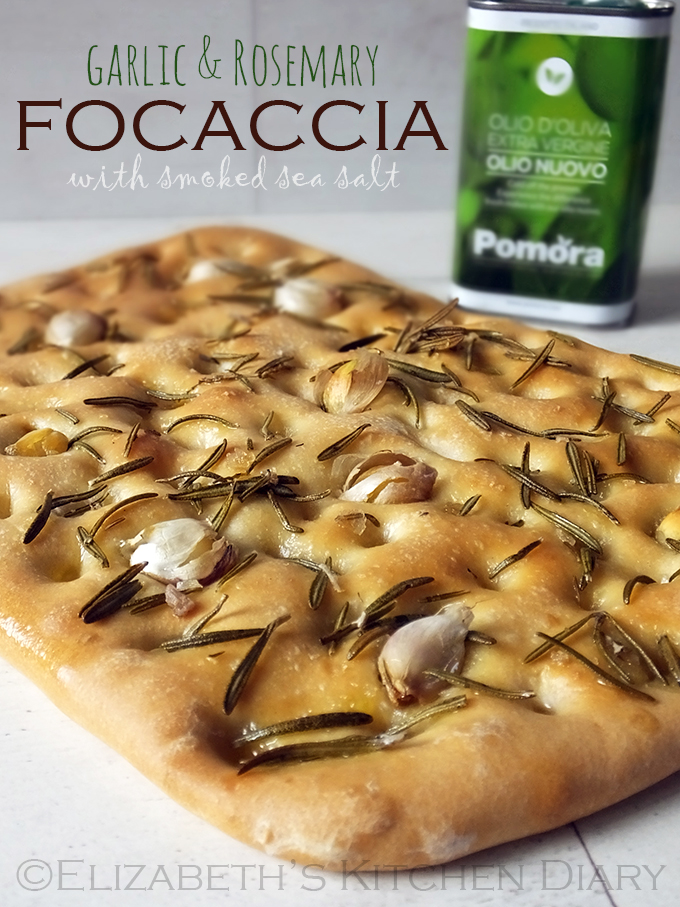 Despite the fact I feel like I never stop moving at all in a day, I am ultimately quite a lazy person. I love bread, but after a day at work the last thing I want to do is to start hand kneading and proving loaves, waiting for hours for it to do its thing. Plonking some ingredients into my bread machine and pressing a button takes all the work out of this, and results in quite a reasonable bake. If you want artisan bread making tips pop over to Shetlander James Morton's website (author of Brilliant Bread, and soon to be released How Baking Works (and what to do if it doesn't).
If you stick with me though, I'll take you on a little adventure to two olive groves in Italy.
One of the (many!) perks of being a food blogger is that I get to sample and review all sorts of interesting and unusual products. One of these products, sent to me directly from Italy this week, was some olio nuovo (new oil to us non-Italian speakers!) from the new small business Pomora.

Pomora is a small UK-based start-up business offering US and UK readers the opportunity to adopt an olive oil tree from Italy and receive the oil from that tree throughout the year. This new company, with a focus on sustainability and growers getting a living wage, work with two independent Italian growers each with a long family history of growing olives: Antonio in Campania in southern Italy and Carmelo in Sicily.
Antonio's olive groves are located in the fertile, rolling countryside of Campania, the location of many historic battles with the Romans, Greeks and Normans. He grows the Ravece variety of olive. "Natura da amare" is his motto, "Nature by love" in English, which pretty much embodies the Pomora ethos. Antonio's olio nuovo, which we were fortunate enough to sample, is the first fruit of the harvest in late autumn which is cold pressed in the oil mill and delivers a delicate taste with fruity aroma.
Carmelo's groves are located on the volcanic lower slopes of Mt Etna and he and his family grow the Nocellera Etnea olive variety. This soil which gives rise to a wonderfully distinctive olive oil that is light and airy but with a richness of flavour.
When you adopt an olive tree from Pomora you can choose which producer, Antonio or Carmelo, to adopt from. Right away you'll be sent an adoption certificate and booklet via email (to save on paper – but if you prefer a paper copy it will be sent to you at no extra charge), and you will receive the olive oil from your adopted tree (and its close neighbours) quarterly.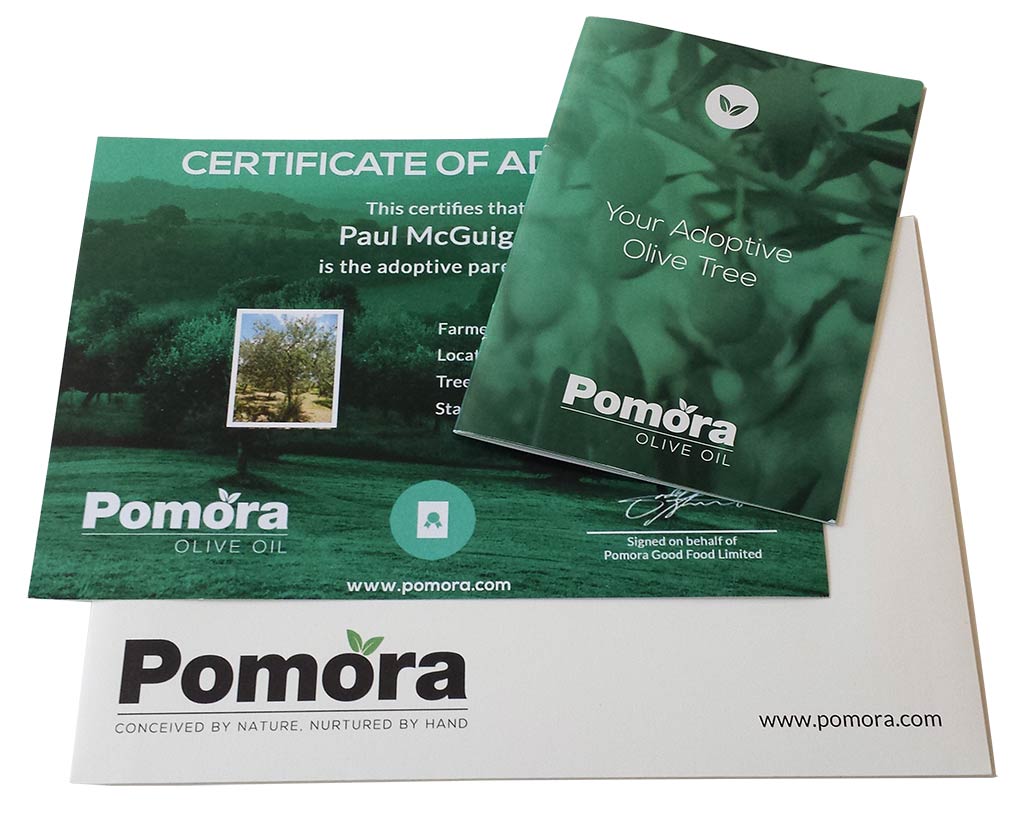 In the winter (mid-January) you will receive three 250 ml tins of olio nuovo, fresh from the harvest. Unfiltered with a vibrant green colour, the olio nuovo is traditionally celebrated with family gatherings. In the spring (mid-April) you will receive three 250 ml tins of flavoured oils including chilli, lemon and rosemary. In the summer (mid-July) your shipment will be of extra virgin olive oil, and in the autumn (mid-October) you will receive flavoured oils again, including basil, garlic and white truffle. Throughout the year, your farmer will keep you up-to-date with news of your tree and how the growing season is progressing.
2014 was a particularly difficult growing year in Italy, with many crops destroyed from pests and bad weather, so when you adopt a tree you are directly supporting family growers; small, independent men and women who make the best olive oils and not the big wholesalers who are constantly squeezing them on price.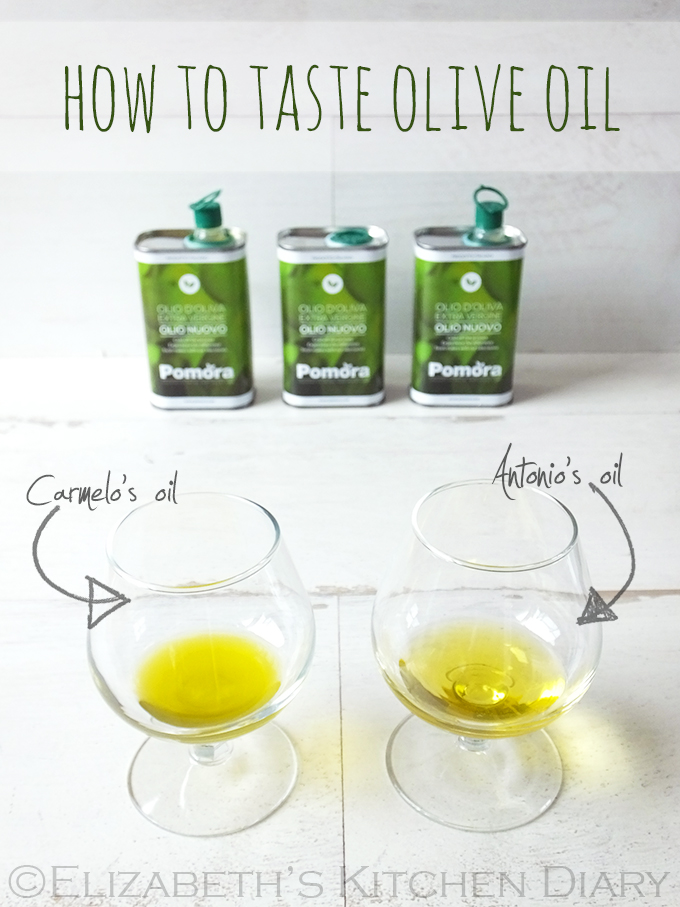 TASTING OLIVE OIL
Like fine wine, the flavour of olive oil is affected by many factors including the variety (type of olive), growing conditions (soil, climate), crop maintenance (irrigation, pest control), ripeness at harvest and production methods.  The generally accepted way to taste olive oil is:
1. Pour a small amount (1-2 tablespoons) of olive oil into a wine glass (or blue tasting beaker if you have one).
2. Warm the bowl of the glass with one hand while covering the opening of the glass with the other hand.  Swirl the oil around in the glass and then uncover the opening and smell the oil.
3. Next, take some of the oil into your mouth using a slurping action to take in some air along with the oil – emulsifying the oil with air releases more flavour.  Allow the oil to move around in your mouth so it reaches all your taste buds.  Close your mouth and exhale through your nose to smell the oil "retronasally".
4. Finally, swallow the oil and notice the sensation it leaves in your throat.  This slight stinging sensation is similar to that caused by a chilli and is known as pungency.
5. Before tasting another oil, be sure to cleanse your palate by eating a small piece of apple (preferably a Granny Smith) and drinking some water.
These steps will allow you to judge the oil on its three primary dimensions – fruitiness, bitterness and pungency.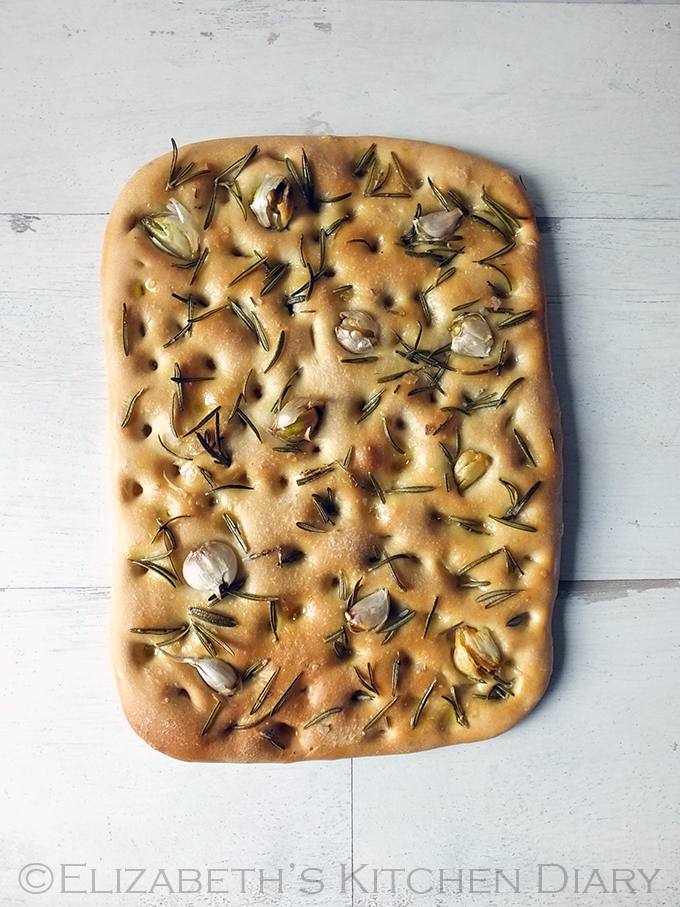 My husband and I followed these steps to test out the two olio nuovos from the two different producers.  Carmelo's olive oil was a cloudy, milder oil, with a delicious fruity flavour. Antonio's oil, however, really packed a punch in the back of the throat! My husband and I preferred the stronger flavour of Antonio's oil, while the children preferred Carmelo's. I had to keep refilling the olive oil/balsamic vinegar dip for them to use with their focaccia!
You can find out more about Antonio and Carmelo on the Pomora website, and follow updates on Twitter and Facebook.
Servings

Prep Time

Cook Time

Passive Time

6

people

10

minutes

30

minutes

30

minutes
Servings

Prep Time

6

people

10

minutes
Cook Time

Passive Time

30

minutes

30

minutes
Place the ingredients for the focaccia dough in your bread machine in the manufacturer's recommended order. Hit the pizza dough setting (45 minutes) or the dough setting.

Alternatively, combine the yeast, flour, olive oil and smoked sea salt in a bowl. Make a well in the centre and pour in the lukewarm water. Combine thoroughly and knead for 10 minutes until smooth. Place in a lightly greased bowl, cover with clingfilm and leave to double in size, about 1 hour.

Meanwhile, prepare the topping. Separate your cloves of garlic, but leave the papering covering on. Lightly crush them with the back of a knife and place in a bowl along with the rosemary leaves, sea salt and olive oil. Using your fingers, crush all the ingredients together. Set aside.

When the dough is ready, knock all the air out of it, knead briefly and roll out to a size of 12" x 10". I rolled mine out on a Kitzini silicone baking mat which was easily transferred from counter top to baking sheet. Using your fingers, poke holes all over the top of the dough.

Using your fingers, spread the topping onto the focaccia dough, making sure the oil covers all the bread. Leave, loosely covered in cling film, to rise for a half an hour.

Bake in a preheated 190 C oven for 25 - 30 minutes, until golden brown.

To prepare the dip, pour a little olive oil in a shallow dish and drizzle some balsamic vinegar on top. Enjoy!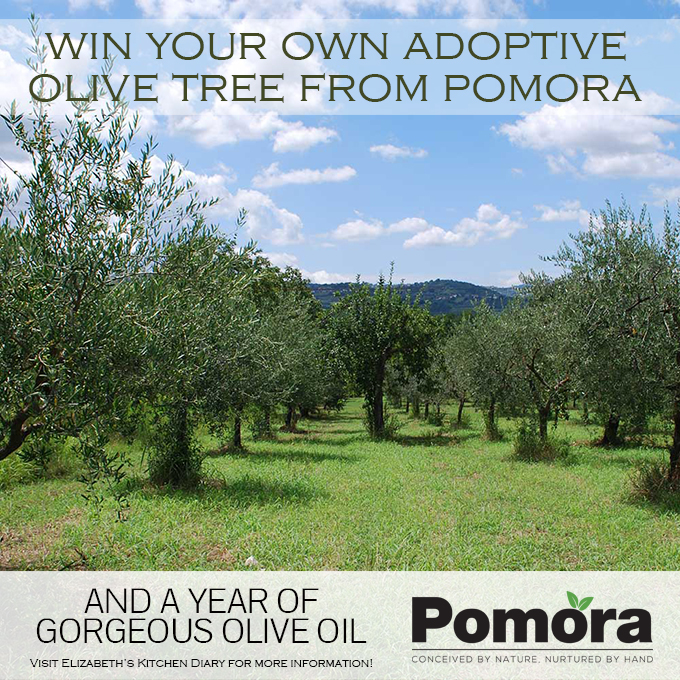 GIVEAWAY
Pomora have very kindly offered the chance for one of my readers to win their own adoptive olive tree for one year, plus quarterly olive oil deliveries from that tree for the year, a £135 value, just in time for Easter (a gift idea, perhaps?).
HOW TO ENTER
For your chance to win your own Adoptive Olive Tree from Pomora and a year of gorgeous olive oil RRP £135 enter using the Rafflecopter form below. Come back and tweet about the giveaway every day for more chances to win!
TERMS & CONDITIONS
This giveaway is open to UK entries only. Entrants must be age 18 or over. The winner will need to respond within 7 days of being contacted; failure to do this may result in another winner being selected.
The prize is offered and provided by Pomora. The prize is  to win your own Adoptive Olive Tree from Pomora and a year of gorgeous olive oil RRP £135. There is no cash alternative and the prize is not transferable.
There is no entry fee and no purchase necessary to enter this giveaway. The promoter (Elizabeth's Kitchen Diary) reserves the right to cancel or amend the giveaway and these terms and conditions without notice.
Entry into our giveaways will be deemed as acceptance of these terms and conditions.
If you need some help using Rafflecopter, here's a quick clip to show you how. Rafflecopter will pick the winner at random from all the entries received. I will be verifying entries and any automated entries or those who have claimed they have made the mandatory blog post comment and really haven't will be disqualified. It's mandatory!
Closing date is midnight on Monday 30 March 2015 (GMT) and the winner will be announced that day.
Don't forget to visit my Giveaways Page for other fab prizes!
OTHER FOCACCIA RECIPES YOU MIGHT LIKE
Cherry tomato and rosemary focaccia and Strawberry focaccia by Little Sunny Kitchen
Tomato, red onion and blue cheese focaccia by The Crafty Larder
Olive focaccia by Family, Friends, Food
Slow cooker spinach and feta focaccia by The Baking Queen
Za'atar and olive focaccia by Fab Food 4 All
Garlic and basil focaccia by Jo's Kitchen
Wholemeal herb and onion focaccia by Utterly Scrummy
LINKING UP TO A FEW FOOD BLOGGING CHALLENGES
Alphabakes by The More Than Occasional Baker and Caroline Makes. Theme: letter S (smoked sea salt!)
Cook, Blog, Share by Supergolden Bakes
Recipe of the Week by A Mummy Too
If you want to be kept up to date on my recipes, occasional craft tutorials, adventure stories and giveaways then please subscribe to my weekly newsletter; it gets sent out every Monday morning if there is new content. Your email address won't be passed on to anyone, you will never be spammed and you are free to unsubscribe at any time, no questions asked. Make sure you confirm your subscription or you won't receive the newsletter – if it hasn't arrived check your junk mail folder.
[wysija_form id="1″]
Elizabeth's Kitchen Diary was sent a selection of Pomora olive oil and a Kitzini baking mat for review (full Kitzini review and giveaway to follow soon!). All thoughts and opinions expressed are our own. This is not a paid post.