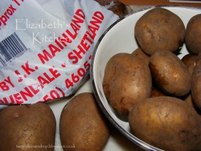 Orkney smoked garlic is out of this world with flavour too. It could be because the only other options are the tiny supermarket garlic or the hideously out of date dried up garlic at the village shop (am I the only one who buys garlic?!) but I think that the Orkney smoked garlic has a marvellous depth of flavour. The cloves are big, fat and juicy too and they make a wicked aioli.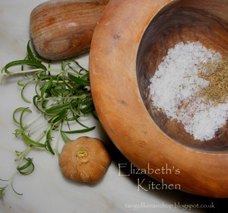 A further adaptation to Slater's recipe was that I thickened the gravy with some cornflour dissolved in water and I left the foil off the lamb for the final 15 minutes of cooking. Without browning the lamb looked a little bit like that poor sheep I'd found, long deceased, in a peat bog up the hill (poor thing!). Slater's lamb recipe required browning to look palatable.
All in all this slightly adapted Nigel Slater recipe is a splendid method to cook a lamb roast. The resulting dish is moist and tender, full of flavour (that's because it's Shetland lamb!) and falls off the bone. The mash was a perfect accompaniment (although by the end you could notice that there was an awful lot of butter in it – you could easily reduce the butter content by 1/3, at least). Still, in the middle of winter when you're wanting a comforting meat & potatoes sort of meal, this is it!
I am entering this recipe into Farmersgirl Kitchen's Dish of the Month, which features recipes from Nigel Slater.