Rosemary-infused olive oil lends a savory note to this Mediterranean inspired bundt cake.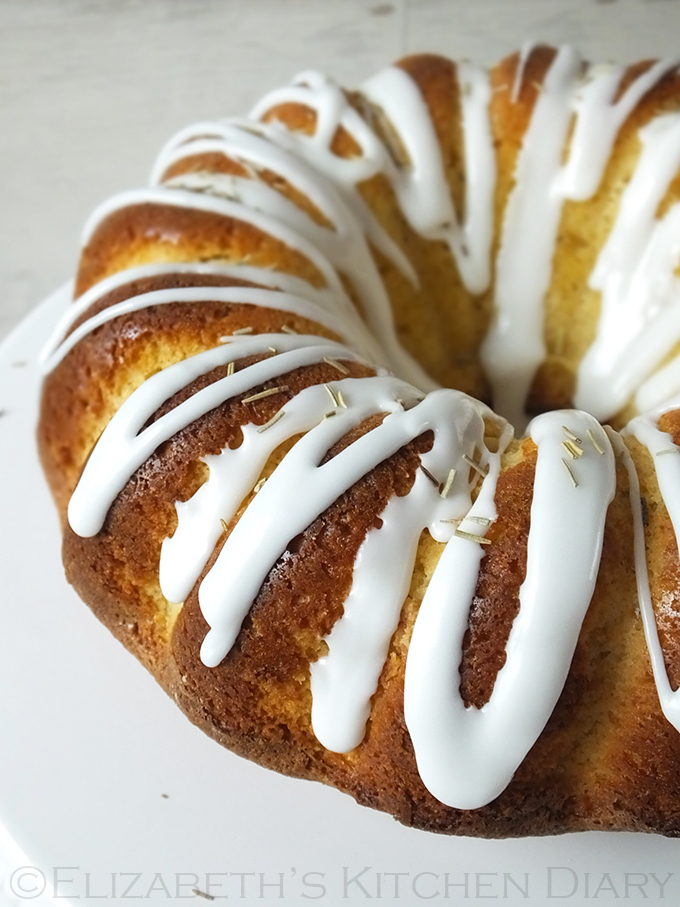 A few months ago I mentioned on Facebook that I needed to get out of the house more. Full time blogging can be a lonely occupation with hours and hours spent by oneself experimenting with food in the kitchen, and even more time sitting in front of the laptop typing. Some days the only grown up conversation I would get would be with the postie or delivery man delivering product samples for review. I needed to get out more. The word doolally sprang to mind.
Be careful what you wish for!
Shortly after I posted on Facebook the manager at our village shop asked me, while I was in buying my messages: "Would you be interested in working a few shifts at the shop?"
My immediate response: "H-E-double hockey sticks, no!" (Yes, I actually cussed).
It had been 8 years since I've worked for anyone else. My first response was that of apprehension. Dealing with the public again would be quite a big leap from keeping my own hours with my own company in my own home. Besides, I'd spent all those years studying for my Open University BSc Life Sciences degree, graduating in December 2013 with a First Class Honours. If I was going to go back to work it would be science related.
I put the notion from my mind.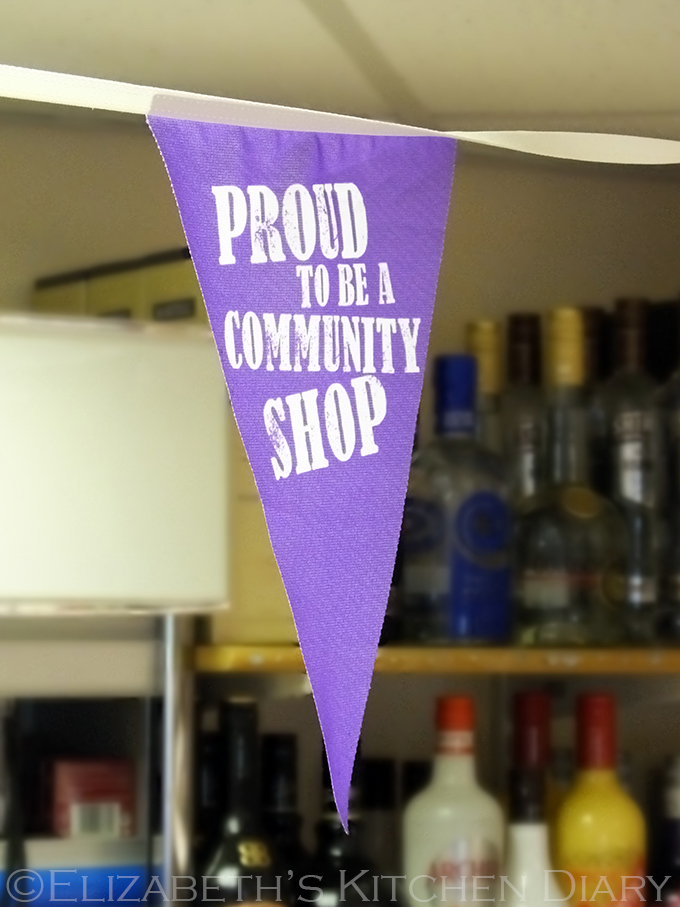 A few days later, a dear friend of mine on the shop committee came for a quick visit. "Please, please, please reconsider working at the shop. we'd really love you to work with us!" she pleaded.
I pondered. It would only be 12 hours a week. It would get me out of the house. Why not? We'll give it a trial period.
So, much to the surprise of my husband, I accepted the position.
It's been two months now and I work two afternoons and a morning at the village shop, a community owned co-operative, and I love it! It gets me out of the house, meeting people, socializing and it's 15 hours in the week I get to switch off from the online world and just get on with it. I don't have to worry about writing deadlines and I get my FitBit step count way up on those days (it's quite easy to cover 7 miles in the shop on a delivery day!). It takes a lot of my willpower not to stylize the fresh produce while restocking the shelves!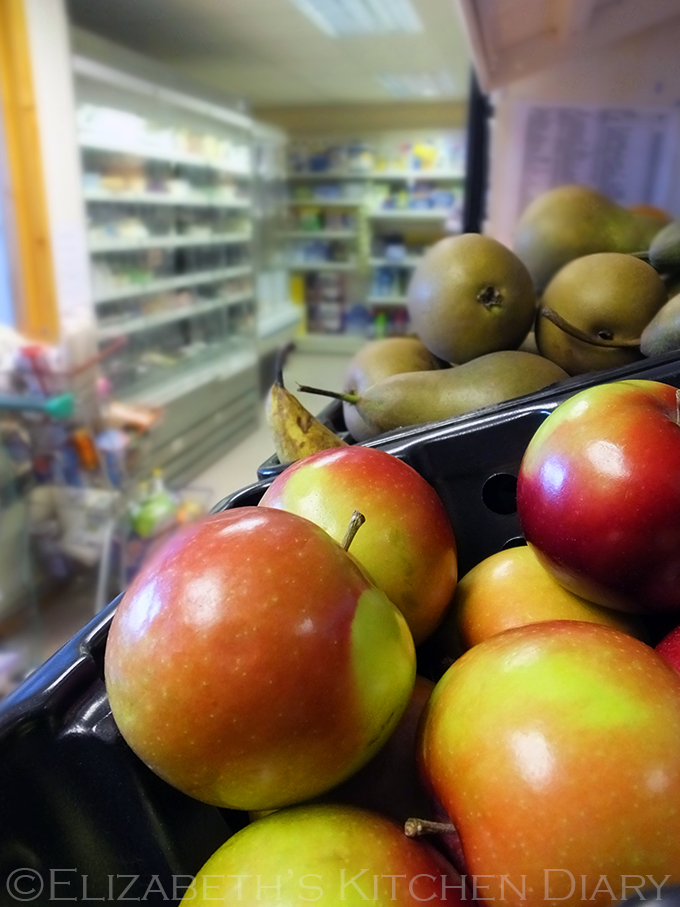 One of the services our rural community shop offers is a weekly shopper bus, a life line for those rural folk who don't drive. The elderly ladies using the service pay a small fee to keep the bus going which is subsidized by the shop, but the shop doesn't turn that much of a profit. Shortly after I started at the shop the service was going to be discontinued as we could no longer afford to pay the bus fees.
One of the ladies was lamenting the imminent loss of this life line service. I pondered again. Surely I could devise a way to raise some money to keep the bus going?
The following week I brought in a gingerbread cake and offered it to staff and customers for a small donation towards the shopper bus. I wasn't prepared for the response that cake received – folk were sticking £5 notes into the tin! Builders and workmen were coming in, heating up a slice of cake with lemon sauce in the microwave, and scoffing with glee.
At a shop committee meeting the next evening they decided that if I would bring in home bakes once a week, the shopper bus service could remain in operation, indefinitely. The shop would also contribute ingredients, butter, sugar, flour, etc. Win!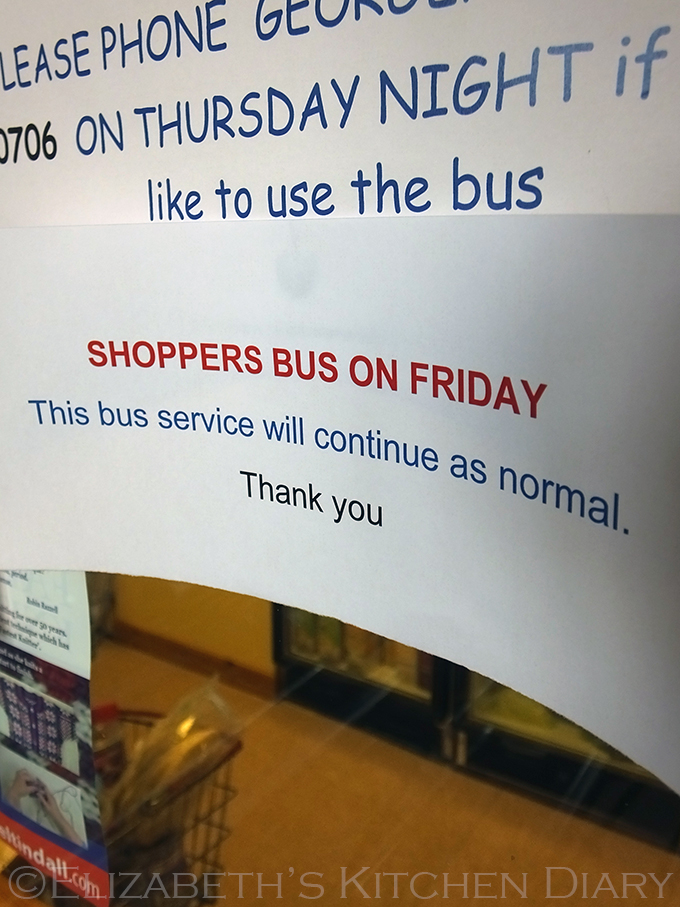 So, each week I bring in some home bakes. Sometimes it's a tried and tested recipe, sometimes it's someone elses' recipe, sometimes it's my own new, experimental recipe – a recipe development for a client, or trying out a new product I've been sent. The fastest my home bakes have ever gone was 4o minutes. A batch of simple vanilla cupcakes with a pink and white swirl frosting. Gone – whoosh, out the door!
To transport my home bakes to the shop I was needing something sturdy. The fine folk at Red Candy, a funky home accessories company, when I told them about the shopper bus predicament, offered one of each of their Typhoon vintage cake and biscuit tins in Buick red for the job. I love these tins so much, and folk come into the shop looking for them now! They're proper, sturdy well made metal tins with an airtight seal around the edge so my home bakes stay fresh.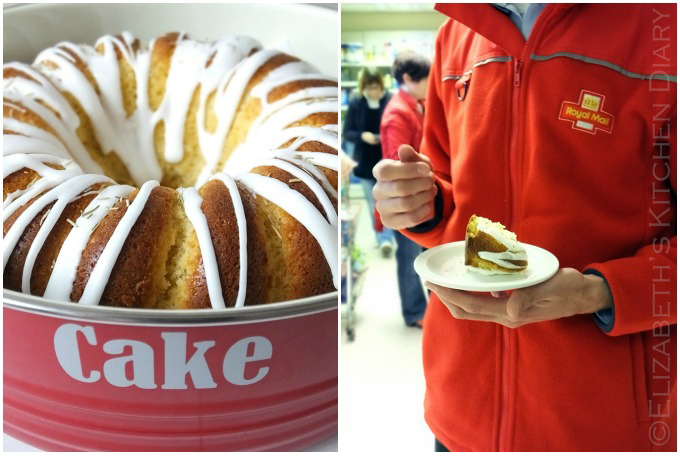 Folk will stop me on the road while I'm walking to work now to ask what I've baked and have a peek in the tin, while one elderly gentleman keeps asking me if I've baked anything that day (if he had his way I'd bake every day for the shop!).
I always leave a little note on the kitchen table at home for my husband when he gets home letting him know there are fresh home bakes at the shop. That's him, pictured above, right, taste testing my lemon-rosemary olive oil cake. He's my prime taste tester as he will always be honest – if he thinks a cake tastes dry/too sweet/not sweet enough/wrong he has no qualms with letting me know!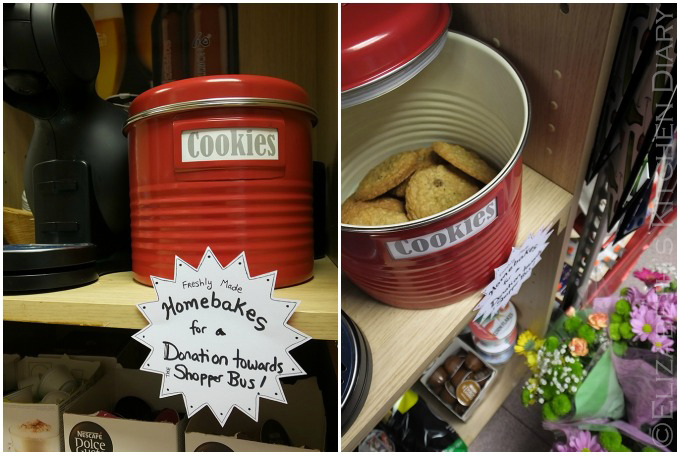 We've also cleared out an area in the shop for self-service coffee and tea station. I recently wrote a blog post for a client in exchange for a Nescafe Dolce Gusto coffee machine. The coffee machine is now in the shop for folk to use (I think the pods are too expensive for home use – but it suits a public area perfectly). A round table and three chairs were donated by one of the villagers, so now people have a place to sit, drink their coffee and eat their cake; a welcome reprieve for cyclists and villagers alike when the weather is poor. Children sit and colour pictures while their parents shop, and the elderly can rest their weary bones while having a lightsome chat.
All in all it's pretty awesome to see, directly, the effect one single gingerbread cake could have on a community. I've spoken with environmental health about the possibility of setting up a made-to-order sandwich station. There's some lengthy forms and paperwork to fill out, but all the facilities are there to make it happen. Watch this space!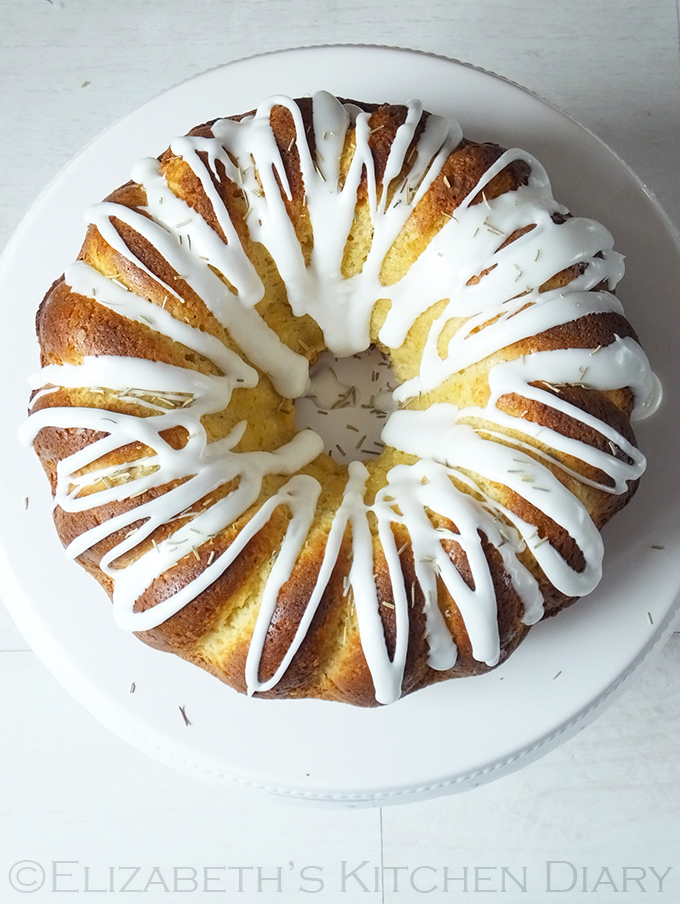 This gorgeous bundt cake was one of the experimental recipes I brought into the shop. After the morning routine of getting the kids up and off to school, I popped this recipe into the oven and did my daily P90X3 exercises while the cake cooled in the window sill. I'd bookmarked the original recipe some time ago, noting the comments about how dry it was and that the flour quantity needed to be reduced.
Reducing the flour, replacing fat free milk for Shetland Dairies buttermilk (leftover from my eldest's buttermilk birthday cake eaten in a cave!) and using the rosemary infused olive oil I'd received in the post the day before from Pomora, the resulting cake was moist and incredibly moreish. It's not as sweet as it might appear at first glance – it's really a rather unique flavour, with the evergreen herb flavoured peppery olive oil providing it with a savory note. The sweet lemon drizzle icing compliments it perfectly.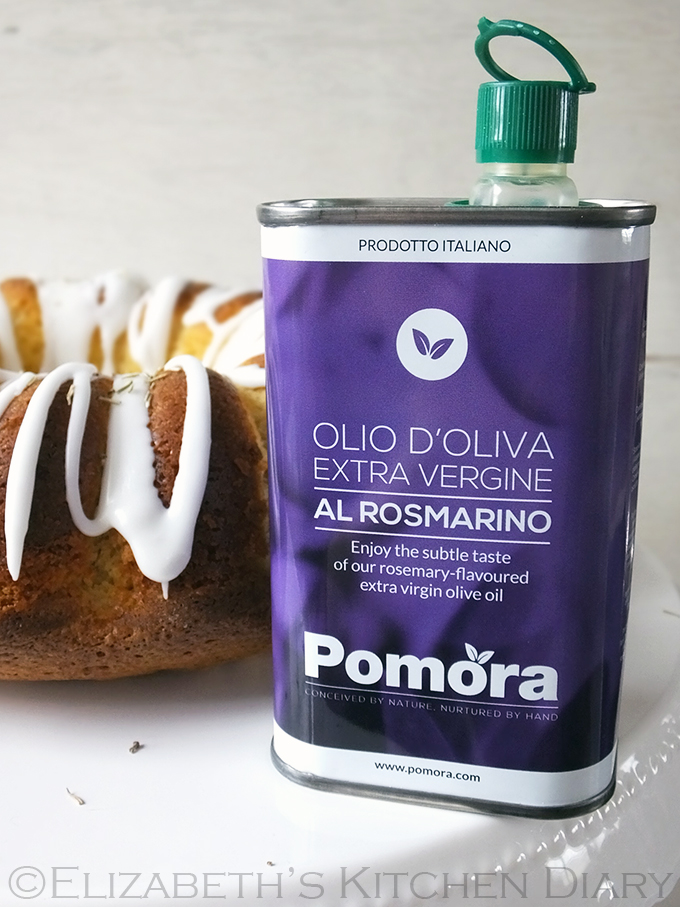 I have recently started working with Pomora (you can see my affiliate banner in the sidebar) – a UK company working directly with two olive oil producers in Italy with an aim to deliver high quality olive oil to the UK and US markets. With Pomora you can adopt an olive tree and you will receive quarterly updates and deliveries of the oil from that tree and its surrounding neighbours – the newly pressed oil, flavoured oils and extra virgin olive oil, depending on the season.
The Spring shipment, sent out in April, consists of three Mediterranean flavoured oils: rosemary-infused, lemon-infused and chilli-infused. As soon as I saw the rosemary infused oil I knew I wanted to try out that bookmarked cake recipe. I've got some halloumi cheese in the fridge to try with the chilli infused oil and the lemon has hummus written all over it!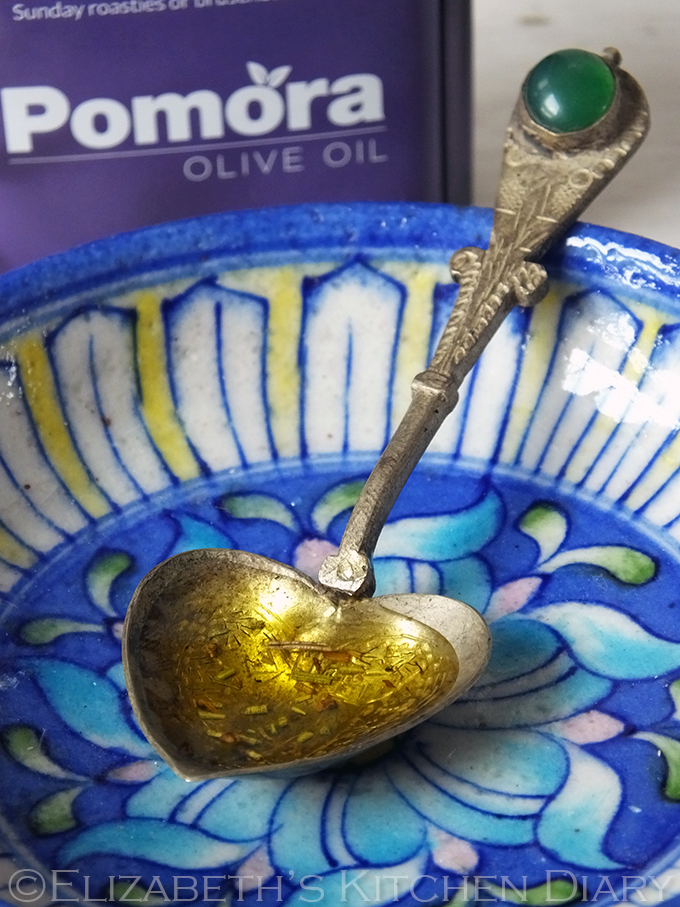 Look at that gorgeous colour! This particular batch of oil came from Antonio's olive groves in the Campania region of southern Italy. His oil has quite a pungent bite to it, which I quite like. Carmello's oil (Pomora's other producer with olives grown at the base of Mount Etna) is milder in flavour, preferred by some.
I really like the idea that I'm using olive oil grown by real people; people whose names I know. Adopting a tree through Pomora means you will directly support these families, and they will send you regular updates on the tree and how the growing/harvesting seasons are going.
I brought my tin of rosemary-infused oil into the shop with me along with the cake, to help explain to anyone interested in what exactly it is exactly that I do with my primary day job – food blogging (I think it came as a surprise to some that I don't spend my days watching daytime telly!). I could have sold that tin ten times over, had it been available on the shelves, but alas, it's not! You have to get it direct from the producers.
In the meantime, if you don't have a good quality rosemary infused oil like that from Pomora, use the best extra virgin oil you can buy and add two tablespoonfuls of fresh chopped rosemary to the mixture.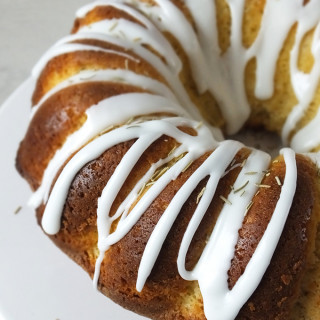 Lemon Rosemary Olive Oil Cake
Rosemary infused olive oil lends a savory note to this Mediterranean inspired cake.
Print
Rate
Affiliate Links
This recipe card may contain affiliate ingredient and equipment links. As an Amazon Associate I earn from qualifying purchases.
Instructions
Preheat oven to 180 C. Grease and flour a large bundt cake tin and set aside.

Sift flour, baking powder, bicarbonate of soda and salt into a large bowl.

Place sugar, olive oil, buttermilk, lemon juice and zest, vanilla and eggs into another large bowl and whisk until thoroughly combined.

With a wooden spoon, fold the dry mixture into the liquid until well combined.

Spoon into the prepared bundt tin and bake for 40-45 minutes, until well risen and golden. A skewer, inserted into the centre of the cake, will come out clean when it is ready.

Cool in the tin for 15 minutes before transferring to a wire rack to cool completely.

To prepare the lemon drizzle, sift the icing sugar into a bowl and stir in the lemon juice. You may need a little bit more lemon juice to reach the desired consistency.

Drizzle the icing over the bundt cake, sprinkle with the dried rosemary and leave for the icing to set.

Store in an airtight container.
Notes
If you don't have rosemary infused olive oil use the best extra virgin olive oil you can buy and add two tablespoons of fresh, chopped rosemary.
Environmental Information
LINKING UP WITH SOME FOOD BLOGGING CHALLENGES
Cooking with Herbs by Lavendar & Lovage
Family Foodies (Italian food theme) by Bangers & Mash and Eat Your Veg
Recipe of the Week by A Mummy Too
Cook, Blog, Share by Supergolden Bakes
Bake of the Week by Casa Costello
OTHER SWEET BAKES WITH HERBS YOU MIGHT LIKE
Lemon & Rosemary Macarons by Maison Cupcake
Savory Rosemary, Thyme & Sage Cookies by Coffee & Vanilla
Olive Oil, Orange & Oregano Cake by Fuss Free Flavours
Lemon, Lavendar & Almond Cake by Family, Friends, Food
Apple & Thyme Cake or a Chocolate & Lavender Cake by Tin & Thyme
Lemon & Rosemary Doughnuts or Pumpkin Pie with Cinnamon & Cardamom by Rough Measures
Lavender & Honey Cakes or Cardamom Cake with Rose and White Chocolate Buttercream by Welcome to Supper in the Suburbs
Sweet Potato, Ginger & Lemongrass Muffins by Farmersgirl Kitchen
If you want to be kept up to date on my recipes, occasional craft tutorials, adventure stories and giveaways then please subscribe to my weekly newsletter; it gets sent out every Monday morning if there is new content. Your email address won't be passed on to anyone, you will never be spammed and you are free to unsubscribe at any time, no questions asked. Make sure you confirm your subscription or you won't receive the newsletter – if it hasn't arrived check your junk mail folder.
[wysija_form id="1″]
Elizabeth's Kitchen Diary received two vintage tins from Red Candy for review purposes. This post also contains an affiliate link, meaning if you adopt an olive tree through it I will receive a commission, and you will be helping support my family. All thoughts and opinions expressed are my own, and this is not a paid post.