A DIY upcycled craft tutorial, review and giveaway in collaboration with A Slice of Green & Pulsin'.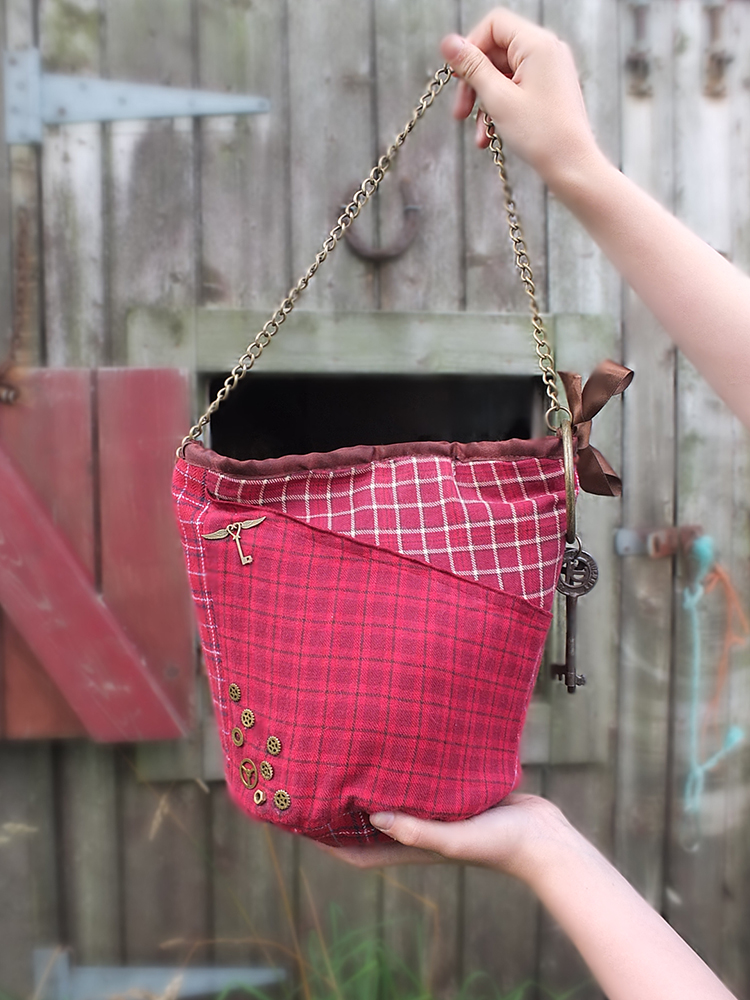 I first heard of the 'Tiffin' box through the cookery book Bombay Lunchbox by Carolyn Caldicott (2014). I'd been sent a copy to review and was immediately intrigued by the tiered stainless steel containers used to transport meals cooked at home to the workplace.
My husband visited India the following year and I insisted that he bring me back one of these tiffin boxes, and he did. It's sat there on my shelf unused ever since.
I love the spiced Indian recipes in the cookery book, but do you know what? I'm not that much of a doting wife that I will cook my husband a meal and then drive to the other side of the island to deliver it to him, still warm, in said tiffin box. Besides, there's enough room in said tiffin box with its four deep layers to feed an entire family.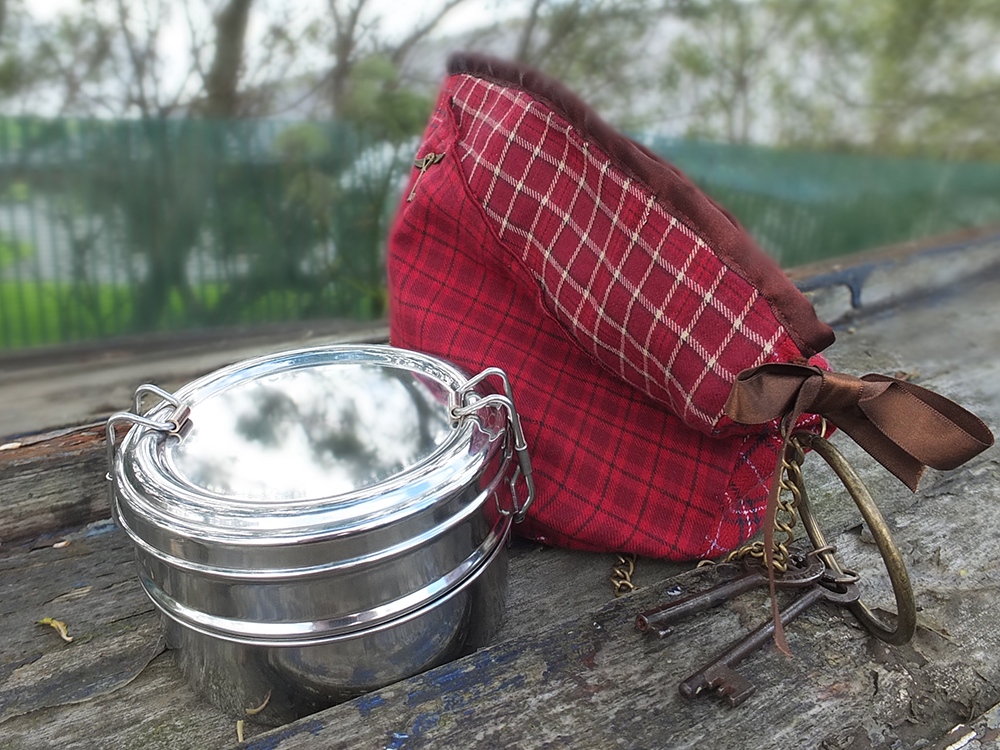 I am always on the hunt for lunch box inspiration. My children have requested packed lunches for most of their school years and we've gone through a fair number of containers trying to find something that works; something sturdy enough to withstand whatever it is kids do to their lunch boxes to make them break so gosh darn quickly, but also something that is easily portable and roomy enough for a decent meal.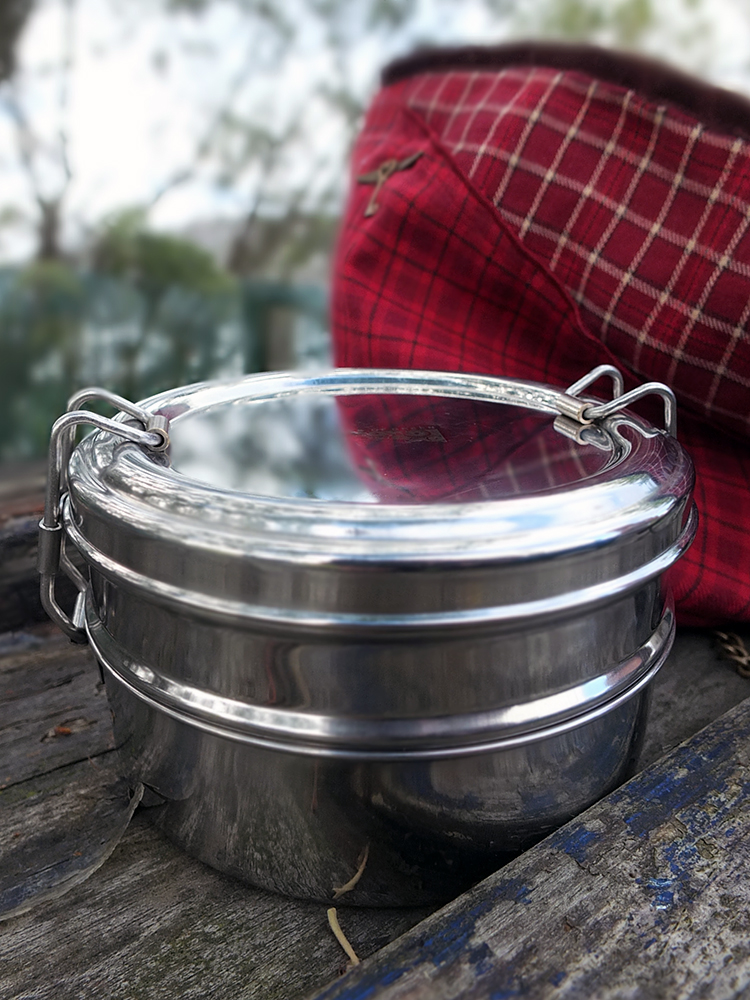 The newest lunchbox we've had the pleasure of testing out is the two-tiered round lunch box from A Slice of Green, an ethical company who source environmentally friendly products from around the world, helping us to live a more sustainable lifestyle. Retailing at £14 (plus £2.95 delivery) this tiffin box is affordable, and its made out of stainless steel so I think it might actually be able to survive coarse treatment from children.
I originally requested this tiffin box for my husband's packed work lunches, but with an overall size of 8 cm x 13 cm it just wasn't big enough, but it's the perfect size for a ten year old.
It's not leak proof though, which means it needs to stay upright. I was faced with the problem of how to transport a small, circular, non-leak proof lunch box to school and keep it chilled until lunch time.
The solution: the sewing machine.
I'm a mission to clear out some of the clutter in my house. I am a serial hoarder – I try not to throw bits and bobs out as, one day, they might come in useful; ribbons off boxes of chocolates and clothes tags, bits of coloured paper, scraps of fabric. One of these things was a skirt I used to wear all the time until the zipper broke. I had full intentions of replacing said zipper, but that was… oh, five years ago… and the skirt was still sitting in my to-do pile. I no longer wear skirts, so we upcycled the fabric and liner into a rather snazzy steampunk themed lunch bag – and it's thermally insulated too!
Brainstorming ideas on how I was going to insulate the lunch bag without buying anything I eventually was struck with inspiration when I took my sewing machine off the shelf in the cupboard (where it's sat unused for nearly a year!). Out fell my teenage son's wet suit – a wet suit I bought him, second hand from the charity shop for pennies two summers ago when he had a go at sea kayaking with me. It no longer fits him, and so I upcycled that into a thermal lining! A quick look on Amazon shows that there are loads of neoprine lunch bags out there so this isn't a new idea.
Two rainy weekend afternoons later and we've got Lady Amelie's Steampunk Lunch Purse – a thermally insulated lunchbag custom made for her new stainless steel tiffin box. The lunch purse will keep her tiffin box upright, preventing leaks, and it's a unique one of a kind creation – something she, as an arty person, appreciates.
For the embellishments we used a length of brass effect chain removed from a gaudy belt obtained from the charity shop years ago for a handle, a tiny brass effect key I'd bought a bag of off eBay as wedding favour embellishments (we had a Steampunk themed wedding!), a few old keys laying about the house and some cogs and gears from a Steampunk Jewellery Craft Kit my daughter had been gifted last Christmas.
A rather effective creation, don't you think? There's a one inch wide velcro fastening on the top inside edge that keeps the cold in from the two ice packs I put in the bag along with the tiffin box and a piece of fruit or bag of crisps for snack.
Insert random photo of rusty horse shoe, just because I like it: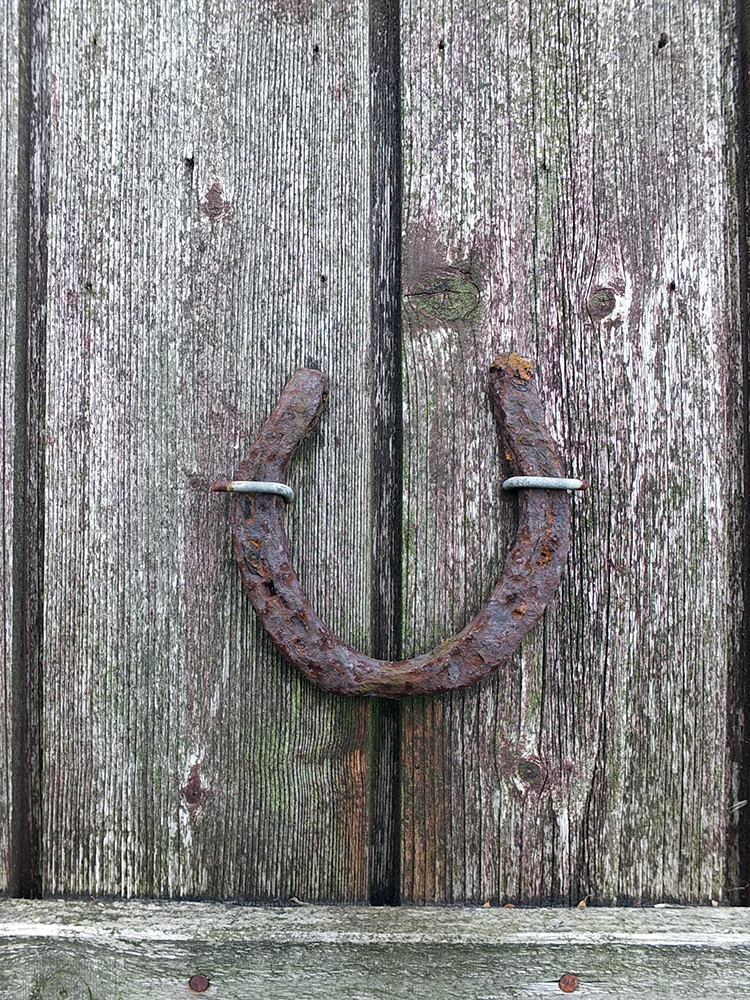 So, we've got our lunch purse and our tiffin lunch box – what to put into it? Madame has peculiar tastes. Sandwiches end up coming home uneaten in favour of little nibbly bits – raisins, coconut slices, home bakes, salady bits, noodles.
One of their favourite lunch box things is cold egg noodles drizzled in sesame oil and sprinkled with sesame seeds. They like that they get to take chopsticks to school with them when they have this. Simple and easy to prepare.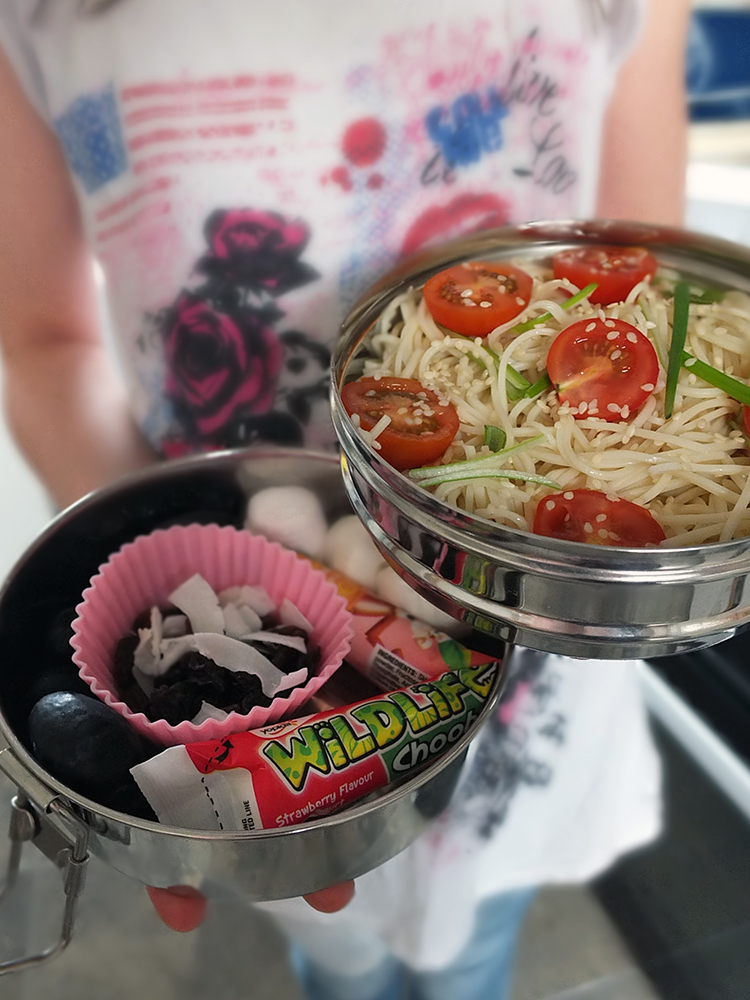 I confess that when it comes to packing lunch boxes I am running out of ideas. My husband will eat anything that I make, so that's good, but the two younger children seem to becoming more and more fussy. Sandwiches return home uneaten, only certain types of fruit will be eaten on certain days (the pattern for which I am yet to decipher!) and heaven forbid a hard boiled egg end up in my youngest son's lunch box. The end of the world, I tell you, even if it is squashed into a little bento teddy bear shape.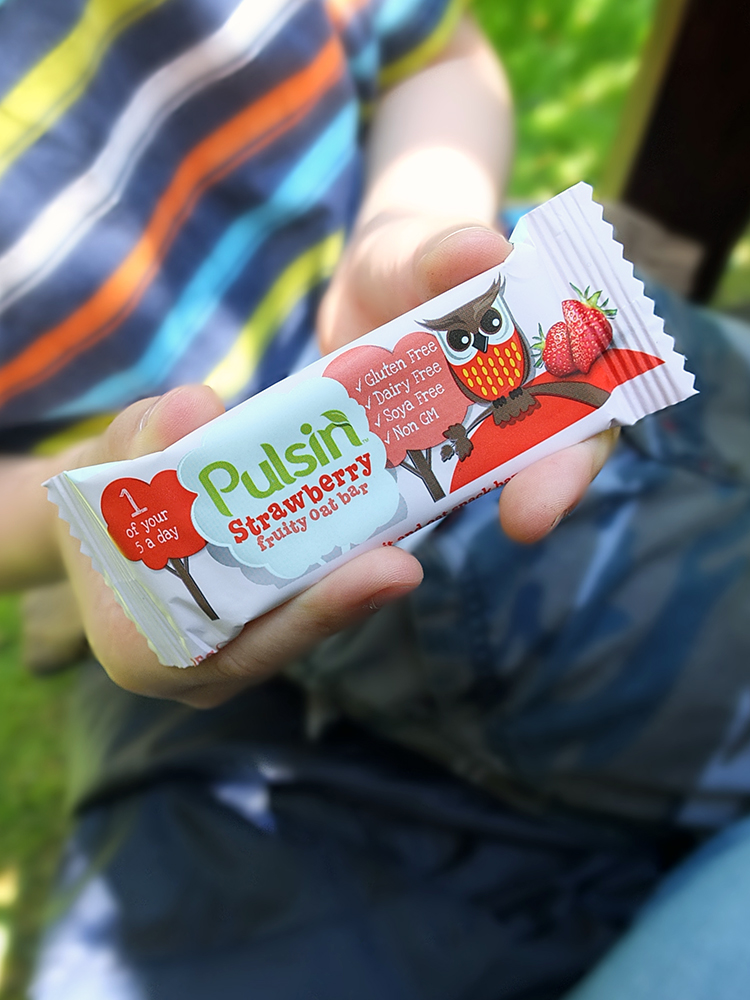 One thing he certainly does like is snack bars like these little fruity oat bars from Pulsin'. Full of natural organic ingredients they can liven up any lunch box, and they're reduced in sugar, vegan and gluten free too.  They come in three flavours: strawberry; blackcurrant & apple and orange chocolate chip (my favourite) and retail for about £2.75 for a box of six.
Pulsin' have been on the go for a number of years and this year they've been nominated for the best vegan snack at Veg Fest. You can vote for them here, if you fancy.
Do you make packed lunches? What things do you have great success with? Let me know in the comments! I've got a fab giveaway too – you could win one of these fantastic stainless steel lunch boxes from A Slice of Green and a mixed case of nine Pulsin' bars including three kids' fruity oat bars, three raw brownies and three organic snack bars. To enter, fill out the Rafflecopter entry form below.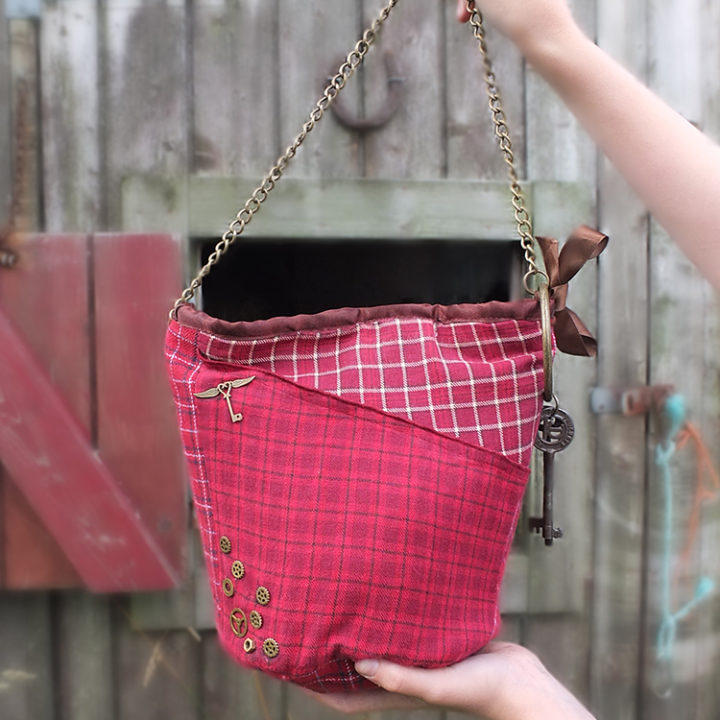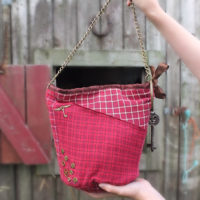 Lady Amelie's Steampunk Lunch Purse
A thermally insulated upcycled steampunk themed lunch bag - a perfect rainy weekend project.
Print
Rate
Ingredients
0.5

metre

patterned cotton fabric

I used an old skirt

0.5

metre

thermal lining

I used an old wetsuit

0.5

metre

lining fabric

waterproof would be ideal

0.6

metre

thick ribbon

plus extra for embellishment

strong cotton thread

9

inches

velcro

1 inch thickness

0.5

metre

thick brass chain

Steampunk embellishments

super glue
Affiliate Links
This recipe card may contain affiliate ingredient and equipment links. As an Amazon Associate I earn from qualifying purchases.
Instructions
Find a side plate that measures about 1/2 inch larger in diameter than your lunch box (or, if your lunch box is square or rectangle cut a shape 1/2 inch larger) from each of the patterned cotton fabric, the thermal layer and the lining. I used a 7 inch circle side plate.

Cut a rectangle 8 inches deep by 23 inches long from each of the three fabrics.

Pin, right sides together, the long edge of the rectangle to the outside edge of each of the circles and sew a 1/4 inch seam with a sewing machine using a strong, good quality, cotton thread. Zig zag around the outside edge of the seams to provide extra reinforcement.

Pin the right sides of the short rectangle edges together. Sew with a 1/4 inch seam and again, zig zag the outside edges for reinforcement.

Keeping the lining bag with the right side on the inside, pin to the thermal layer around the top edges. Sew and zig zag.

Pin the velcro along the inside edge of the top, about 1/2 inch from the top edge, and sew with a strong thread.

Turn the patterned cotton fabric layer so that the pattern faces outward, and place the lining layers on the inside, pinning along the top edge. Sew along the edge with a 1/4 inch seam.

Carefully place your length of ribbon along the outside edge of the bag so that 1/2 inch of it shows. Pin the other edge of the ribbon on the inside, taking care that it doesn't cover the velcro layer. Sew with a matching thread just on the inner edge of the ribbon on the outside of the bag, through all the layers.

Sew your brass chain handle on, or alternatively, sew on some matching ribbon and tie the handle on with that.

Embellish as desired with steampunk cogs and gears and a few old keys, if you have them. Super glue makes a short job of this.
Environmental Information
OTHER LUNCH BOX IDEAS YOU MIGHT LIKE
Roasted Red Pepper, Spinach & Feta Egg Muffins by Celery & Cupcakes
Green Hazelnut and Chocolate Brownies by The Hedgecombers
Smoked Salmon and British Asparagus Crustless Quiches by Foodie Quine
Asian Turkey Picnic Wraps by Feeding Boys
No Bake Chocolate S'mores Cups by Kerry Cooks
Eats Amazing – a blog entirely about feeding children fantastic packed lunches and healthy treats!
OTHER STEAMPUNK BLOG POSTS FROM ELIZABETH'S KITCHEN DIARY
Origami Steampunk Wedding Bouquet Tutorial
Dark Chocolate & Bourbon Vanilla Steampunk Cupcakes
Watches, Clocks & a Wedding
Steampunk Treasure Chest
Steampunk Costume
GIVEAWAY
A Slice of Green have kindly offered one of my UK readers to win a one of their two tier stainless steel lunch boxes worth £14, and Pulsin' have provided a selection of nine of their products: 3 x kids' fruity oat bars, 3 x raw brownies and 3 x Beond organic snack bars, worth approximately £8.70. To enter, simply fill out the Rafflecopter entry form below!
HOW TO ENTER
For your chance to win a Stainless Steel Lunch Box & a Selection of Pulsin' Snack Bars enter using the Rafflecopter form below. Come back and tweet about the giveaway every day for more chances to win!
TERMS & CONDITIONS
This giveaway is open to UK entries only. Entrants must be age 18 or over. The winner will need to respond within 30 days of being contacted; failure to do this may result in another winner being selected.
The prize is offered and provided by A Slice of Green and Pulsin', respectively. The prize is to win a Stainless Steel Lunch Box & a Selection of Pulsin' Snack Bars. There is no cash alternative and the prize is not transferable.
There is no entry fee and no purchase is necessary to enter this giveaway. The promoter (Elizabeth's Kitchen Diary) reserves the right to cancel or amend the giveaway and these terms and conditions without notice.
Entry into our giveaways will be deemed as acceptance of these terms and conditions.
If you need some help using Rafflecopter, here's a quick clip to show you how. Rafflecopter will pick the winners at random from all the entries received. I will be verifying entries and any automated entries or those who have claimed they have made the mandatory blog post comment and really haven't will be disqualified. It's mandatory! Please make sure your comment is eight words or longer or Google views it as spam. >>>>> All entries with comments fewer than the mandatory 8 words will be disqualified. <<<<<
Closing date is midnight (that's 00:00 hours, 12 am on Sunday night/Monday morning) on Monday 5 September 2016 (GMT) and the winner will be announced shortly afterwards.
Elizabeth's Kitchen Diary was sent review samples of the products photographed above. This is not a paid post and all thoughts and opinions expressed are our own. Links in orange are Amazon affiliate links and if you click on them and subsequently make any purchase of anything at all from the Amazon website we will earn a small commission and you will be directly helping support our family. Thank you for supporting the brands who make it possible for me to do what I love – mess up my kitchen and share recipe stories.