Freshly toasted and ground cumin and a touch of cayenne give this hummus recipe a nice kick.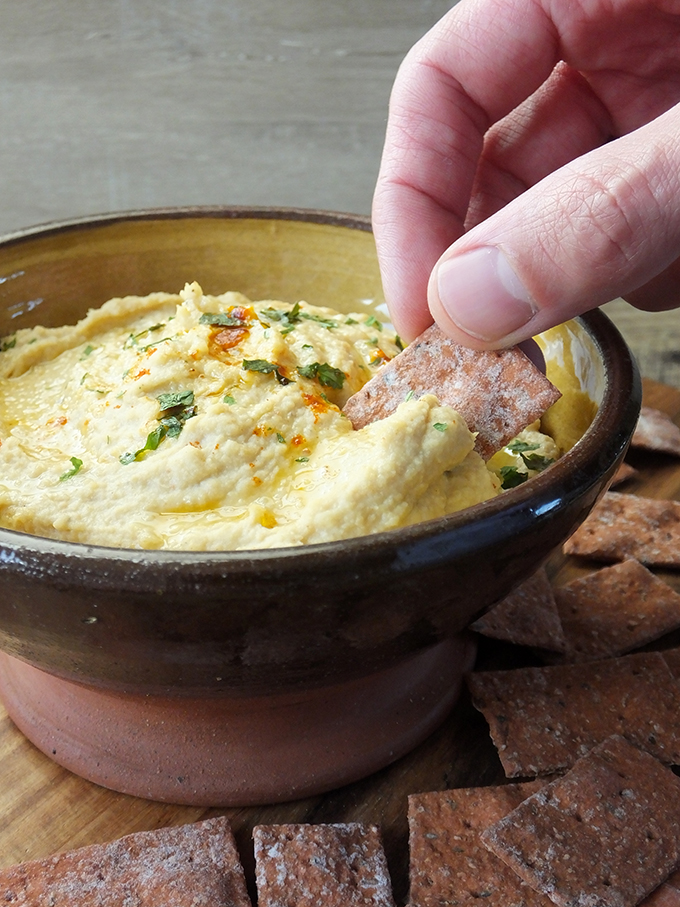 There must be at least a hundred different ways to make hummus, and we each tend to have our favourite version. Mine includes plenty of toasted and freshly ground cumin seeds and a generous pinch of cayenne for a lovely kick.
For years I've made my hummus using a stick blender I won in a Pregnancy magazine competition when I was expecting my eldest (he's 15 now and that stick blender is still going strong!), but these days I make my hummus in my Optimum 9400 high speed blender. You can read my full review of the blender (plus a seriously awesome music video my husband and I made with it) here.
Working with the stick blender was messy and cumbersome as I had to keep taking the stick out, scraping it and the sides of the tall, narrow container, down and continue blending.
Working with my blender is a cinch. Yes, I have to still scrape down the sides, but the 3 horsepower motor and 6 blades aerate the hummus creating the lightest, creamiest hummus ever, and freshly toasted and ground cumin seeds and a touch of cayenne pepper give the hummus a nice not-too-fiery kick. Feel free to adjust the quantities to your own taste though – after all, we all like what we like!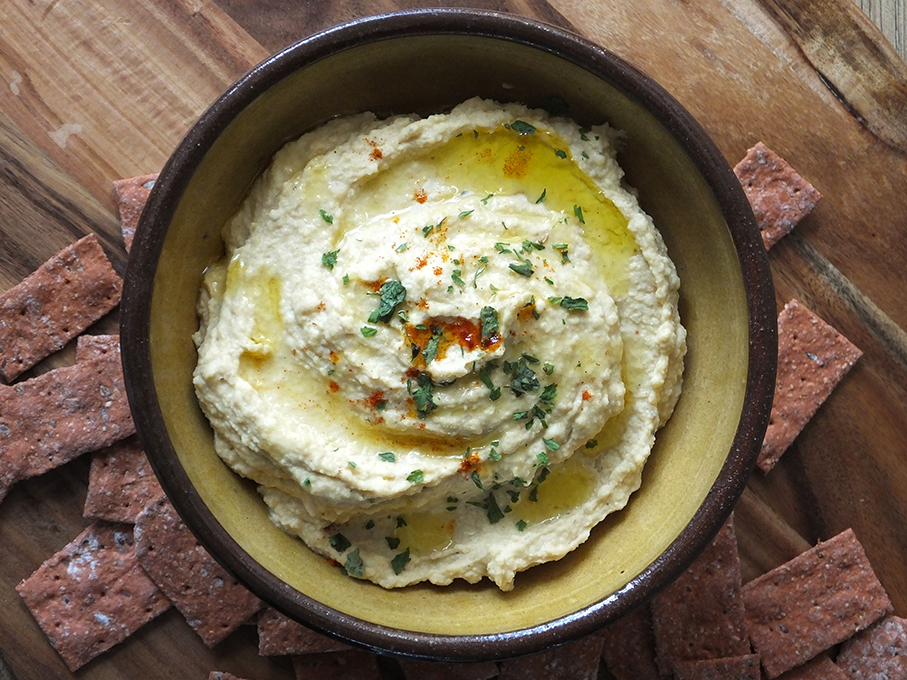 Another key ingredient for a tasty hummus is to use a good quality olive oil. The olive oil I used in this recipe was grown by Antonio and his family.
Yes, I know the name of the guy who makes my olive oil – how awesome is that?!
For the last nine months I've been working with Pomora, a small UK company working closely with two olive oil producers in Italy – Antonio in the Campania region (pictured below) and Carmelo at the base of Mount Etna.

Each quarter I receive a delivery of olive oil from Antonio's groves – this quarter the delivery was of three 250ml tins of the most gorgeous extra virgin olive oil – perfect for dipping and making hummus.
You too could receive quarterly deliveries from Antonio (or Carmelo – his oil tastes a little different as it's grown in a different area – I like the kick of Antonio's oil) by adopting an olive oil tree from one of their groves.
Again, how awesome is that?
Along with the olive oil you'll receive an adoption certificate and a booklet of information about your olive tree, updates from your farmer throughout the year. All from just £29 per quarter including delivery, and if you buy it through my affiliate link I'll get a small commission too. An idea for a Christmas gift for that foodie in your life, perhaps? If you're not ready to adopt they also offer a fostering option, so you could try it out.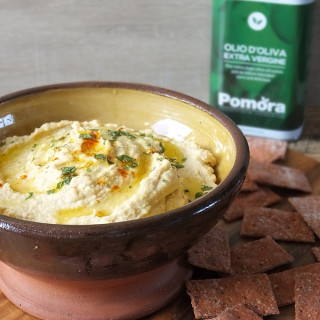 Elizabeth's Hummus Recipe
A delicious and creamy hummus spiked with toasted ground cumin and a touch of cayenne.
Print
Rate
Affiliate Links
This recipe card may contain affiliate ingredient and equipment links. As an Amazon Associate I earn from qualifying purchases.
Instructions
Drain and rinse the chickpeas and place them in a high speed blender along with the tahini, olive oil, garlic, toasted and ground cumin, cayenne and lemon juice.

Season to taste and blend, occasionally scraping down the sides, until light and creamy. Add a tablespoon or two of water towards the end until the hummus reaches the desired consistency.

Spoon into a bowl, drizzle with a little extra oil, sprinkle with smoked paprika and parsley and serve with vegetable crudites, bread or flatbread crackers (pictured).
Environmental Information
LINKING UP WITH SOME FOOD BLOGGING CHALLENGES
Meat Free Mondays by Tinned Tomatoes
My Legume Love Affair by Lisa's Kitchen
OTHER HUMMUS RECIPES YOU MIGHT LIKE
Tahini-free Hummus by Elizabeth's Kitchen Diary
Lime and Coriander Hummus by Maison Cupcake
Simple Hummus Recipe by Nadia's Healthy Kitchen
Chocolate Hummus by Recipes from a Pantry
Easy Roasted Red Pepper Hummus by Hungry, Healthy, Happy
Aubergine & Red Pepper Hummus by Penelope's Pantry Blog
Avocado Hummus by Foodie Quine
Hummus with Peanut Butter by Fab Food 4 All
Pea & Mint Hummus by Rough Measures
Popyeye or Shrek Hummus by Fuss Free Flavours
Elizabeth's Kitchen Diary uses the Froothie Optimum 9400 blender, and the Froothie Optimum 600 slow juicer to make her juices, soups and smoothies. She is also a Pomora ambassador. These are affiliate links, meaning if you buy a blender, juicer or adopt and olive tree through them we will earn a small commission. This is not a paid post and all thoughts and opinions are our own.
With thanks to Peter's Yard for the sample of Knäcks sourdough cumin and nigella seed crispbread bites included in my Food Blogger Connect goodie bag recently, photographed above alongside the hummus. They were a rather interesting culinary experience!