An #RNLIFishSupper recipe in collaboration with the RNLI & Albert Bartlett Potatoes.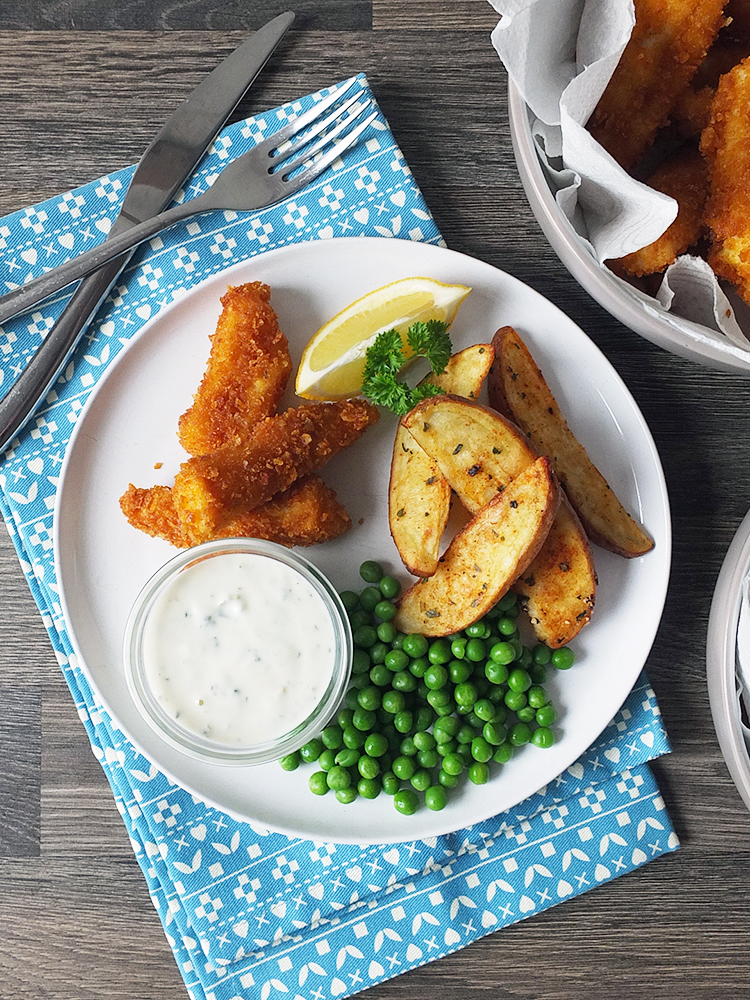 We love fish suppers in our house. Unfortunately, our nearest chippie is a half an hour's drive away, which means that we usually make our own at home instead. Fortunately, said chippie, Britain's most northerly, was voted the best chippie in the UK in 2015 and so when we do treat ourselves we treat ourselves right.
As well as being in the vicinity of Britain's most northerly fish and chips shop, from where I sit at my desk I can see Britain's most northerly RNLI lifeboat – the Charles Lidbury – moored at the end of our village pier. At any given moment they may receive a distress call from the sea, and the men who crew her drop everything and head out to assist.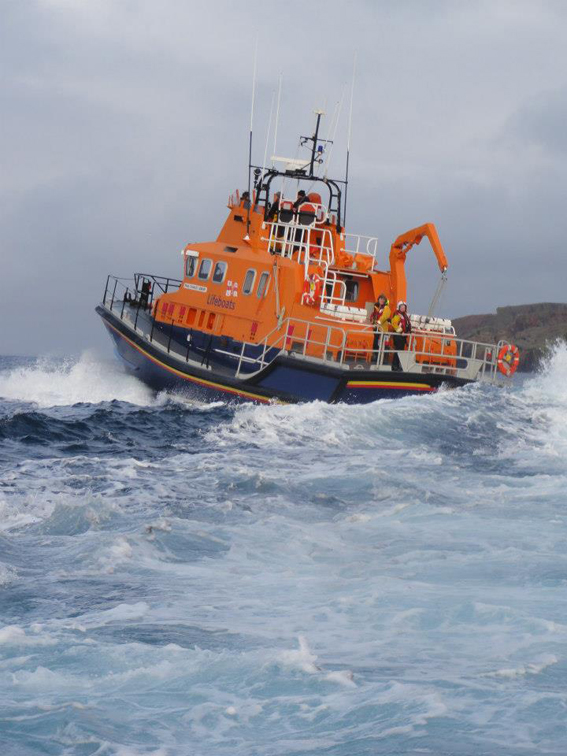 For the last four years, I was the Press Officer for this lifeboat station, covering a wide variety of rescue stories. It was an eye-opening and often emotional experience for me, and I learned, first hand, the importance of supporting such a worthwhile charity. I've recently stood down from that role due to lack of time, but I still like to help out if and when I can.
For example, telling you all about the annual RNLI Fish Supper.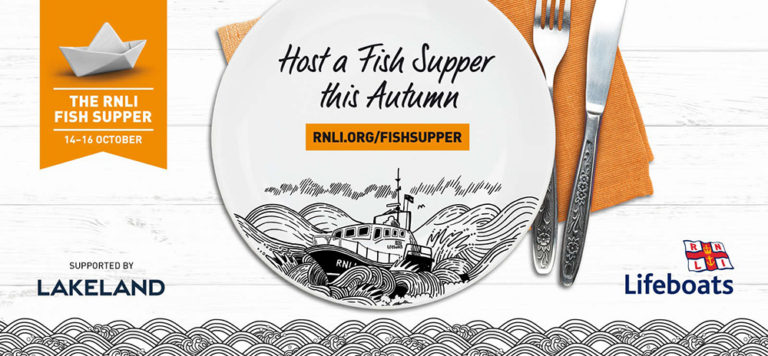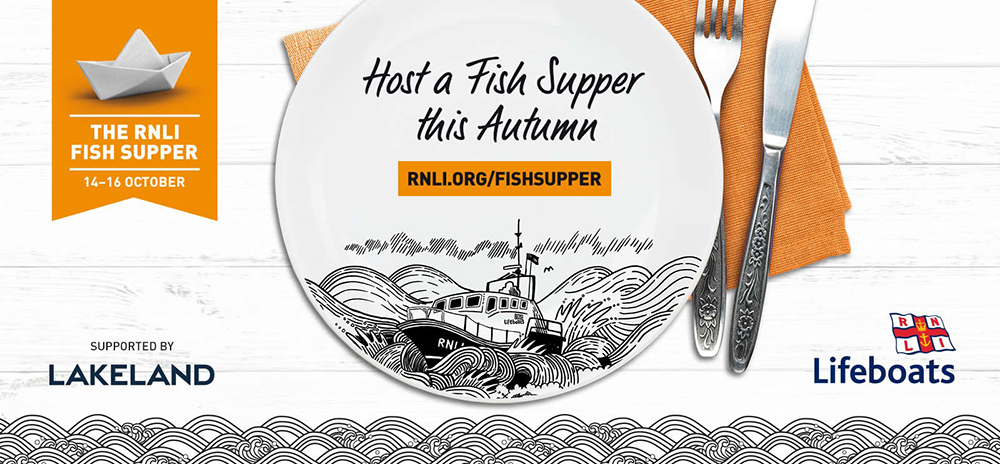 The RNLI Fish Supper is an annual charity event to raise funds to support the lifesaving work of the volunteer men and women who crew the lifeboats. This year, Fish Supper will be held over the weekend of October 14–16.
It's a fun way to bring friends and family together for a great meal inspired by the sea. The funds raised will help support volunteer crews who are ready to drop everything — even their home-cooked fish supper — at a moment's notice and go to the help of people in trouble on the water. When their pagers go off, no matter what time it is, they board their lifeboats and launch to the rescue, 24 hours a day, 365 days a year.
The RNLI is completely funded by donations – they receive no government support whatsoever – so they rely on the generosity of people like you and me.
I've teamed up with the RNLI and Albert Barlett Potatoes to help show you just how quick and easy it can be to make your own fish supper at home. Watch the video below (my husband and I are still pretty new at this video thing, so bear with us while we learn from our mistakes and bring you better and better videos – we promise, though, that all our recipe videos will be 60 seconds or less), click thumbs up and subscribe to our channel too, if you fancy – we'd be forever grateful!
Homemade Fish Fingers & Potato Wedges
Just a note – in the video above, those are real Shetland seagulls and seashore sounds – my husband over at Audioboy Productions recorded them himself in Vidlin. The music soundtrack is his too.
I've made my fish supper recipe child-friendly: home made fish fingers served with some paprika-spiked potato wedges and some homemade tartare sauce (for the grown-ups – the kids prefer tomato ketchup). If your children aren't fond of potato wedges you could always choose a ready made frozen chip range from Albert Bartlett.
The secret ingredient for our fish fingers: crushed corn flakes! This is something I learned while I was working as an assistant cook at a Canadian children's camp during my late teens. The head cook used to coat fish cakes with crushed corn flakes before frying, and they give a rather fantastic crunchy, tasty coating without any faff at all (and they don't taste like breakfast, so don't worry!). The kids love them, and if I'm to be completely honest, so do us grown-ups! I suppose I could be all posh and call them fish goujons – but in all honesty, they're fish fingers. Plain and simple.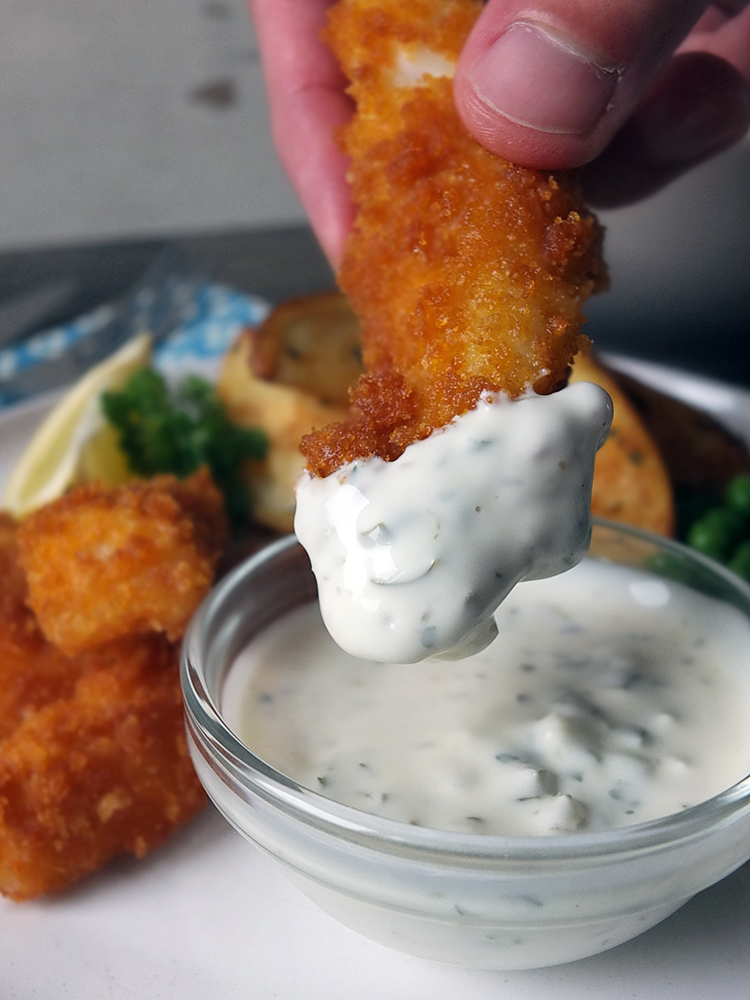 I think it's also important to suggest that you use a good quality MSC-certified white fish for your fish fingers, preferably something purchased fresh from your local fishmonger. Get to know them – it's their fishing fleets who are helped, regularly, by the RNLI.
So, why not host a fish supper of your own for your friends and family? If you visit the RNLI Fish Supper website and sign up you'll receive a fundraising pack when you sign up that includes recipes, hosting tips, place cards, and an envelope for collections. They've got loads of free recipes online too, for inspiration.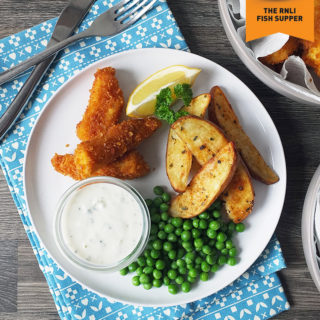 Homemade Fish Fingers, Potato Wedges & Tartare Sauce
A quick and easy fish supper recipe that the whole family will love!
Print
Rate
Ingredients
for the paprika-spiked potato wedges
Affiliate Links
This recipe card may contain affiliate ingredient and equipment links. As an Amazon Associate I earn from qualifying purchases.
Instructions
Preheat your oven to 200 C/ 180 C fan/ gas 6.

Cut your MSC certified white fish into strips approximately one inch wide by four inches long.

Crush the cornflakes in a food processor or with a rolling pin in a freezer bag. Place into a bowl.

Beat the egg with one tablespoonful of water and place into another bowl.

Dredge the fish strips first in the flour, then the beaten egg and then coat in crushed corn flakes. Set aside on a plate and repeat with the remainder of the fish. It's easier if you use half the cornflakes at a time because they will start clumping together with the egg (as will your fingers - wash your hands regularly to make it easier).

Chill the fish fingers for 15 minutes in the fridge while you prepare the potatoes.

Cut your potatoes in half lengthwise, and then half again. Carefully cut each quarter in half again, so you get eight potato wedges from each potato.

Drizzle with sunflower oil and the spices, and coat well.

Transfer to a baking tray and bake in the oven for 35 minutes, turning halfway.

To prepare the tartare sauce, combine all the ingredients in a small bowl, stir, and chill in the refrigerator until needed.

Bring the sunflower oil to 176-190 C. Make sure you use a thermometer for this! If the oil isn't hot enough you won't get a crispy coating, and if the oil is too hot you'll risk it catching fire. A thermometer is essential! NOTE - DO NOT LEAVE HOT OIL UNATTENDED!

Deep fry the fish fingers, in small batches, for approximately one minute each. Drain on kitchen towel and bring the oil back up to the correct temperature before cooking the next batch.

Serve immediately with the potato wedges, tartare sauce, garden peas and a lemon wedge.
Environmental Information
OTHER FISH SUPPER RECIPES YOU MIGHT LIKE
Lemon & Cracked Black Pepper Cod Fillets with Potato Wedges and Lemon Mayo
Smoked Salmon & Avocado Sushi
Grilled Scottish Salmon with Creamy Polenta, Pistachios & Tomato Butter
Young's Chip Shop Cod Fillets with Homemade Potato Wedges & Dill-Tartare Sauce
Creamy Fish Pie with Prawns & Dill
Baked Chorizo, Cod & Potatoes
Sweet Potato Crispy Topped Fish Pie
Basa Fillets with Bacon and Spinach
Crispy Grilled Mackerel with Garlic & Lemon
If you're wanting to try something a bit different, why don't you try making your fries out of African Yam, a recipe by Recipes from a Pantry?
Disclaimer: this is not a paid post. It is a charity post as I feel strongly about the work of the RNLI. 
[color-box]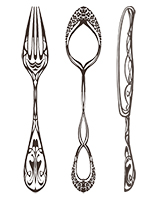 Have you made this recipe?
Take a photo and tag @tangoraindrop or use the hashtag #elizabethskitchendiary and share on Instagram and Twitter. It would make my day to see your creations!
[/color-box]