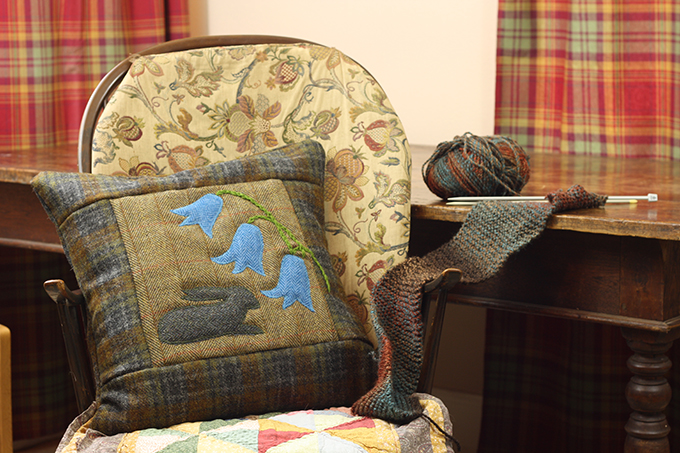 Chris Hammacott, a popular quilting writer for the British Patchwork & Quilting magazine and the online Quilt Pattern Magazine, was expelled from her first needlecraft lesson at school and has always vowed to make textiles fun and easy and nothing like that first lesson!
She trained as a weaver and has been writing, teaching and designing textiles for over thirty years. In 2012, with her husband Andrew, she fulfilled a long held ambition to move to a small croft in the Outer Hebrides. Here Chris teaches all aspects of 'Harris Tweed', from spinning and natural dyeing to designing items made from the wonder cloth. Andrew weaves 'Harris Tweed' in their old weaving shed.
For hundreds of years Harris Tweed has been produced from the wool (originally only from the local Blackface sheep) of the Isles of Lewis and Harris, used as a tough, warm material for outdoor clothing.
"It is one of the last indigenous fabrics and has to be produced on a hand loom," said Chris. "Only tweed woven on the Islands can carry the Harris Tweed Orb stamp, a trademark protected by Act of Parliament and now fiercely upheld by the Harris Tweed Authority."

For years Harris Tweed has been appreciated by haute couture fashion designers and top end manufacturers, but not by patchworkers," Chris says. "I wanted to take this a step further and try out some of my favourite appliqué techniques on a variety of items. I have something of an addiction for cushions, much to the annoyance of my husband and the dogs who all take it in turns to 'frisbee' them from the sofas, but, patient woman that I am, I just make more!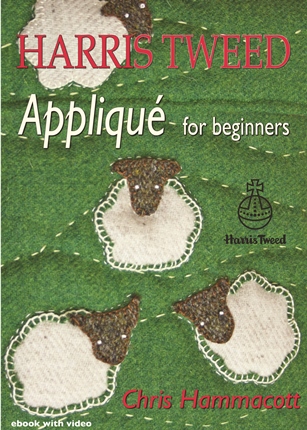 So, she wrote an ebook: Harris Tweed Appliqué for Beginners.
Her aim with this ebook, published by Vivebooks, is to introduce you to the joys of using 'Harris Tweed' for appliqué instead of the usual cotton. When writing the instructions she assumed that the reader has no experience other than a willingness to have a go, so nothing is missed out.
She has structured this ebook the way she teaches; in little steps with a nice project or two to make you want to have a go yourself. None of it is rocket science, she insists. The world won't end if your stitches are crooked and your tweed puckered – as long as you can thread a needle, this ebook is for you!
Appliqué can be likened to the 'cut and stick' that we did as children with paper. It is quick and simple and the appeal lies in the mix of colours and shapes. You can achieve something totally individual, adding charm and personal identity to your home.
The ebook covers all aspects of appliqué, from tools of the trade (nothing fancy is needed), hand stitching and machine techniques. Chris' adorable patterns inspired by croft life on the Isle of Lewis include templates and instructions for four cushions: harebell, cats, hearts and wee croft houses. She teaches us how to jazz up an old sweater, how to decorate tea cosies, make a Charles Rennie MacKintosh scarf, make a wall hanging and a table runner.
Instructions on buying and caring for Harris tweed are also included.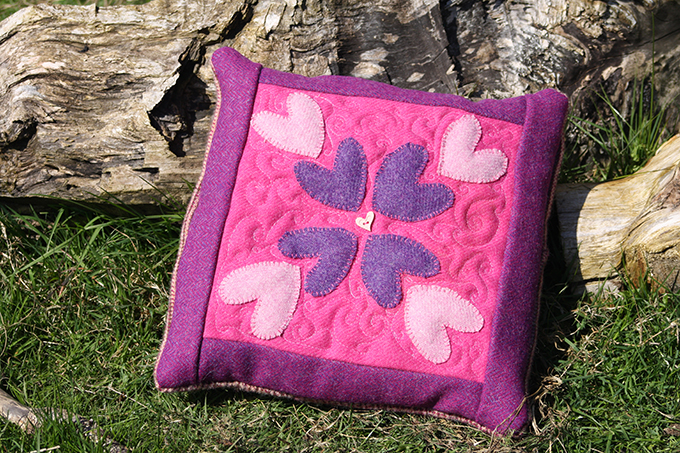 I've been sewing and working with patchwork since I was a child and there were a few eureka moments while I was reading through this ebook. It is a very well laid out, easy to follow book with templates that don't need to be enlarged or shrunk – you just print them from size and away you go!
Inspired by the information I've read in this book I have a few ideas for some projects, including a few sets of bunting as Christmas gifts using the sheep template and tweed grown, dyed and woven here in Shetland (I'm clean out of Harris!).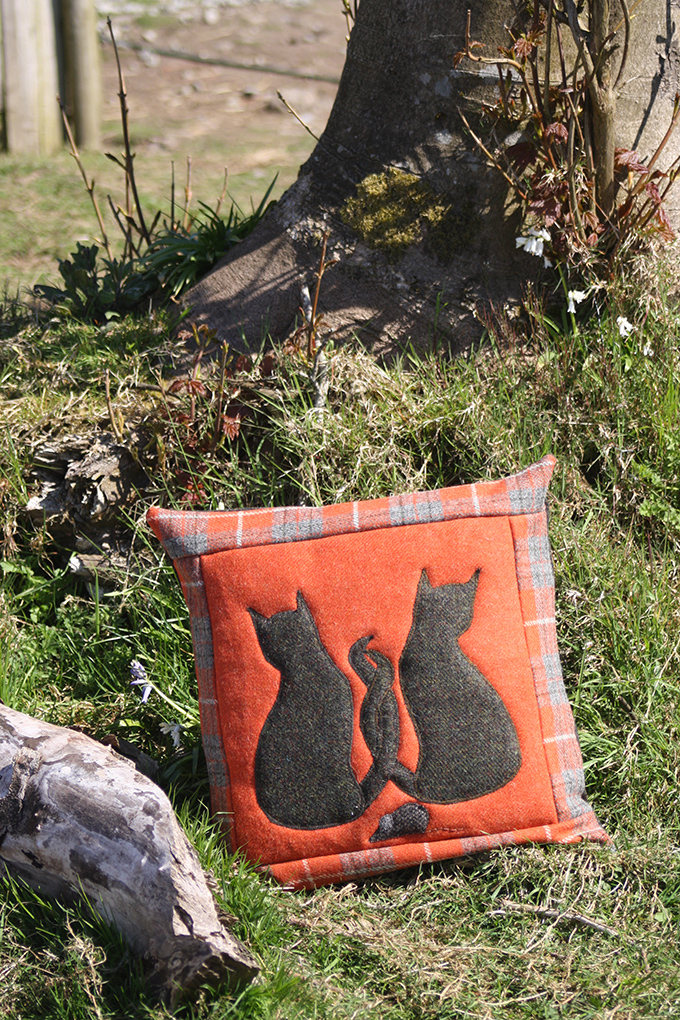 Vivebooks, the publishers, have kindly offered my crafting readers the chance to win a copy of the ebook just in time for Christmas – the perfect stocking filler for a crafter!
RRP £17 you can find this ebook on the Vivebooks website for purchase either as a digital download or on CD.
HOW TO ENTER
For your chance to win a Harris Tweed Appliqué for Beginners CD RRP £17 enter using the Rafflecopter form below. Come back and tweet about the giveaway every day for more chances to win!
TERMS & CONDITIONS
This giveaway is open to UK entries only. Entrants must be age 18 or over. The winner will need to respond within 7 days of being contacted; failure to do this may result in another winner being selected.
The prize is offered and provided by Vivebooks. The prize is a Harris Tweed Appliqué for Beginners CD. There is no cash alternative and the prize is not transferable.
There is no entry fee and no purchase necessary to enter this give away. The promoter (Elizabeth's Kitchen Diary) reserves the right to  cancel or amend the give away and these terms and conditions without notice.
Entry into our giveaways will be deemed as acceptance of these terms and conditions.
If you need some help using Rafflecopter, here's a quick clip to show you how. Rafflecopter will pick the winner at random from all the entries received. I will be verifying entries and any automated entries or those who have claimed they have made the mandatory blog post comment and really haven't will be disqualified. It's mandatory!
Closing date is midnight on Monday 15 December 2014 (GMT)  and the winner will be announced that day.
If you want to be kept up to date on my recipes, occasional craft tutorials, adventure stories and giveaways then please subscribe to my weekly newsletter; it gets sent out every Monday morning if there is new content. Your email address won't be passed on to anyone, you will never be spammed and you are free to unsubscribe at any time, no questions asked. Make sure you confirm your subscription or you won't receive the newsletter – if it hasn't arrived check your junk mail folder.
[wysija_form id="1″]
Elizabeth's Kitchen Diary was sent a digital copy of Harris Tweed Appliqué for Beginners for review, and a CD copy for giveaway. All opinions expressed are our own. This is not a paid post. Images used with permission from Vivebooks.