The OH has decided that we should spend quality time together as family by scheduling in a family walk every Sunday. As a child growing up in Norway he was dragged out, reluctantly (he says), every Sunday and he thinks it'll do the children good to have the same experience.
I'm not complaining – I've been at him for years to join us on our outdoor adventures and now he's come up with it as if it was his own idea, so we got there eventually. I'm delighted! 🙂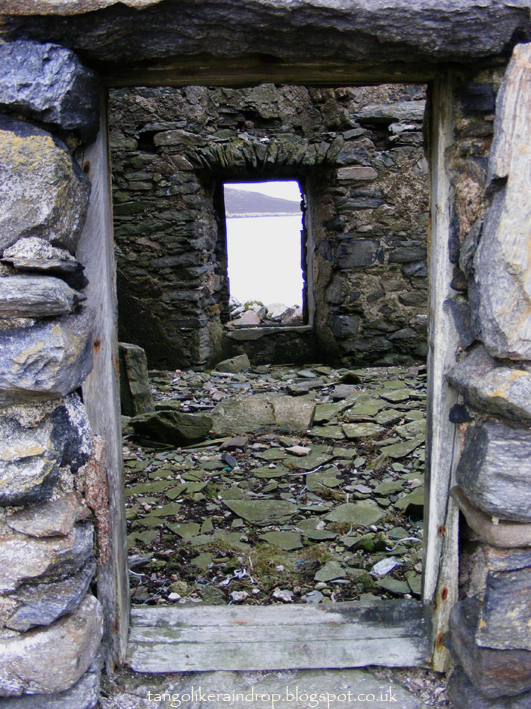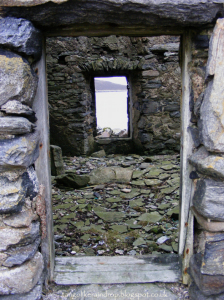 This is our third walk together this year and we chose Grobsness, on the west mainland of Shetland. If there was anywhere you would expect to see a "Here There Be Dragons" sign it's Grobsness. With its stony, hilly terrain it is easy to imagine that one of the hills is really a sleeping dragon which might open it's stony eye one day to espy you. Then again, I have a very active imagination!
Grobsness Haa, pictured above in ruins, was built in 1800 and it's a lovely place to explore. Birds have built nests in the old fireplaces on the 1st and 2nd floors; there's a sheep skeleton in one corner and the floor is covered in shattered roof tiles. It overlooks a large rocky beach filled with perfectly flat skimming stones, sea glass and assorted treasures (and bruck) like sea urchins tossed up by the gales to explore through. Today the small stream leading to the sea was frozen over and it was big enough for the children to go ice skating on – they've never seen ice big enough to skate on before and they were thrilled to bits.
We even had a few curious native visitors!
We stopped for a small snack of double chocolate chilli brownies (but not before I photographed them first!). They were superbly warming for a beach walk on a cold winters' day.
We stumbled across a corrugated metal, wood and old fishing net makeshift planticrub sheltering some Shetland kale. These planticrubs are traditionally made out of stone and were used to keep the cold, brutal North wind off the growing vegetables inside. I need to improvise something like this for my own garden because we live in a very exposed location and everything I try to grow gets so far and then the wind burns and rips it to shreds!
Rabbit city?
The OH took a few photos of me posing in my best swashbuckling sea-faring adventurer pose. Does it work?
Then back home again for a pot of warming, homemade soup and rye bread. A perfect Sunday adventure.
Alas, we didn't find any dragons…. this time.