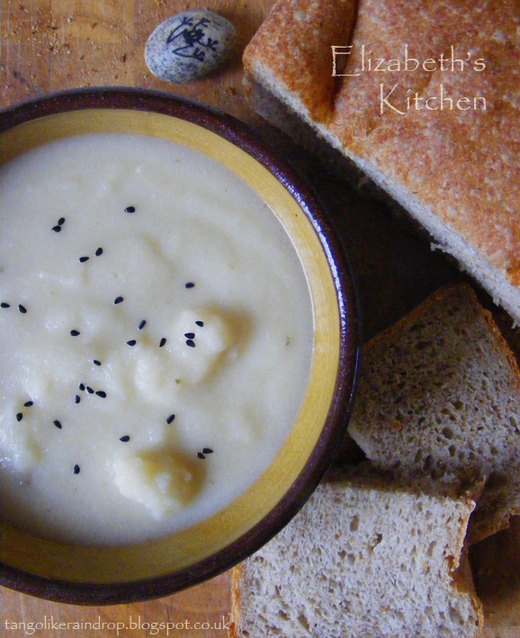 This soup recipe is adapted from one found in Alfred Vogel's Naturally Fresh & Delicious recipe book. I've omitted some of the ingredients (namely blue cheese and his own brand of seasoning), opting for a low calorie soup I could make with the ingredients I had on hand. I've also upped the quantity of garlic and shallot (1/4 of a garlic clove is not enough garlic, imho!) It's a very light, fruity soup, perfect if you are on a low calorie diet. I'm not, so I had mine with plenty of homemade rye bread slathered with butter!
Cauliflower & Pear Soup
Light, fruity and low in calories: a dieter's soup!
Ingredients
500 grams cauliflower
1 tbsp cider vinegar
sea salt
300 grams pears
1 shallot
1 garlic clove, crushed
1 tbsp olive oil
1 sprig of rosemary
50 ml white wine
500 ml vegan vegetable boullion
freshly ground black pepper
black onion seeds
Instructions
1. Cut the cauliflower into florets.
2. Bring a pan of salted water to the boil. Add vinegar and blanch the cauliflower florets for 2 minutes. Drain well. Set aside 100 grams of the cauliflower florets.
3. Heat the olive oil in a large pan. Saute shallot and garlic until softened, but not coloured.
4. Add the rosemary leaves, cauliflower and pears and cook for a further minute.
5. Add wine and cook a further minute before stirring in the vegetable bouillon.
6. Bring to the boil and simmer, with the lid on, for 15 minutes.
7. Remove soup from heat and cool slightly. Puree and season to taste.
8. Return soup to the heat and stir in the reserved cauliflower florets. Heat until warmed.
9. Serve with black onion seeds to garnish.
Details
Prep time: Cook time: Total time: Yield: Serves 4
I have entered this recipe into Lavendar & Lovage's Herbs on Saturday bloggers challenge, hosted this month by Bangers and Mash, since it contains fresh rosemary.