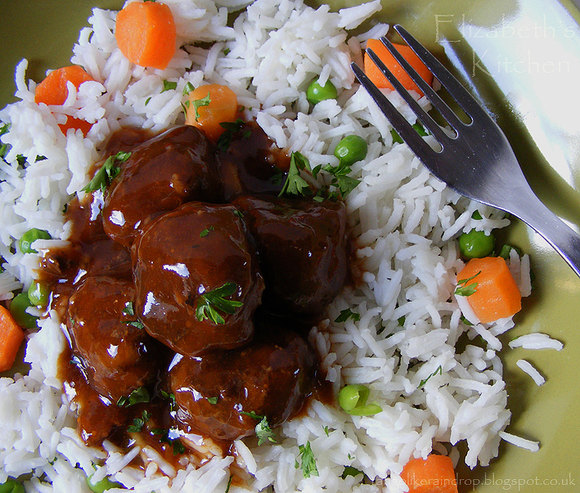 This is my Canadian grandmother's sweet and sour meatballs recipe. She used to make a big batch of these for us for Christmas Eve dinner back in the 80s and 90s and I don't believe there were ever any leftovers. This recipe won't be winning any healthy food awards due to the massive quantity of sugar in the sauce, but it's an awesome recipe from my childhood and I'm delighted that all three of my own children love it. I don't make it very often, but it's nice for an occasional treat.
I don't know what she used to put in the meatballs themselves, as my recipe only calls for 'meatballs' so the recipe I've included for those is my own.
Since this recipe uses store-cupboard ingredients and it is a very inexpensive meal to make I am sharing the recipe with Fuss Free Flavours and Fab Food 4 All's Credit Crunch Munch, hosted this month by Janice from Farmersgirl Kitchen. Credit Crunch Munch asks us to share our frugal food recipes and it's a blog hop too, so scroll down and see what other food bloggers have been cooking.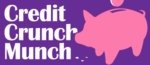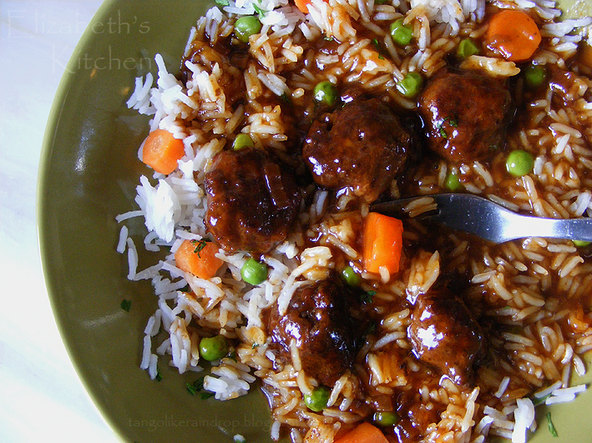 Grandma Ann's Sweet & Sour Meatballs
A child-friendly meatball recipe with plenty of sweet & sour sauce. Excellent with plain rice.
Ingredients
For the Meatballs:
600 grams lean ground beef
1 red onion, finely diced
1 garlic clove, crushed
1 tsp mixed dried herbs
1 tbsp tomato puree
1 egg, beaten
freshly ground black pepper
sea salt
For the Sweet & Sour sauce:
330 grams dark brown sugar
125 ml white vinegar
175 ml water
1 tsp dry mustard powder
125 ml ketchup
2 tbsp cornflour
Instructions
1. Preheat oven to 180 C.
2. To prepare the meatballs combine the ground beef, onion, garlic, tomato puree, salt, pepper and egg.
3. Using your hands form into 36 one inch round meatballs.
4. Heat a nonstick frying pan and fry the meatballs in batches until browned on the outside. Transfer to an ovenproof casserole dish.
5. Combine the brown sugar, vinegar, water, mustard and ketchup in a medium sized saucepan.
6. Whisk over a medium heat until the sugar is dissolved and the mixture starts to bubble.
7. Thicken with cornflour dissolved in a little cold water.
8. Pour the sauce over the meatballs and transfer the casserole dish to the oven.
9. Bake for 30 minutes. Serve with plenty of plain white rice.
Details
Prep time: Cook time: Total time: Yield: Serves 4-6