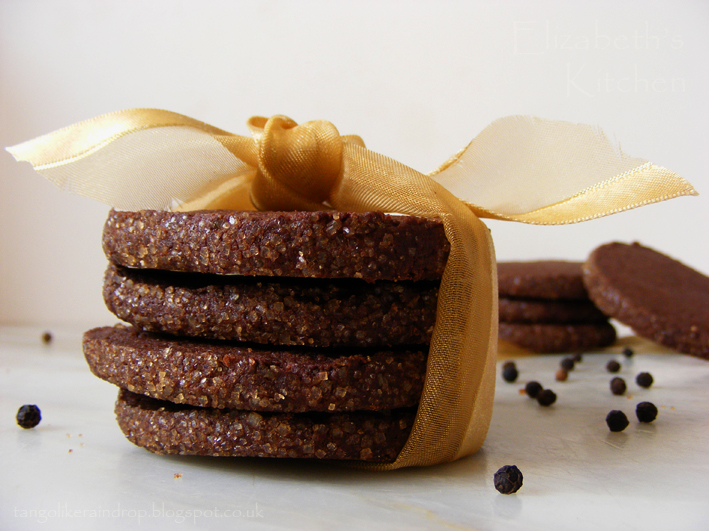 Chocolate and black pepper work marvellously well together.
I only discovered this recently upon a visit to a chocolatier in town where they were serving up delicious little homemade truffles containing cracked black pepper. Utterly, absolutely divine!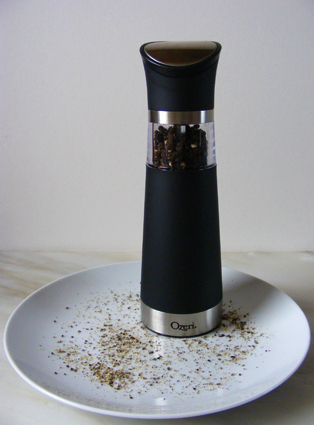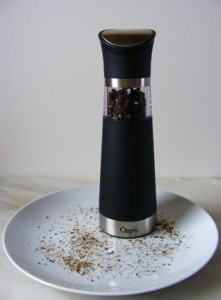 I adore black pepper, especially freshly ground black pepper. I haven't purchased shop-bought ground black pepper in at least 15 years. I've gone through a lot of pepper grinders in this time and have frustratingly never found one that's lasted any reasonable length of time without breaking. Maybe I use it more frequently than the average pepper grinder should be used? So, when Ozeri contacted me asking if I would like to review some of their products I jumped at the chance, especially as they had a swish looking Graviti Pro Electric Pepper Grinder in their catalogue and my last pepper grinder (Jamie Oliver's tellicherry black pepper with in-built grinding mechanism) was nearly empty and the plastic container had melted as it ended up too close to the hob.
Ozeri's Graviti Pro Electric Pepper Grinder is a battery operated ceramic grinder that automatically activates when inverted. It's got a little grind adjuster which means you can have grades of very finely ground to very coarsely ground pepper when you like. This appealed to me as some recipes require different kinds of pepper, like the recipe below which requires finely ground pepper, and a lot of pepper grinders just do one setting: coarse.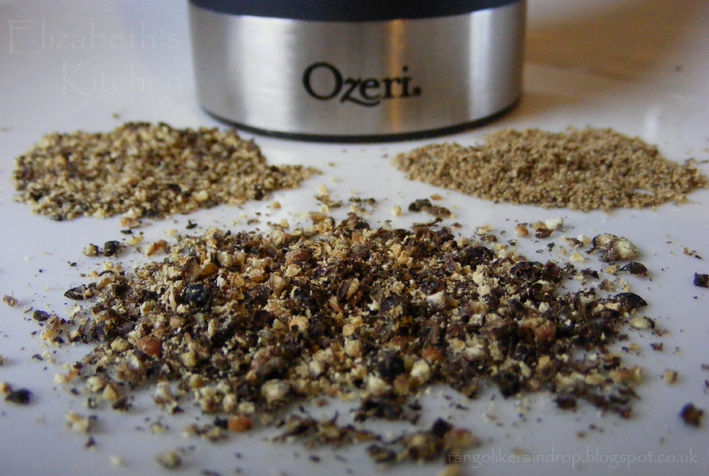 The outside is fingerprint resistant which keeps it looking neat and tidy and there's even a little light underneath which gently illuminates your food at the dinner table. Yep, pretty swish. I'm impressed so far, but I've only had a it a week now. We shall see about durability and I will be updating this post if/when my lovely new pepper grinder ever dies. My only complaint is that the transparent storage container is fairly small, which means I'll have to refill it frequently, but I'm sure this more than adequate for the average pepper grinding family. If you want to try one out for yourself you can pick one up from Amazon.co.uk
I wanted to blog about this pepper grinder in a post involving plenty of black pepper. I found a recipe by Kitchen Riffs for chocolate pepper cookies with an appealing ingredients list, but the cookies didn't look very pretty. I then found Martha Stewart's Chocolate Black-Pepper Cookies which looked nice with their sugar crust. So I combined the two remarkably similar recipes (based on the the original Austrian recipe for weinerstube) to make these delicious chocolate black pepper cookies with a bit of a kick. It's a traditional icebox cookie where you mix the ingredients, leave them overnight in the refrigerator (or freezer) to chill, and then slice and bake what you need.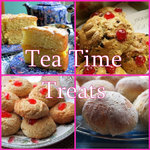 I've submitted this recipe to the Tea Time Treats food blogging challenge over at Lavender and Lovage. This challenge, alternately hosted by Karen at Lavender and Lovage and Kate from What Kate Baked challenges us, each month, to bake and blog something which could be served up at Tea Time. This month Karen has tasked us with baking biscuits and cookies.
I have also entered the recipe into Javelin Warrior's Made with Love, Monday's from-scratch recipe round-up.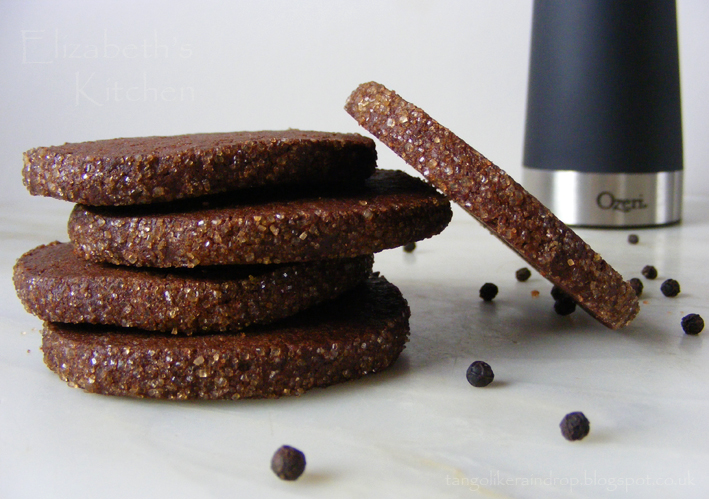 Chocolate Black Pepper Cookies
A traditional chocolate icebox cookie with a bit of a peppery kick.
Ingredients
1/2 – 3/4 tsp fine freshly ground black pepper
250 grams plain flour
1 1/2 tsp baking powder
1/2 tsp ground cinnamon
1/4 tsp ground allspice (2 berries)
1/8 tsp cayenne pepper
85 grams cocoa powder
1/4 tsp salt
170 grams unsalted butter
235 grams granulated sugar
1 1/2 tsp vanilla extract
1 large egg
demerara sugar, to coat
Instructions
1. Sift together the first 8 ingredients into a large bowl and set aside.
2. Using a food processor, cream together the butter and sugar until light.
3. Add the vanilla and egg and pulse briefly.
4. Add the dry ingredients and pulse until blended. You may need to use a spatula to get the dough off the sides occasionally.
5. Roll into a log shape approximately 10-12 inches long and 2 inches in diameter.
6. Wrap tightly in greaseproof paper and leave to chill overnight in the refrigerator.
7. Preheat oven to 180 C and line or grease a baking tray.
8. Remove the greaseproof paper and press demerara sugar onto the outside of the dough log.
9. Slice cookies of 1/4 inch thickness using a sharp knife.
10. Bake for 10-12 minutes, until the cookie springs back when lightly pressed. Do not over bake.
11. Transfer to a wire rack to cool.
Details
Prep time: Cook time: Total time: Yield: 3 dozen cookies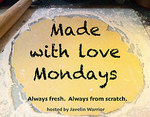 Elizabeth's Kitchen Diary was sent a sample of the Ozeri Electric Pepper Grinder for review. All opinions are our own. This is not a paid post.