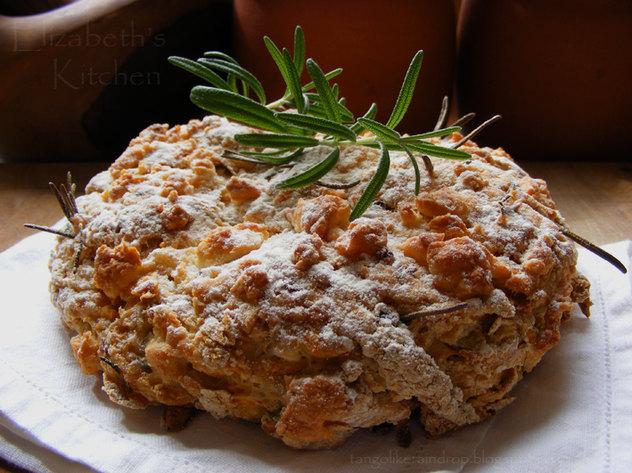 It's the beginning of a new month. This means that all the new themes for food blogging challenges are announced. I love this time of month; I find it inspiring. What am I going to be challenged to make this month? Is it something new? The challenge hosts are becoming known names in my household, especially Dom and his Random Recipes. This month, for Random Recipes #28 Dom has challenged us to make bread.
The 1st of May was a cold, windy day with alternating bouts of bright sunshine and sleety showers: a perfect soup and bread sort of day. I probably didn't select this recipe as randomly as Dom would like. It was the first recipe I'd come across in the bread sections of my cookbooks which I had all the ingredients for, so I went with that one.
The original recipe for Goat's Cheese, Onion and Potato Bread with Thyme appears in Delia Smith's How to Cook: Book 1 (1998), which I picked up at our local charity shop last Thursday for £1. I didn't have enough goats cheese or any fresh thyme, but she also provides an alternative recipe using feta cheese, 1/4 diced red onion and rosemary, ingredients I did have on hand.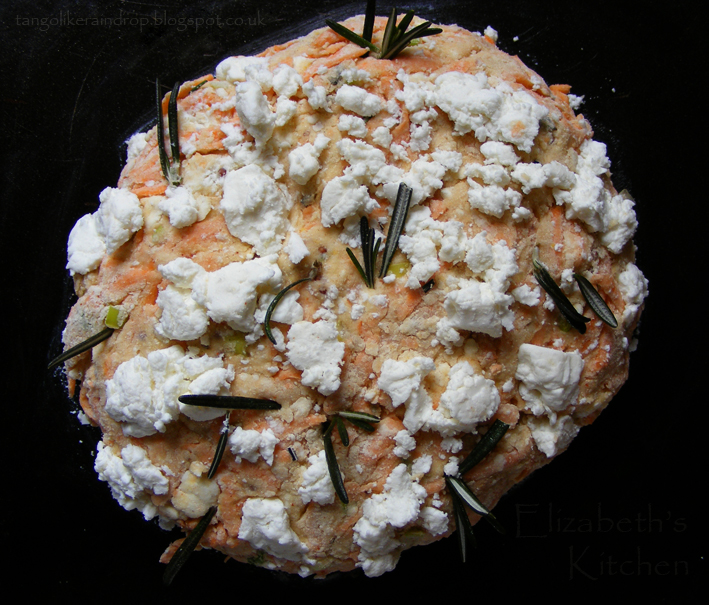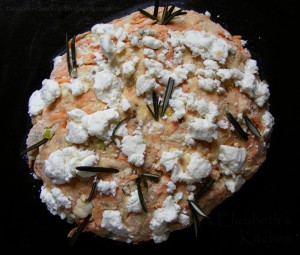 It's not technically a bread, I don't think, as it doesn't contain any yeast (but then neither do sourdough breads, and they are considered breads…. ponders) I would consider it to be a giant scone and the recipe is really quick to whip up, as scones generally are.  I was skeptical that the feta cheese pressed into the top would burn after 45 minutes of cooking, but it didn't. It turned a delicious, appetising golden colour.
For some reason when I read the ingredient red potato I just assumed she meant sweet potato, and so I used one. It wasn't until afterwards, when I cut into the bread and realised my bread didn't look like the one in the photo, did I realise my error.
However, it works! I like the look of orange flecks throughout the bread, although my children thought it was carrot, didn't like the look of the bread at all and refused to even try it. I think the sweetness of the potato and the sharp saltiness of the feta cheese compliment each other very well, perhaps it's more for grown-up tastes. This bread would make an ideal picnic lunch and I might have to try it again the next time we head up the hill for an adventure.
This bread was served with a hearty Three Bean Vegetable Soup.