"This was the best birthday party I've ever been to!" – 8 year old party guest.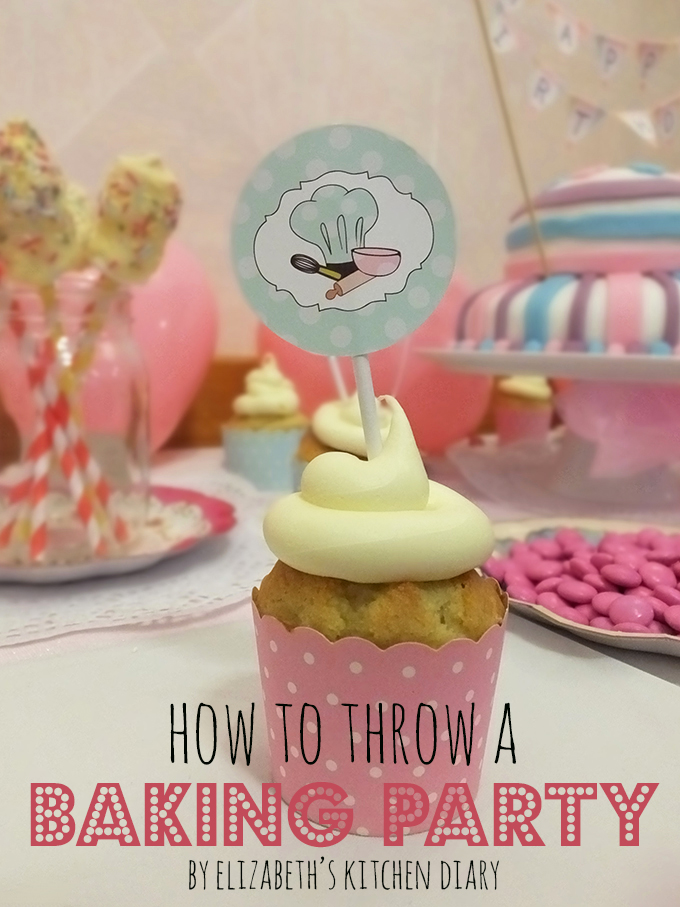 This month saw my beautiful, clever and incredibly talented daughter turn eight years old. She doesn't get a big birthday party celebration every year, but when she does I like to try and make it a little bit extra special for her and all her friends.
Two weeks before her birthday I was contacted by the fabulous Kate over at Feather Grey Parties asking if I would like to try out some of their party supplies. What a timely email! I'd been umming and hawing about having a swimming pool party, but wasn't completely sold on that idea. I  asked what she would suggest for an eight-year-old girl, and she suggested a baking party.
A quick look through the Feather Grey Parties website sealed the deal. A baking party it would be!
HOW TO THROW A CHILDREN'S BAKING BIRTHDAY PARTY
Plan in advance exactly what you are going to need!
Feather Grey have a fab Baking Party Kit which includes enough party pieces for 12 children: invitations, baking cups for cupcakes, cupcake toppers, party plates, matching napkins, balloons, paper straws, sprinkles and party bags with baking sticker seals. I topped this up with a few other things picked up for relatively cheap on ebay: table covers, pink organza for decorating, and lots and lots of sprinkles!
Party games? We had pass the parcel (two of them) with the prizes being boxed cupcake kits from the supermarket. Alternatively, the Feather Grey Baking Kit Gift Set (pictured right) would make a fantastic pass the parcel gift for any keen baker. It includes an apron, rolling pin, wooden spoon, pastry brush and recipe cards all in a handy little tin.
Aprons, chef's hats, party bag fillers? Recycled material can make fantastic, inexpensive aprons. My white cotton, enough to make 23 aprons (16 full aprons and 7 bistro aprons) cost a mere £2 from our local charity shop.
It turns out that the fabric was actually bedding sheets from a shipping company running in the 1940s or 50s! Vintage chic! I made my daughter's apron with the Queenship Navigation Ltd. stamp in the corner, as it appeared on one of the bedsheets (the other was torn off). I picked up a couple of packs of colourful fabric markers too, so the kids could personalize their own aprons. Craft tutorial to follow.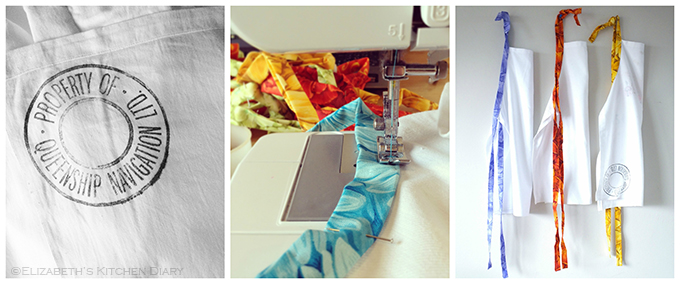 Set up a Pinterest board to keep track of ideas. There is plenty of inspiration out there and I found Pinterest an invaluable tool. Follow my Baking Party Ideas board!
You will also need silicone cupcake moulds (or paper cases), disposable piping bags and party bag fillers.
Our party bags included:
one temporary cupcake tattoo and one teaspoonful of sprinkles in a mini (6×8 cm) ziplock bag
a silicone cupcake mould in the colour of each child's choosing containing the cupcake that they made
an 8″ wooden spoon tied with a paper raffia ribbon bow and a little gift tag with a note from my daughter thanking her guests for coming along on one side, and the recipes for chocolate and vanilla frosting for one cupcake on the other.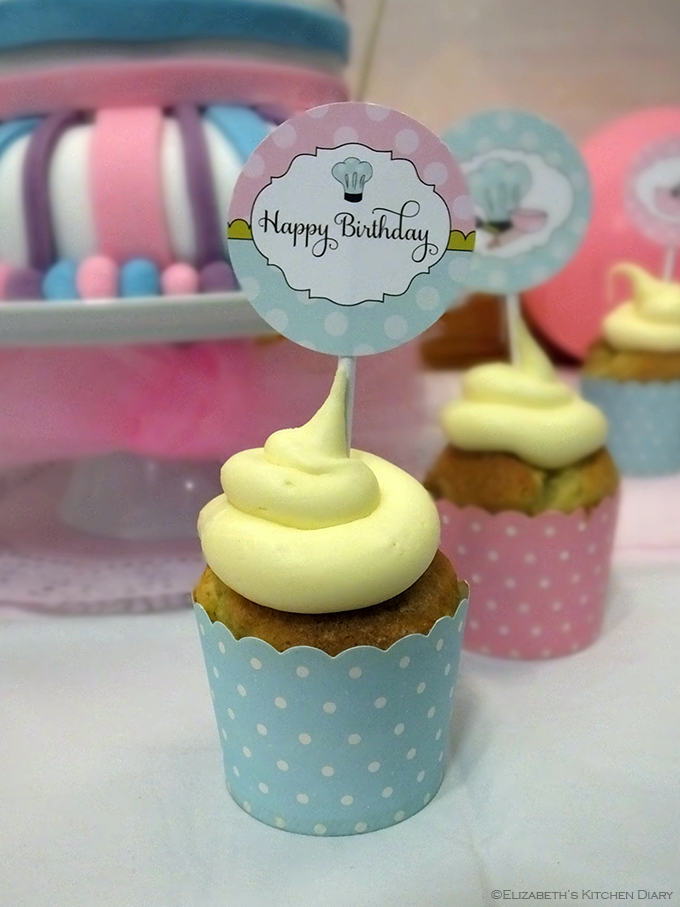 Organize a venue.
If you're wanting a big party and you have a big kitchen that's fine, otherwise (like me) you're going to need to find a kitchen space! I hired the village hall for the afternoon, which included the use of their spacious kitchen.
Write up an itinerary.
This is more for your benefit than anyone else. A big party might seem daunting at first, but my itinerary really helped me.
2:30 Greet guests at the door. Have a gift table set up by the door where party bags will be given out afterwards.
2:45 Have children select an apron and chef's hat, wash their hands and make their way to the kitchen. Preheat oven to 180 C
2:55 Have children get into pairs depending on if they want to make chocolate or vanilla cupcakes.
3:00 Commence cupcake baking!
3:30 Move everyone to the party table to decorate cupcakes.
3:45 Snacks and apron decorating when the kids are finished eating.
4:15 Pass the parcel & playtime.
4:30 Home time! Hand out party bags as guests leave.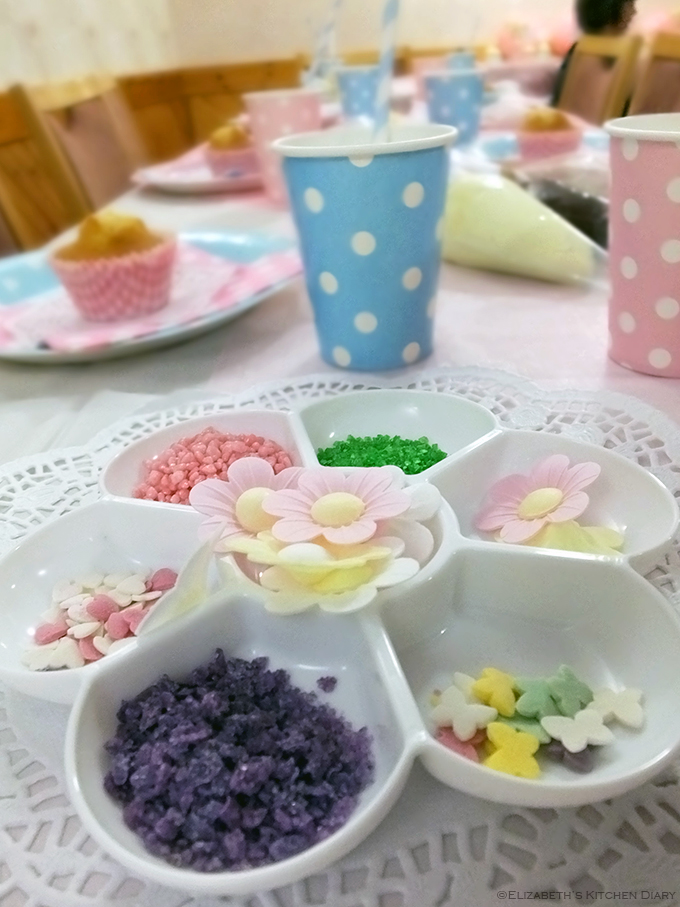 Give yourself plenty of time to set up. I learned this the hard way. We only had half an hour to set up before the party guests arrived and there were points I was actually running to try to get everything done! I laid out disposable tablecloths on the table, placed a paper plate, napkin and little paper doily for each person along with a paper cup and straw. An uniced cupcake was laid on top of each doily. Disposable plastic piping bags were filled with ready-made frosting (chocolate, vanilla and strawberry) and kept closed with a rubber band (you could decorate the closed end with ribbon or organza if you wanted). The ends were not snipped open until the kids were ready to decorate.
Artist paint palettes make great sprinkle holders.
So, on the day after everyone has arrived, have the children choose an apron (if using) wash their hands and head to the kitchen.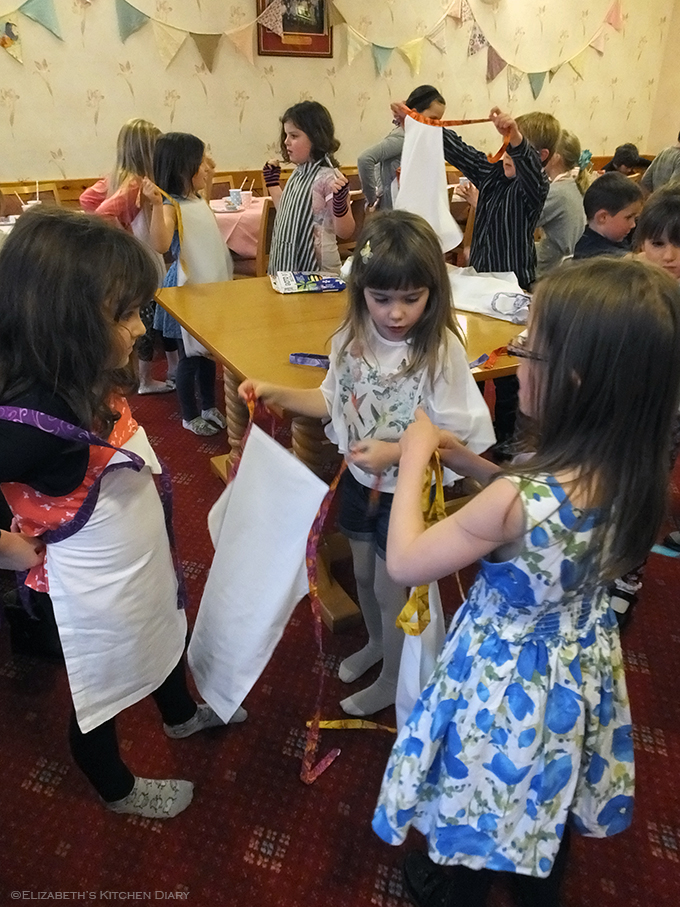 Make sure your kitchen area has all the ingredients laid out in small bowls, and plenty of tablespoon measures. Borrow some from friends if you need (as they can be a bit expensive to buy brand new).
For your convenience, I've provided the recipe with the instructions I gave below. This will suit any size group. You could always instruct the children as a Simon Says game to make it more interesting.
"Simon says: Let's bake cupcakes!!"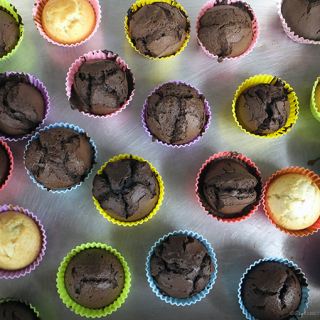 Baking Party Cupcake Recipe
A recipe for both chocolate and vanilla baking party cupcakes for a group.
Print
Rate
Affiliate Links
This recipe card may contain affiliate ingredient and equipment links. As an Amazon Associate I earn from qualifying purchases.
Instructions
Dish out small bowls of flour, sugar and cocoa powder. Set up silicone cupcake moulds in the centre of the table. Set up enough mixing bowls, forks, spoons and measuring spoons for each group.

"Pair up! Find a friend who wants to make the same kind of cupcake as you and stand in front of a mixing bowl."

Ask each child to select a silicone cupcake mould and to put their initials on the bottom of the mould.

"Each group, put four tablespoons of flour into your mixing bowl." (get parent helpers, if you have any, to make sure these are level tablespoons, not heaped)

"Hands up who is making vanilla cupcakes? Put one more tablespoon of flour in your bowl!"

"Hands up who is making chocolate cupcakes? Put one tablespoon of cocoa powder in your bowl!"

"Every group, put three tablespoons of sugar into your bowl!"

"Each group, put a pinch of salt in your bowl, just a pinch!"

"Every group, put one tablespoon of sunflower oil into your bowl" They might need help with this, especially the younger ones.

"Every group, put one tablespoon of milk into your bowl!"

"Hands up who is making vanilla cupcakes? Put one half of a teaspoonful of vanilla into your bowl!"

"Can every group grab an egg? Be careful not to drop it!"

"Crack your egg into your bowl!" Parent helpers might have to help with this as well as fishing out egg shell from the bowls.

"Are you all ready everyone? Grab your forks and stir, stir, stir!!" While the children are stirring, keep an eye on the texture of their mixtures. It should be of soft dropping consistency, so add a little bit more milk or flour, depending on what is needed.

"Alright everybody, this is looking great! Now, spoon your cupcake batter into your cupcake cases." There is enough batter to make two large cupcakes, but you might find you need a third case, depending on how much batter they've made, or just throw out the extra.

Bake in a preheated 190 C oven for 15-20 minutes. Transfer to a wire rack to cool completely while the children are decorating pre-made cupcakes in another room. Move the cooled cupcakes to the party bag table for when everyone leaves.
Environmental Information
[amazon_link asins='B0722C88WR,B005FPTPF6,B00ZFW0GAC,B00ZRXNYT4,B00ZIOD77G,B00Z77UQLY,B00RXIO1YI,B0057MAQR8,B01N4LLO48,B00VFNAOKM' template='ProductCarousel' store='elizskitcdiar-21′ marketplace='UK' link_id='48dc5426-1478-11e8-9084-d9c79536363d']
I was really impressed at how smoothly everything went in the kitchen, but I had a few fantastic parent helpers. The kids were really enjoying what they were doing, and the looks of concentration on some of their faces were so amusing!
Afterwards, while the cupcakes are baking (under adult supervision – set a timer if you're forgetful like me!) have the children wash their hands and head to the party table where the undecorated cupcakes have already been laid out.
Let them have at and admire their creations!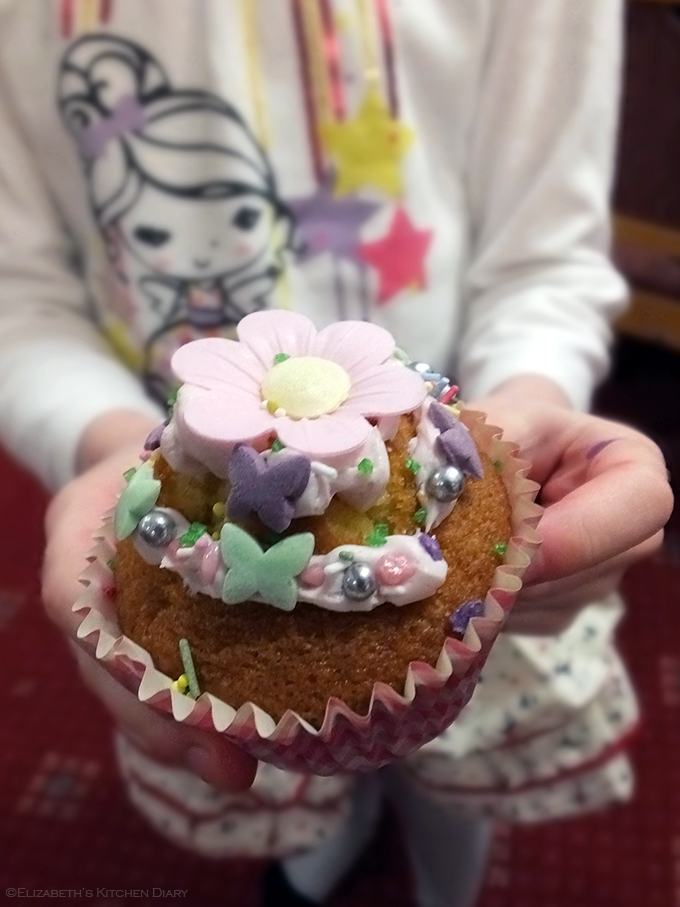 Then, after they are done decorating, it's snack time.
I had two separate tables, one set up with the cake and all the sweets, the other laid out with savoury snacks and drinks. Pink lemonade comes into its own here!
The children loved decorating their aprons, boys and girls alike.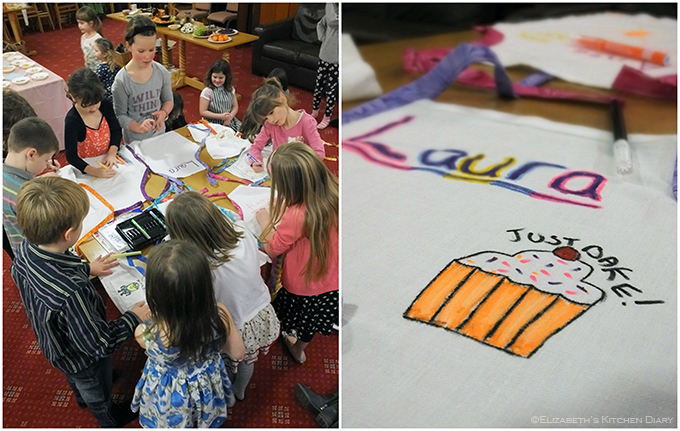 If I am, to be honest, I would have liked to have doubled the time we had for this party. Two hours just flew by and the kids (and adults) had so much fun; it would have been easy to fill another couple of hours.
When it came to home time, each of the children was given the cupcake they made in their polka dot Feather Grey Baking Party bag sealed with a sticker. I hoped that giving them each a wooden spoon with a recipe, an apron and a silicone cupcake mould of their own might encourage them to bake themselves, and it says! DD has said her classmates have been asking for the cupcake recipe, so I think when it comes time to send out the thank you notes for the birthday gifts I will include a cupcake recipe too.
All in all, it was a resounding success and I'm glad I put the effort in. The Feather Grey Baking Party supplies really helped make this party something special. I love their whole range – everything you need for a themed birthday party all in one place. All their party stationery is their own design, and the pastel colours and cute baking party images were a real hit. As the children left they were bursting with energy (ok, that might have been a sugar high!) and filled with compliments about the day. A week later and they are still talking about it!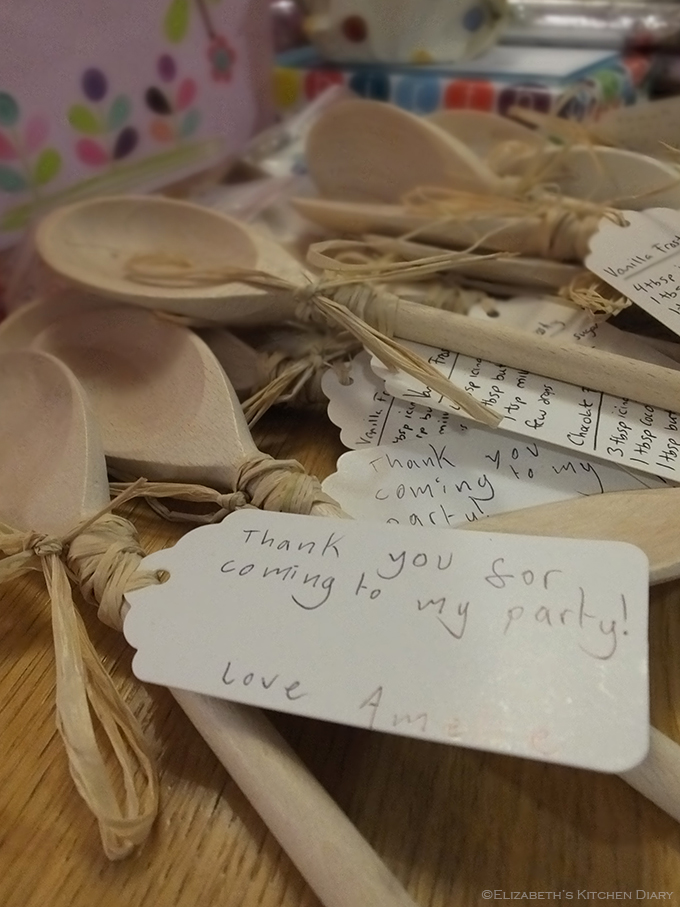 OTHER BIRTHDAY POSTS YOU MIGHT LIKE
Google Rainbow Birthday Cake by Sarah
Transformers Birthday Cake by Elizabeth
Coraline Birthday Cake by Elizabeth
Halo Reach Birthday Cake by Elizabeth
A Postman Pat Party by Sarah
OTHER KIDS' BAKING IDEAS
Cadbury Pebbles Rockin' Drop Cookies by Judith
Follow Elizabeth's Kitchen Diary's board Baking Party Ideas on Pinterest.
Elizabeth's Kitchen Diary was sent a selection of Feather Grey Birthday Baking Party supplies for review. All opinions expressed are our own and this is not a paid post. All parents of children at the party gave their consent for photographs to be taken and used in this blog post.