Because sometimes chocolate chunk cookies are required.
I've made cookies!
Regular readers will be aware that it's been ages since I've posted anything even remotely sweet and indulgent like a cookie or cake recipe. That's because I've not been making such treats, or anything even hinting at calorific as I attempt to lose the extra weight I piled on last year (12 lbs down, btw!).
I've got one of those naturally trim husbands (I'm insanely jealous, you should know). How he does it, I don't know, given my love of cooking and baking and the endless supply of food he has at his fingertips. No, I tell you know he does it – he firmly believes that pudding is something which should be eaten only if you are feeling hungry!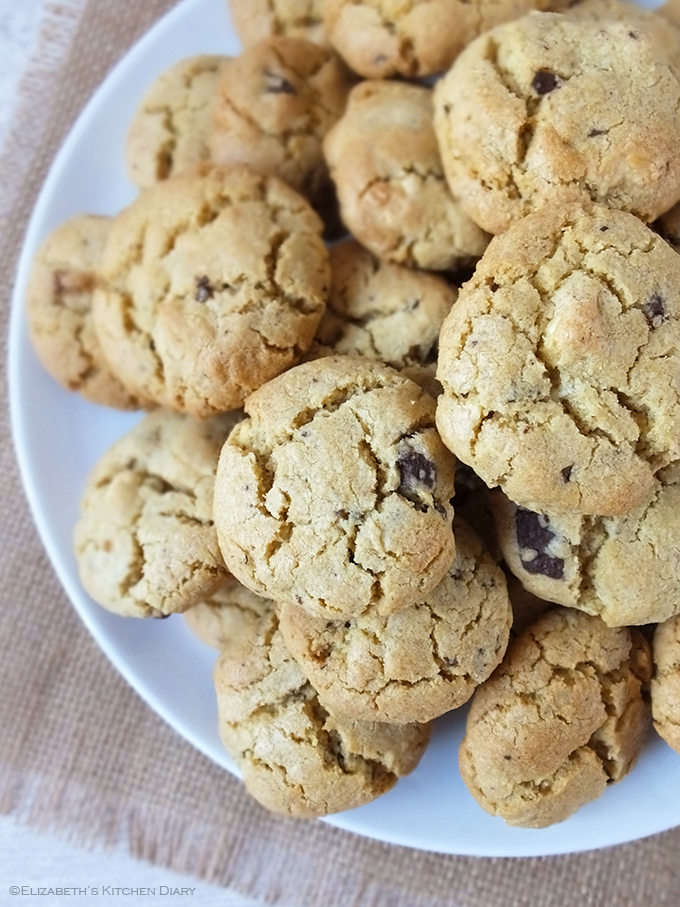 Seriously! After you've finished your dinner and if you are still feeling hungry, only then can you indulge in a sweet treat. Not because sweet treats are a pleasure and enjoyment to eat, but rather simply to fill a biological hunger gap. So, since he fills up on his dinner the pudding, cake, biscuits, etc get neglected.
I don't want the children to gorge themselves on sweet treats either, so after they've had a reasonable serving that leaves the majority of the treat sitting there on the kitchen counter, gently calling me come 9 pm at night while I'm watching Netflix. One cookie leads to three, and then the next thing you know I've lost count and I've put on two kilos.
So, for the sake of my waistline, I stopped making treats.
Until yesterday.
Our neighbourhood has turned into a building site. All the houses are having some serious external refurbishments – new roofs, new outer walls, new windows, new outer doors. From 8am – 4pm every day all I hear is the sound of jackhammers and heavy plant, and they haven't even started on our house yet (we are in Phase 2, scheduled to start in March). From the vantage point of my kitchen table I watch them demolish my neighbours houses. I've felt really bad for them as the whole first week they were here it rained, relentlessly, lashing painful precipitation. This week we've seen sun at least!

I have it under good authority that builders can polish off an entire cake in 2.8 seconds flat (a blogging friend of mine has had builders working on her house for the last five months and she has said this is the case) so, to solve the problem of not baking while I'm dieting, I've taken to dropping off some home bakes for the builder's morning break time.
Win-win!
Last week they got a banana bread (three day old, as, like I said, my family seem to forget I've baked and the cake gets neglected) and this week they've had two lots of chocolate chunk oatmeal cookies, a recipe adapted from the age old Neiman Marcus £250 cookie recipe scrawled in my ancient notebook.
I did taste test one (completely blowing my daily carbohydrate allowance yesterday) and I can attest to their awesomeness; a lovely oatmeal cookie base dotted with proper ooey-gooey chunks of chocolate. Blending the porridge oats before adding them to the mixture imparts a rather smooth and chewy texture to the biscuit.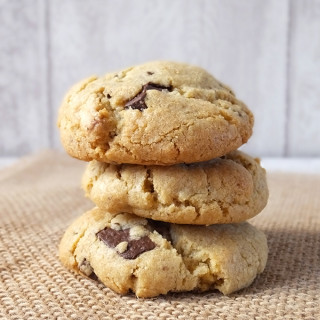 Double Chocolate Chunk Oatmeal Cookies
Plain and white chocolate chunks bring these blended oatmeal cookies to a whole new level!
Print
Rate
Affiliate Links
This recipe card may contain affiliate ingredient and equipment links. As an Amazon Associate I earn from qualifying purchases.
Instructions
Preheat oven to 190 C.

Cream butter and sugars together until light and fluffy.

Add the eggs and vanilla and beat well.

Stir in the finely ground porridge oats, flour, baking soda, baking powder and salt.

Fold in the coarsely chopped chocolate.

Pinch off pieces of dough the size of a small walnut. Roll into balls and place on a baking tray 2 inches apart.

Bake for 10-12 minutes, until light golden. Leave to cool on the baking tray for a few minutes before transferring to a wire rack to cool completely.
Environmental Information

Linking up with Alphabakes by Ros The More Than Occasional Baker and Caroline at Caroline Makes. This month the letter we are challenged to bake with is L, and as this recipe includes light brown sugar it fits the challenge.
I'm also linking up with Recipe Clippings, a new blogging challenge by Janice over at Farmersgirl Kitchen. This recipe has been lurking in my book since 1996 and this was the first time I'd ever made it (well, a variation of it given the ingredients I had available in my kitchen!).
The Biscuit Barrel by Laura of I'd Much Rather Bake Than… and guest hosted this month by Alexandra, The Lass in the Apron, asks us to share recipes with a new technique or innovation. I've never blended oatmeal to a powder before to use in a cookie recipe, so I'm sharing this recipe with them.
Tea Time Treats, co-hosted by Jane at Hedgecombers and Karen at Lavender & Lovage is all about packed lunches. Hubby took some of these biscuits to work with him in his packed lunch, so I reckon it qualifies (Note: I suspect if I hadn't given half the cookies away to the builders he would have forgotten about them like he usually does! I might be on to something here!)
OTHER CHOCOLATE CHUNK COOKIE RECIPES YOU MIGHT LIKE
Buckwheat and Chia Seed Chocolate Chip Cookies by Nazima
Chocolate Melting Moments by Camilla
Peanut Butter & Chocolate Chunk Cookies by Elizabeth
Double Chocolate Coconut Cookies by Elizabeth
Chocolate Chip Cookies by Jen
Chocolate and Cacao Nib Heart Cookies by Laura
Follow Elizabeth's Kitchen Diary's board Cookies & Biscuits on Pinterest.


If you want to be kept up to date on my recipes, occasional craft tutorials, adventure stories and giveaways then please subscribe to my weekly newsletter; it gets sent out every Monday morning if there is new content. Your email address won't be passed on to anyone, you will never be spammed and you are free to unsubscribe at any time, no questions asked. Make sure you confirm your subscription or you won't receive the newsletter – if it hasn't arrived check your junk mail folder.
[wysija_form id="1″]