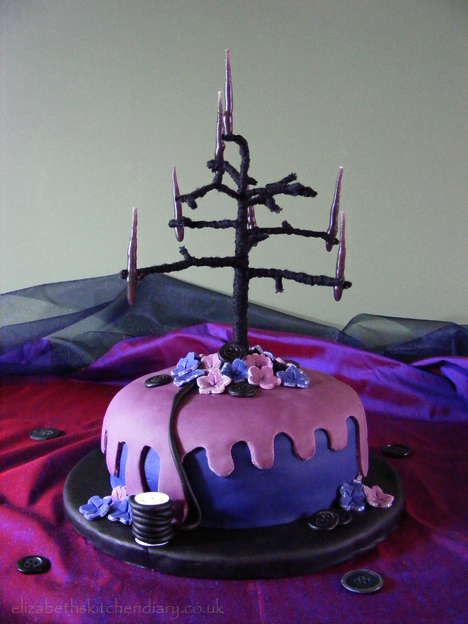 My daughter has inherited my tastes for all things quirky and odd. She's as fond of Neil Gaiman's Coraline (2002) (made into a film by Henry Selick in 2009) as I am, so when I asked if she might like a Coraline themed birthday cake this year I was delighted when she said yes. If you haven't seen the film yet you simply must. It's a very well done stop-motion animation about a quirky girl named Coraline and her adventures in a parallel reality.
It took a bit of thinking and creativity to come up with a cake with this theme. I didn't really like any of the ones I saw on the internet so I came up with my own. I'm absolutely delighted that it all came together as I envisioned it in my head, although it was a bit rushed in the end with being very busy in the days leading up to the birthday party and racing to get the cake decorated before the sun set in the middle of the afternoon, as it is wont to do in Shetland this time of year (the perils of being a food blogger this far north!).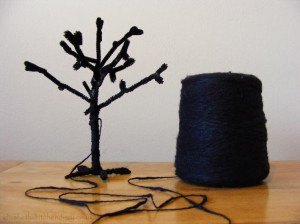 The tree was the trickiest bit and took some time spent thinking to design. It's made out of ten black pipe cleaners wound around each other to make the trunk, and each individual pipe cleaner 'branch' is twisted into twigs with a v-shape at the end to hold some home made purple candles. The roots are pipe cleaners twisted around each other so that it holds the tree upright. The whole thing is then wrapped in black string. I will be doing a video tutorial at a later date on this technique when I make one for a Christmas decoration. Watch this space!
The candles were made using wax and wicks I'd picked up at our local charity shop about two years ago and have never found a use for until now. This was my first attempt at making home made candles and I'm really pleased how well they turned out and how brightly they burned!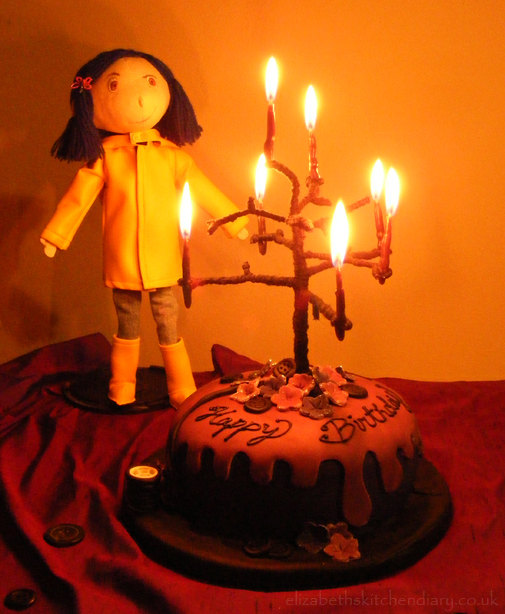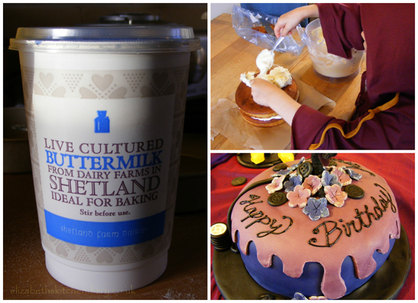 As a gift to accompany the cake I designed and made a 14 inch fabric Coraline doll from recycled materials. You can see more photographs and download the pattern for free on my blog post here, should you wish to make your own. This month sees my second blogaversary and this is my gift to you! 🙂
The birthday cake itself is Nigella Lawson's buttermilk birthday cake, made using local Shetland Dairy buttermilk. As such, I am sharing this post with my #ShopLocal food blogging challenge which is all about promoting local produce. As hitting another birthday, especially the big 7, is a milestone, and the birthday girl took time out of her busy Quidditch playing to help ice her own birthday cake, I am sharing this post with the Magic Moments linky for this week over at The Oliver's Madhouse.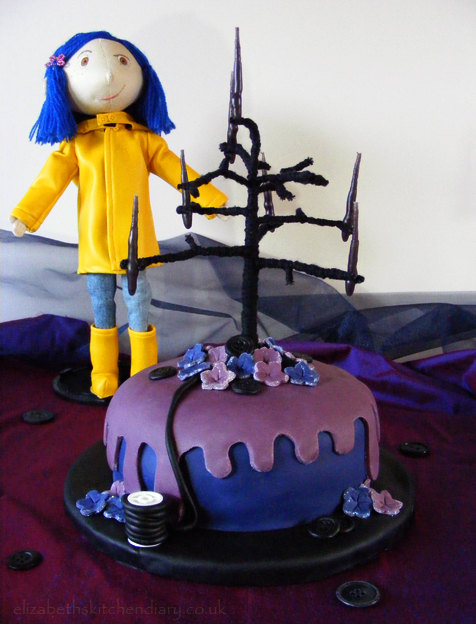 Coraline Birthday Cake
A quirky Coraline themed birthday cake!
Ingredients
1 quantity Nigella Lawson's Buttermilk Birthday Cake Recipe
1 quantity Vanilla Buttercream Frosting
250 grams Renshaw Amethyst Purple Ready to Roll Icing
250 grams Renshaw Navy Blue Ready to Roll Icing
250 grams Renshaw Jet Black Ready to Roll Icing
500 grams white ready to roll icing
pink/purple/silver edible glitter
purple candle wax
thin candle wicks
pipe cleaners
empty can, cleaned and dried
1 black pipe cleaner/string tree
small flower cutters
1 empty thread spool
9 inch cake drum
2 cocktail sticks
Instructions
1. Prepare Nigella Lawson's buttermilk birthday cake as per her instructions. Pour into two 7 inch round cake tins, bake and cool.
2. Prepare buttercream frosting. Place the bottom cake on the cake drum and sandwich the two layers of cake together with the frosting and cover the outside in a thin layer of frosting.
3. Cover cake in a thick layer of white ready to roll icing.
4. Roll the navy blue icing into a long rectangle shape the height of the cake. Stick navy blue icing around the outside of the cake.
5. Roll out the amethyst icing and cut into a splat/drip shape (see photo above). Place on the top of the cake and smooth edges with your fingers.
6. To prepare candles (do this a few days in advance) cut your candle wicks into 10 inch lengths. Make hooks by bending pipe cleaners into a 90 degree angle with two loops at either end. Hang wick through each loop and tie knots at each end (this will give a crooked candle shape). Grate candle wax into an empty tin until it is 3/4 full. Place tin in a medium sized saucepan containing about an inch of barely simmering water. Stir until melted completely and remove from heat. Dip candle wicks into the wax, one 'hanger' at a time and allow to dry for 90 seconds between each dipping. Keep dipping until the candles are as big as you want them to be. Leave hanging until needed.6. Place the candles in the branches of the tree by bending the ends of the branches around the candles. Make sure they are spaced well apart.
7. Place a cocktail stick into the bottom of the tree and stick into the centre of the cake.
8. Cut out small blue and purple flower shapes and dip the edges into edible glitter before sticking around the tree and edge of cake using a little water (a finger dipped in a dish of cold water will do).
9. Roll out the black icing and cover the visible cake drum and sides with black.
10. Cut out small circles – one for each year of the birthday child – I used the top of a vanilla essence jar as a cutter, draw a line around the inside edge of the circle with a cocktail stick and make four button holes in the centre. Arrange with the flowers on the top of the cake.10. Roll some black icing into a long thread, wrap around the empty spool and attach the end to the tree.
Details
Prep time: Cook time: Total time: Yield: Serves 12