Friday evening I had the great culinary pleasure of a sneak preview of the Shetland Food Fair, the newly relaunched foodie event of the year in Shetland! The Shetland Food Fair is run by the Shetland Food Producers Group, a voluntary group of small local producers who took over the running of The Shetland Food Festival in 2012, and oh my, what a wonderful array of local produce was on show!
Upon entering the building I was greeted with a smile and offered my first delicious home made mince pie of the season accompanied by a lovely non-alcoholic lemon and ginger drink (wine is available for those who aren't driving!). I then had the opportunity to browse the stalls before the crowds appeared after the official opening at 7 pm.
The stalls are set up around the periphery of the hall with the centre laid out as a cafe where meals and snacks will be served from the local producers stalls throughout the weekend.
Artisan Island Cheese has a range of delicious cheeses incorporating local ingredients all lovingly handmade in Lerwick (pictured below, far left). You may remember them from BBC Countryfile earlier this year where I learnt (and many others did too given how many visitors I had to my blog searching for this cheese!) about their seaweed 'Boorik' a delicious crumbly cheese made using local seaweed. I have tried it (you can read about it here) and love it! This time I picked up a tub of 'Oily Balls', their own curd drained cheese with herbes de provence, pimento stuffed green olives, black olives and olive oil. Their packaging says that this cheese is perfect with Skibhoul Bakery's Oceanic Oatcakes (who also have a stall with their fabulous produce from Unst – see my blog post about our Adventure in Unst this summer to find out more about them!), but I ate mine as part of a late dinner with Callieu's Handmade Baking Company of Vidlin seaweed oatcakes made using Bod Ayre's Shetland Seaweed Sprinkle. Divine! Utter perfection!
Callieu's create handmade artisan foods including (I've heard on the grapevine) the best pork pies in Shetland as well as a range of pastries and preserves and they promote the use of local foods. They've just developed a gluten free pork pie which I can't imagine was an easy thing to do!
Brigg's Shetland Lamb is taking orders for whole native Shetland lamb ready for home freezing. I didn't visit this stall as I already have a locally reared lamb in my freezer from Hayfield Croft Produce, but I can highly recommend Shetland lamb as a must for the winter freezer. Shetland lamb has the most wonderful, earthy flavour which you don't get from imported supermarket lamb.
Bod Ayre Seaweed Products produce natural edible sea vegetables, harvested and processed within 24 hours to provide a high quality nutrient packed natural product. My regular readers will know that this is one of my favourite local ingredients to use and the Bod Ayre seaweed sprinkle provided my first ever blog giveaway back in August of this year.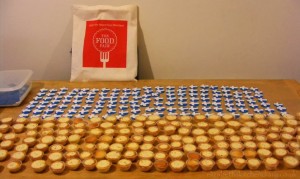 150 of 300 mini Shetland Flag-topped lemon and seaweed fairy cakes being
decorated at 7:30 am this morning for today's Food Fair!
You  may be visiting my blog for the first time after visiting their stall pictured above, far right, and picking up one of my cards. They asked me if I could prepare some samples for them using their product so I made 300 mini Shetland flag-topped seaweed and lemon fairy cakes using their seaweed sprinkle, Shetland Dairy milk and butter, organic flour and eggs and fair trade sugar. The lemon curd was hand made with organic lemons and hens eggs from the Shetland island of Whalsay picked up in my local village shop on the west mainland! I do hope you liked them; drop me a comment below if you did!
The Island Oven, a small producer on the west side of Shetland (pictured above, second from left), make the best brownies ever using locally produced ingredients (if possible). You can try their Peat Bog Brownies at the Mareel cafe in Lerwick and I can't recommend their fiery chilli one enough. They even have gluten free ones available at their stall this weekend! They are to die for, truly! They welcome bespoke orders for individual cakes and you can find them on Facebook.
The newly formed Lerwick Brewing Company have two locally produced beers at their stall: 60° North (featured in a blog post here) and Skipper's Ticket, a full bodied pale ale style beer. Besides making great tasting beers I love their packaging and their 'it's all a matter of l°attitude' slogan. The ladies on the stall are super friendly and helpful too and will answer any questions you might have.
Liz's Homebakes and Preserves has a very large table positively heaving with homebakes, Christmas cakes and preserves, which include gluten, wheat and dairy free products.  I picked up one of their mini coffee cakes studded with half walnuts yesterday which went down very well after our late dinner.
Sandwick Pork run by John Flaws (pictured above, second from the right with his smiley grandson) produces free range and sustainably reared pork and goat from the South-end of Shetland. His pigs are fed on home-milled barley and whey from the Shetland Cheese Company. He's selling joints, chops, sausages and burgers. Tasters are available. This stall was a pleasant surprise for me as I'd never heard of this producer and I didn't know that goat was available in Shetland. I'm a little bit excited to try it for the first time – I have some diced meat in my fridge now waiting to be made into some middle Eastern inspired dish!
Scoop Wholefoods, one of my favourite places to shop for local and unusual ingredients, has joined forces with a few local producers with their stall which is heaving with vegetables including the Shetland black potatoes (I picked up a bag of these!). They also have produce from the Burland Croft Trail (also featured on BBC Countryfile earlier this year), Hayfield Croft Produce (as seen in the logo for my #ShopLocal blogging challenge) and from another producer I didn't know about which grow about a 20 minute walk (as the crow flies!) from my house on the west side: Midtown Veg! They have several different types of potatoes on offer including Sarpo Mira, Trixie and Casablanca. The Scoop stall also have a delicious tablet fudge taster made by Boannie Isles from Burra. Their hand made tablet is flavoured with Valhalla Brewery Ale as well as original, Baileys, ginger and coconut.
Shetland Cheese, an artisan producer of handmade cheese from the west side of Shetland have a stall filled with all sorts of different cheeses with tasters. They also have their new Ninian's Brie on offer. This cheese has recently won the Bronze Medal in the British Cheese Awards. They offer cheese making courses at their premises and one of these days I will get myself organized to attend one!
It was a great experience to have the opportunity to meet the faces behind many of the products I buy. I particularly enjoying the conversation with Ronnie Eunson (at the Scoop stall) who rears organic Shetland lamb and beef at Uradale Farm. You may have been him earlier this year on BBC's Countryfile and I can assure you he's just as lovely in person as he appeared on the telly. He even managed to convince me to give sassermeat (a Shetland spiced sausagemeat) a second try. I've only had it the once, by accident, and I didn't much care for it. It was suggested, by some stallholders, that perhaps you need to be born and bred in Shetland to appreciate the taste! I will give it a go again and report back! For you London readers – you can order some of his organic Shetland lamb from Lidgates.
I do hope any readers here in Shetland make an effort to get to the Clickimin Centre this weekend for the Shetland Food Fair. If that's not enticing enough there is a Shetland Craft Fair going on at the same time in the main hall so you could get all your Christmas shopping done this weekend, should you wish!
This is not a sponsored post. Elizabeth's Kitchen Diary was invited to the preview of The Shetland Food Fair opening. All opinions expressed are my own. I was, however, paid to make the fairy cake tasters for Bod Ayre.