A recipe commissioned by Redmond.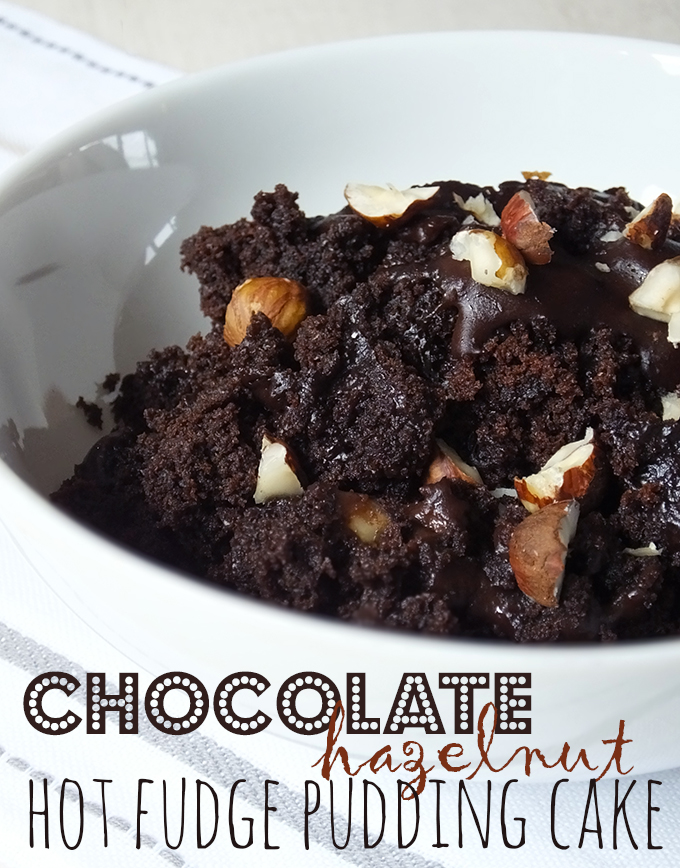 As a food blogger I am regularly approached by a wide variety of food related companies looking for honest opinions about their products or services. I love these challenges – trying out new things is something I really enjoy, so when Redmond contacted me last year asking if I'd like to try out their new Redmond Multicooker 4502 I jumped at the chance.
Redmond are a leading company in modern appliances and advanced technology. They are striving to create products designed specifically to fit in with our modern, busy lifestyles. They have created the Multicooker 4502 – an appliance developed to create tasty dishes at the push of a button.
So, my multicooker arrived fairly quickly after being dispatched, but the box…. well, the box was rather confusing…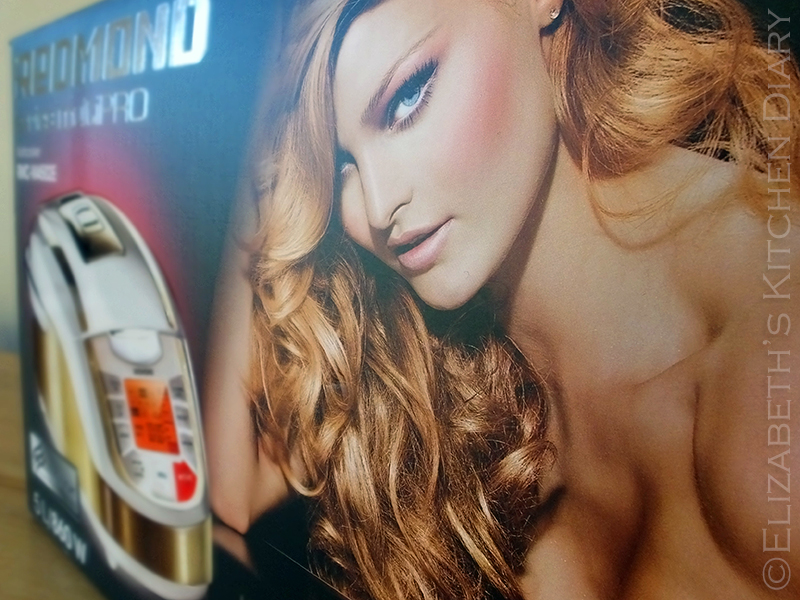 I do realise that different cultures advertise things in different ways. The international company Redmond have a very different advertising strategy than perhaps the UK or Canadian market are more accustomed to. The box did make me chuckle though, a lot!
Is it a beauty product?! Will using this in my kitchen make me look like her?!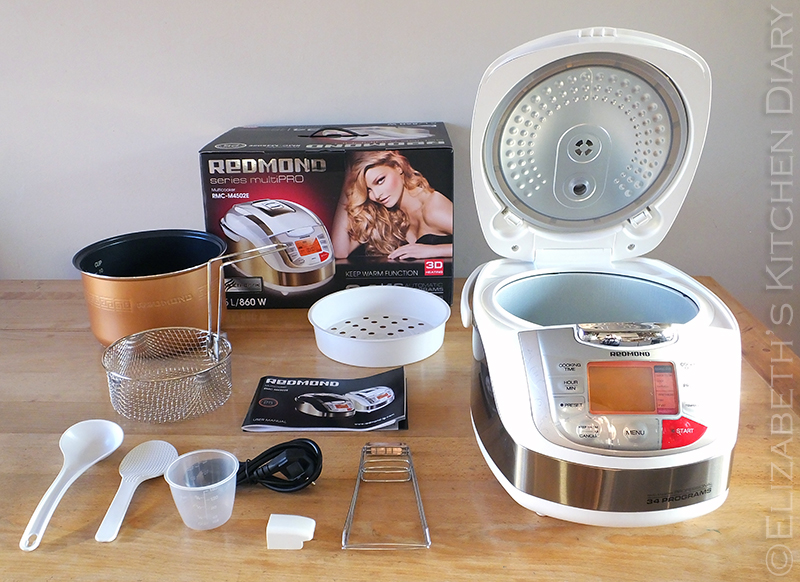 Unpacking the box this is what I found:
the multicooker device with lid, carrying handle and LCD control panel
an inner aluminium lid
a removable non-stick bowl with a 5 litre capacity
a stirring paddle
a measuring cup
a steaming container
a serving spoon
a frying basket
bowl extraction tongs
a serving spoon/stirring paddle holder
a user manual and recipe booklet
Now, I admit, the appliance is rather space age looking. My husband said it reminded me of the Daft Punk helmet! There is some rather lovely detailing on the outside of the device itself and on the outer edging of the bowl, meaning meals can be served directly from the unit to the table.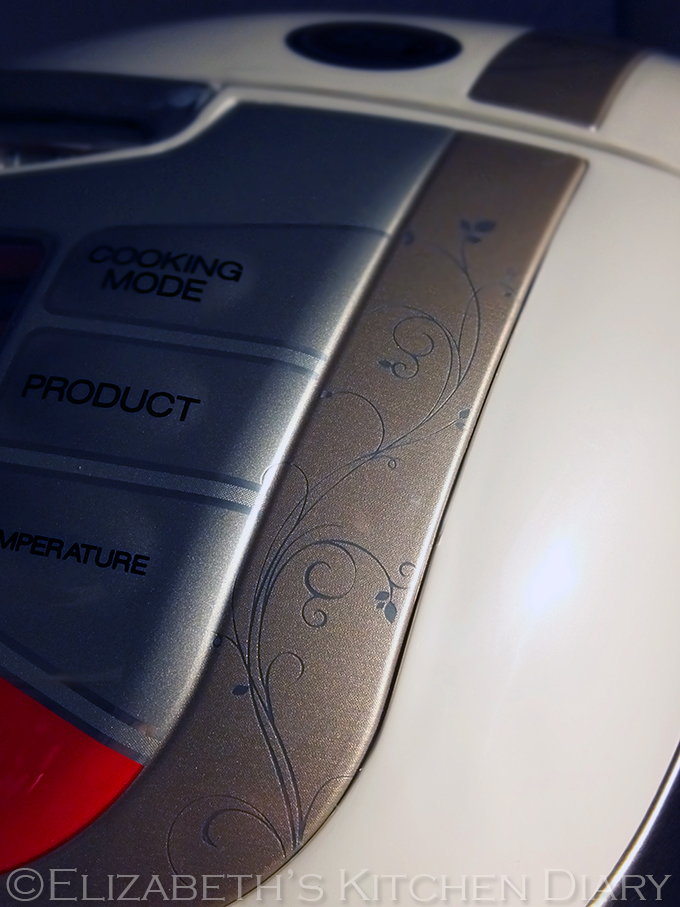 With 16 automatic programs including steam, fry, stew, cook, pasta, soup and cake and 18 programs with manual control (multicook) the Redmond multicooker claims to be able to replace most appliances in the kitchen including your oven, stove top, bread machine, yogurt maker, deep frier, slow cooker, steamer, fondue pot and much more.
A recipe book (which you can download and browse from here) is packed with plenty of tried and tested ideas for making the most out of the multicooker. All you need to do is to put in the ingredients, select the correct setting, close the lid, and the multicooker does all the work for you leaving you free to do other things with your time (like do your make up and hair like the model on the front of the box?!).
Us food bloggers have also been challenged to create recipes with our review samples, and so for the first of my recipes I recreated one of my childhood favourite hot fudge pudding cakes, best served piping hot with a great big dollop of ice cream or lashings of double cream. Pure indulgence!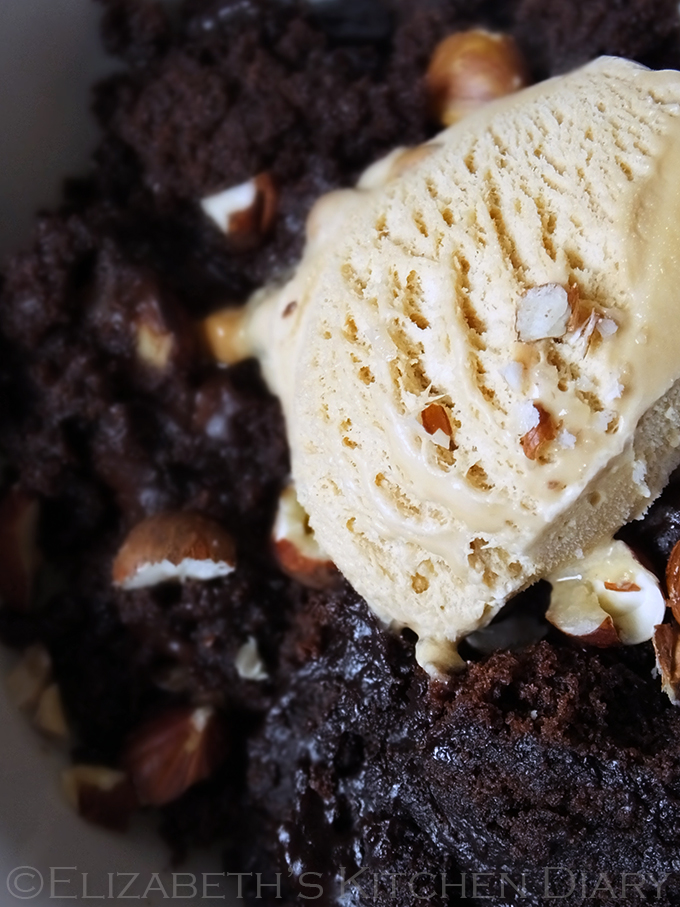 I have to say this peculiar looking appliance has grown on me. I'm really impressed at the capacity of the bowl – feeding a growing family of five is no problem with the five litre bowl, and the whole unit is fairly lightweight and easy to store/transport. The bowl is really non-stick too; food just slides off it!
I think it would be ideal for smaller flats and kitchens where there just isn't enough space to store very many kitchen appliances. This machine really is an all-in-one. Student flats, dormitories with no kitchen facilities or even camper vans might all benefit from the inclusion of this appliance. I even had a notion to take it with us while out glamping – those little wooden huts often have electricity but no kitchen facilities – this would be perfect to slow cook meat in sauce before slapping it on the barbecue!
So, back to the chocolate hazelnut hot fudge pudding cake – gorgeous! Opening the lid after the 45 minute cooking time revealed a gorgeous spongy chocolate cake swimming in ooey gooey bubbling hot fudge sauce. I tested the recipe out on several people, all of whom ooh-ed and ahh-ed while gleefully scoffing their helpings with cream. I did notice that the bottom of the mixture formed a crunchy layer soon after it cooled down, a layer which we all enjoyed. I also left the remainders of a second batch to cool and stored it overnight in the multicooker itself, and this crunchy layer softened and the sauce soaked into the cake creating a lovely, dense, fudgey dessert. So, hot or cold this pudding is remarkably moreish!
The Redmond Multicooker 4502 retails for £119. For recipe inspiration you can find Redmond on Facebook and Twitter and do visit their website to find out more!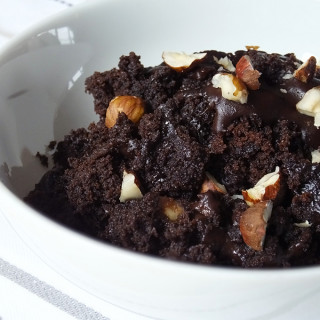 Chocolate Hazelnut Hot Fudge Pudding Cake
A rich chocolate cake with chocolate hot fudge pudding sauce made in the Redmond Multicooker!
Print
Rate
Affiliate Links
This recipe card may contain affiliate ingredient and equipment links. As an Amazon Associate I earn from qualifying purchases.
Instructions
Place the cubed butter and the chocolate pieces into the bowl of the multicooker.

Select the Multi-Cook program, set the temperature for 40 C and the time for 5 minutes. Press Start and leave the chocolate and butter to melt.

If the chocolate and butter needs a little bit more time to melt after five minutes the keep warm setting will finish the job.

Add the flour and 25 grams of cocoa powder to the melted chocolate mixture.

Add the milk and vanilla.

Stir well with a wooden spoon until thoroughly combined.

Mix the remaining cocoa powder and granulated sugar together and sprinkle evenly over the top of the cake batter.

Sprinkle the chopped hazelnuts evenly over the surface.

Carefully pour the boiling water over the top. DO NOT STIR!

Select the Cake setting and set the timer for 45 minutes. Close the lid.

After 45 minutes the cake will be baked and the chocolate pudding will be lovely and bubbling when you open the lid. Serve immediately using a non-metal spoon to remove the cake from the bowl (so you don't damage the non-stick coating).

Serve with plenty of double cream or a generous scoop of ice cream, if desired.
Environmental Information
OTHER REDMOND MULTICOOKER RECIPES FROM FOOD BLOGGERS YOU MIGHT LIKE
Chorizo and mushroom stew by Recipes from a Pantry
Easy Chocolate Easter Cake by Amuse Your Bouche
Mini Churros by Cakeyboi
If you want to be kept up to date on my recipes, occasional craft tutorials, adventure stories and giveaways then please subscribe to my weekly newsletter; it gets sent out every Monday morning if there is new content. Your email address won't be passed on to anyone, you will never be spammed and you are free to unsubscribe at any time, no questions asked. Make sure you confirm your subscription or you won't receive the newsletter – if it hasn't arrived check your junk mail folder.
[wysija_form id="1″]
Elizabeth's Kitchen Diary was sent a Redmond Multicooker 4502 for review purposes, and we have been paid to create this recipe post. All thoughts and opinions expressed, however, are our own.