Some time ago a fellow food blogger wrote about using avocado in chocolate frosting instead of butter. I like avocado, but I was sceptical – wouldn't you be able to taste the avocado? HHrrmmm.. I dunno. I filed the idea away in my  brain as something to try at a later date.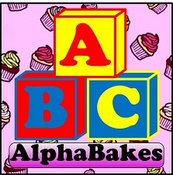 Then, this month's Alphabakes challenge, alternately hosted by Caroline from The More Than Occasional Baker and Caroline from Caroline Makes, is all about the letter 'A'. We've been tasked by this month's host Caroline to bake something delicious using an ingredient starting with the letter A. Well there we go, no excuse now, the avocado frosting was begging to be tried. This recipe also uses agave syrup. Two A's, we're off!
Wednesday evenings are pudding night in our household. This gives the children (and adults) something to look forward to and gives me something to tell the children the rest of the week when they're asking for something sweet after dinner. "It's not Wednesday – Wednesday is pudding night, remember?" It's worked thus far. This week I tricked them. I made these fantastic chocolate cupcakes and I didn't tell them what the secret ingredient was. I wanted to see if they noticed anything different.
They didn't!
The eldest was particularly fond of them, making all sorts of ooohing and aaahing noises while devouring his. Then he pipes up, "It's got an aftertaste." My heart jumped in my throat but I kept a calm composure. "What sort of aftertaste?" I asked, innocently.
"Chocolate!" he replied, and kept eating.
DD (6) ate two, gleefully, but I suspect the youngest (DS 4) knew there was something different. To be honest he usually just licks all the frosting off his cupcakes, leaving the cake untouched. He licked about half the frosting off his, gave me a peculiar You're trying to pull the wool over my eyes sort of look and then left the rest uneaten. An hour later he came back and did the same thing again with a second cupcake.
The OH knew there was avocado in the frosting and made ridiculously funny faces while eating his. He didn't much care for it, but he ate the whole thing anyway, so not to be rude (he says). He said the icing looked pixellated. "8-bit food," he said. Food critic in the making there, don't you think? Personally, I think they're fantastic. I'm pretty sure I can taste the avocado in the frosting, but I like avocado so it's ok.  It's got quite a different texture than butter cream, but it doesn't give you that sickly sweet make you feel sick in the back of your throat feeling that butter cream can. Plus, it's a reduced sugar recipe, contains some wholegrain flour and no animal ingredients whatsoever, so I kind of feel that it's almost good for you, even though it's chocolate.
My recipe is based on one I found here but I changed some of the ingredients and quantities. The original recipe uses no sugar and a silly amount of agave (I think) and I've got it in my mind that sugar is required to give cake a nice cake texture, so I replaced some with soft brown sugar. This was my first time using coconut oil too and I wasn't sure what I was supposed to do with it since it was solid out of a jar, so I gently melted it and added it with the rest of the wet ingredients. It worked. The vegan cupcakes are very cake-like in texture and so incredibly moreish. They taste even better the second day.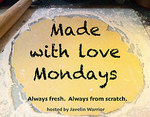 This month Kate from What Kate Baked is hosting Lavender & Lovage's Tea Time Treats food bloggers challenge and it's all about cupcakes, fairy cakes and muffins. I have entered this recipe into their challenge. I've also submitted it to Javelin Warrior's Made with Love, Mondays from-scratch recipe collection (because this is the sort of thing he just loves!) 🙂