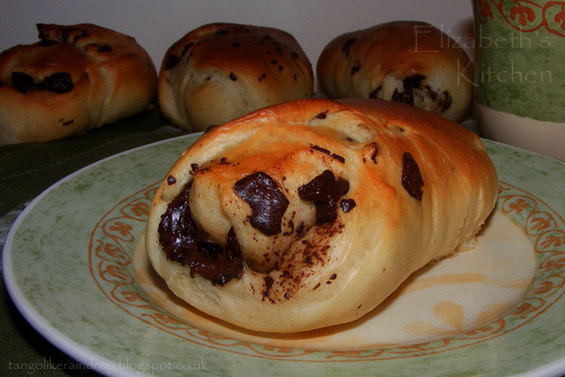 I was fortunate enough to have been gifted a brand new swish Panasonic bread machine for Christmas (thank you Bestemor!) and I've been trying out some of the recipes in the booklet that came with it. One of the recipes is for a chocolate brioche. I've never made brioche before and my new bread machine has a brioche dough setting (see what I mean – swish!) and I couldn't wait to try it out. I wasn't disappointed –  these chocolate chunk brioche rolls are wonderful! They are very, very nice indeed with a cup of coffee.
If your bread machine doesn't have a brioche setting, add the cubed, chilled butter after the first knead setting. Don't forget to add the ingredients to your bread machine according to the manufacturer's instructions. Alternately, you could always make them by hand by mixing the wet ingredients into the dry, kneading for 10 minutes and leaving the dough to rise for an hour or so, until doubled in bulk, and then continuing with the rolling, folding and proving instructions below.

I have reposted this blog recipe (originally posted in December 2012) so I can include it in Jen from Blue Kitchen Bakes' Classic French recipe round up for March 2013. This month we're tasked to make and share our brioche recipes.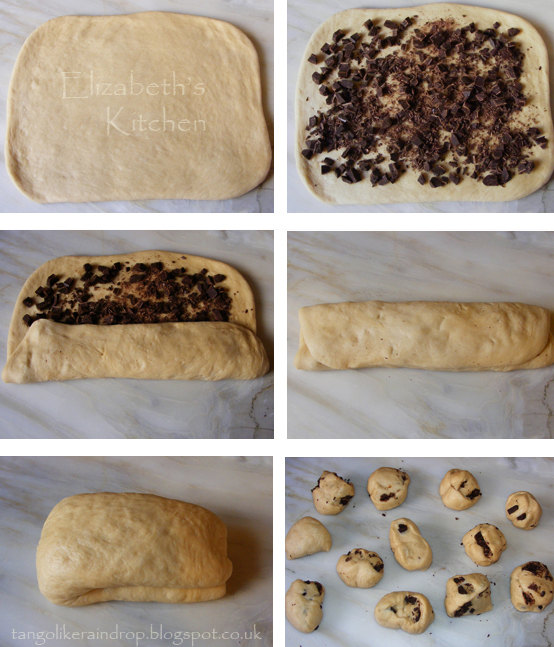 Chocolate Chunk Brioche
A bread machine recipe for chocolate chunk brioche.
Ingredients
1 1/2 tsp active dried yeast
400 grams strong white bread flour
4 tbsp caster sugar
1 1/2 tsp salt
70 grams butter, cut into 1 cm cubes
3 (150 grams) eggs, beaten
90 ml full fat milk
1 tbsp dark rum
50 grams butter, cut into 2 cm cubes (keep in fridge)
120 grams plain chocolate, chopped
Instructions
1. Add yeast, flour, sugar, salt, 70 grams butter, eggs, milk and rum to your bread machine in the manufacturers recommended order.2. Select the dough cycle and leave to run through the first rest and knead cycles.3. Add the remaining 50 grams of butter at the start of the second knead cycle and allow to rise.4. Remove the dough from the pan and press lightly to remove some of the gas. Wrap in clingfilm and chill in the refrigerator for 20 minutes.5. Roll dough out to a 25 x 30 cm rectangle on a lightly floured surface.6. Sprinkle with the coarsely chopped chocolate.7. Fold up the bottom third and then fold down the top third of the dough. 8. Fold in half and leave to rest for 10 minutes at room temperature.9. Cut into 12 segments and allow to rest a further 10-15 minutes.10. Form each segment into a roll and place on a greased baking tray. Allow to rise in a warm place for 30-40 minutes.11. Brush with beaten egg or milk and bake for 15-20 minutes at 180 C.
Details
Prep time: Cook time: Total time: Yield: Makes 12