Plus 25 other recipes to use up a glut of courgettes!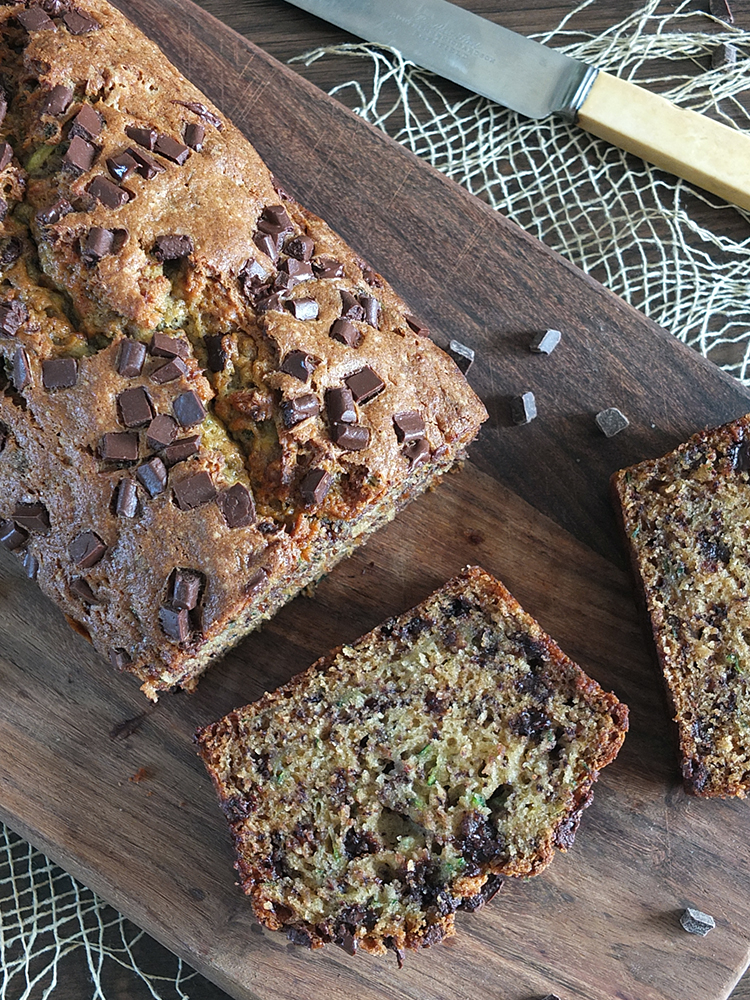 It's that time of year again when 3 or four courgettes appear in my veg box every week. I don't grow my own as our coastal garden is far too exposed to the moods of the North Sea, but my veg box providers do a fantastic job of growing a wide range of produce using polytunnels, shelters and pure skill.
It does mean I'm needing to find new and creative ways to use up all these courgettes though, and inspiration struck the other day: why don't I add some to our family favourite banana bread? Perhaps with a bit of chocolate?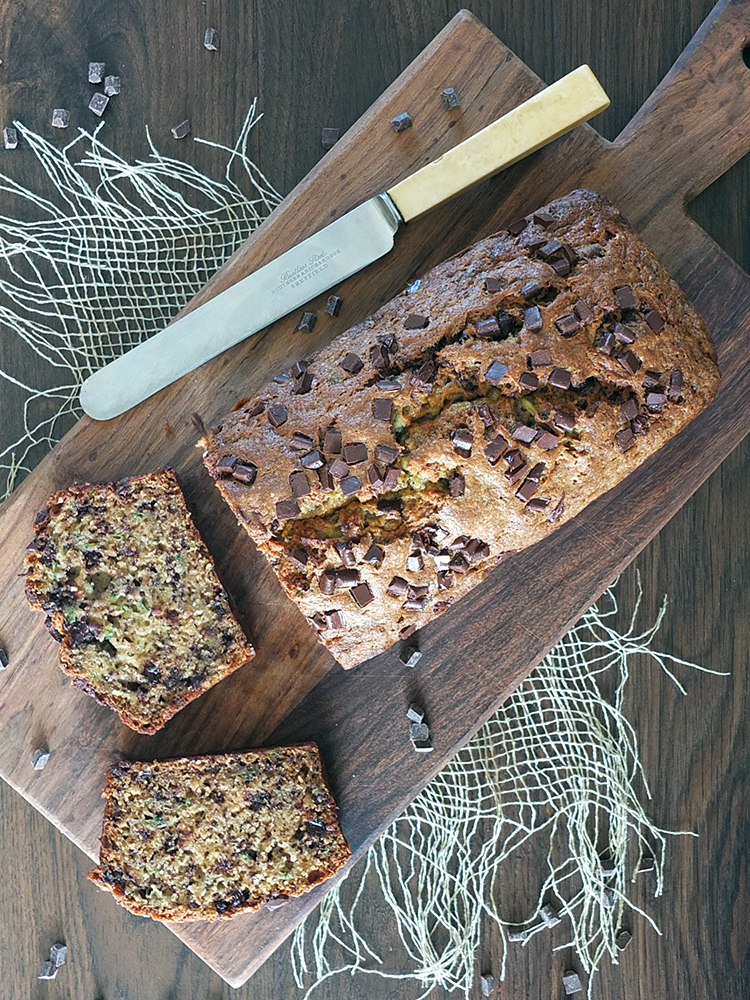 My first experiment went remarkably well – I simply grated up some courgette and pressed some of the moisture out of it between two clean tea towels while I prepared my usual batter recipe, omitting one of the bananas.
Oh, and I added most of a packet of milk chocolate chips I had lying around, sprinkling the remaining chocolate chips over the top of the bread before baking.
An entirely successful experiment and the loaf was devoured within an hour of my children coming home from school. Seriously, five hungry people can make rather short work of a still-warm chocolate courgette banana bread, I tell you!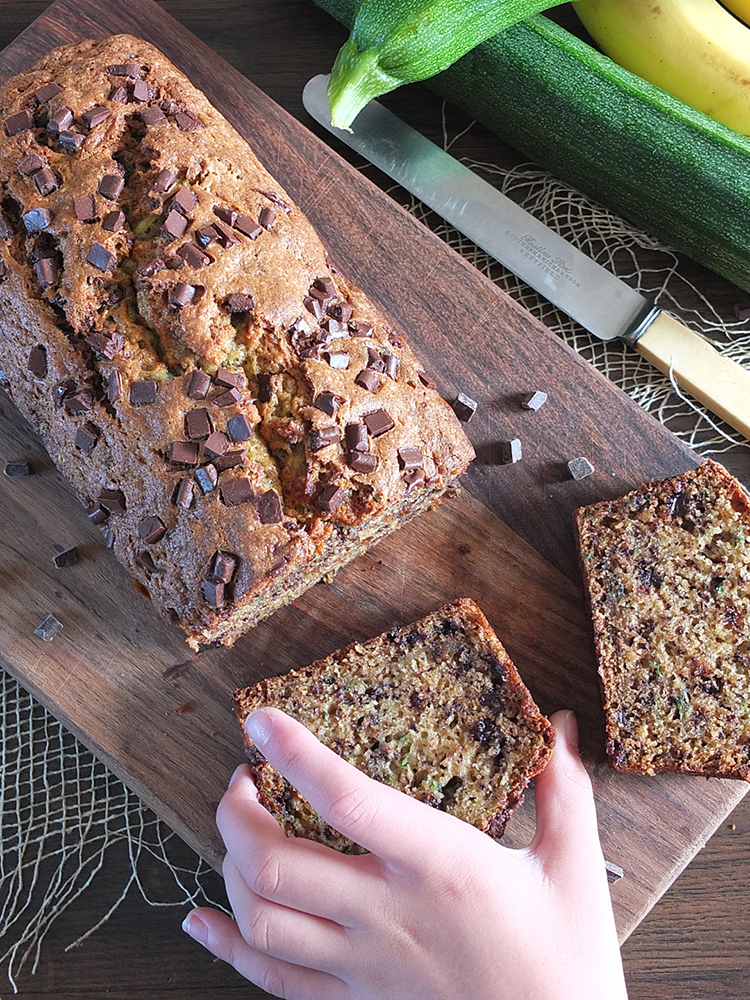 The thing is, I had forgotten to weigh out how much courgette I used, so for my next experiment I thought I'd use a little bit more than before. It didn't work. It was far too dense due to the quantity of courgette (but that didn't stop my kids from devouring that one too!).
Back to the drawing board, and a few dark chocolate banana courgette breads later I've got the right recipe! Half a small courgette is sufficient – approximately 125 grams. Any more than that and the bake is too dense and moist.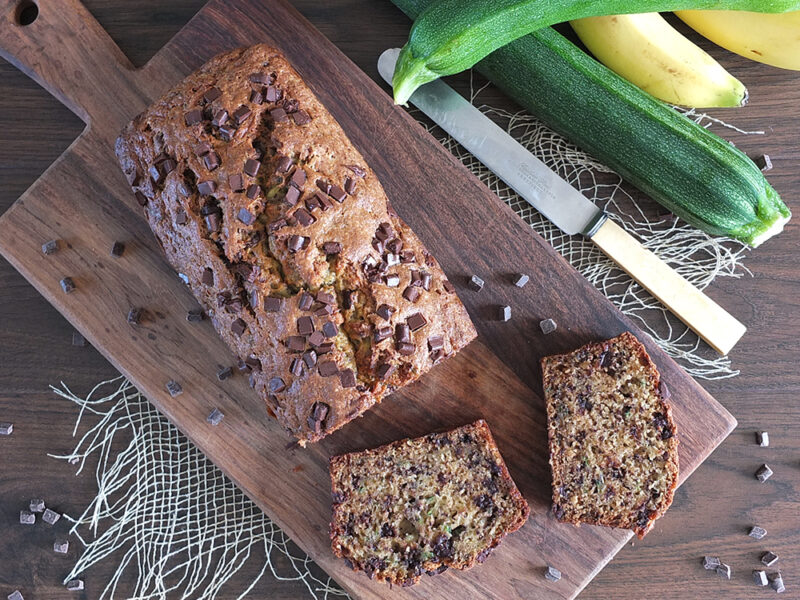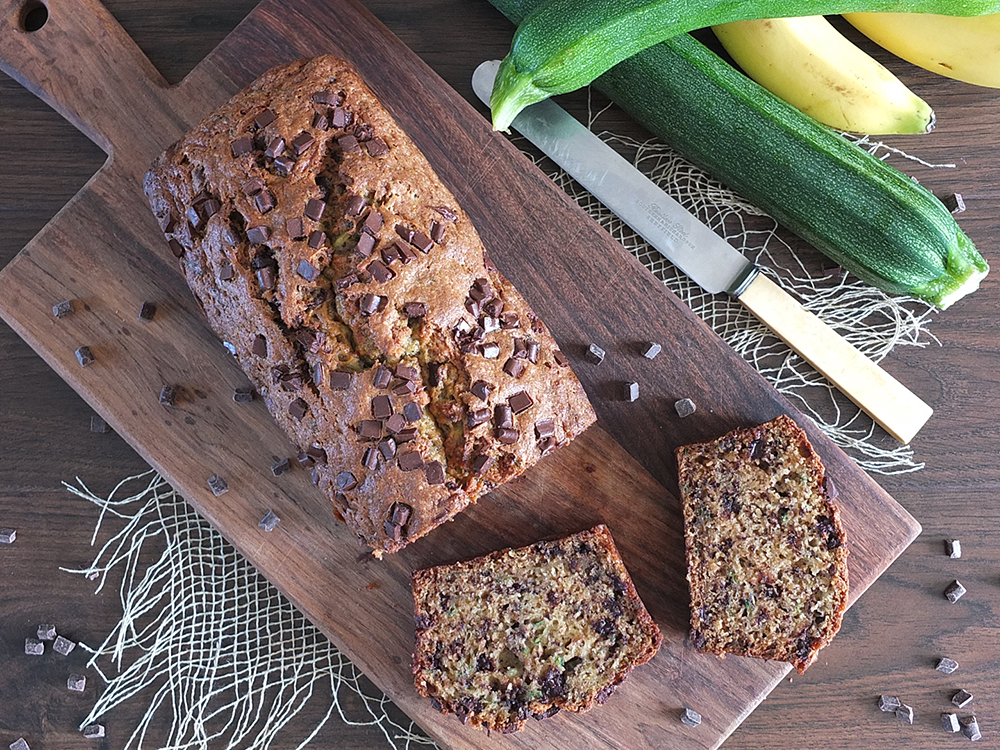 This makes for the perfect lunch-box or after-school snack for the kids, or as a mid-afternoon snack with a cuppa. Eat plain, as is, or spread with butter or even some chocolate hazelnut spread for an added indulgence, but be warned, a loaf won't last in the house for very long!
Alternatively, omit the chocolate and add some warming Autumnal spices to make a spiced banana courgette loaf.
Over the years I've experimented with various ways of using up courgettes from grating them and sticking them into a courgette spaghetti alfredo recipe, turning them into a spiced courgette and tomato chutney (one of my top most visited blog posts!) and even sticking them in a chocolate courgette cake but one recipe that caught my eye recently is this roasted courgette recipe from Recipes from a Pantry. I'm looking forward to trying that one out soon.
How do you use up a glut of courgettes? Let me know in the comments!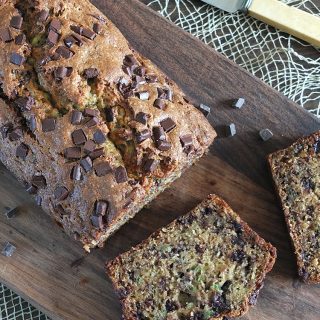 Dark Chocolate Chunk Banana & Courgette Loaf
A super tasty way to use up a glut of courgettes! Great for packed lunches, an after school snack or just with an afternoon cuppa and a novel.
Print
Rate
Affiliate Links
This recipe card may contain affiliate ingredient and equipment links. As an Amazon Associate I earn from qualifying purchases.
Instructions
Preheat oven to 180C/ 160 C fan. Grease and line a loaf tin and set aside.

Grate the courgette, leaving the peel on, and spread out over a thickness of paper towel (or a clean tea towel) to drain while you prepare the batter. I use a little bit more towel on top (or a second clean tea towel) to press out any extra moisture, you don't want the courgette watery.

Using a fork, mash together the butter and sugar until well combined. I've tried using a mixer for this but I find mashing it with a fork results in a better consistency in the final bake.

Whisk in the egg and add the mashed banana.

Measure in the plain flour and bicarbonate of soda. Use a wooden spoon to mix until just combined. Don't overmix.

Fold in the grated courgette and all but one tablespoonful of the dark chocolate chunks.

Spoon into the prepared loaf tin, smoothing over the top. Sprinkle the remaining chocolate chunks over the top of the batter.

Bake in the centre of the oven for approximately 60 minutes, until the top is golden.

Leave to cool in the tin for ten minutes before transferring to a wire rack to cool completely.

Slice and eat as is, buttered, or with some chocolate hazelnut spread for an extra indulgent treat.
Environmental Information
25 OTHER COURGETTE RECIPES YOU MIGHT LIKE TO MAKE
Italian-Style Courgette & Basil Soup
Courgette & Poppyseed Muffins
Broad Bean & Courgette Soup with Gouda
Courgette & Basil Soup with Focaccia Toast
Chocolate Courgette Loaf
Courgette Spaghetti Alfredo
Spiced Tomato & Courgette Chutney
Chocolate Courgette Cake
Broad Bean & Courgette Salad
Courgetti Bolognese
Courgette & Hummus Pizza
Vegetarian & Gluten Free Lasagne
Courgette (Zucchini) Pizza Bites
Morello Cherry & Lime Courgette Cake
Courgette & Broad Bean Soup with Chilli & Fennel
Sausage Ragu Stuffed Courgettes
Courgette, Leek & Herb Risotto Cake
Leek & Courgette Soup
Pesto Zucchini Noodles with Shrimps & Feta
Spiralized Courgettes with Garlic & Mushrooms
Spiced Courgette Fritters
Zucchini & Ricotta Tarts
Turkish Zucchini Fritters
Roasted Courgette Recipe
Courgette & Dark Chocolate Chunk Pancakes with maple yogurt
[color-box]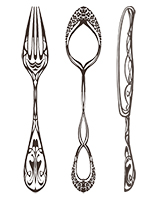 Have you made this recipe?
Take a photo and tag @tangoraindrop or use the hashtag #elizabethskitchendiary and share on Instagram and Twitter. It would make my day to see your creations!
[/color-box]