A lazy weekend or midweek meal recipe idea.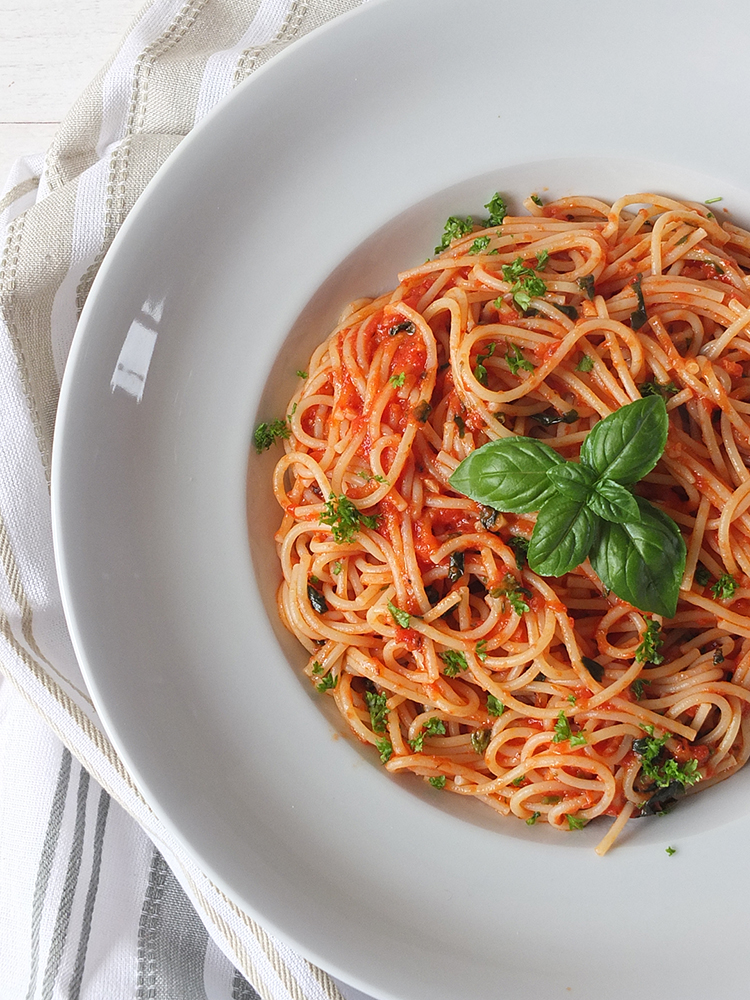 Spaghetti, for me, is the ultimate in comfort food. It brings me back to my childhood and the eight zillion plates of spaghetti I grew up on; spaghetti swimming in jarred Ragu sauce. Gosh I loved that stuff. There were no lashings of cheese to serve over the top of it either (we were poor – cheese was a luxury), it was simply cooked pasta with a jar of sauce poured over the top of it. Absolute heaven.
I mind getting a bit older and learning how to cook the spaghetti myself – I was taught that it was done when it stuck to the wall (or ceiling) when flung at high velocity. I had to climb on many a chair to remove a piece of hot cooked spaghetti sticking to the ceiling!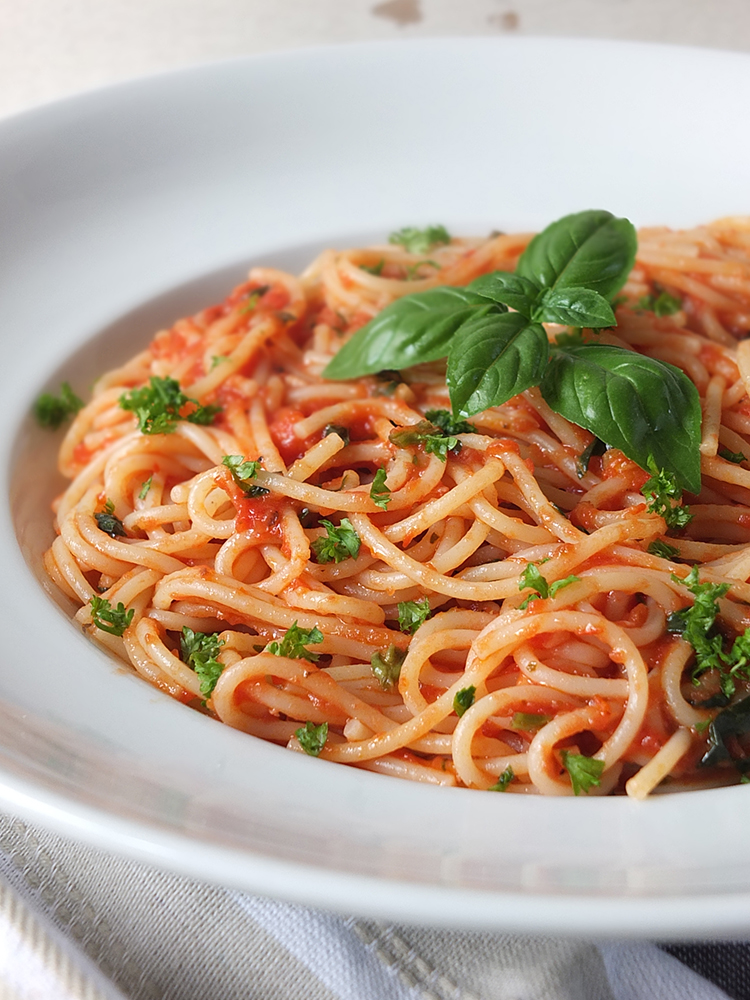 Spaghetti is one of the things I can make for my fussy children that they will eat without fail. Their favourite is served simply with a drizzle of good quality olive oil, plenty of Parmesan cheese, a sprinkle of parsley and some halved cherry tomatoes and kalamata olives. Give them some fresh crusty bread with some olive oil and balsamic vinegar to dip it into and they are in culinary heaven.
I haven't bought a jar of ready made pasta sauce in a very long time.
A few months ago I learned about a traditional simple tomato sauce from Sardinia – garlic is cooked in a bit of olive oil only briefly before adding passata and then a handful of basil. This is now, I believe, my children's favourite ever pasta sauce recipe. Plates are cleared every time when I cook this for them. Yay me!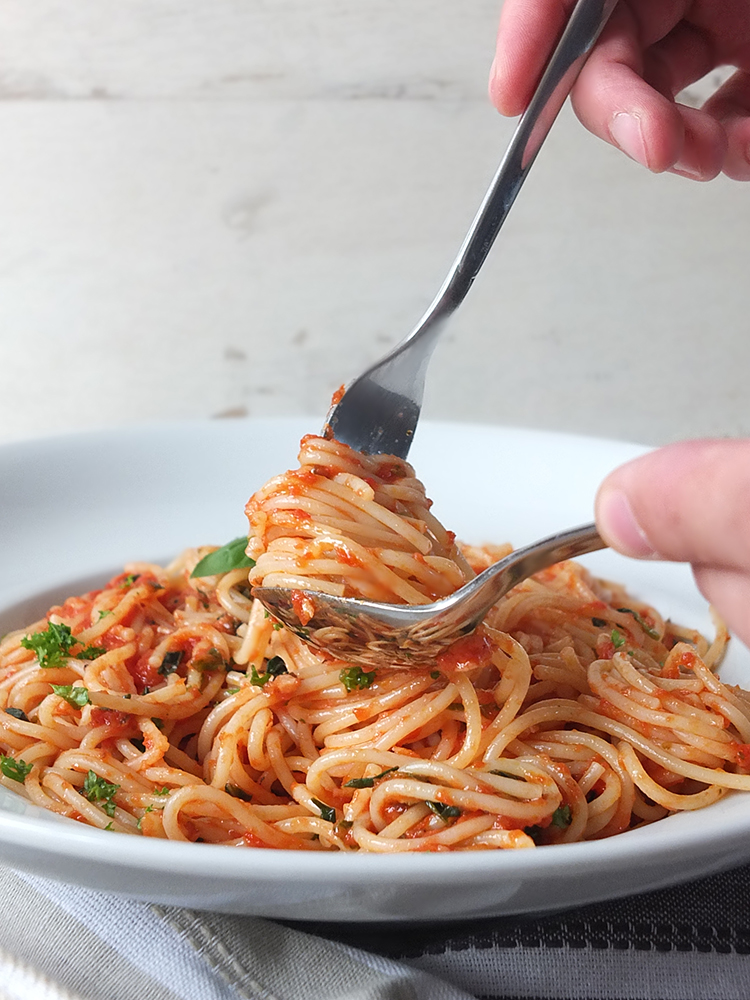 Peering into the fridge yesterday I spied half a jar of passata leftover from the kids' pasta the night before. I'd just returned from a brisk hill walk in the glorious Autumn sunshine and I quite fancied making some pasta but jazzing it up a bit with a drizzle of chilli-infused olive oil.
This was one of the best fifteen-minute lunches I have ever, ever made, if I do say so myself!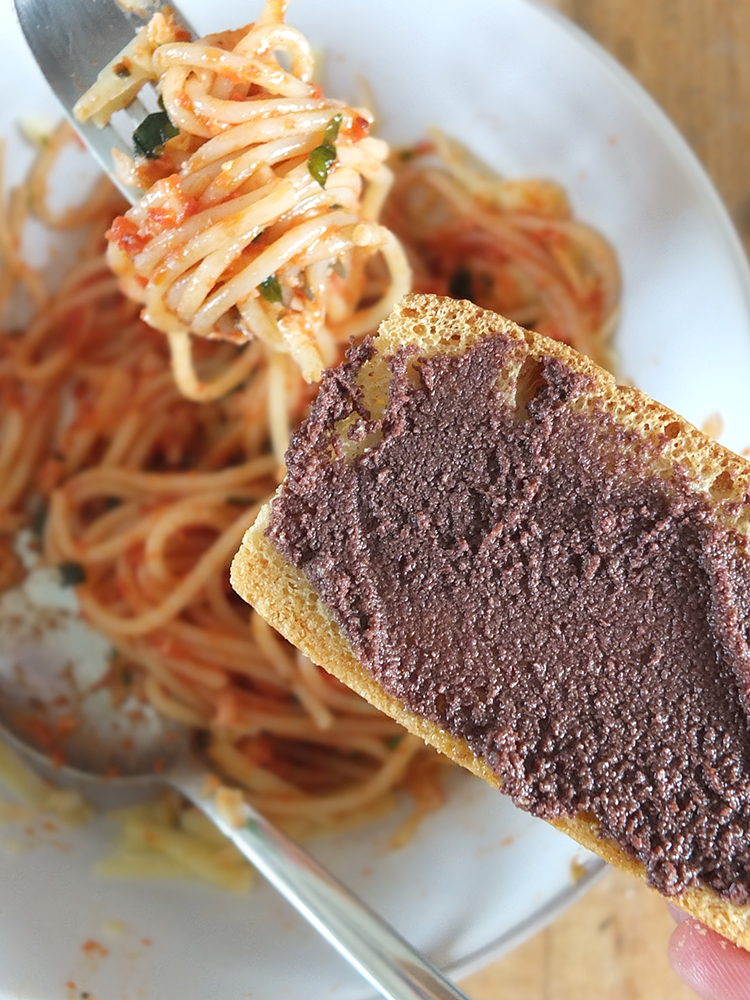 The light was good, I managed to snap a few hurried half decent photos as I ate, thoroughly enjoying every mouthful. I served my pasta with some taggiasca olive tapenade on bruschetta too and the sharp olive spread paired perfectly with the chilli spaghetti. A flavour sensation, I tell you, and all ready in under fifteen minutes.
This is going to be one of my go-to recipes from now on – I could even make a full batch using the whole jar of passata, halve it, serve the kids their milder version and jazz up our half with the chilli-infused olive oil.
The olive oil I am using is from Pomora, sent to me quarterly straight from Italy. The Spring shipment contained a rather delicious (and powerful!) chilli infused olive oil (see badge in sidebar), but you could always make your own by pouring some good quality olive oil over some hot chillies and leaving for a few days to develop. I do this when my veg box chillies start arriving as they are a bit too hot for our tastes.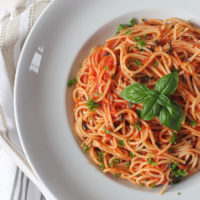 Quick & Easy Chilli Spaghetti for Two
A quick lunch idea - 15 minutes start to finish, and the sauce really packs a punch!
Print
Rate
Affiliate Links
This recipe card may contain affiliate ingredient and equipment links. As an Amazon Associate I earn from qualifying purchases.
Instructions
Bring a large pan of salted water to the boil and cook the spaghetti according to the packet instructions.

Meanwhile, heat the olive oil in a small saucepan.

Add the chopped garlic and oregano and gently saute for a minute or two, until the garlic imparts its fragrance.

Add the passta, cook for a further minute or two, and remove from the heat.

Stir in the torn basil leaves and the chilli infused olive oil. Season to taste.

Drain the spaghetti, coat with the sauce and serve with plenty of Parmesan!
Environmental Information
OTHER QUICK AND EASY SPAGHETTI RECIPES YOU MIGHT LIKE
Barbecued Honey & Mustard Herring with Spaghetti & Avocado from Foodie Quine
Tomato, Garlic & Prawn Spaghetti by the Coriander Queen
Speedy Spicy Spaghetti Sauce by The Veg Space
Easy Garlicky Kale Sauce for Pasta, Rice and Other Grains by Coffee & Vanilla
Tenderstem Broccoli, Chilli and Garlic Spaghetti from Fab Food 4 All
Asparagus Carbonara with Sun Dried Tomatoes from Family, Friends, Food
Simple Tuna Puttanesca by Emily's Recipes & Reviews
Radicchio and Walnut Spaghetti by Natural Kitchen Adventures
15-Minute Creamy Cheese & Black Pepper Pasta by Recipes from a Pantry
Spaghetti with Pea Pesto by Fuss Free Flavours
Roasted Red Pepper Spaghetti by Hungry, Healthy, Happy
Spaghetti Bolognese from Learning with Experts
Quick & Easy Creamy Mushroom Pasta by The Hedgecombers
SHARING WITH SOME BLOGGING CHALLENGES
Meat Free Mondays by Tinned Tomatoes
Pasta Please by Thinly Spread and Tinned Tomatoes
Disclosure: this is not a paid post, although Pomora do sent me quarterly shipments of olive oil to use in my recipes, and to keep their banner in my side bar. If you click through and make a purchase I will also earn a small commission. Thank you for supporting the brands who make it possible for me to do what I love: mess up my kitchen and share recipe stories.