Perfect for those hot summer mornings!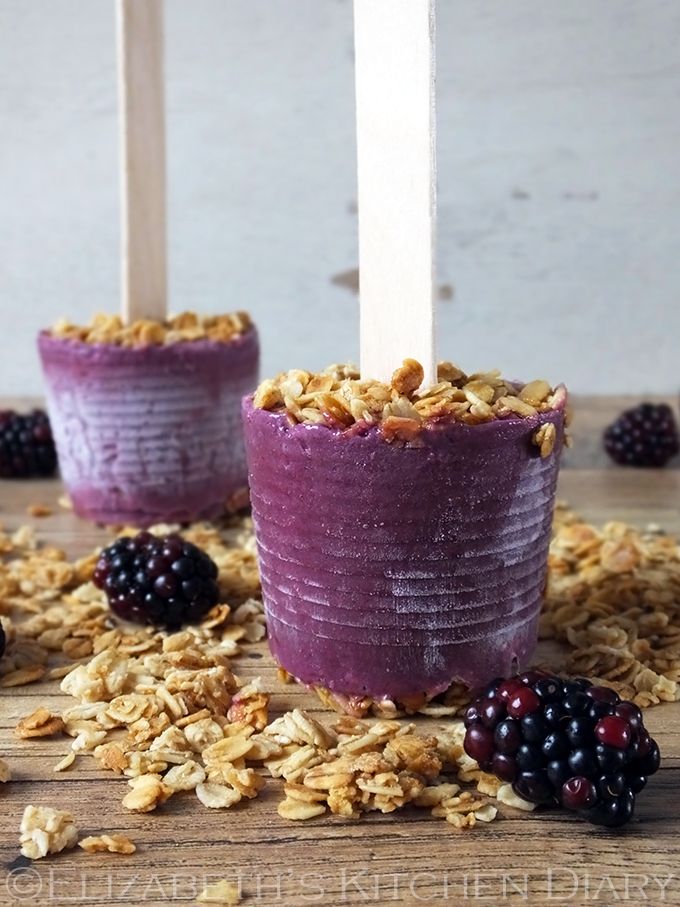 These popsicles came about by accident, really. Not being one to refuse a reduced price bargain I found myself with a few punnets of blackberries in my shopping basket – best before that date. They were needing used up.
I sat there eating my lunch pondering what I could do with the blackberries and thought about making a blackberry frozen yogurt popsicle. I whizzed up the blackberries in my high speed blender with a banana, some low fat natural yogurt, and sweetened it with some maple syrup.
My popsicle mould only has four spaces, so there was a little bit of the blackberry mixture left over.
What to do with it?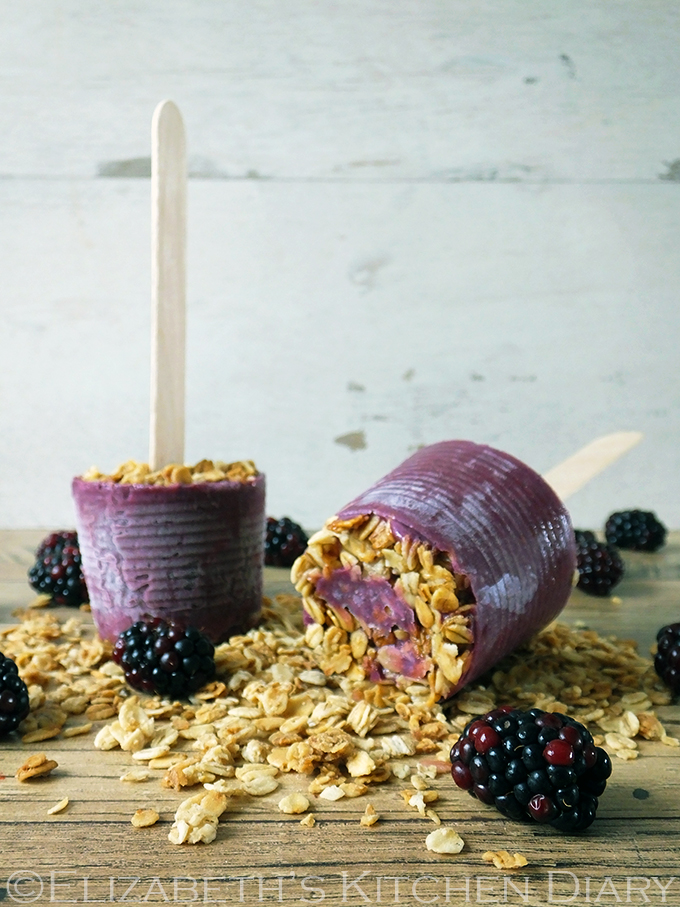 There was a bag of Udi's gluten free oats & wildflower honey granola sitting on my kitchen counter, unopened.
An idea popped into my head!
What if I sprinkled some of the lovely granola at the bottom of a plastic cup, poured the remaining mixture on top, and sprinkled with some more granola – would that work?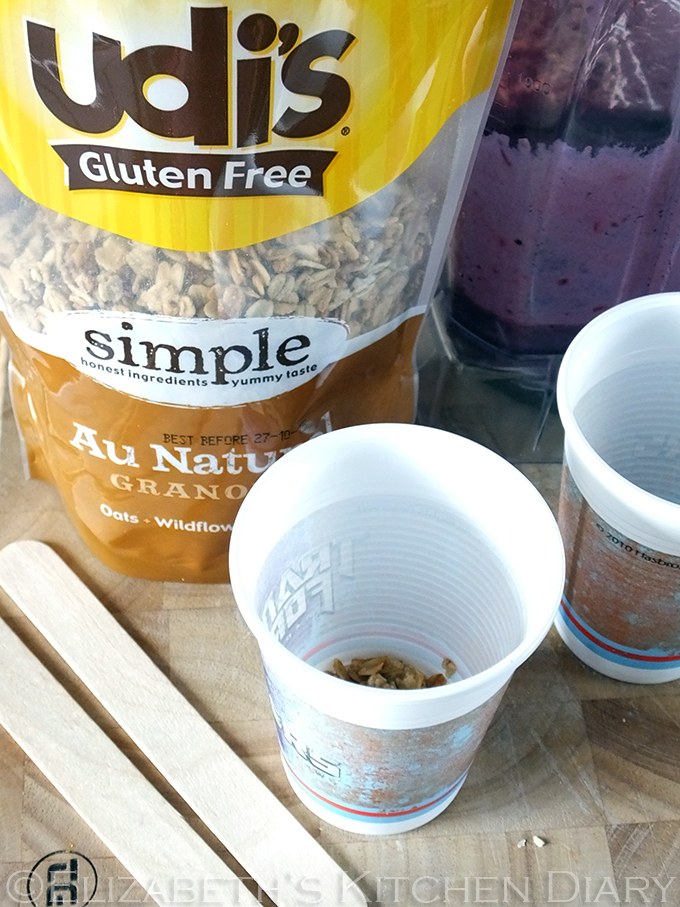 It certainly does!
Oh my goodness gracious me these were rather lovely! The granola adds a nice oatmeal cookie flavour to the blackberry frozen yogurt, and as it's sweetened naturally with only maple syrup one feels almost virtuous for eating them. The blackberry frozen yogurt turns the most gorgeous colour when it's all blended up, and it tastes like summer.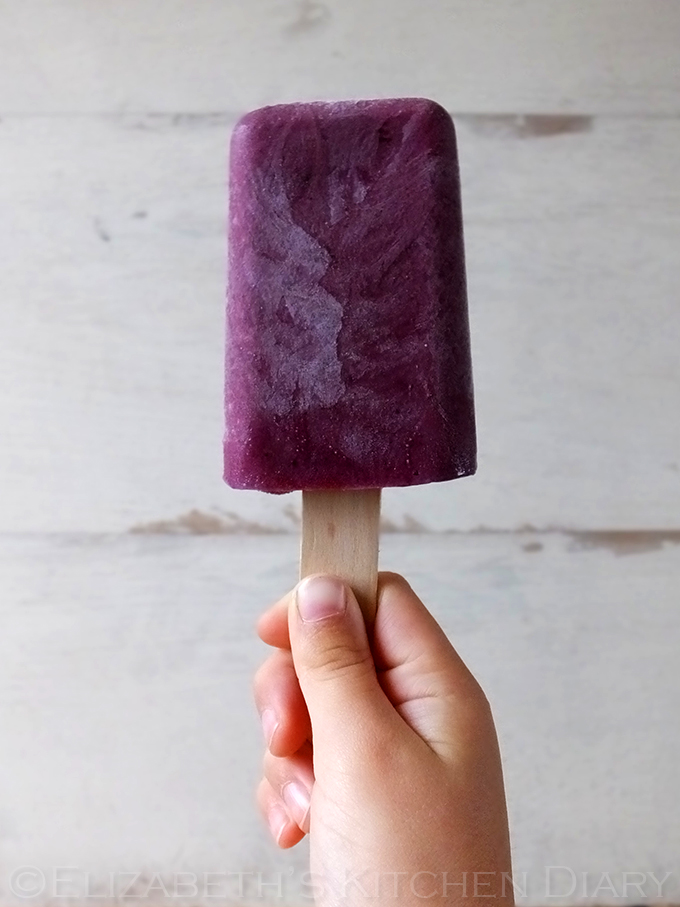 It also makes wicked blackberry frozen yogurt popsicles, as my children can attest!
It turns out, after checking the Internet, that this idea has been already done but I felt super clever in creating it. A great way to use up fruit that's needing used up quickly!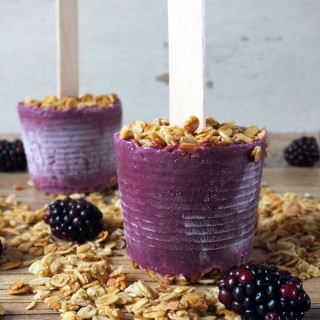 Frozen Yogurt, Blackberry & Granola Breakfast Pops
Naturally sweetened blackberry breakfast popsicles with the added crunch of granola!
Print
Rate
Affiliate Links
This recipe card may contain affiliate ingredient and equipment links. As an Amazon Associate I earn from qualifying purchases.
Instructions
Place the banana, blackberries, yogurt and maple syrup in a high powered blender and blend until thoroughly combined and deliciously purple.

Sprinkle 1 tbsp of granola into the bottom of six plastic cups (those ones used during kids birthday parties work well).

Divide the blackberry mixture in between each of the six cups and insert a wooden popsicle stick (or even a small teaspoon!) into each. The mixture should be thick enough to hold the stick/spoon upright. If not, use a bit of cling film to hold it in place.

Sprinkle a further tablespoonful of granola onto the top of each popsicle.

Freeze overnight, or for at least six hours. Allow to defrost for about five minutes before eating.
Environmental Information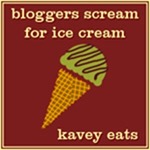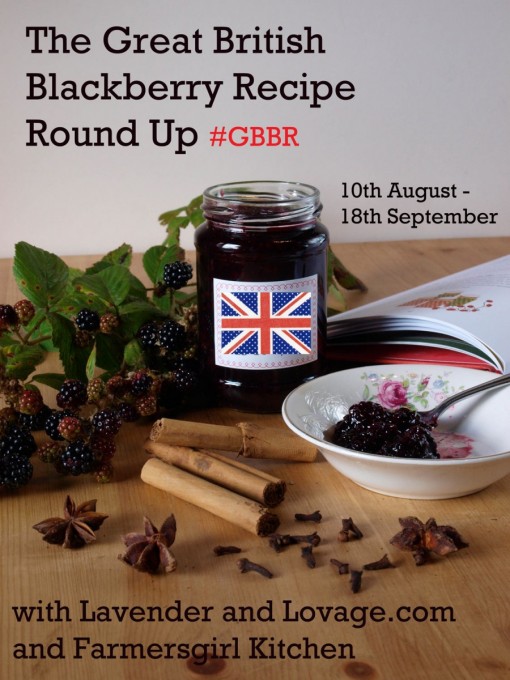 LINKING UP WITH A FEW CHALLENGES
BSFIC by Kavey Eats
The Great British Blackberry Round Up by Lavender & Lovage and Farmersgirl Kitchen
OTHER BLACKBERRY RECIPES YOU MIGHT LIKE
Boozy Bramble Cake by Jen's Food
Bramble Bakewells & Bramble Gin by Foodiequine
Beautiful Fruit Tart by Kavey Eats
Easy Blackberry & Apple Sorbet with a hint of Thyme by Fuss Free Flavours
If you want to be kept up to date on my recipes, occasional craft tutorials, adventure stories and giveaways then please subscribe to my weekly newsletter; it gets sent out every Monday morning if there is new content. Your email address won't be passed on to anyone, you will never be spammed and you are free to unsubscribe at any time, no questions asked. Make sure you confirm your subscription or you won't receive the newsletter – if it hasn't arrived check your junk mail folder.
[wysija_form id="1″]
Elizabeth's Kitchen Diary uses the Froothie Optimum 9400 blender, and the Froothie Optimum 600 slow juicer to make her juices, soups and smoothies. These are affiliate links, meaning if you buy a blender or juicer through them we will earn a small commission. With thanks to Udi's Gluten Free for the granola. This is not a paid post and all thoughts and opinions are our own.