Solo traveling in Bergen – tips & tricks to save a few kroner.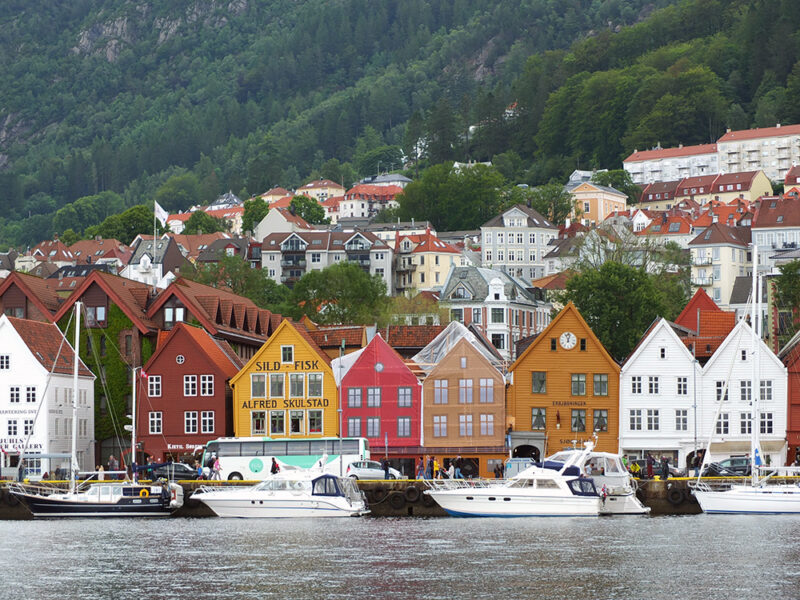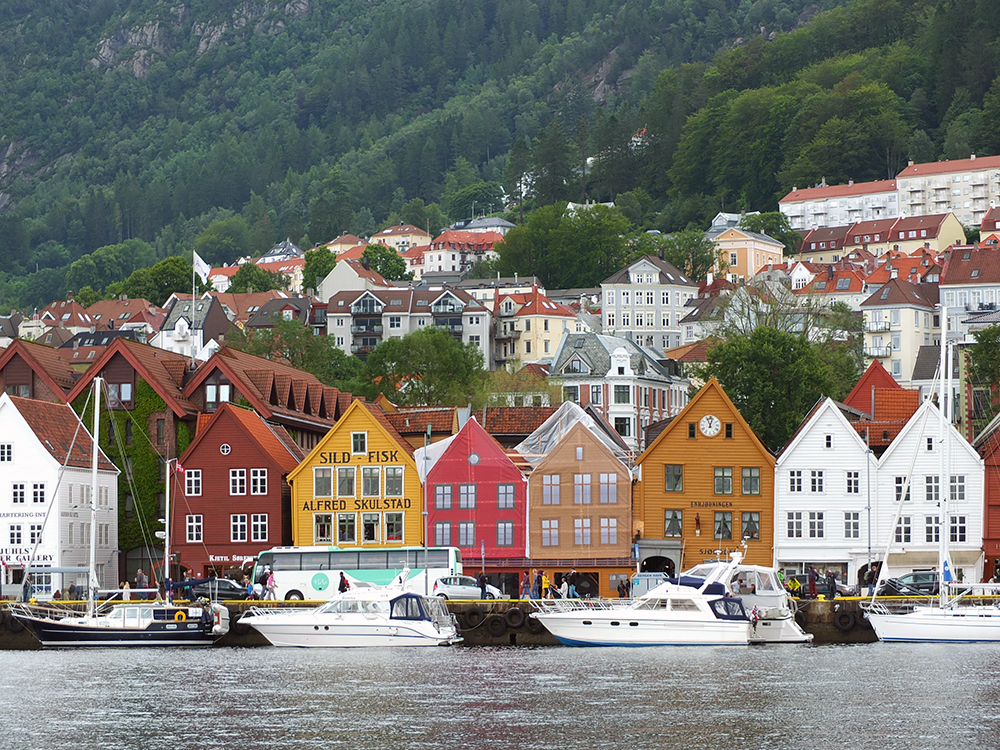 Ever since I moved to Shetland I've been intrigued by our nearest neighbours across the North Sea. Shetland is closer to Norway than it is to Aberdeen in Scotland, and over the years I've met many a traveler and seafarer from the country, sharing a pint and a laugh together back in my pub-going days. In fact, I married a man who grew up in Norway and my mother-in-law and his extended family is all still there.
We decided last year that we were going to save up for a family trip to visit them. Alas, our car decided to fail its MOT most miserably. It needed loads of work and new parts to be driveable and living as rurally as we do we need reliable transportation. We were faced with a choice – sell the car and risk buying another second-hand vehicle which would also need work down the road, or fix it with the money we had saved up and have it run for a good few more years.
We chose to fix it, and my husband, being the money-worrier in the family, stated sadly: "We can't afford to go to Norway now."
"I'm going to Norway!" I adamantly declared. Visiting Norway was #1 on my list of 40 Things to Do Before I Turn 40, and dagnabit it was going to happen! So, I booked my solo flight direct from Shetland, paid the car bill (£2.5k – wince!) and vowed to make this as budget-friendly a trip to Norway as I could.
Here are a few of the tips and tricks I learned from my stay.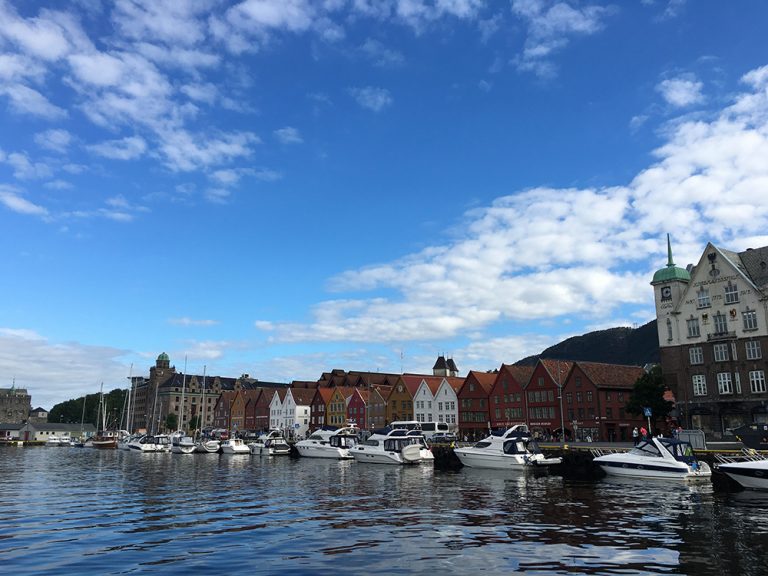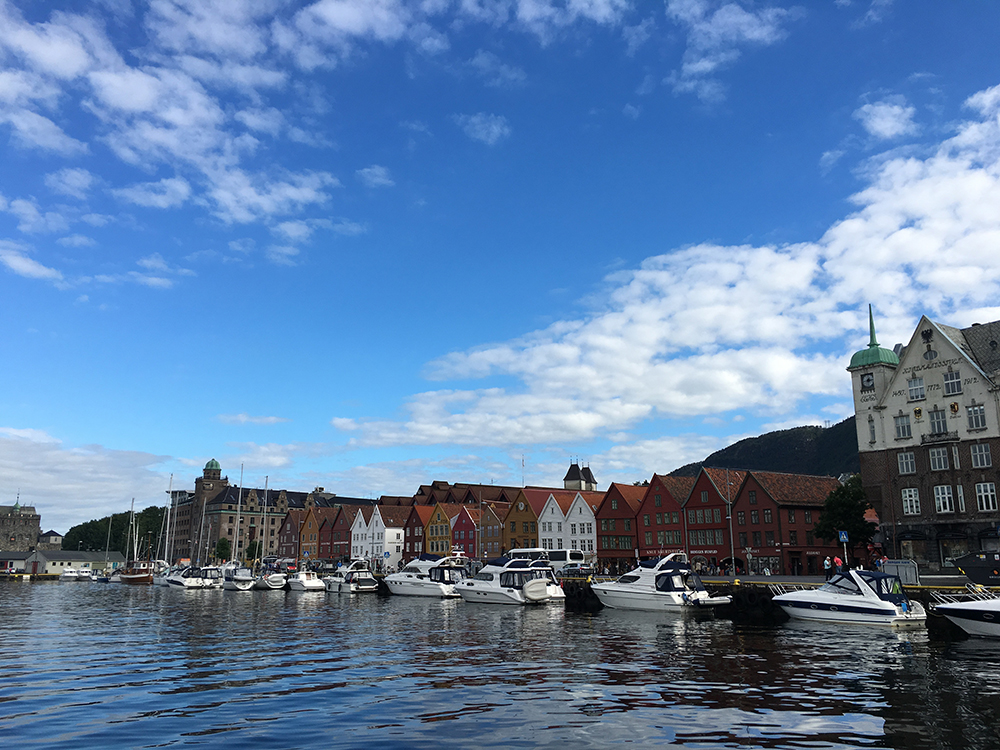 MY TOP TIPS FOR VISITING BERGEN ON A BUDGET
Transport to/in Bergen
We are quite lucky in Shetland that we have direct flights on a Saturday during the summer months from Sumburgh airport to Bergen. Flights take just over an hour and Shetland Islanders qualify for a hefty discount (up to 50%) in flight costs with the Air Discount Scheme. You mainland folk will have budget airlines near to you so it's always worth checking out deals and booking well in advance.
Before you fly to the city I recommend you buy yourself a Bergen Card online and choose to receive it by post so you'll have it when you land. I'll be mentioning the benefits of this card throughout this post! For starters, this card gives you free transportation on the Bergen Light Railway and inner city buses, including the shuttle bus to Birkelandsskiftet that leaves the airport every ten minutes. This card also gives you a 20% discount on the Airport Bus which will take you straight into the city centre. Note, if you want to take the Airport bus buy your ticket in advance online or they'll charge you an extra for buying it on board.
A Bergen Card can be purchased for 24, 48 or 72 hours for 240 NOK/£23 (approximately, check current exchange rate here) for the 24-hour card, 310 NOK/£30 for 48-hour card and 380 NOK/£37 for the 72-hour card.
Alternatively, you can purchase a 24 hour, 10 journey or 7-day tickets for the bus and light rail if you're not planning on visiting museums or eating out.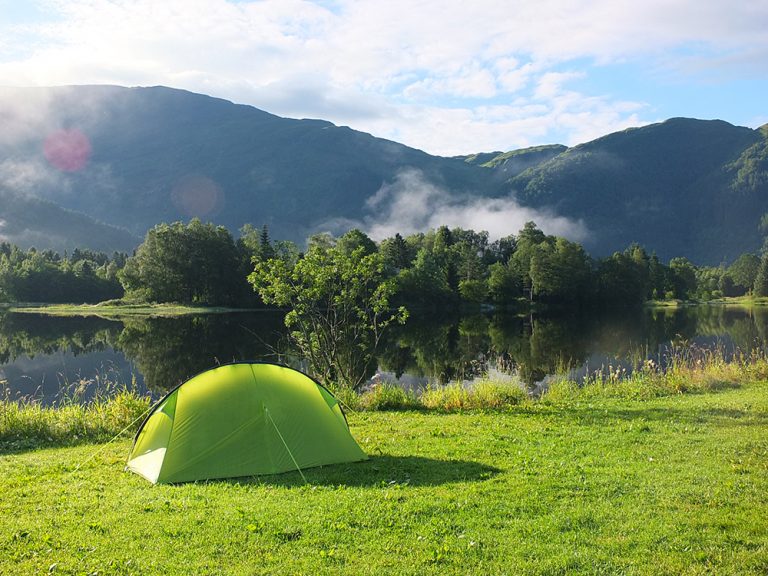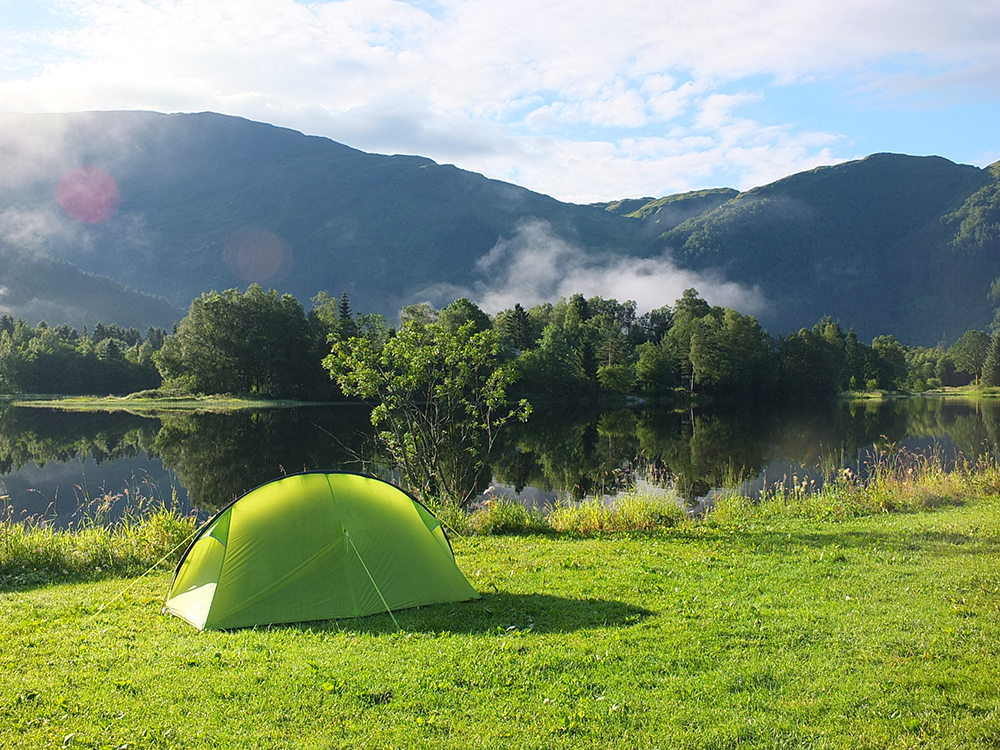 Budget Accommodation in Bergen
I highly recommend camping. If you're not adverse to sleeping in a tiny tent for a week you can save an absolute fortune on hotel costs. I spent some time in advance researching the various campsites around Bergen and opted for Lone Camping in Haukeland, a 25-minute drive from Bergen.
The price (in 2016) for a small tent space was 140 NOK/£13.50 for the pitch plus £1.50 per night per person. This is cheaper than the youth hostel prices I've checked online, and you don't have to share your sleeping space with other people (I must be getting old – I like my privacy!). Plus, you get to wake up to a view like below every morning!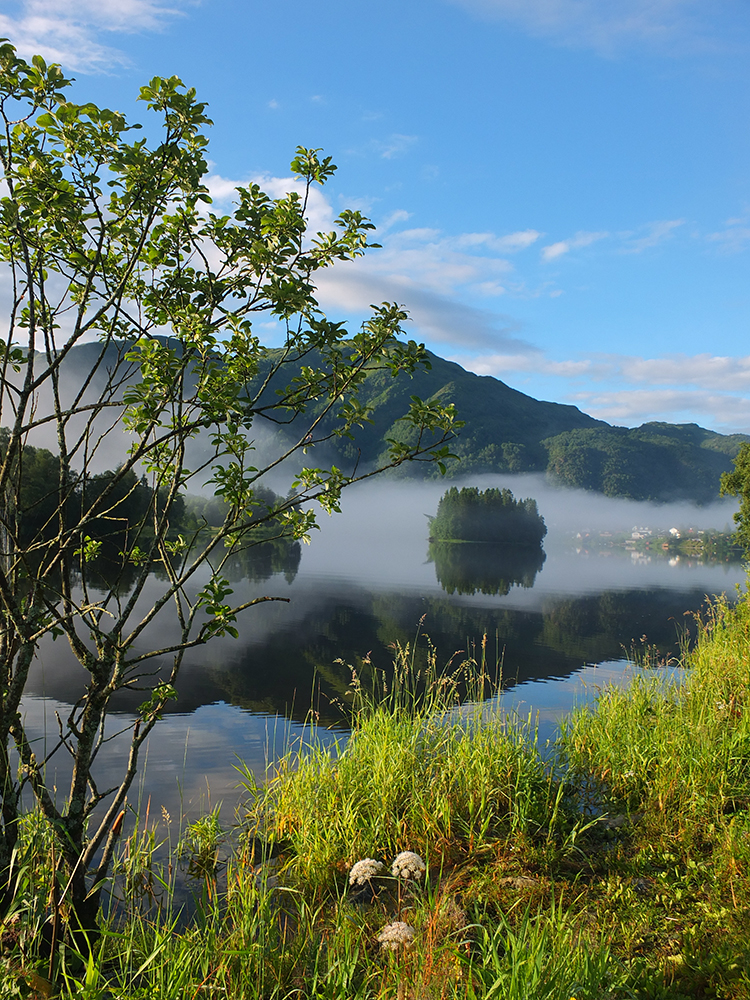 This particular campsite is situated just a few minutes' walk away from two supermarkets, a bakery and a petrol station where you can pick up provisions from food to toiletries, and even emergency iPhone charger cables. On this particular campsite, there's a communal tv room with loads of couches if you fancy being indoors (and want access to sockets for charging your phone), showers (10 NOK per shower), toilets (free) and a little kitchen shed (free) with a few counter top hobs and again, sockets for phone recharging.
There is a bus stop just across the road from the petrol station with regular, frequent stops. Again, bus transport from here is free with the Bergen Card (it would be around £3.50 without), but it takes about 45 minutes as you need to get the bus and then the Bergen Light Railway into the city centre. It's a rather enjoyable and scenic route, and over the course of the week I was there I got to know some of the locals.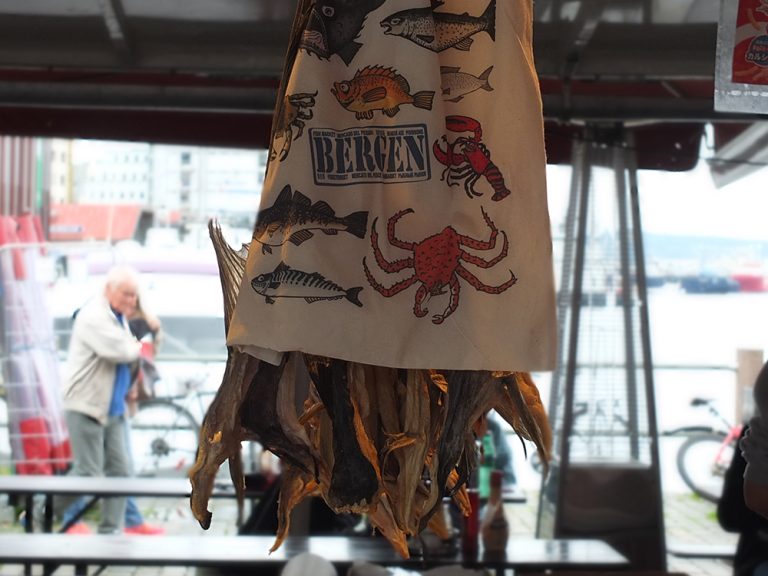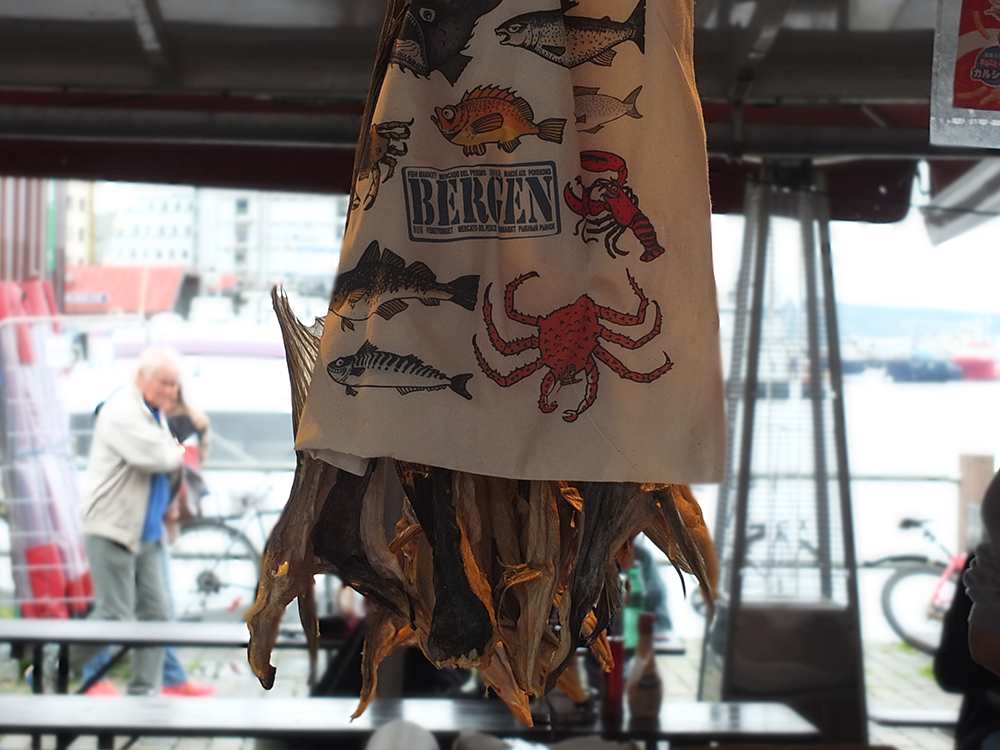 What to Eat in Bergen on a Budget
When I first arrived at the campsite I took a visit to the nearest supermarket for provisions. I spent about £12 on supplies – peanut butter and jam, bread, budget brand biscuits, coffee, juice. Things to keep me going. By Day 3 I was well and truly sick of peanut butter and jam sandwiches and started to look around for other options.
The famous fish market by the Bergen waterfront has all sorts of stuff, but it's expensive. If you face the water and look to the shops across the road on your left you'll see a Subway restaurant. They had daily offers when I was there – a six-inch sub for just 25 NOK/£2.40 but you can only get whatever it is they have on offer that day.
There's also a little newspaper kiosk at the far end of the fish market – just before you turn down to Bryggen. You can get a coffee and a delicious freshly baked Norwegian pastry there for 25 NOK. Be warned, though, the coffee is super hot.
Go tee-total. If you can find any wine or spirits available in Bergen it's silly expensive. Also, bring your own refillable water bottle because bottled water is expensive, like £2 a bottle!
The Bergen card offers 10% discounts on a range of eateries, as well as a five-course meal for the price of a three at the Cornelius Seafood Restaurant. A visit to this restaurant (via boat) was my one indulgence while visiting Bergen.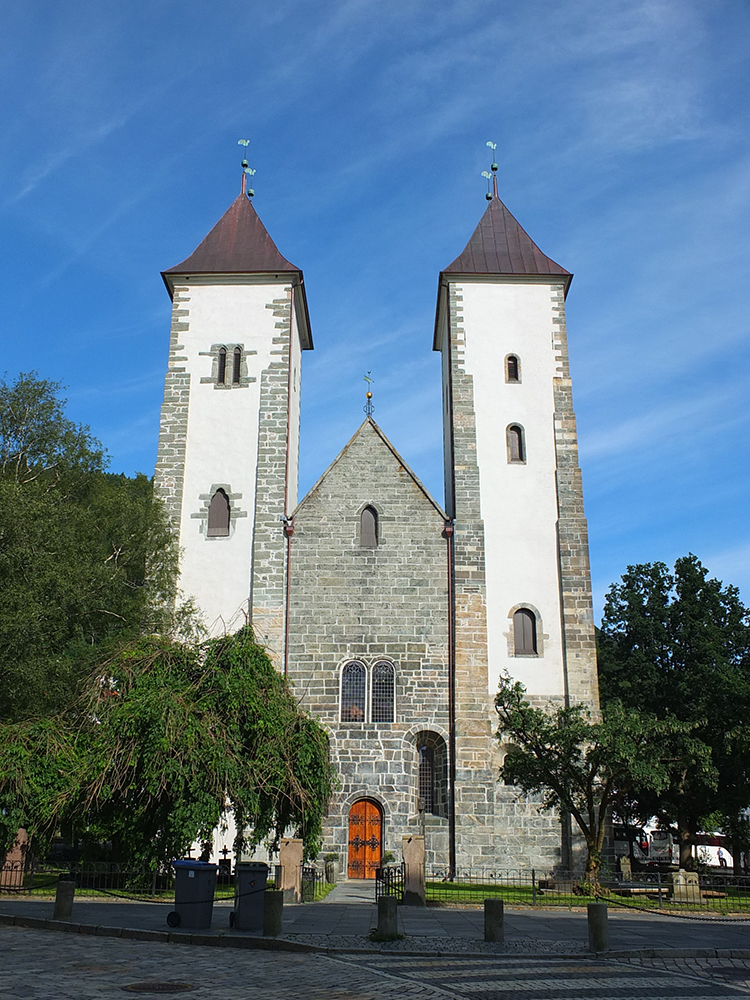 Things to Do in Bergen on a Budget
Go geocaching! Geocaching is the world's largest treasure hunt, and it's free! I spent the most of two days exploring the city geocache by geocache like I did when I visited Paris on my own. It gets you to all sorts of hidden nooks and crannies in a city that you otherwise wouldn't have experienced.
The Bergen Card offers free entry to a wide range of museums and attractions such as St. Mary's Church, pictured above. Construction of this church began in 1130, making it Bergen's oldest church. Haakon's Hall is a must visit too – this 750-year-old royal feasting hall and the adjacent Bergenus Fortress are steeped in history and make for a great place to pass the time when it's pouring down with rain outside. I'd encourage you to visit the morbidly fascinating Leprosy Museum too, just because you can (pictured below). These three museums alone would cost you around £20 to visit without the Bergen Card.
For the outdoor enthusiast, I'd recommend heading to Stoltzekleiven, one of Bergen's most popular trails. This steep paved set of 722 stone stairs is not for the faint-hearted; it'll give you a proper workout but the views of the city from the top are stunning.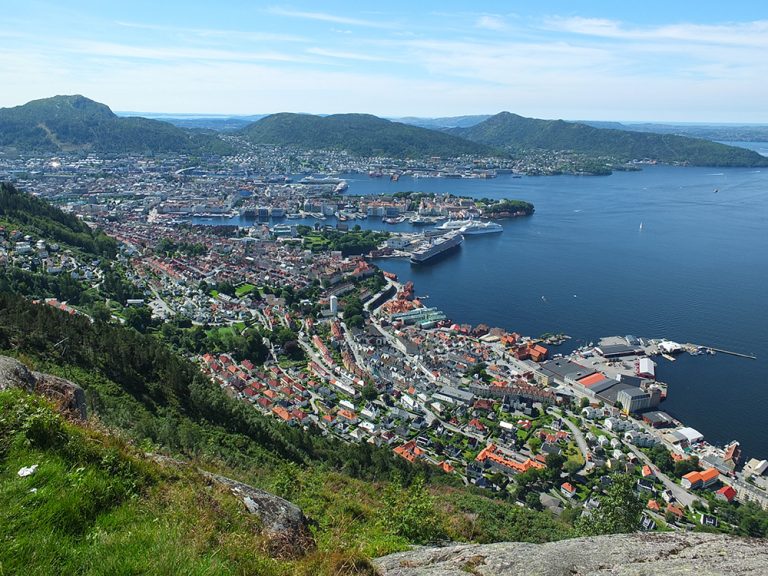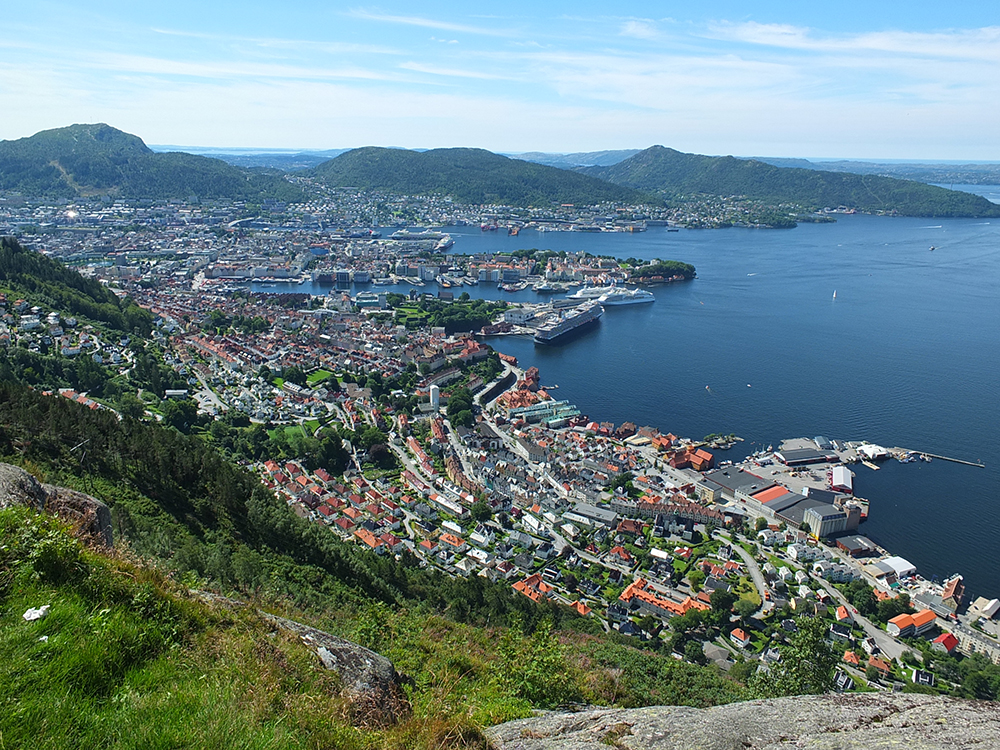 From here you can carry on along the signposted forest trail to Mount Fløyen, one of Bergen's most popular tourist destinations. Or, if the weather is permitting, follow along some of the back trails. There's 4G in them there woods, so if you've got a phone it's easy enough to follow the trails on the maps app and not get lost. I had a most enjoyable afternoon up there meandering about the trails and lakes. It was one of those afternoons where I had all of the contented happy. All of it.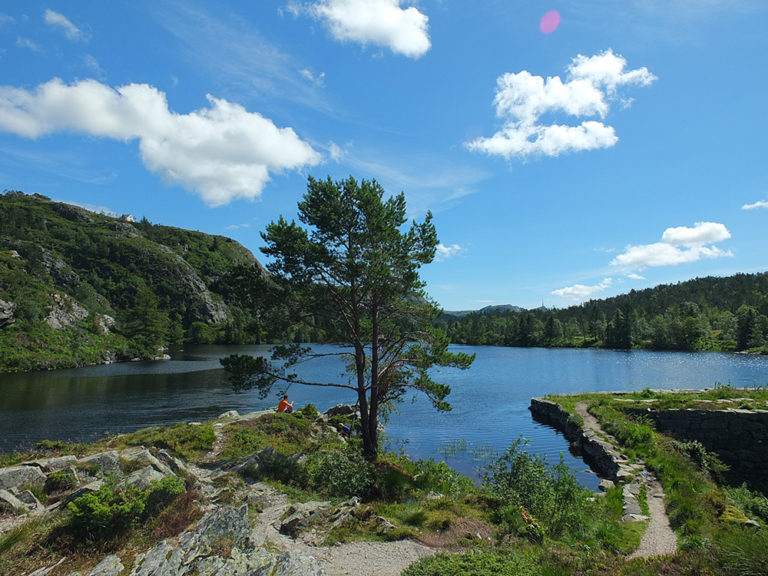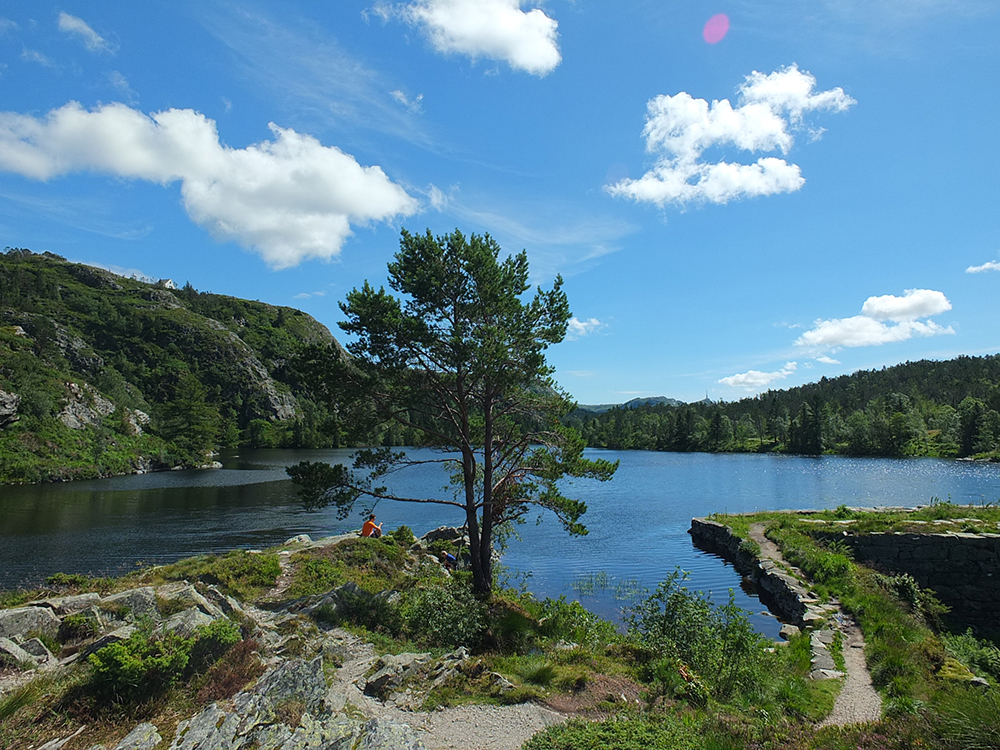 The closer you get to the top of Mount Fløyen the more people you start to see, and wooden trolls and bizarre wooden signs begin to appear randomly in the forest.
I confess I did queue for an ice cream in a waffle cone at the Fløistuen Shop and Café at the top of the mountain as it was so hot that afternoon, and I was pleasantly surprised to find out it wasn't that expensive. There were so many people though! The viewing platform was uncomfortably mobbed, and it took some stealth to grab the geocache up there.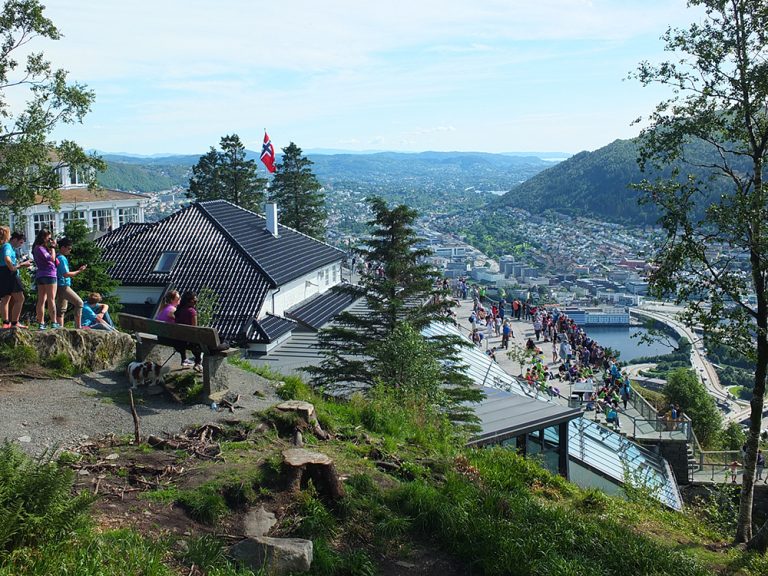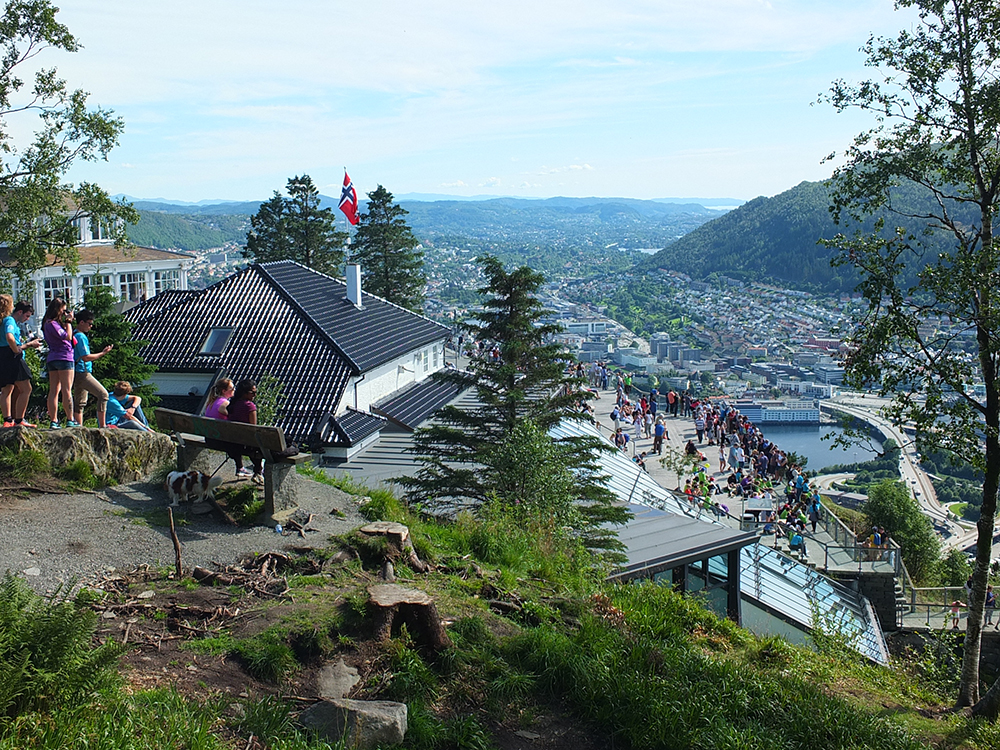 From here the trail zig-zags back down the picturesque mountain, appearing just 150 metres from Bryggen Wharf. Just keep heading downwards, you'll get there eventually.
Other things I enjoyed in Bergen was the walk through Nordnes park, a 10-minute walk from the city centre, and its 10-metre high totem pole sent over by Bergen's sister city, Seattle, to celebrate its 900th birthday.
There are an extraordinary number of statues and sculptures dotted about the city, and even the manhole covers are carved works of art!
Don't forget to check out the statue of Leif Shetland Larsen, skipper of The Shetland Bus, a Shetland-based boat operation that ran to and fro to Norway during WW2. You can find this statue on the little wharf that juts out between the fish market and Bryggen.

Other Tips for Enjoying Bergen on a Budget
Bring waterproofs. It rains, a lot. Locals kept apologising to me for the rain. Apparently the summer I chose to visit was the wettest summer they'd had since 1939, or something of the like. Most of the photos you see in this post were taken on the one sunny day I had in the whole week I was there. Still, it's a pretty awesome place even in the rain.
Wear layers. Again, it could be pouring down with rain one minute and the next the sun is hot and scorching.
Keep an eye on your mobile phone data. This was the one aspect I overlooked and I got whacked with a huge phone bill the following month and there was nothing I could do about it.
I found only one public toilet in Bergen, and it cost 10 NOK to use it. However, a local informed me that if you went into shops and asked they'd let you use their facilities.
Have you visited Bergen? Do you have anything else to add to this list? I'd love to hear about your visit – let me know in the comments!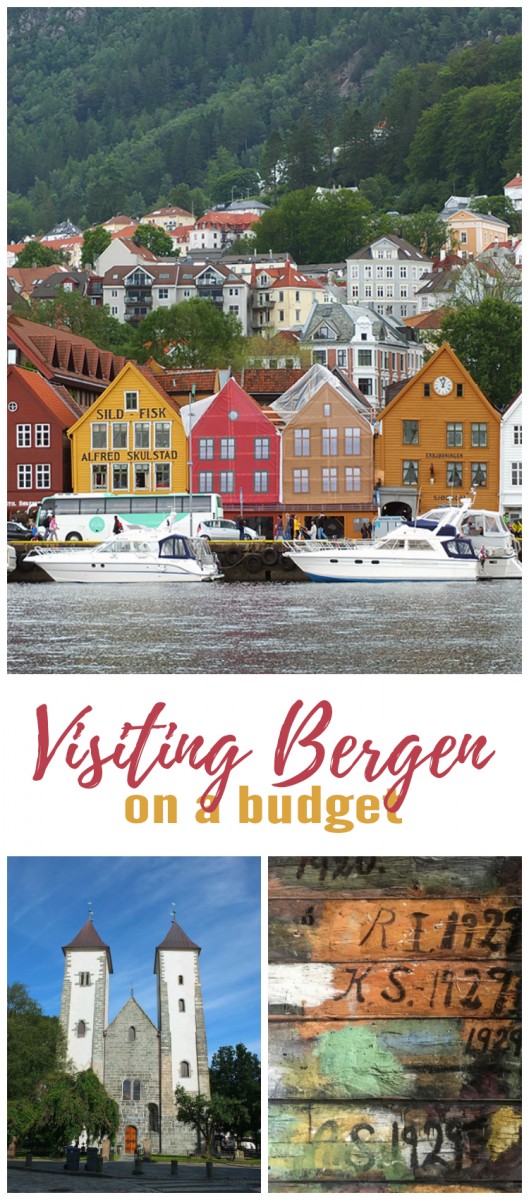 This is not a sponsored post. I funded this trip entirely myself, but huge thanks to Millets online for the Berghaus Peak 3.1 Pro one woman tent – without it this trip never would have happened. Best tent ever.