When I was growing up one of my favourite dishes was something my called "Goulash". This Americanised version of the traditional Hungarian dish was simple, involving elbow macaroni, browned beef mince and a tin of tomato soup. It was heavenly; the ultimate childhood comfort food playing second only to spaghetti with shop bought Ragu sauce poured over the top. I'm still known to indulge in such a luxury, on occasion.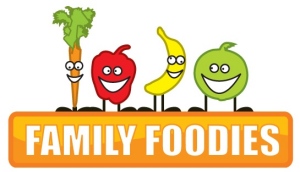 Louisa at Eat Your Veg and Vanesther
at Bangers & Mash are after quick meal
ideas this month for Family Foodies.
I'm currently in the middle of a store-cupboard/freezer emptying phase. In the Autumn I have a tendency to hoard foodstuffs, mostly freezable items like meat, fruit and veg, and I stockpile tinned foods, just in case the ferries to Shetland are delayed for an extended period of time due to inclement weather. I am reminded of that time, not too long ago (1995), when the Shetland Islands Council declared a state of emergency because the roads in Shetland were impassable and the electricity had been off for days because of the snow. Food was delivered to the more remote island locations via the RNLI lifeboats!
It's March now so the threat of being cut off from the mainland has eased somewhat and I'm emptying out the winter stores. I'm determined to make it until April before I have to head back to the supermarket in town (a half hours' drive) for provisions. Ideally, when my veg box delivery starts up again I will aim to make this town trip just once a month, saving fuel and supporting local producers.
This beef and broccoli pasta dish, thrown together at the last minute with bits and bobs I found in the darkest depths of the deep freezer was a resounding success. I hadn't planned on blogging it, just throwing things together without thinking, but it was that delicious I didn't want to forget the recipe and I want to share it with you all! I'm also linking it up with a new blogging challenge: Extra Veg co-hosted by Helen from Fuss Free Flavours and Michelle at Utterly Scrummy since this dish has extra veg in it, when compared to the quick pasta dishes I grew up with.
The sauce is Jamie Oliver's basic tomato sauce, something I make quite frequently for home made pizza, freezing half for later use in pizza or quick pasta dishes. There are always a few forgotten bags lurking in the bottom of the freezer. To make the sauce fry one or two large cloves of chopped garlic in 2 tbsps olive oil in a medium sized saucepan for about one minute. Crumble in one dried chilli, add 2 tsps dried oregano and 3 tins of Italian plum tomatoes. Simmer gently (with the lid off) for around one hour until it reduces into a nice, thick tomato sauce. When it's nice and thick stir in 1 tbsp red wine vinegar, 2 tbsp olive oil and a generous handful or two of fresh herbs: basil, parsley, marjoram, whatever you have on hand. (Recipe from The Naked Chef 1999). It only takes five minutes to prepare this sauce, so when you get an extra moment you can make a batch, divide it in half and freeze it for later. You'll never buy shop bought tomato sauce again! The tomatoes I buy are only 39 pence a can too, making this a very economical sauce.
Next, the afters. There was half a tub of Betty Crocker Chocolate Fudge Frosting in the fridge left over from our youngest's Transformers Birthday Cake last week (yes, sometimes I cheat!) needing made into something before I attacked it with a spoon in a sugar-craving frenzy some late evening.
While digging around in the deep freeze opening random unlabelled plastic containers I found one filled with the severed tops of the mini Shetland Flag-topped seaweed and lemon fairy cakes I'd made for the Shetland Food Fair last Autumn. Half of these I whizzed in the food processor into crumbs and stirred enough into the room temperature chocolate fudge frosting until it was thick enough to roll into one inch balls. They were left in the fridge for half an hour to chill and harden.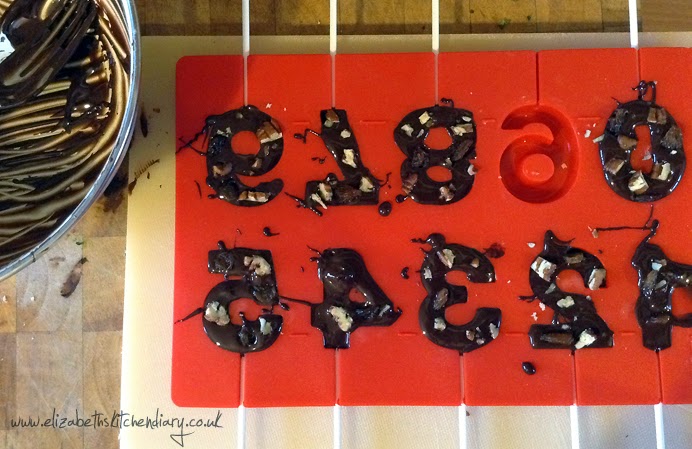 Meanwhile, I dug out the leftover bits of broken chocolate pieces I was sent home with after a recent local SWRI sweetie making demonstration I taught (a mostly successful endeavour – it was, after all, my first attempt at such a thing but everyone had a fab time, they tell me, so all was well!). This 70% dark chocolate was melted and the frosting/cake truffle balls dipped in to coat. The remaining melted chocolate was poured into a silicone number mould, sprinkled with chopped pecans and sultanas, and left to harden in the fridge for twenty minutes until our weekly family Games Night commenced.
All in all – yum! I'm quite proud of my successful store cupboard/freezer feast.