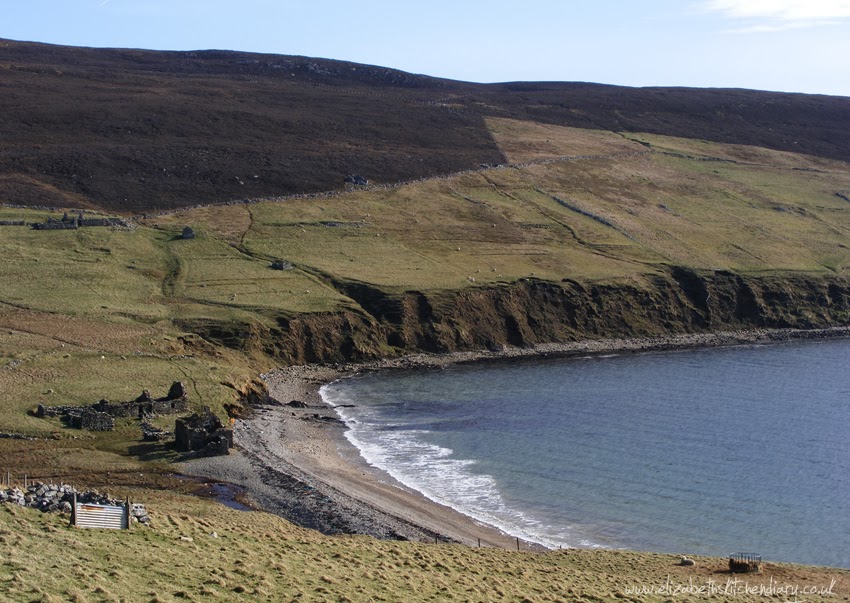 Contrary to what opinion you may have formed of Shetland after watching last night's BBC 1 adaptation of Anne Cleeves Raven Black, Shetland is not always dreary, sombre and misty. When the sun shines on Shetland it transforms, like a blossoming flower, into a place of magic and beauty.
The sun came out in Shetland today. I spent the morning working while frequently distracted, gazing, longingly, out the window at the cloudless blue sky. I prepared a picnic lunch so when our youngest finished nursery we could head out adventuring and exploring before his big brother and sister finished their day at school. After all, it would be a shame to waste such a beautiful afternoon!
I chose a secluded pebble beach not too far a drive from where we live on the west side of Shetland; one I haven't visited in some time. The last time I was there our youngest was still nursing, so I spent most of the visit sitting and feeding while our middle child, then a toddler, played on the beach. The tide was in during that visit and there was quite a swell on. I spent most of the time terrified the waves would take her away! This time the youngest adventurer and I had the chance to relax, explore and lounge in the gorgeous, warm sun (with the tide of the calm seas reassuringly out). It was quite nice to let our little one have the freedom to explore on his own terms. I let him lead the way.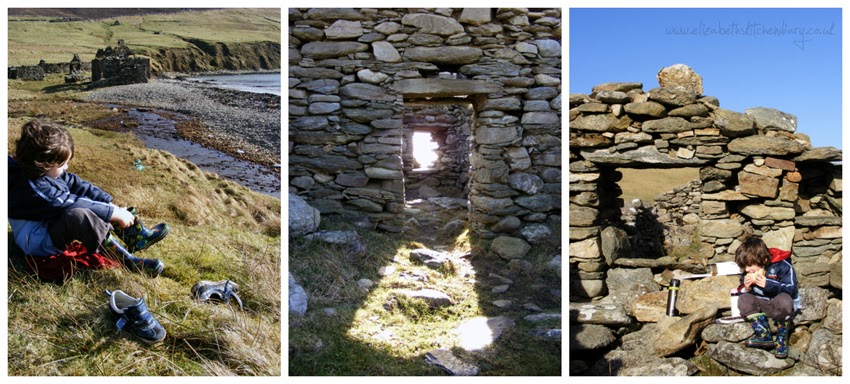 We found quite a few things on our adventures. There were a few old ruins to explore and we sheltered in one of them from the breeze to eat our picnic lunch. The other larger structure, we were told by a local walker, was a village shop way back when, and the photos in the Shetland Museum & Archives show that it still had a roof on it in the 1930's. RCAHMS lists this building as an old fishing station, but it doesn't provide a date.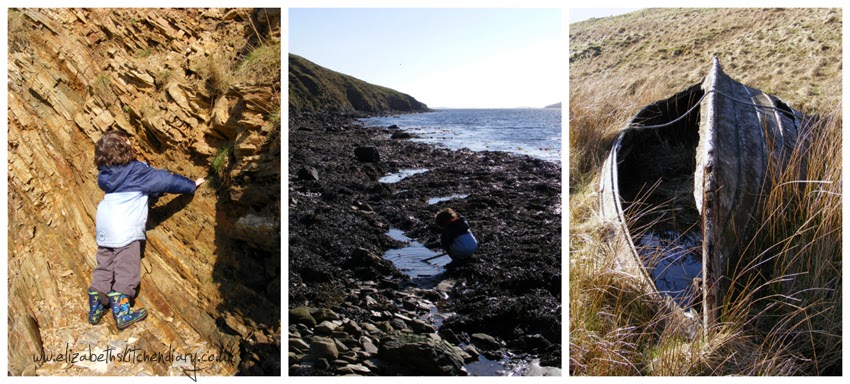 After lunch we went exploring. The geology in the area is fascinating and you can clearly see where a major geological fault emerges (scroll back up and look at the first photo – it's those dark stripes across the beach into the sea). I heard a very bizarre almost subsonic thrumming at this location and I want to return there with some sound recording equipment (and another pair of adult ears!) to confirm it wasn't my imagination! My exploring companion was fascinated with the crumbly layers nearby and baffled at how they could have possibly been a sandy beach or desert a very long time ago.
We spent quite some time walking up and down the beach, turning over stones, poking at dead things, climbing up the grassy hills (it's hard work following an energetic five year old up these hills!), rock pooling and enjoying the sounds of the waves and the heat of the Spring sun.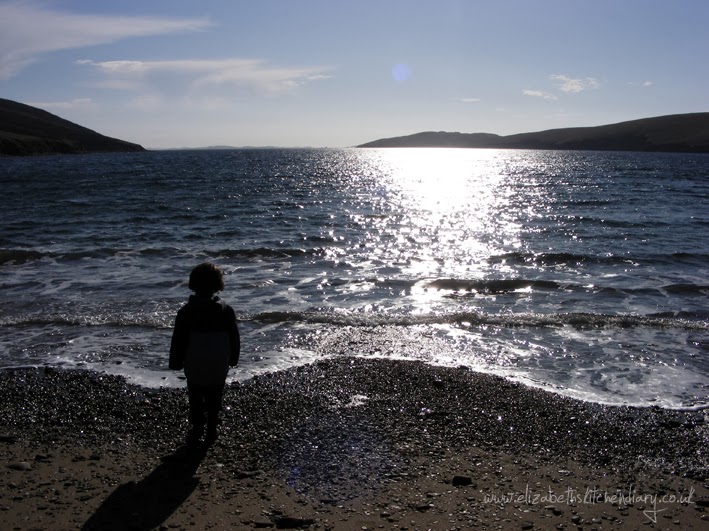 One thing we did notice was the vast quantity of rubbish. There were plastic bottles, bits of old weathered rope, a brushless toothbrush, the lid from some mackerel salad all the way from Denmark, some emergency drinking water sachets (quite a few of these, actually!) manufactured in Norway, an inspection tag from Maersk Oil dated this January, shotgun casings, fish barrels and assorted other bits. A lot of rubbish! This rubbish will all get cleaned up soon during the annual Da Voar Redd Up, the UK's most successful community litter pick. Groups of volunteers go around the coastline of Shetland clearing up beaches of the debris washed up during the winter gales.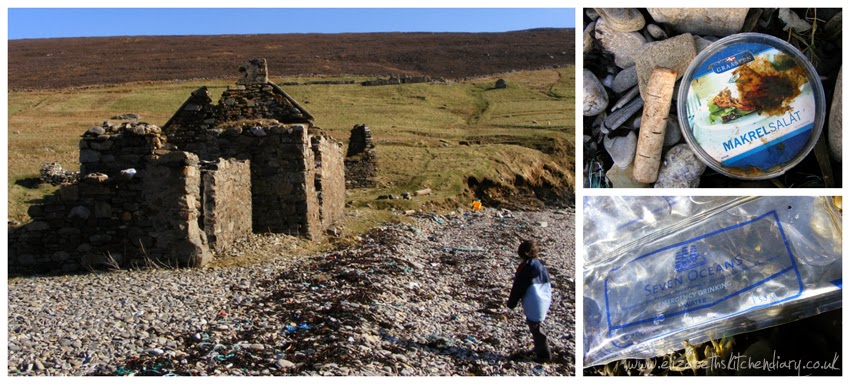 Our local Primary 3 & 4 class recently made a stop-motion animation about marine litter and Da Voar Redd Up and they've entered it into a European wide video competition. They've been selected as one of the top ten finalists in the UK and their video has been uploaded to You Tube, where the number of 'likes' will be considered by the judges when they make their final decision. Do have a watch of their fantastic film and if you enjoy it do give it a 'like'! As we say here in Shetland, "Dunna chuck bruck!"
It was a perfect afternoon, today. It was wonderful to feel the heat of the sun after this long, dark and very, very windy winter. I felt rejuvenated and I should expect our little one will sleep well tonight after all that exercise!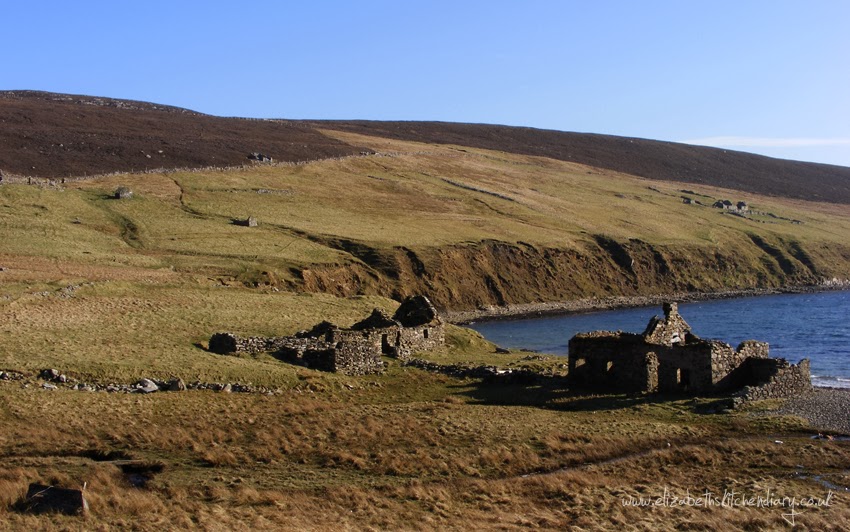 Since my daughter contributed to the making of the marine litter video above and I am so incredibly proud of her and all her classmates, I am linking this post up with Small Steps Amazing Achievements over at Ethan's Escapades. As our little one had such a fantastic day exploring the great wide outdoors (he said it was even more fun than playing the Kindle!) I am linking up with Coombe Mills Country Kids.