Christmas traditions from the island of Crete (a sponsored post)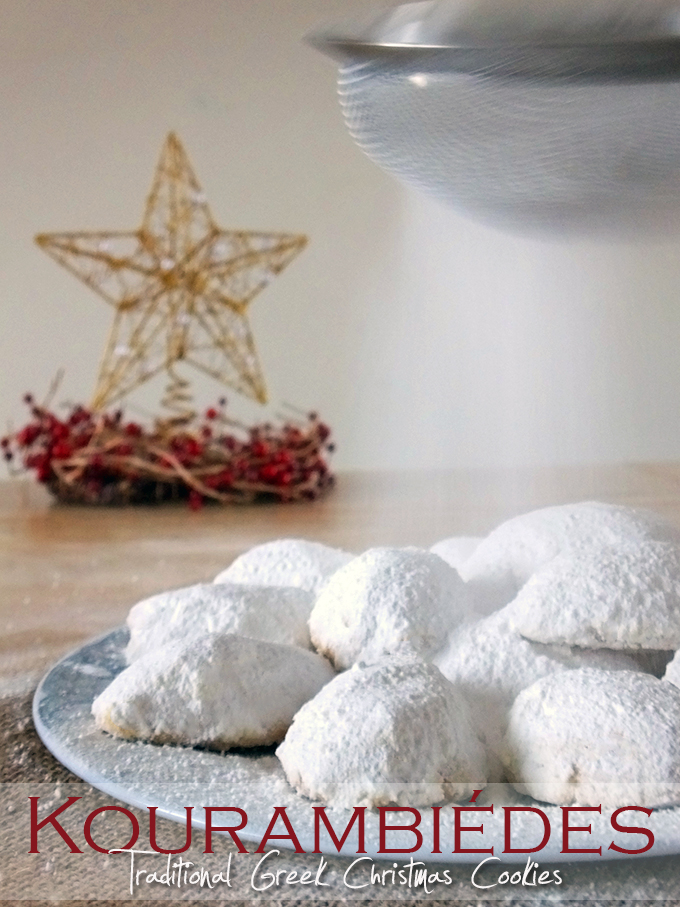 I've never been to Crete. For that matter, I've never been to Greece either. The closest I've ever been was to Sardinia, once, over a decade ago, for a whirlwind weekend adventure away. I do, however, love Greek food – the flavours of lemon, olive oil, nuts, honey, fresh fruits and vegetables and plenty of cheese.
An email appeared in my inbox a few weeks ago from the villa/self catering company Villa Plus. They were wondering if I might be interested in participating in their Christmas Traditions project, researching and creating a family Christmas feast based on the traditions and customs of one of their villa destinations. A traditional Christmas means different things to people all over the world – whether it's Japan's lust for KFC on Christmas Eve or how Germans hide a pickle in the family tree – each nation has its own customs which they observe.
I love a good challenge, me, so I accepted. A quick browse through their 14  blue-skied villa destinations (a stark contrast to our current winter gale, hail and lightning filled Shetland skies!) and I settled upon Crete.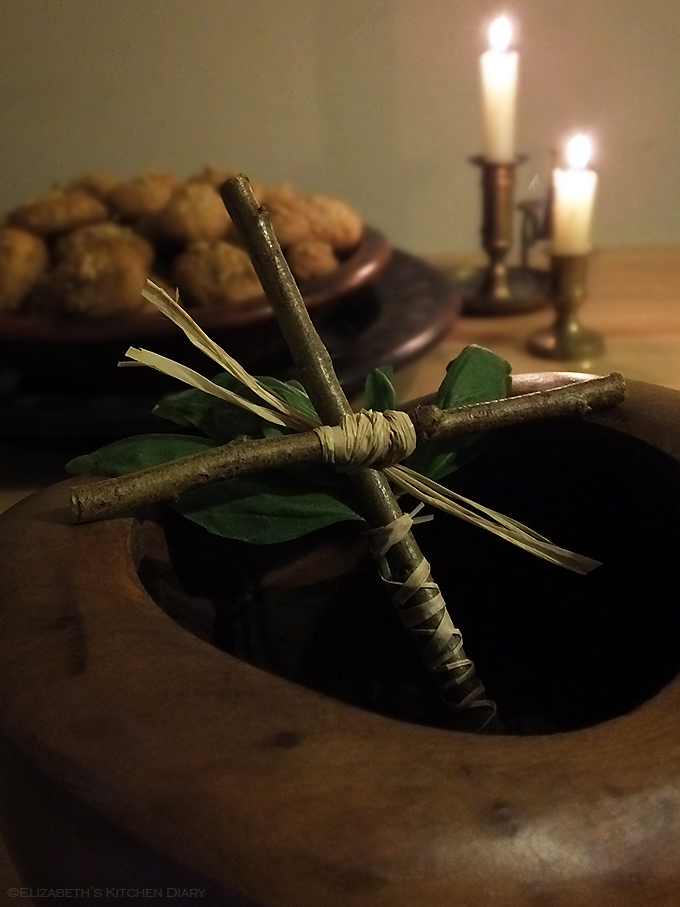 Crete is the largest of the Greek islands, and the most famous. Christmas there is quite different from the North American Christmas I grew up with, or the UK/Nordic influenced Christmas' we have in our family now. For starters, it is not an overly commercial affair. Instead of a Christmas tree many houses will feature a small wooden cross with a sprig of fresh basil wrapped around it. To keep the basil fresh, the cross and basil are placed into a small wooden bowl containing holy water. Each day a member of the family (usually the mother) will walk the cross through the house, sprinkling a little of the holy water into each room.
This custom is meant to keep the the Kalikantzari at bay. Kalikantzari are mischievous goblins that traditionally appear from the earth during the 12 days of Christmas. My wooden cross was made from willow branches from my garden.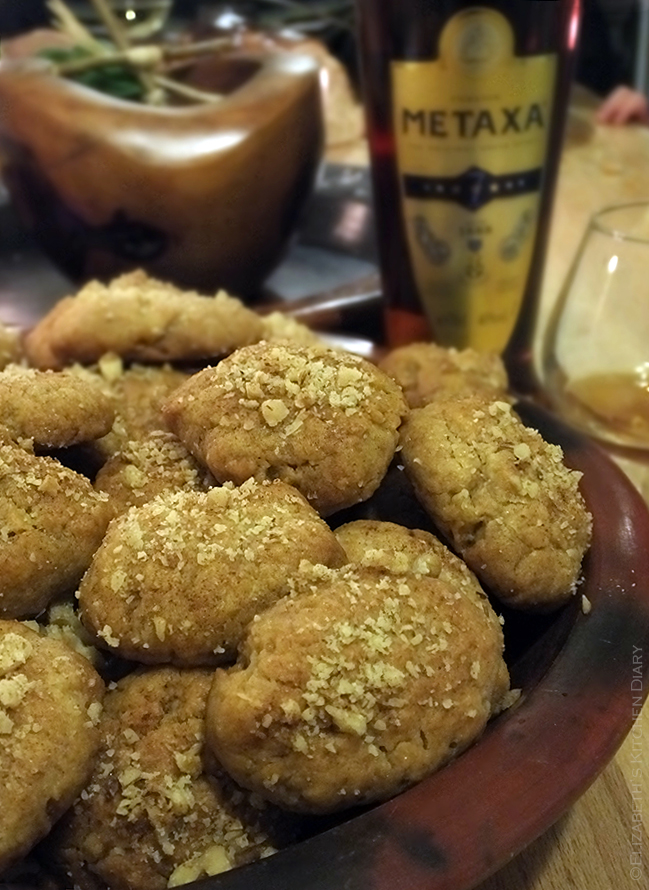 The Christmas period begins with a 40 day fast, where no animal, dairy or egg products are eaten. As Christmas approaches, houses are meticulously cleaned and traditional Christmas biscuits are made. No Cretan Christmas table is complete without the honied melomakarona, beautifully spiced oil-based cookies dipped in a cinnamon, clove and lemon infused honey syrup before being sprinkled with chopped walnuts.
The method and ingredients list for these biscuits were like nothing I've ever made before, and they are superb! They use an astonishing quantity of oil and a good dash of Greek brandy, but their cake-like texture is really rather appealing, especially with the flavour of the honey syrup and light dusting of cinnamon powder. All the traditional recipes I found made a huge batch of cookies – between 50-60 (I actually made 80 and I've been giving them away to anyone who visits the house!).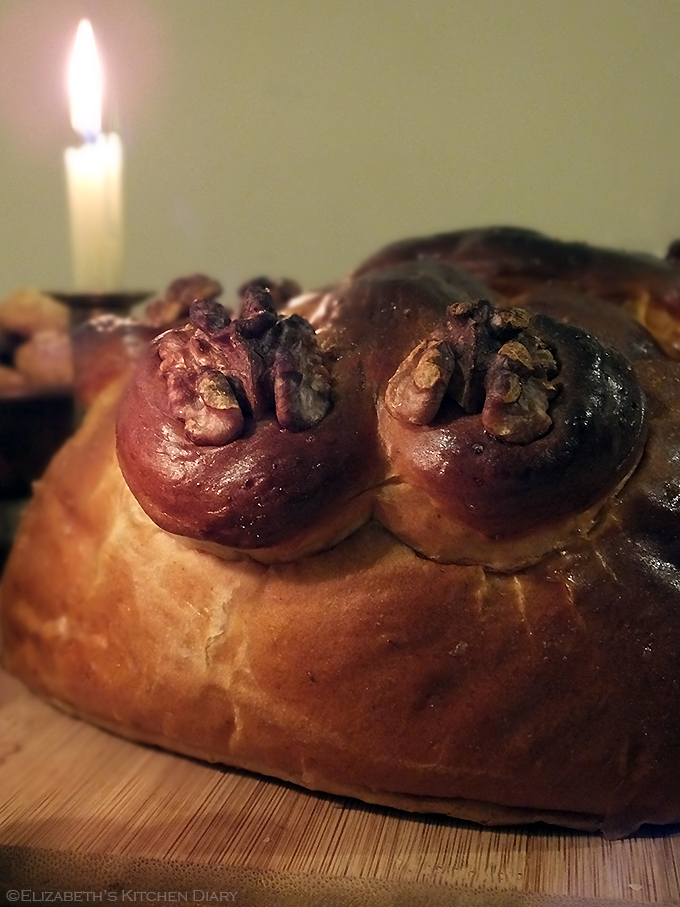 Greek Christmas Bread – Christopsomo Recipe
Another Christmas feast essential is Greek Christmas Bread – Christopsomo, or Christ-bread, a slightly sweet, light, buttery bread, infused with cinnamon, orange and cloves, all the warming, tempting flavours of Christmas – think raisin bread without the raisins. It is decorated on the top with a ground aniseed infused dough byzantine cross, with walnut halves pressed into each end. Made the day before Christmas with specially selected fresh ingredients, this bread is traditionally eaten on Christmas day. A variation of this recipe is Christopsomo Sfakiano from Sfaka in Crete where they cover the bread with sesame seeds.
In many Cretan villages it was the custom for each family to raise a pig throughout the year which would be slaughtered on Christmas Eve. The pork would be served as the main holiday dish the next day with leftovers being made on the second day of Christmas into assorted dishes for the holiday period; nothing was wasted.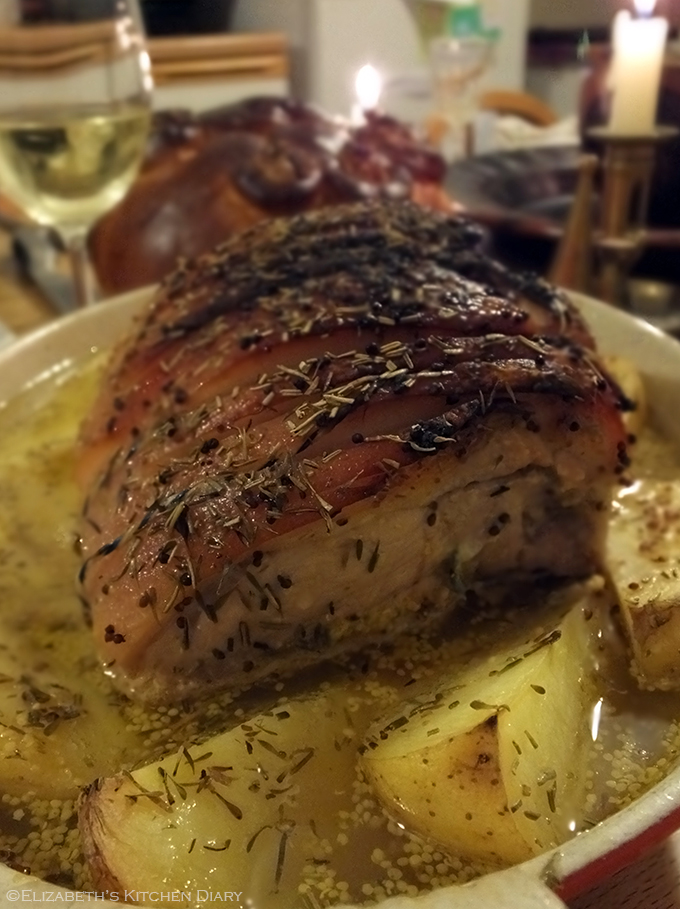 Greek style roast pork with honey sauce recipe
So, for our Cretan Christmas feast I made a Greek style roast pork leg with honey sauce and potatoes. This dish was amazing! This succulent roast pork has hints of citrus and a delicious slightly sweet honey-mustard based sauce. Unfortunately there were no fresh herbs in my local supermarket, so I had to use dried, but even so the resulting roast was excellent and remarkably easy to make. This is a dish I will be making again.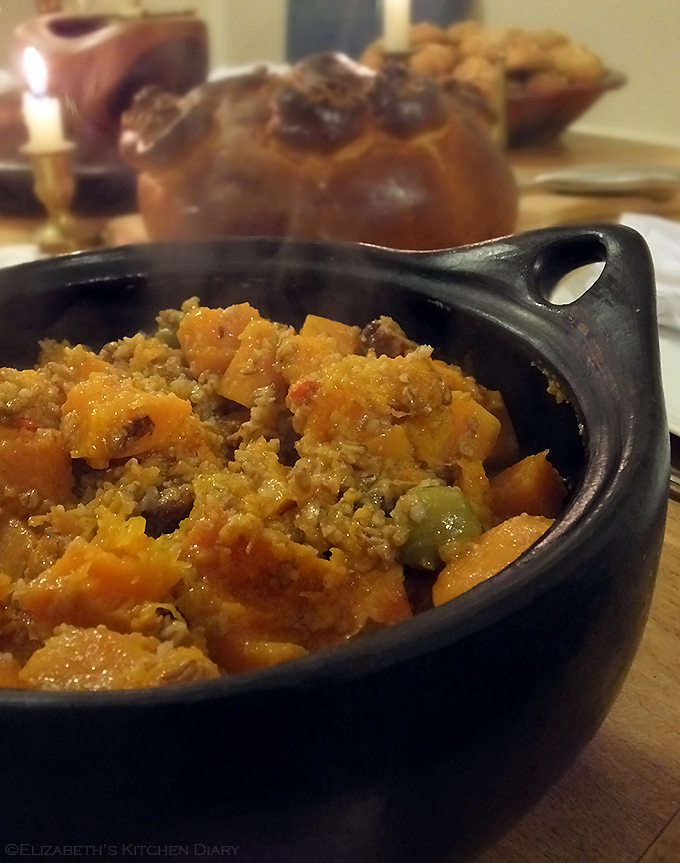 I couldn't find much information online about which vegetables were traditionally served at Christmas time, but I found a gorgeous sounding recipe for sweet pumpkin with chestnuts and olives that I simply had to try. Intrigued by both the ingredients list and method I set to source the ingredients, but I had to make a few substitutes. First, the sweet pumpkin was replaced with butternut squash. The dish also requires an ingredient called xinòhondros, a mixture of cracked hard wheat (hondros) and sour (xino) sheeps milk dried under the sun. Xinòhondros is usually cooked in soups or with meat or vegetables. Alas, I could not source xinòhondros but I could source wheat berries, which I cracked in my high powered Optimum 9400 blender.
I was skeptical, I admit, but this dish, even with my substitutions, was fantastic! It was incredibly easy to make too, which is a bonus when you're running around like mad with Christmas food preparations. I will be blogging the adapted recipe I made shortly.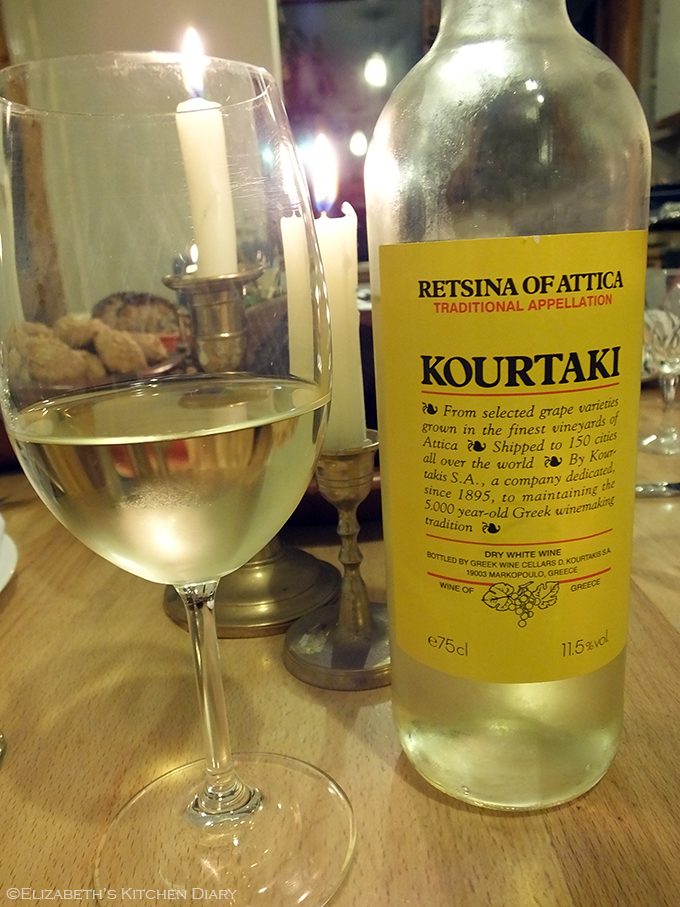 To drink, I managed to source two Greek beverages from our local wine shop in the town. A remarkable feat given we are located on a remote island archipelago in the middle of the North Sea! Retsina of Attica Kourtaki, a dry white wine, is made from selected grape varieties grown in Attica, made and distributed by a Greek company dedicated to maintaining a 5000 year old Greek winemaking tradition. It has a unique aroma as it is flavoured with resin from the Aleppo pine.
I also sourced some 7 star Metaxa, a Greek brandy (for the melomakarona you see!), which went down rather well as a single dram after the meal (with the cookies, of course!).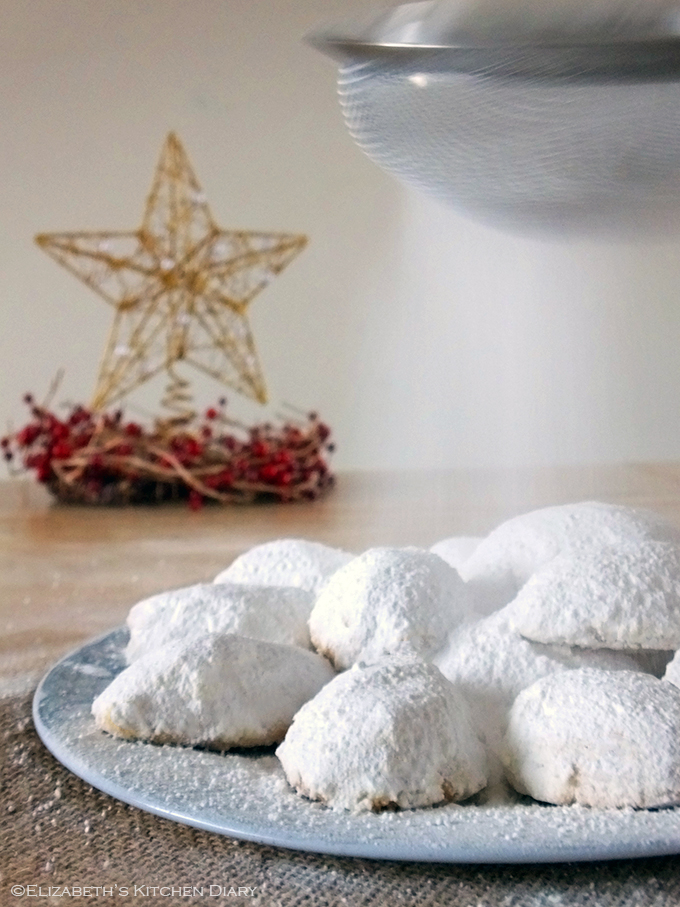 Kourambiéde recipe
No Christmas table in Crete or Greece is complete without Kourambiédes, gorgeous, melt-in-the-mouth shortbread biscuits made with coarsely chopped almonds and liberally dusted with icing sugar. The biscuits are served with even more powdered sugar, which can be either tapped off before consuming or eaten as is.
Again, a single recipe made a huge batch of biscuits (50 of them!) so they too are being given away to anyone who steps foot into our house during this festive period. Fortunately, both the Kourambiédes and the melomakarona will keep for up to a month if stored in an airtight container.
Our family Cretan-themed Christmas Feast was a mighty fine one, and I really enjoyed telling the children (and my husband) all about the traditions I'd learned about, traditions so vastly different from our own.
If you want to be kept up to date on my recipes, occasional craft tutorials, adventure stories and giveaways then please subscribe to my weekly newsletter; it gets sent out every Monday morning if there is new content. Your email address won't be passed on to anyone, you will never be spammed and you are free to unsubscribe at any time, no questions asked. Make sure you confirm your subscription or you won't receive the newsletter – if it hasn't arrived check your junk mail folder.
[wysija_form id="1″]
Elizabeth's Kitchen Diary was commissioned by Villa Plus to create this post. Although this is a paid post, all opinions expressed are our own. It also contains an affiliate link – if you choose to buy an Optimum 9400 blender through this link I will get a small commission.