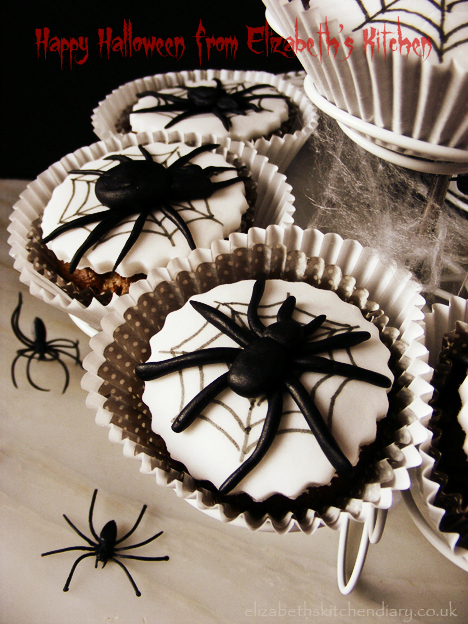 I have a confession to make: I absolutely love Halloween. I love Halloween a bit more than a grown adult should love Halloween. It's the one time of the year where I get to indulge my Tim Burton-esque tendencies without raising (too many) eyebrows. Out comes my handmade steam punk costume or that black 1980s Carrie-like beaded prom dress, the black and grey cosmetics and we celebrate!
Over the last few years we've developed a new family tradition – I spend the day preparing a spooktacular feast and no one gets to eat unless they are in fancy dress. We then finish the evening off with a Halloween-themed family-friendly film like the Corpse Bride or Frankenweenie (I do so love everything Tim Burton!). I can't wait until the children are old enough for Edward Scissorhands, Beetlejuice and Sleepy Hollow!
You might hopefully be inspired by some of the ideas we had for this years' All Hallow's Eve feast which included gruesome green fairy cakes with a blood red centre topped with spooky fondant spiders, swamp juice, toxic marshmallow pops, mummy hot dogs, witches cauldron soup, pizza dough 'bones' with 'blood' dip and Halloween cheeseburgers. I've shared the recipes for three of our favourite dishes this evening. We hope you like them!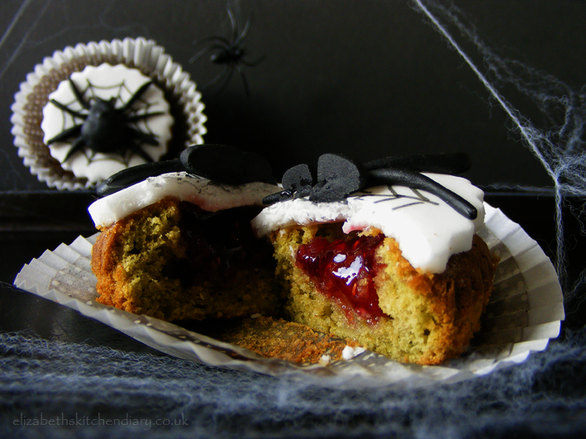 These spooky green fairy cakes were my own idea. I used a little bit of matcha powder to colour the cakes, scooped out a hole in the centre of each and used locally made 'Raspblootered Jam' as a filling (a raspberry jam with a hint of vodka!). 'Jarlsbreath Marmalade' was used to stick the icing onto the cupcake seeing as I was out of apricot, but with a name like that it deserves to be in a Halloween treat! Jarlsbreath…. cringe!
My children loved these and although I was sceptical about the matcha flavour coming through the children never noticed and they gobbled their green fairy cakes right up. I thought this might make a healthier alternative to filling the cake with green food colouring, but then I did sort of ruin that anti-E-numbers thing by using black fondant on the top.
Spooky Spider Fairy Cakes
Ghoulishly green cupcakes with a blood red centre topped with a spooky spider!
Ingredients
125 grams unsalted butter
125 grams caster sugar
125 grams self raising flour
3 tsp matcha powder
2 eggs
2-3 tbsp milk
200 grams raspberry jam
50 grams apricot jam
250 grams white ready-to-roll icing
100 grams black sugar paste
 black edible ink pen
Instructions
1. Preheat oven to 200 C. Line a 12 hole muffin tray with paper cases.
2. Cream butter and sugar together until light and fluffy.
3. Add eggs and mix well.
4. Sift in flour and matcha powder and stir until combined.
5. Add enough milk to make a soft drop consistency batter.
6. Spoon evenly into the baking cases and bake for 15-20 minutes, until golden.
7. Transfer to a wire rack to cool completely.
8. To assemble, slice off the tops of the fairy cakes so they are even with the edges of the paper cases.
9. Using a small spoon, scoop out a small hole in the centre of each cake. Reserve the balls of cake.
10. Spoon 1 tsp raspberry jam into the hole and place a small piece of reserved cake onto the top to hide the jam.
11. Roll the ready-to-roll icing out to about 3-4 mm thick. Cut into circles the same size as the fairy cake tops.
12. Brush the under side of each round with some apricot jam and place on top of the fairy cake. Leave to dry for an hour or so.
13. Draw a spider web on each cake using a black edible ink pen.
14. Using black sugar paste form the spiders. Roll four thin strings to make the legs (the legs will stick out either side of the body), a small thin string for the pincers and using two small balls make the head and body.
15. Stick to the top of the white icing with a tiny drop of water. Enjoy!
Details
Prep time: Cook time: Total time: Yield: 12 fairy cakes
Every good Halloween feast needs a spooky juice, no? This is one of our family favourite fresh juices. On non-Halloween days it goes by the name of Popeye Power and it's a juice recipe by Jason Vale, the Juice Master. My children (and I) can't get enough of this vibrant green juice. I've scaled up Vale's recipe to fill a pitcher; enough to serve 4 adults (or three big people and two little un's).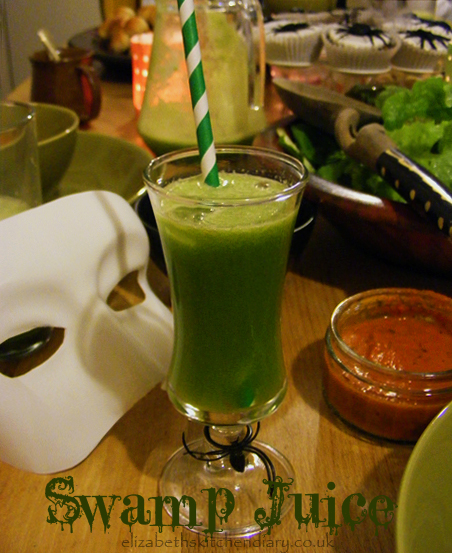 Swamp Juice
A delicious, fruity and healthy green juice – your children will never know there is spinach in it!
Ingredients
1 whole fresh pineapple (large)
4 Royal Gala apples
1 unwaxed lemon
100 grams spinach leaves
ice
Instructions
1. Place everything, except the ice, into a juicer. Pour over the ice and serve!
Details
Prep time: Cook time: Total time: Yield: Serves 4
I have another confession to make. These toxic marshmallow pops were supposed to be the clever Jack Skellington marshmallow pops I found over on Pinterest, but my black writing icing and edible ink pen both weren't up to the job of making the detail necessary for Mr. Skellington himself, so I improvised. I also realised, too late, that to make Jack Skellington pops you need to allow the chocolate to harden with the marshmallow up (ie: stick the straw in some polystyrene) so you avoid a flat side. Ach well, they tasted fantastic nonetheless! I might have eaten a few too many of these myself!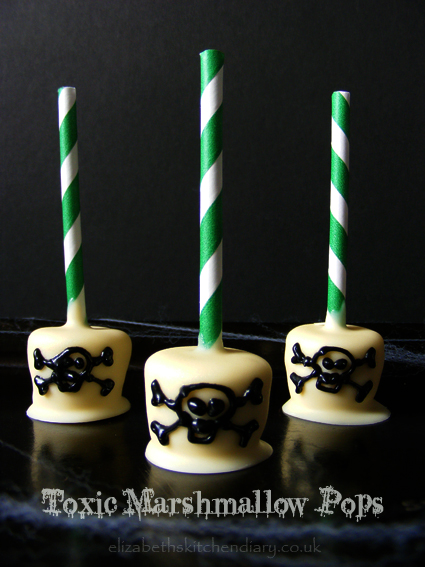 Toxic Marshmallow Pops
White chocolate coated marshmallow pops – what's not to love?!
Ingredients
24 large marshmallows
150 grams white chocolate
black writing icing
12 paper straws
Instructions
1. Boil kettle and pour the hot water into a heat proof bowl.
2. Break white chocolate into small pieces and place in a heat proof bowl. Place bowl over hot water (not over heat!) and leave for 10-15 minutes until the chocolate has melted.
3. Cut paper straws in half. Push half a straw through the centre of a marshmallow and dip into the chocolate. Shake off excess and place on a silicone mat (or greaseproof paper) placed on a small baking sheet.
4. Repeat with each marshmallow and place baking tray into fridge to harden.
5. When the white chocolate is solid draw a skull and crossbones on the front with the black writing icing.
Details
Prep time: Cook time: Total time: Yield: Makes 2 dozen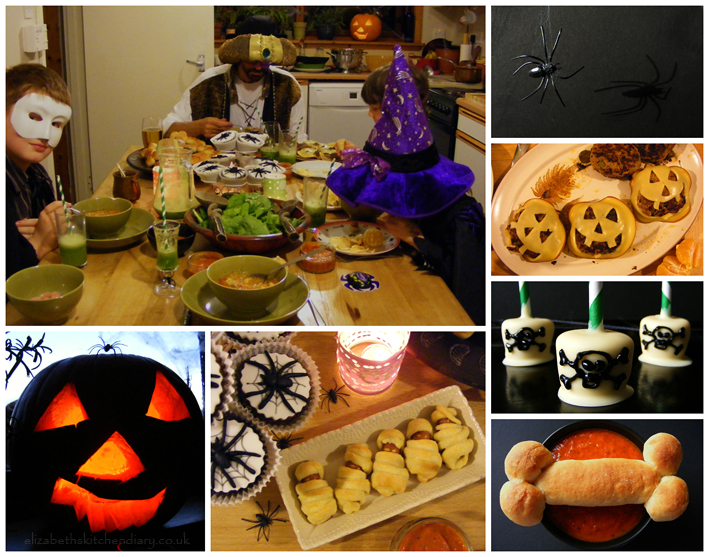 The meal itself began with a starter of a peeled clementine with a little bit of celery stuck in the top for a 'stalk'. You've probably seen a zillion photos of them on Facebook and Twitter, so I won't add to them. Witches Cauldron Soup (known as Three Bean Vegetable Soup on non-Halloween days) was served next. I usually make this soup with orzo pasta but this time I made it with a handful of quinoa so that the curly grain would add to the spookiness of the dish.
Next came warm hot dog mummies (halved tinned hot dogs – my local shop was all out of cocktail sausages – wrapped in home made short pastry, glazed with milk and baked for 20-25 minutes). There were pizza dough 'bones' with 'blood' sauce to dip the bones in and Halloween cheeseburgers, another idea I saw on Pinterest. I made the burgers with lean beef mince, a sautéed chopped red onion, a clove of chopped garlic, a few chopped gherkins, a splash of chilli sauce, a tbsp tomato purée and 1 tsp dried thyme (plus salt and pepper) and they were wicked! One of the best throw-it-together burgers I've ever made. A lovely smoked cheddar was used for the pumpkin faces.
Speaking of pumpkins – that Jack o' lantern you see on the left above was the first carved pumpkin the children have made that I had nothing to do with (except for cautionary knife advice on the sidelines!). I'm so pleased how well it turned out! I was also really pleased at their co-operation. With an age range of 13, 7 and 4 finding activities they can all do together can be difficult. The 7 year old drew the pumpkin design, the 13 carved it and the 4 and 7 year olds emptied the pumpkin of its seeds. As such, I am sharing this post with Ethan's Escapades, a weekly blog challenge dedicated to sharing our children's milestones.
Oh, and I feel I must mention the tear-inducing fiery lettuce we ate in our salad! Our veg box arrived half an hour before tea was served and there was something in it called Spicy Chinese Greens. Oh my, if you eat a whole leaf at once you can't keep your eyes from watering! I thought it was a very appropriate Halloween salad ingredient, ha! 🙂
Happy Halloween to you all from Elizabeth's Kitchen Diary!