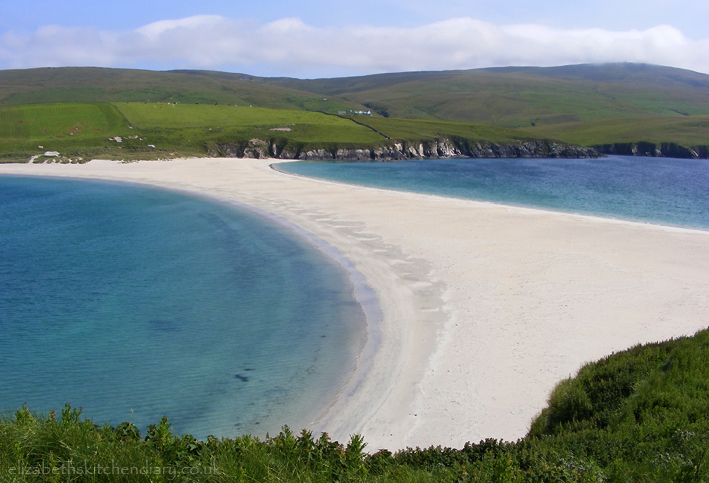 St. Ninian's is the site of one of Shetland's many perfect beaches and it is one of our favourite family escapes. The beach is the largest active tombolo in the UK connecting the mainland of Shetland, a remote archipelago in the North Sea, to St. Ninian's Isle, a now uninhabited island. The island itself is rich in history with neolithic graves having been found beneath the ruins of a 12th century chapel. Stone Age dwellers,Viking raids, buried treasure; this island has seen it all!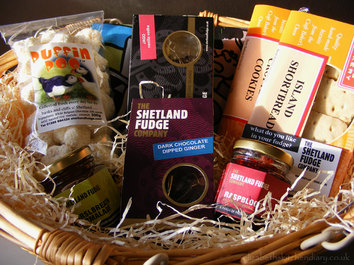 I was quite fortunate to have the above photograph receive the most Facebook likes in a recent Promote Shetland 'My Favourite Walk' competition which ran through this summer past. My public vote prize was a delicious hamper from the Shetland Fudge Company filled with all sorts of lovely things (my favourite was the dark chocolate coated ginger.. mmmmm!). The first prize, chosen by Promote Shetland themselves, was a stunning photo of this beautiful beach. You can view it in their November newsletter, should you wish.
I've taken many photographs of this beautiful beach and island over the years so I thought now that winter is officially upon us with its gales and dark days I would revisit them and share some of them with you. I hope you enjoy!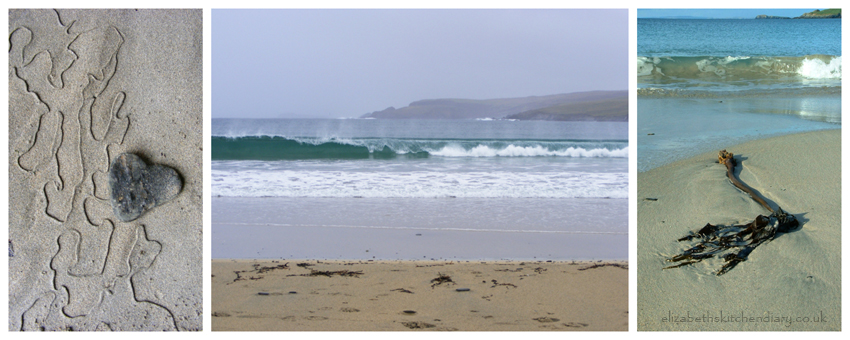 10 Things you could do while visiting St. Ninians
1. Walk across the beach, barefoot if you dare. The beach is about 500 metres long with lovely soft sand underfoot. There's plenty of things to sea on the beach itself; seashells, sea rocket, weathered sea glass and plenty of different shaped stones. The water can make interesting patterns in the sand and sometimes when the weather has its way all the stones stand up at a 45 degree angle, making for quite an unusual sight!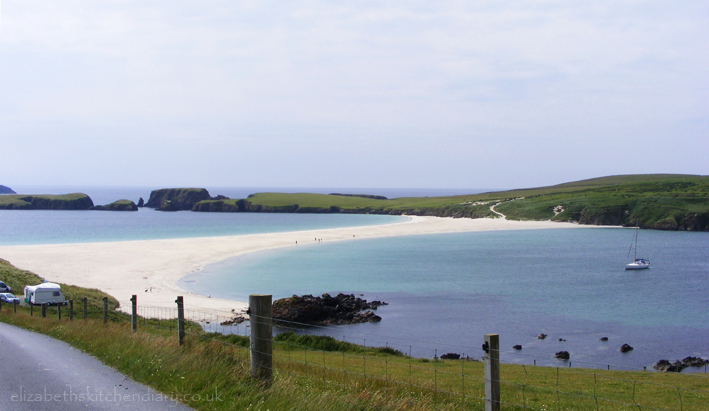 2. Picnic in the cave.  At the far end of the beach if you keep walking past the area where you'd walk up onto the island there's a little weathered cave you can shelter in. This is always our goal when we visit this beach with the family. Our picnic lunches get unpacked and the children can play in the sheltered area in front of the cave. Picnicking here is not limited to the summer months. I spent my winter birthday some years ago in the dark picnicking with a friend. We lit a small fire sheltered by flat weathered beach stones and roasted chestnuts. It was a perfect way to spend a birthday.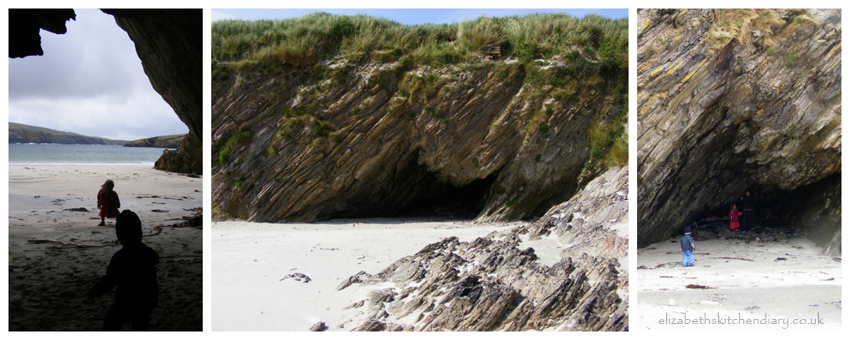 3. Walk around isle itself. Walk Shetland provide all the information you need to prepare for the three hour long walk around the island. When the weather is nice this is a stunning walk. Watch out for rabbit holes as you walk though, as you could easily trip up. Keep an eye out for bonxies (Arctic Skuas) and other seabirds. On the far side of the island there are high cliffs abundant with nesting birds during the summer months. If you're lucky you might even see a puffin or a pod of killer whales swim by!

4. Geocaching! There are two family friendly geocaches in this area. St. Ninian's beach itself is an Earth cache which you can claim by answering a few geological questions about the area. The other cache is a traditional click lock box. You can find out more about this fantastic treasure hunting game by checking out Geocaching.com  If you've never heard of geocaching before you are in for a treat. This outdoor game will get you to places you'd never normally go to and it's a great way for children to get into the wilderness a bit more.
5. Explore the kirk ruins.  It is thought that when the Viking raids began in Scotland in the 8th or 9th century someone, aristocrats or the local religious community buried a hoard of silver treasure in the then-used kirk. In 1958 a young schoolboy found this treasure while helping excavate the mediaeval kirk. The 28 piece silver and silver-gilded treasure is now stored at the National Museum of Scotland in Edinburgh and you can see some images on their website here. The old ruins

6. Attend the Bigton rowing regatta in the summer. Each year the Bigton rowing regatta attracts visitors from all over the island. Beer and barbecue tents are set up and many folk bring their camper vans for a few days of fun, festivities and rowing races using traditional Shetland wooden yoals.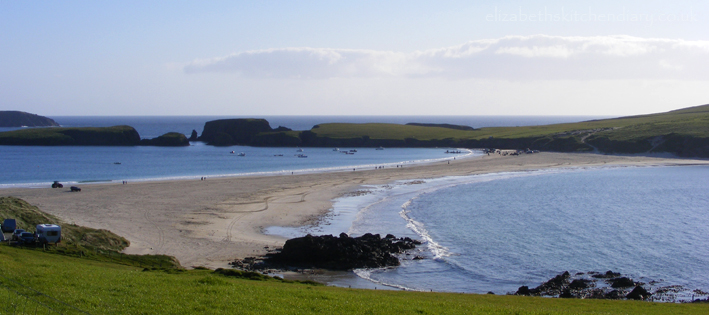 7. Walk across the beach at night. Beach walking doesn't have to be a summer time activity. This beach is a magical place in the dark of winter. I've walked along this shoreline watching the mareel (bio-luminescence) light up beneath my feet while the mirrie dancers (Northern lights) danced to their unheard music across the sky.
8. Rockpooling. For those of you a little more adventurous, there are some areas on the southern edge of the island where you can scramble down the less lethal cliff faces to do a bit of rockpooling. I saw my first dahlia anemone here; such a beautiful creature, don't you think? This is not advised for small children though as the cliff edges can be quite dangerous.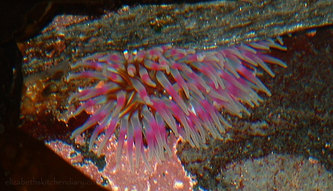 9. Swim? This year Travel magazine voted St. Ninian's as one of the best beaches in the world to swim. Um, I don't know about that, but if you're brave enough for the icy dip you'll find out for yourself!  I've been told that children used to attend swimming lessons in a sheltered area on this beach, so swimming here is not unheard of. Usually folk wear wetsuits though!
10. Watch the sun set. It just has to be done. Watching the sun set on the sea horizon is a beautiful experience and it is something many people never get to see in a lifetime.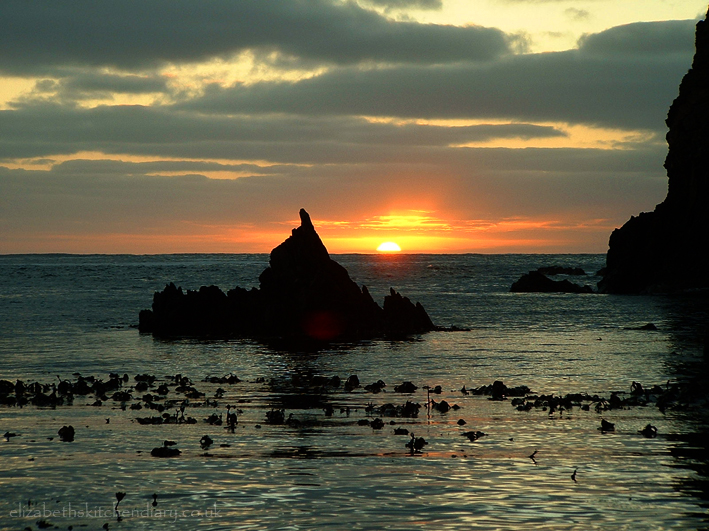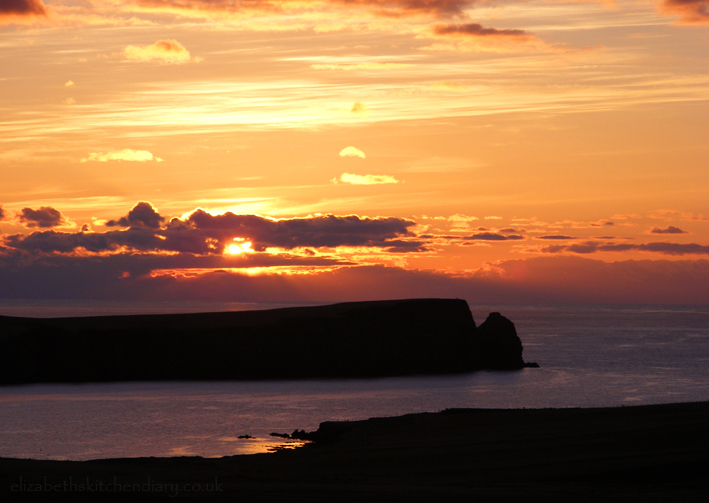 There you go. Ten things to do the next time you visit St. Ninian's. As this place is such a superb location for children's adventures I am sharing this blog post with Coombe Mill's Country Kids Linky which is all about getting outdoors with your children and sharing your stories. As a family we have certainly had a fair few adventures on this beach!