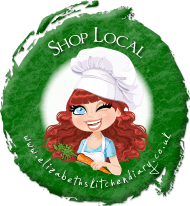 Local is a subjective term. Where ever you happen to live would definitely be considered local, but how wide this local circumference extends depends on your geography. I live on a remote island in the middle of the North Sea, 80 miles from tip to tip and 35 miles wide. I consider everything in this island group local, whereas to folk living south local might only mean three miles down the road while 80 miles is forever away. This Shop Local food blogging challenge was designed for food bloggers around the world to share the recipes of what they have been making with produce made locally (interpret as you will!) to them. This month, for the September 2014 round up, we've got entries from as far away as Australia and New York and plenty of British recipes too, so grab a cuppa and enjoy the feast!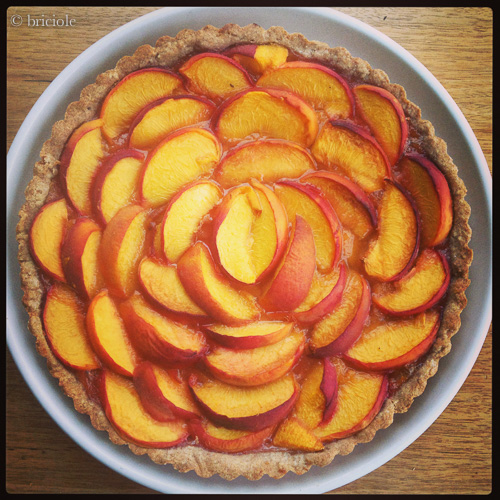 Simona from Bricole, living in western USA, is lucky to have a plentiful supply of ripe peaches growing on a farm nearby to her. She also uses eggs from her local farm shop to create this gorgeous peach tart which she describes as, "a pleasure to bring to the table, a way to honor the good fruit that goes into it. It is rich, but a slice, brilliant and bursting with flavor, goes a long way to satisfy the senses." I know I would quite happily tuck into a slice or two of this beautiful golden tart.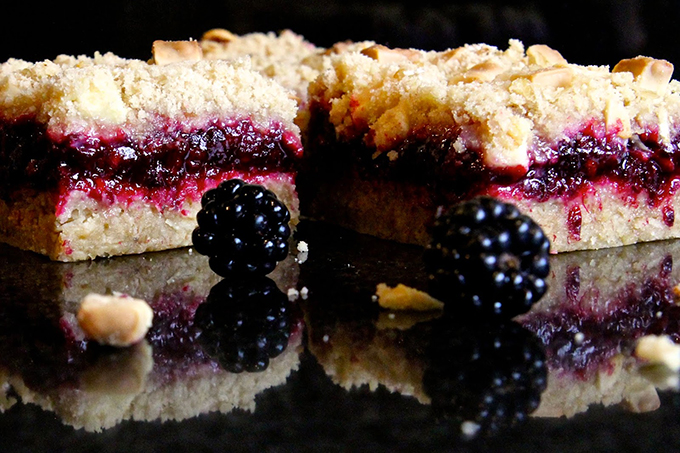 Kate, the Gluten Free Alchemist, wows yet again with this stunning Blackberry & Apple Oatie Crumble Slice made with berries foraged from about fifty yards down the road from her house. You can't beat wild, locally foraged fruit – I remember growing up on the stuff during my rural Canadian childhood!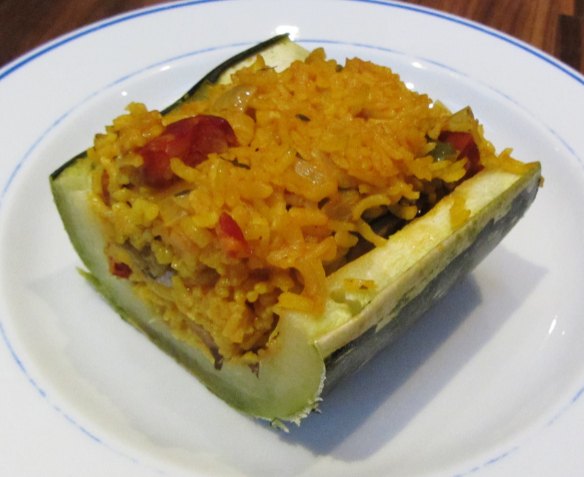 Corina over at Searching for Spice turns a marrow, picked from her local pick-your-own farm shop, into this delectable chorizo Spanish Rice Stuffed Marrow for her family dinner. Marrows can sometimes be uninspiring, but Corina certainly got creative here with hers!
Get the recipe.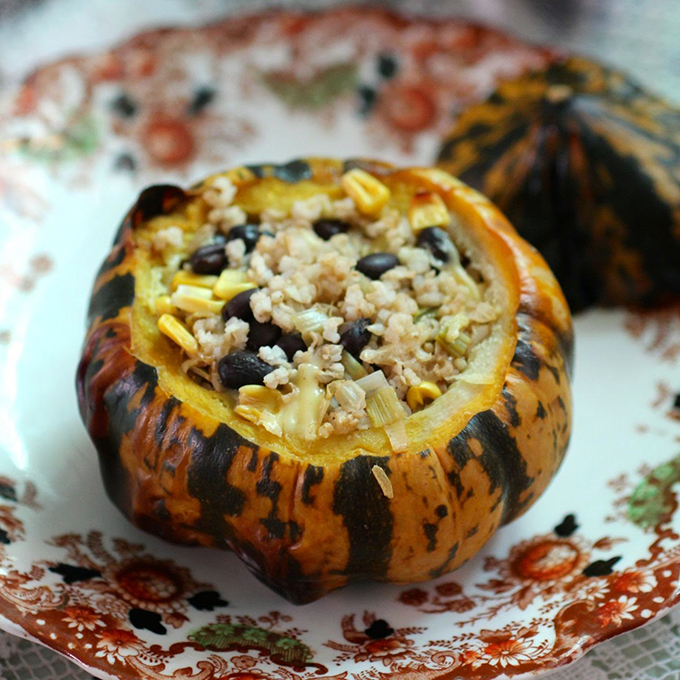 Johanna over at Green Gourmet Giraffe always dishes up a delectable feast, and last month (Vegan Mofo in her native Australia) she assembled these gorgeous stuffed squash with tex mex rice and beans for her family. The squash and leek for this recipe came from her nearby farmers market and the lemon from their backyard. How wonderful to grow lemons in your back yard!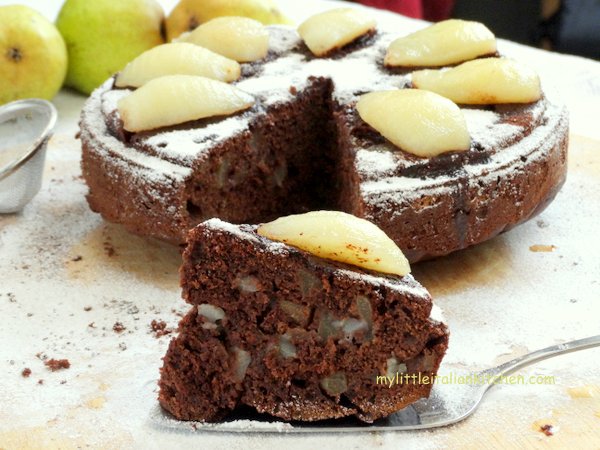 Using locally grown pears Alida at My Little Italian Kitchen whips up this superb chocolate and pear cake, a delicious and timeless classic. Her foodie creations always have me wanting to rush over to her house and bang on the door to be let in and have a taste!  I love the flecks of pear in this cake, and how they are arranged on the top in decoration. Beautiful!
Get the recipe.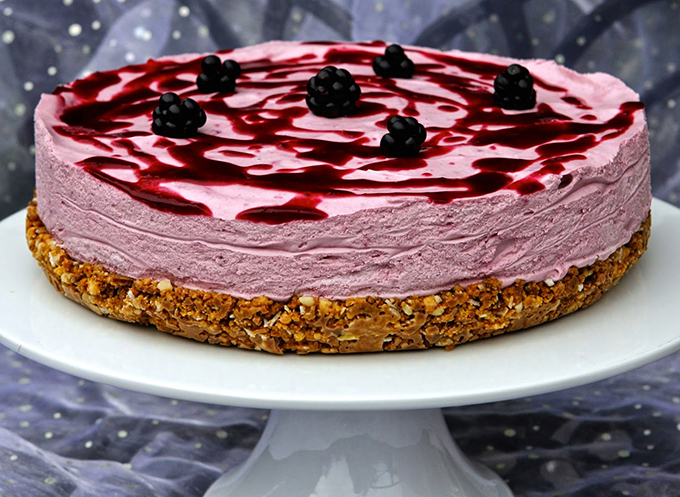 Kate, the Gluten Free Alchemist, never fails to impress with her culinary creations. Just take a look at this Blackberry-Coconut Chocolate Nobble Cheesecake – don't you just want to grab a spoon and dig in! Made with foraged blackberries and coconut cream – it could almost be considered good for you!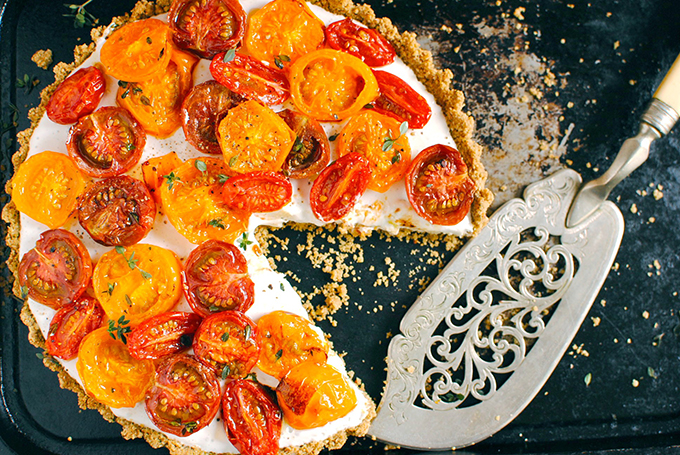 Using tomatoes grown just down the road from her, Kellie from Kellie's Food to Glow makes this fantastic tomato tart with a seed and nut herb crust. Look at those colours – this dish is simply bursting with flavour and nutrition. I urge you to visit Kellie's website – everything she makes is inspirational.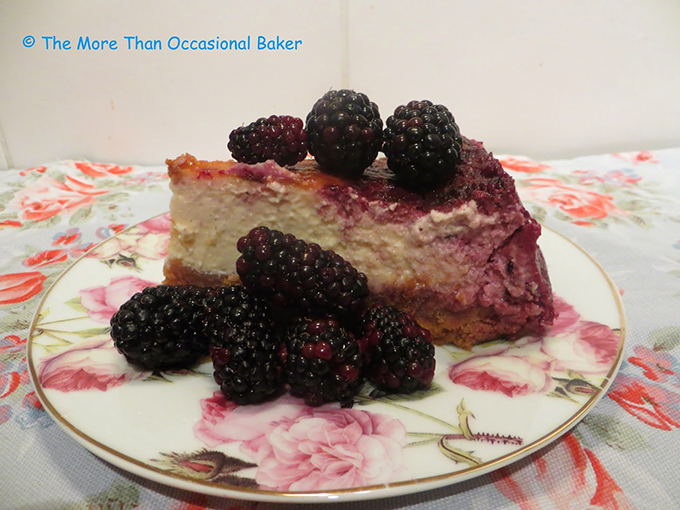 Blackberries picked from her colleague's garden feature in this blackberry, lemon and vanilla cheesecake by Ros, The More Than Occasional Baker. I love the colour the blackberries give to the dish and the flavour combination sounds superb!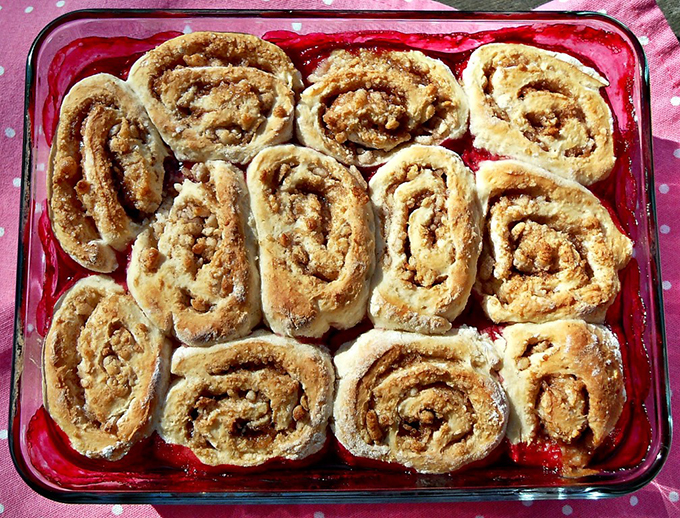 Camilla over at Fab Food 4 All also uses foraged blackberries in a rhubarb and blackberry spiral cobbler. Oh I could go a bowl of this just now! Look at those colours and that cobbler topping with little chunks of marzipan throughout looks delicious!
Get the recipe.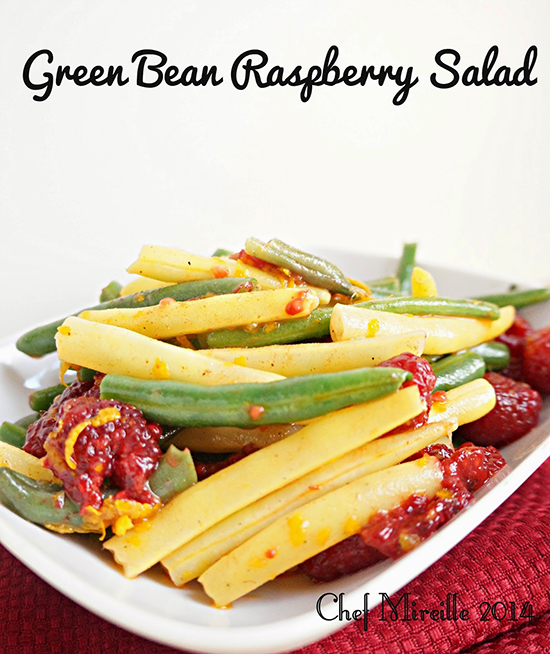 Away across the pond Chef Mireille visits a local pick-your-own farm shop and combines her bean harvest with raspberries for a rather intriguing salad! Love the colours here.
Get the recipe.

If you would like to get involved in the Shop Local Food Blogging Challenge you can find more information, the rules and the monthly linky over on the official challenge page. We've also got a Pinterest board where all entries get shared. A great big thank you to everyone who participated last month – I love seeing the variety of recipes you create with your local produce. You are always an inspiration!
Follow Elizabeth's Kitchen Diary's board Shop Local on Pinterest.


If you want to be kept up to date on my recipes, occasional craft tutorials, adventure stories and giveaways then please subscribe to my weekly newsletter; it gets sent out every Monday morning if there is new content. Your email address won't be passed on to anyone, you will never be spammed and you are free to unsubscribe at any time, no questions asked. Make sure you confirm your subscription or you won't receive the newsletter – if it hasn't arrived check your junk mail folder.
[wysija_form id="1″]