Common periwinkles: aka winkles, buckies, willicks or wilks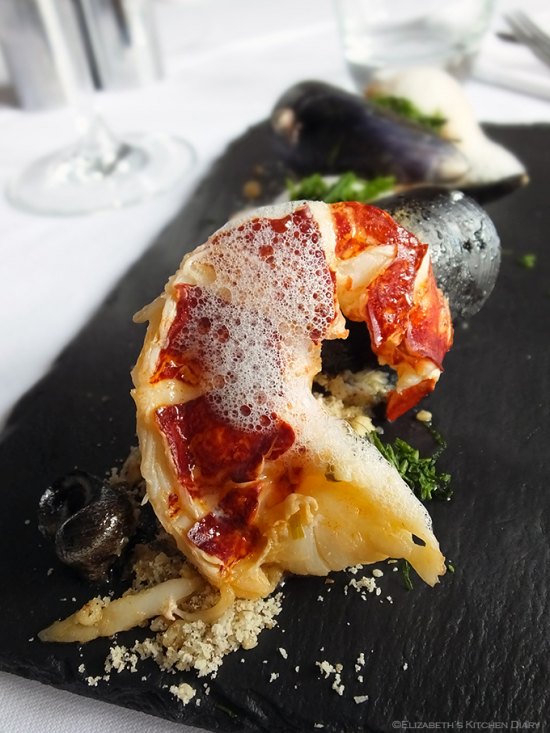 Last week I went on a grand foodie adventure around my island home, following The Shetland Food Trail and researching articles for the 60 North magazine and the Taste of Shetland website which I am a regular contributor to. I spent the weekdays traveling on my own except for the Friday when I brought a friend with me on the 90 minute – both ways! – journey to Scotland's most easterly isles – the Out Skerries (so much fun!). I
Being self-employed I designated the weekend "bring your daughter to work" weekend, and she accompanied me on the remaining food trail adventures, all of which were live instagrammed when I could get wifi access. (You can find me on Instagram here).
We had lunch at the Scalloway Hotel, located in Shetland's old capital of Scalloway, where, since I was taking foodie photographs for a magazine, I opted for the posh menu.
I had no idea what to expect when we placed our orders, and imagine my surprise and delight when this 'Shetland Seashore' starter was placed before me! A perfectly cooked Shetland scallop, two Shetland mussels, a crab claw, lobster tail and sea water foam! Dotted around the black slate on which the starter was beautifully presented were several winkles.
Neither of us had ever had a winkle before, so we both gave them a try. Me – I'll eat them again, DD (age 7) would prefer not to, but top points for at least trying it! You can read about The Shetland Food Trail – My Grand Foodie Adventure here.
If you've visited Shetland (or live here) and you've had a fantastic foodie experience, local producers, restaurants, cafes and retailers need your vote! This year will see the first Shetland Food Champion Award where the establishment/producer with the most votes wins. The winner will be announced at the annual Shetland Food Fair in November. Click here for more information and to vote.
This week, for PODcast's alphabet photography project, W is for Winkles.
A is for… Adventure
B is for… Brave
C is for… Coast
D is for… Derelict
E is for… Education
F is for… Fishing Industry
G is for… Green
H is for… Helicopter
I is for… Iron Age
J is for… Jelly Sweets
K is for… Kohlrabi
L is for… Lynn
M is for… Marmoset
N is for… Noise
O is for… Orangedale
P is for Puffin
Q is for Quarry
R is for… Ruins
S is for Sculpture
T is for… Time
U is for… Up Helly Aa
V is for… Valhalla
If you want to be kept up to date on my recipes, occasional craft tutorials, adventure stories and giveaways then please subscribe to my weekly newsletter; it gets sent out every Monday morning if there is new content. Your email address won't be passed on to anyone, you will never be spammed and you are free to unsubscribe at any time, no questions asked. Make sure you confirm your subscription or you won't receive the newsletter – if it hasn't arrived check your junk mail folder.
[wysija_form id="1″]