I've always had a fascination with how things work. Combine this with a very active imagination and a creative streak and some strange and wonderful things happen.  When I was little (around ten years old?) I used to have a tiny clock next to my bed and it quietly tick-tock tick-tock'd me to sleep every night. I used to imagine that the sound was made by tiny little Snow White dwarfs with pick axes digging away in the goldmine inside the clock. It's a mechanical sound which has always enchanted me.
I also have a tendency to re-purpose things. So much so that friends often save random bits and bobs for me instead of throwing them out. One of the random things I was gifted once was a box of broken wrist watches. This box sat in my craft drawer for about six months before finding itself being used in our wedding!
My husband and I were married recently in a small ceremony with close friends and family followed by a wonderful meal and overnight stay in a local hotel. We have a bit of a flair for the dramatic and unusual, our family, so we had a steampunk wedding. For those who don't know, steampunk is a science fiction subculture combining all the awesomeness of Victoriana with a futuristic twist. Just imagine steam powered flying machines, ray guns and lots of clockwork mechanisms.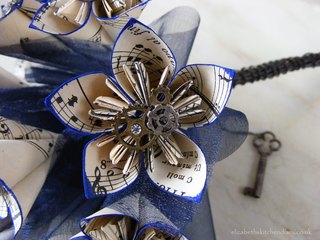 Wedding preparations involved a great deal of sewing, altering and re-purposing. You can see the final results in our public wedding album here, should you wish, but I'll feature a few of the details in this blog post.
I understand it is traditional for the father-of-the-bride to wear a boutonnière, a single flower pinned onto the jacket lapel. No one else in the wedding party was wearing real flowers (my own wedding bouquet being made from paper, buttons and reclaimed fencing wire – click here for the tutorial) and so I got creative and made one.
The components for this steampunk boutonnière came from a very tacky clock picked up at our local charity shop for a whopping 50 pence and from the coiled spring in a watch. It took me all of 15 minutes to make the boutonnière using every bride's essential tool: super glue.  All in all I think it was rather effective, although in hindsight I would have glued the pin on in a different location as it leaned to the side somewhat while being worn. The clock hands are set to two o'clock because that's what time we got married.
Clocks and cogs featured in my bridesmaid's outfit too, with a clock face and pheasant quill pen re-purposed from another steampunk costume affixed to the top hat, gears sewn onto the collar/lace cravat (made from a lace collar off an old shirt) and a fully functioning pocket watch attached to the altered waistcoat (altered in that I added corseting to the back and replaced the original buttons with brass ones).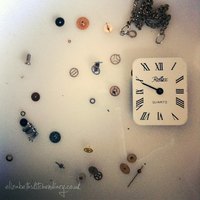 My own dress involved watch gears as well, sewn onto the front of the bodice like little metal beads. These gears came from the broken watches my friend had given to me and I took great delight in getting inside and removing all the goodies which were hidden beneath with a pair of tweezers!
Then there was the cake! My bridesmaid had the very talented Angela at Angel Cakes custom make the top hat shape, but requested that it be left unadorned so she could decorate it herself. She made a pocket watch for the front, as you can see, a giant gear for the side and plenty of white chocolate cogs and gears to decorate. She even made a little bride and groom out of fondant (which were originally on top of the cake when we first saw it). A fantastic wedding cake, wouldn't you agree?
Yes, I do love clocks and watches. My husband wore a beautiful specimen of a pocket watch borrowed from my crafty friend Jaydee67's lovely son, but I am thinking I might have to buy him one of his very own as it looked so fetching. Perhaps something like one of those found on The Watch Hut, the UK's largest watch website. They've carried quite an impressive range of pocket watches in the past, I see from searching their website, although there appears to only be two models available at the time of writing this. I quite like the Sekonda one with the visible cogs and gears. I promise I wouldn't smash it up to get at the bits inside!
I do believe the humble pocket watch should make a comeback. There's just something very romantic and stylish about them.
This is a sponsored post.