A delicious comfort-food vegan shepherdess pie.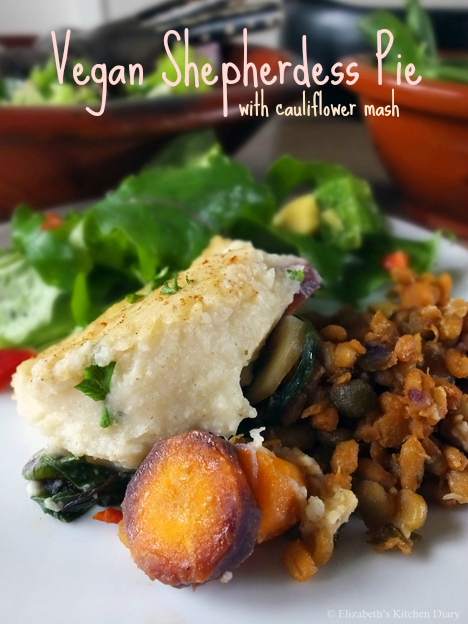 There is a definite hint of Autumn in the air. The days are getting cooler and the Shetland landscape is turning from leafy green into shades of burnt umber, russet and gold while the peat hills are covered in glorious flowering purple heather.
Colder days require comfort food.
I'm a big fan of traditional shepherd's pie – a layer of spicy beef mince topped with buttery sautéed vegetables finished off with a heaping tower of creamy mashed potato. The ultimate comfort food, with a great bowl of leftovers scoffed later on the evening while watching Netflix (coated in lashings of brown sauce, of course).
I sometimes make a vegetarian version using a tin of borlotti beans and sprinkle the mashed potatoes liberally with grated mature cheddar cheese. Absolute calorific madness.
This time, though, I made something a little different, something a little healthier.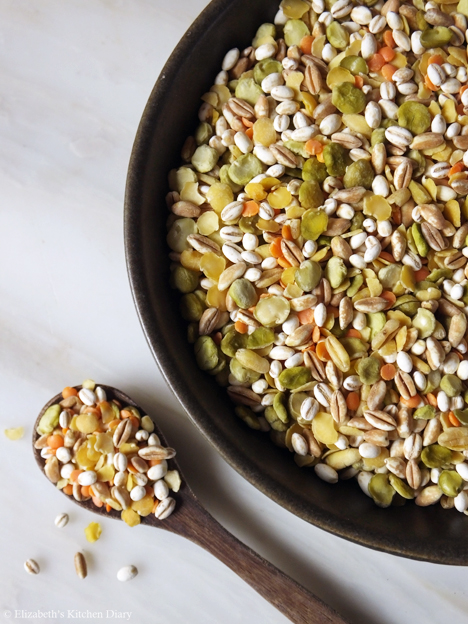 Recently a box of Clearspring goodies arrived for me in the post to play with. One of the boxes was one of their new Quick Cook organic grains and pulses, a mixture of emmer wheat (aka Farro – a type of spelt), barley, yellow split peas, green split peas, red split lentils and Kamut khorasan wheat. These grains and pulses are partially cooked with steam and hot air to reduce the cooking time by two-thirds whilst still retaining their nutritional content. They only take ten minutes to cook! No soaking required!
This is a pretty special product so I wanted to prepare a pretty special meal with them.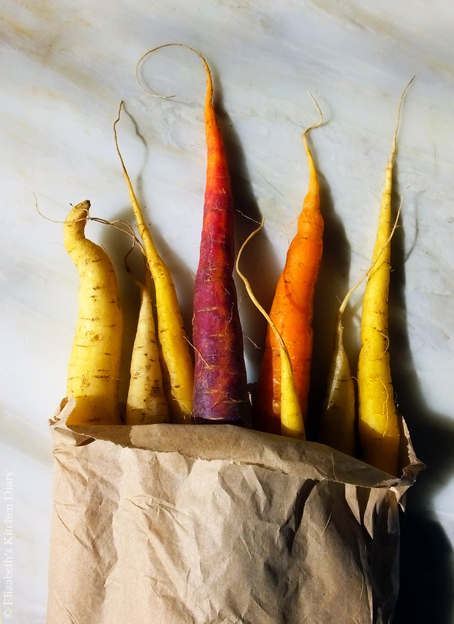 We are very lucky in that we get a weekly delivery of organic soft fruits and vegetables from a local supplier each Friday. It's peak season just now so there are plenty of delicious things to experiment with. I make no special requests with my veg box order, I am happy to take whatever is in season, which means I have no idea what I'll be eating each week. Every Friday is like Christmas!
Last week a cauliflower (complete with little green caterpillars), a bulb of garlic, mixed red and yellow tomatoes, a brown paper bag filled with with the most gorgeous rainbow carrots and a bag of rainbow chard appeared in the veg box (along with much, much more!). These were combined with the quick cook grains and pulses to make a delicious vegan shepherdess pie.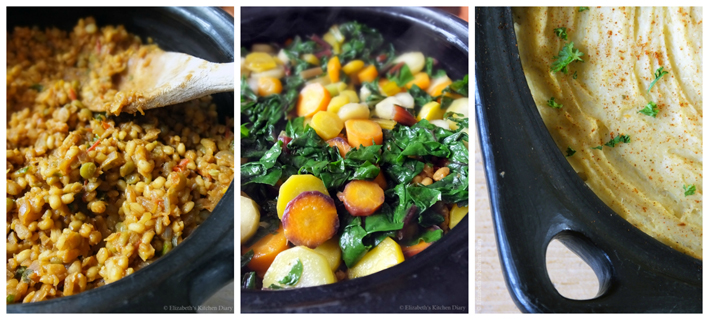 The vegan shepherdess pie was amazing!
I confess that when I started cooking I didn't know where I was going to go with the dish, but oh my goodness – I am really pleased with myself for this creation! Even my husband was impressed and had seconds (I might have had thirds). Served with fresh peas (still in their pod from the veg box, we eat those babies like sweeties!) and a lovely mixed leafy salad (also from the veg box) this meal went down an absolute treat.
The quick cook grains and pulses are flavoured simply with fresh tomatoes, onions, garlic, fresh basil and organic Japanese Tamari soya sauce before being topped with rainbow chard and gently sautéed rainbow carrots for a touch of colour and gorgeous fresh flavour. The whole dish is finished off with a generous layer of creamy garlic cauliflower millet mash and a sprinkling of paprika for colour.
The flavour improves the following day and leftovers reheat very well.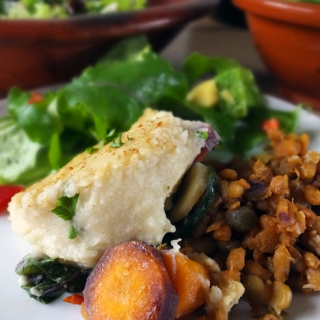 Vegan Shepherdess Pie with Creamy Cauliflower Mash
A delicious whole-food vegan shepherdess pie with layers of whole grains and vegetables topped with a garlic cauliflower millet mash.
Print
Rate
Ingredients
Affiliate Links
This recipe card may contain affiliate ingredient and equipment links. As an Amazon Associate I earn from qualifying purchases.
Instructions
For the Mash
Place the cauliflower florets, millet, salt and garlic in a medium sized saucepan and cover with the vegetable stock.

Bring to the boil, reduce heat and simmer, covered, for 30-40 minutes until the liquid has been absorbed. Occasionally check to make sure more liquid is not needed.

Leave to stand, uncovered, for ten minutes to allow the remaining moisture to evaporate off. The mixture will have the look and consistency of mashed potatoes. Stir in the parsley and set aside.
For the Grain & Pulse Layer
Prepare the Clearspring Quick Cook Organic Grains & Pulses according to the packet directions. Drain and set aside.

Heat sunflower oil in a sauté pan over a medium-high heat.

Gently sauté onion until it begins to soften, about five minutes. Add the garlic and celery and sauté a few minutes more.

Add tomatoes and continue to sauté until the tomato softens.

Preheat oven to 190 C.

Stir in the Clearspring Quick Cook Grains & Pulses and the Tamari Soya Sauce. Cook until the mixture thickens and the soya sauce is evenly distributed, about 2-3 minutes.

Stir in the torn basil leaves and spoon the mixture into the base of a casserole dish.
For the Vegetables
Heat sunflower oil in a sauté pan over a medium-high heat. Gently sauté the carrots until they begin to soften (about five minutes), but they still retain some of their crunch. You don't want mushy carrots.

Add the rainbow chard and cook until just wilted. The chard should still be vibrant and green.

Arrange vegetables on top of the grain & pulse layer of your casserole.
Assembly
Top your vegetable layer with the cauliflower millet mash.

Using the tines of a fork draw a decorative pattern on the top, if you wish.

Sprinkle with paprika, if desired, and bake for 35-40 minutes in the centre of the oven.

Sprinkle with fresh parsley before serving with a leafy green salad.
Environmental Information
OTHER QUICK COOK GRAINS & PULSES RECIPES
Quick Cook Organic Grains & Pulses Burger 
Seven Vegetable One Pot 
You might also like this vegan lentil dahl recipe!
If you want to be kept up to date on my recipes, occasional craft tutorials, adventure stories and giveaways then please subscribe to my weekly newsletter; it gets sent out every Monday morning if there is new content. Your email address won't be passed on to anyone, you will never be spammed and you are free to unsubscribe at any time, no questions asked. Make sure you confirm your subscription or you won't receive the newsletter – if it hasn't arrived check your junk mail folder.
[wysija_form id="1″]
Elizabeth's Kitchen Diary received the Clearspring Quick Cook Grains & Pulses and Tamari Soya Sauce for review. All opinions expressed are our own. This is not a paid post.