In collaboration with Organic UK Food.

The organic food industry in the UK is growing year by year. We all know organic is better for us, it's better for animal welfare, it's better for the environment, and contrary to popular belief, it doesn't have to be bad for the pocket book!
This month is Organic September, and Organic UK Food is encouraging us to explore the benefits of eating organic.
They have some #ThriftyOrganic tips:
1. Plan ahead. With a bit of forward planning of your week's meals you will be able to make full use of your shopping basket, making food go further and avoiding waste. For example, buy a whole chicken and use for different meals throughout the week – a Sunday roast for family and friends, chicken pasta bake for a mid-week meal and make stock for a soup or risotto.
2. Eat the season. By eating what's in season you'll be buying organic fresh produce when it's in abundance so it will be at the best price and best quality.
3. Bulk out your Bolognese. When you buy organic mince for a Bolognese, chuck in a few handfuls of lentils or extra veg to make it go further, add chickpeas to spicy chicken dishes or haricot beans to a chorizo stew. Be inventive with your combinations.
4. Order an organic veg box. Organic vegetable box schemes have prices that compete really well with organic supermarket produce. Not only will you have a selection of fruit and vegetables perfect for creating meals but the boxes get delivered right to your door and they can have significantly lower food miles. Our organic vegetables are grown just down the road from our house!
5. Buy in bulk. Save money and buy in bulk with friends and family from a wholesaler.
My fellow food bloggers have been taking up the #ThriftyOrganic challenge, and I had full intentions of participating too, but alas, time restraints (I'm on the boat tonight for a holiday!), a failed attempt at locating enough organic food in my local Tesco and a completely disastrous family meal (this is why I don't host dinner parties!) meant that I couldn't share a meal post. I did try, honest.
During the summer months we enjoy the lovely contents of our weekly organic vegetable box and we source most of organic produce from our local wholefoods shop and healthfoods store. Supermarkets are not the only source of organic food! My top tip – go straight to the producer, cut out the middle man and get the most affordable quality produce you can. This also means that the producer gets paid a fair wage!
Here's what my blogging colleagues have been doing:
Utterly Scrummy Food for Families Thrifty Meal Plan
7 Days of Organic Eating by Feeding Boys & a Firefighter
Hedgecombers Thrifty Organic Challenge
Do you have any #ThriftyOrganic tips?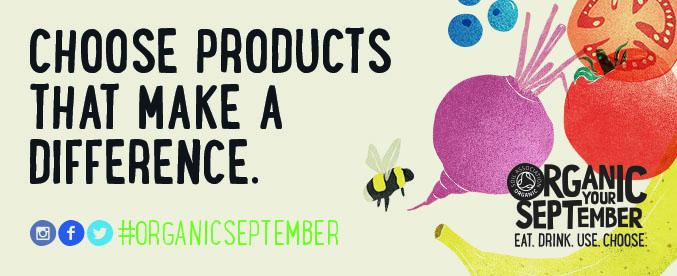 Facebook: /OrganicUK
Twitter: @OrganicUKFood
Instagram: @OrganicUKFood
If you want to be kept up to date on my recipes, occasional craft tutorials, adventure stories and giveaways then please subscribe to my weekly newsletter; it gets sent out every Monday morning if there is new content. Your email address won't be passed on to anyone, you will never be spammed and you are free to unsubscribe at any time, no questions asked. Make sure you confirm your subscription or you won't receive the newsletter – if it hasn't arrived check your junk mail folder.
[wysija_form id="1″]
Disclaimer: this is a sponsored post.