In collaboration with Volkswagen.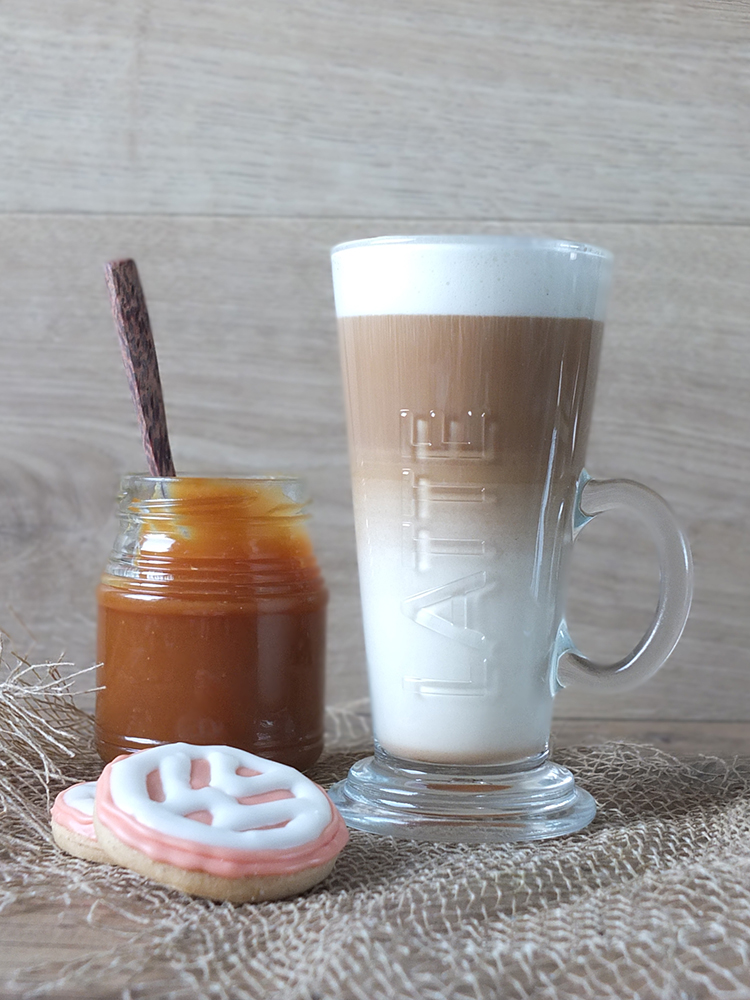 I am a self-confessed caffeine addict. I love my morning coffee(s), and I frequently top up my blood caffeine levels throughout the day with assorted lattes or a cappucino.
As a recent treat to myself I bought a new milk frother. It's a rather fantastic little jug that you heat the milk up on the hob, push the plunger up and down a few times and then you've got all the foamy milk you could ever want.
This has transformed our family hot chocolates, and it now means I can make my husband and I some rather lovely homemade lattes without having to take a drive into town to visit a cafe.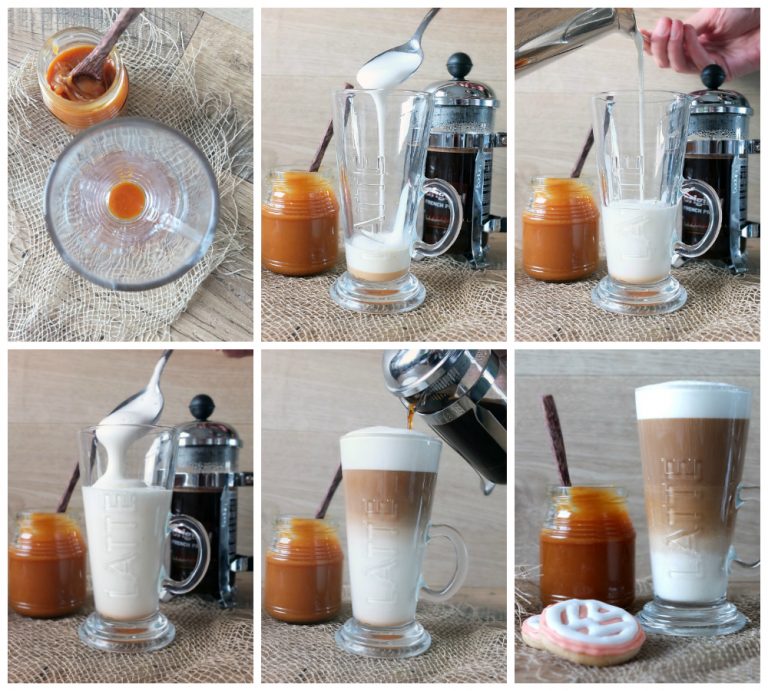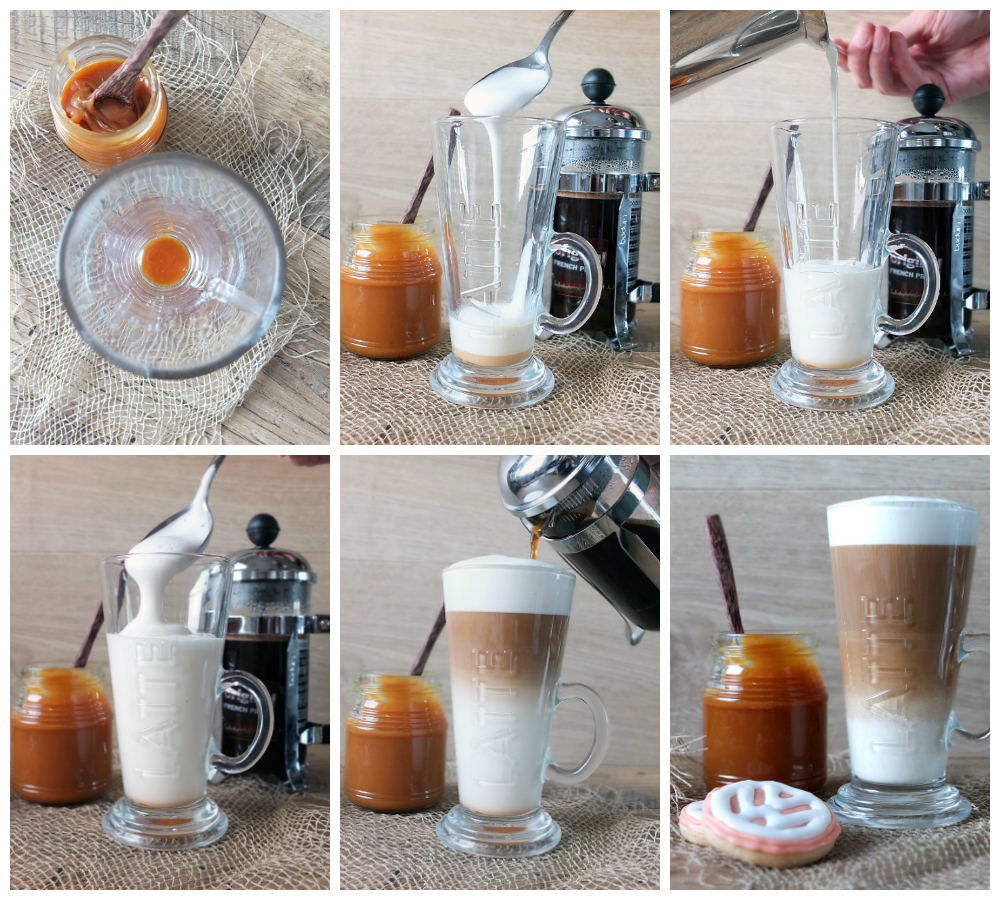 You don't need any fancy equipment to make your own lattes at home, to be honest. A simple French Press will do as you can make your espresso (lattes are always made with espresso) and froth your milk in it too. Failing that, if you have a microwave you can fill a jar half full with full fat milk, pop the lid on and shake, shake, shake until it froths. Microwave the foamy milk for 30 seconds to heat up, and continue with the recipe.
If you're adding any flavourings to your latte, these should always be added to the empty cup at the very beginning. Mix it with a little of the hot milk to dissolve it first.
Lattes are always served in special tall latte glasses too, so that you can see the layers of espresso and milk do their thing. It's quite mesmerising to watch.
I'm sorry I haven't shown any fancy latte decorations. Now that I've got the art of making a latte at home sorted out I would like to experiment with decorating the top. Watch this space!
For more travel-inspired recipes please visit the Volkswagen Pinterest community board – Food Bloggers for Volkswagen.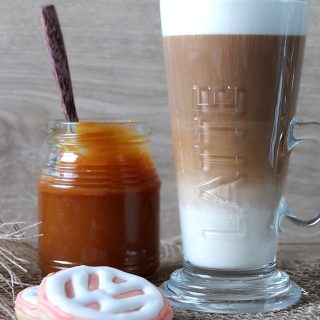 Salted Caramel Latte
A delicious caffeine kick with a hint of salted caramel. Ideal for home or on the go!
Print
Rate
Ingredients
for the salted caramel sauce
Affiliate Links
This recipe card may contain affiliate ingredient and equipment links. As an Amazon Associate I earn from qualifying purchases.
Instructions
Boil your kettle and prepare the espresso.

Heat milk to between 60-70 C. When hot, froth your milk with a milk frother. If you don't have one of these, you can pour cold milk into a lidded glass jar, shake it and microwave for 30 seconds to heat it. Failing that, you can create milk foam by pouring the hot milk into your French Press coffee maker and pressing the plunger a few times. Voila!

After the kettle has boiled, switch the heat off and place two teaspoonfuls of salted caramel sauce in a small pan over the warmth to melt.

Pour one teaspoonful of the salted caramel sauce into the bottom of two latte cups. Stir with a little hot milk to dissolve.

Spoon two dessert spoons of foam into the bottom of each cup. Holding back the foam, pour the hot milk into the cup until it's 2/3's full.

Top with the remaining foam. Carefully pour in the hot espresso and watch as the coffee mixes with the hot milk, creating layers in your latte.

Enjoy!
to make your own salted caramel sauce
Heat the sugar in a small saucepan over a medium-high heat using the handle of a wooden spoon to slowly draw circles in the sugar as it melts.

When melted, allow it to boil until it turns a gorgeous golden brown.

Add the butter and stir until melted. Slowly add the double cream and stir until the mixture thickens. Add the sea salt and stir well.

Transfer to a small glass bottle and leave to get to room temperature before storing in the refrigerator. Sauce will keep for two weeks in the fridge.
Environmental Information
This is a sponsored recipe post commissioned by Volkswagen, although all thoughts and opinions expressed are our own. Thank you for supporting the brands who make it possible for me to do what I love: mess up my kitchen and share recipe stories.