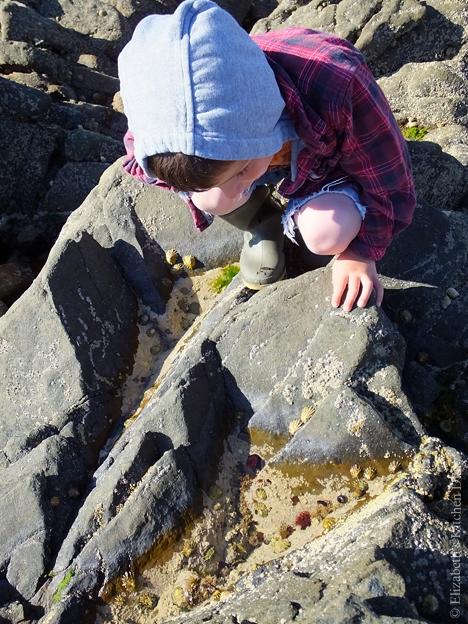 We've had some pretty glorious weather up here in Shetland this summer. Temperatures have regularly been hitting the 20's, which, in Shetland, is considered a heat wave! On one fine sunny day we decided to go rock pooling at Leebitton, a place we'd never been before but we were told by a nature loving friend that it was the best place in Shetland for rock pools at low tide. Checking the tide tables and weather and we were in luck – low tide was early afternoon and the sun was blazing.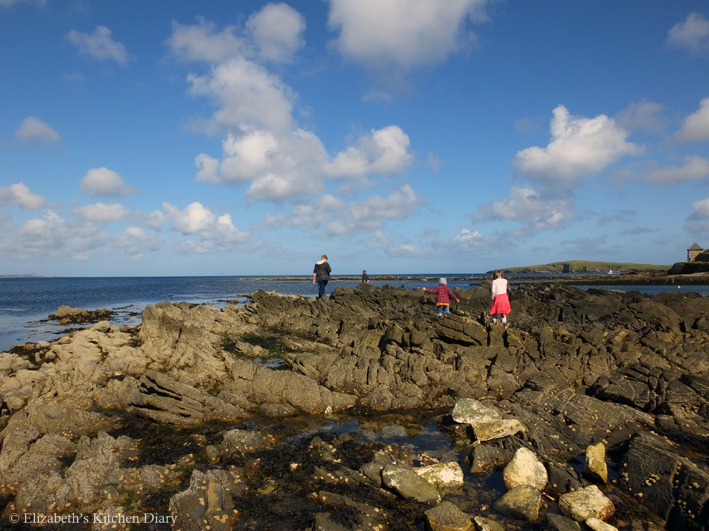 We were on the hunt for crabs (and anything else we could possibly find) but mostly crabs. The first rock pool we looked in we saw a crab, but he quickly scurried away under thick seaweed so we couldn't catch it. We did, however, find plenty of sea anemones, limpets, barnacles, different coloured seaweeds and a live jelly fish – the kids loved this and they took turns squealing with glee and touching the jelly-like top. It was the first time any of them had touched a jellyfish before.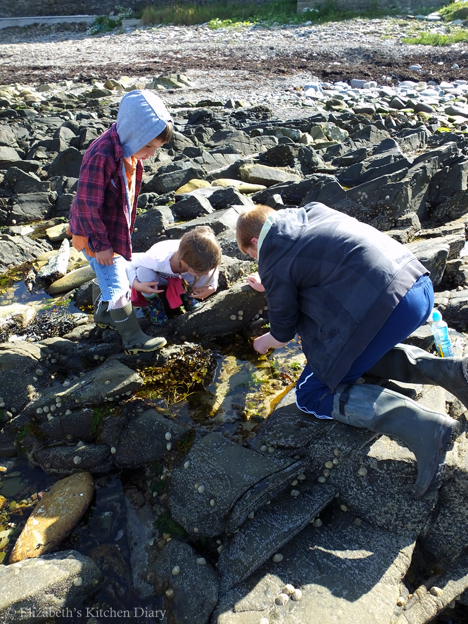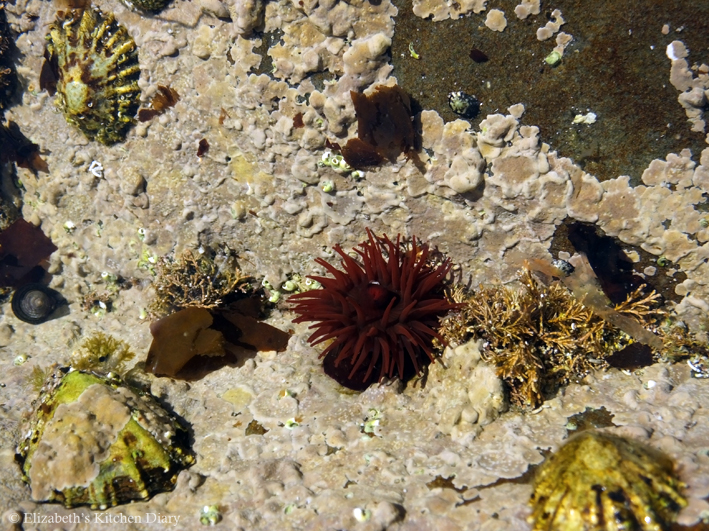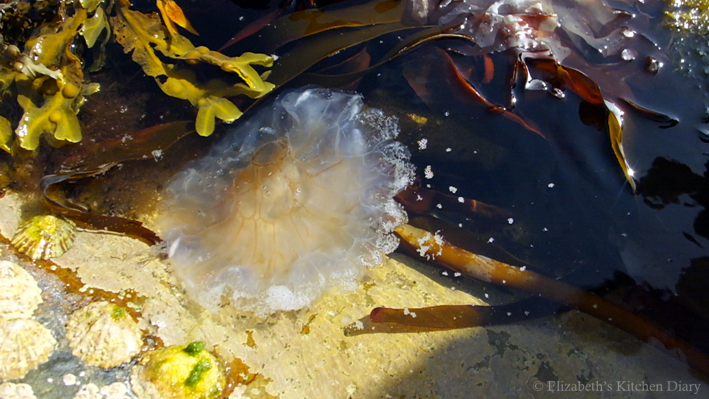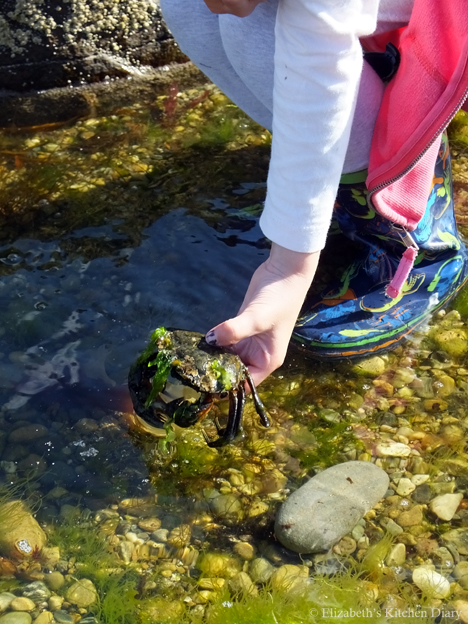 We did eventually find two crabs. We found a large dead one with seaweed growing on itthat the kids found fascinating. They spent ages touching and feeling how all the appendages worked – you couldn't do that with a live crab!
Our eldest (14) went off on his own quietly looking for a hermit crab. He went from rock pool to rock pool picking up every snail shell he could find and he eventually found one that was occupied, much to the delight of the younger children who watched its little legs wiggling in the shell. When the hermit crab was put back into the rock pool it went scuttling off.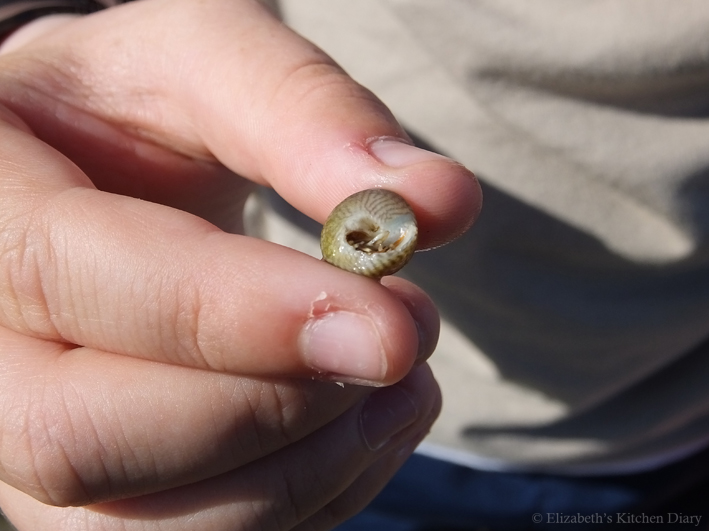 Other wildlife we saw that day included:
• diving gannets (called solan geese here in Shetland) beautiful large white birds with black tipped wings and a yellow head.
•  a flock of Arctic terns (tirricks, in Shetland) who wouldn't let us go very far out on the rocks without shrieking at us to not come any closer.
•  rock pippits – little brown birds that flit about the shoreline
•  oystercatchers (shalders) – with their distinctive bright orange eye and long orange beaks
•  a whole family of seals – basking on the rocks on the shoreline they looked like giant prehistoric slugs!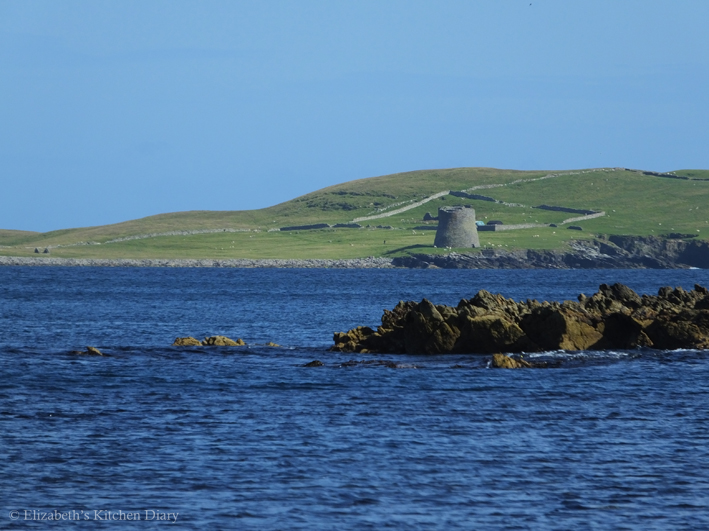 Across the water from Leebitton is the island of Mousa which hosts the finest surviving Iron Age broch tower standing at 13.3 metres. It is thought this structure was built around 100 BC. I haven't yet had the pleasure of visiting it, but I do want to go at night and see the elusive storm petrels returning after a day of feeding at sea during the summer months. I hear this experience is quite magical.
COLIN THE CRAB
The reason we were looking for crabs on that fine sunny day was because the kids had been sent a copy of Colin the Crab pop-up book to review. Colin the Crab is the brainchild of Norfolk-based mumpreneur Susie Mason, who began her Gone Crabbing business five years ago at the kitchen table of her small cottage.
Spotting a gap in the market for high-end holiday souvenirs, Susie started producing kids' t-shirts featuring funky, seaside designs in bright, bold colours. Given crabbing is so popular with young visitors to Norfolk, Susie chose Colin the Crab as her brand identity.
Gone Crabbing has expanded and now includes a Totally Clawsome range of delightful home wares including crisp cotton tea towels, sturdy place mats and coasters, some rather snappy oven gloves, chefs' aprons, gorgeous mugs and cute paper napkins.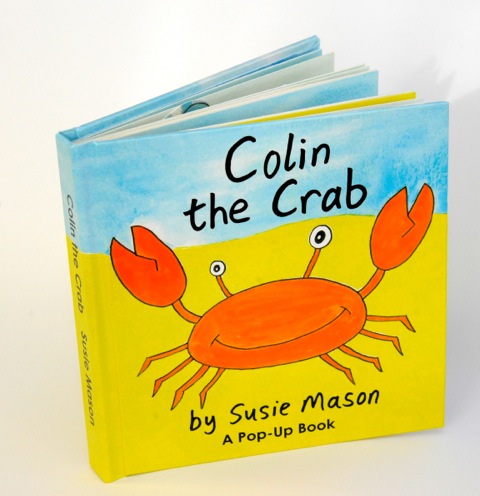 To celebrate World Oceans Day on June 8th of this year, Susie launched a new book about Colin the Crab featuring two of his seaside mates Sally the Starfish and Mike the Mussel. Beautiful illustrations throughout the book are brought to life with delightful pop ups by Robert Crowther.
The story is about Colin and his friends who are happily lounging in their rock pool, but Sally and Mike are taken away by children who are rock pooling and Colin gets very upset. Thankfully, Sally and Mike are returned to where they are found and all ends well. The story has a good message behind it, that we should treat nature with respect.
The story itself is very well written but I think it is aimed at an older audience than what you would expect a pop up book to be aimed at. My five year old refused to sit still as I tried to read it to him, preferring to play with the pop ups and look at the pictures, while my seven year old quietly sat and read the book from start to finish, thoroughly enjoying it. It is a long story for such a small book with quite a large amount of text on each page, but if you have an avid reader it's perfect.
Retailing at £7-99 you can pick up a copy at any Gone Crabbing shop in Norfolk or Suffolk, from any one of their 50 stockists throughout the UK or from their online shop.
Find them on Twitter and Facebook. 
Gone Crabbing have made this rather awesome video about how to go crabbing properly and I can't wait to try out their suggestions with my own children!
How to Go Crabbing by Gone Crabbing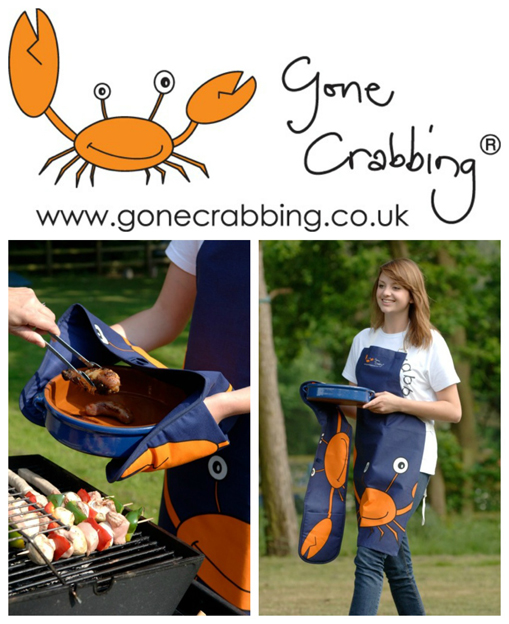 GIVEAWAY
Gone Crabbing have offered my readers the chance to win one of their Big Crab Apron and Double Oven Glove sets RRP £28. I too was sent one of these sets and they are adorable! They're made from a good quality cotton and the colours are bold and bright. They've become somewhat of a talking point in my kitchen!
How to Enter
For your chance to win one Big Crab Apron and Double Oven Glove set RRP £28 enter using the Rafflecopter form below. Come back and tweet about the giveaway every day for more chances to win!
Terms & Conditions
This giveaway is open to UK entries only. Entrants must be age 18 or over. The winner will need to respond within 48 hours of being contacted; failure to do this may result in another winner being selected.
The prize is offered and provided by Gone Crabbing. The prize is one Big Crab Apron and Double Oven Glove set. There is no cash alternative and the prize is not transferable.
If you need some help using Rafflecopter, here's a quick clip to show you how. Rafflecopter will pick the winner at random from all the entries received. I will be verifying entries and any automated entries or those who have claimed they have made the mandatory blog post comment and really haven't will be disqualified. It's mandatory!
Closing date is midnight on Monday 1 September 2014 and the winner will be announced that day.
a Rafflecopter giveaway

Don't forget to visit  Elizabeth's Kitchen Diary giveaways page for more fantastic prizes!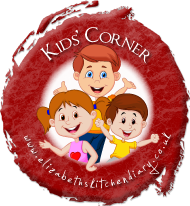 If you want to be kept up to date on my recipes, occasional craft tutorials, adventure stories and giveaways then please subscribe to my weekly newsletter; it gets sent out every Monday morning if there is new content. Your email address won't be passed on to anyone, you will never be spammed and you are free to unsubscribe at any time, no questions asked.
[wysija_form id="1″]
Elizabeth's Kitchen Diary was sent a copy of Colin the Crab for review. We also received a complimentary apron and oven glove set. All opinions expressed are our own. This is not a paid post.