The ProWare copper tri-ply pans range is timeless in appearance and the copper body offers superior heat conductivity. Here are ten reasons why I love my copper tri-ply pan range so much. In collaboration with ProWare.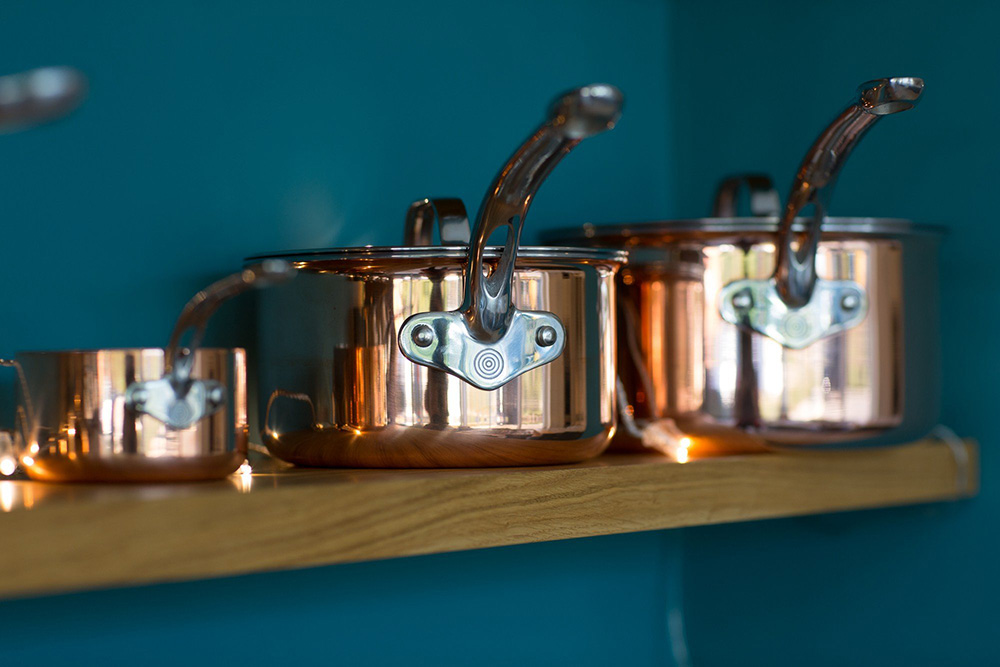 ProWare Copper Tri-Ply Pans Range
There is archaeological evidence that humans have been cooking with copper since the Neolithic times. Its use is well-documented in Ancient Egypt too.
There has been a huge surge in popularity of copper kitchenware over the last few years, and rightly so – copper is a beautiful, functional and durable material.
I've been cooking with my ProWare Copper Tri-Ply Range since 2013, and each of the pans is just as good today as the day that they arrived. Better so, truth be told, as the copper colouring has burnished into the most attractive patterns. Each pan is a visual work of art.
Regular readers will know I moved house this summer, and I used this opportunity to declutter. I only brought things with me into my new home that brings me joy in some way, and my ProWare Copper Tri-Ply Range was one of those things.
The latest addition to my beautiful copper tri-ply range is a 20cm saucepan, so I thought now would be perfect timing to tell you just why I love these pans so much.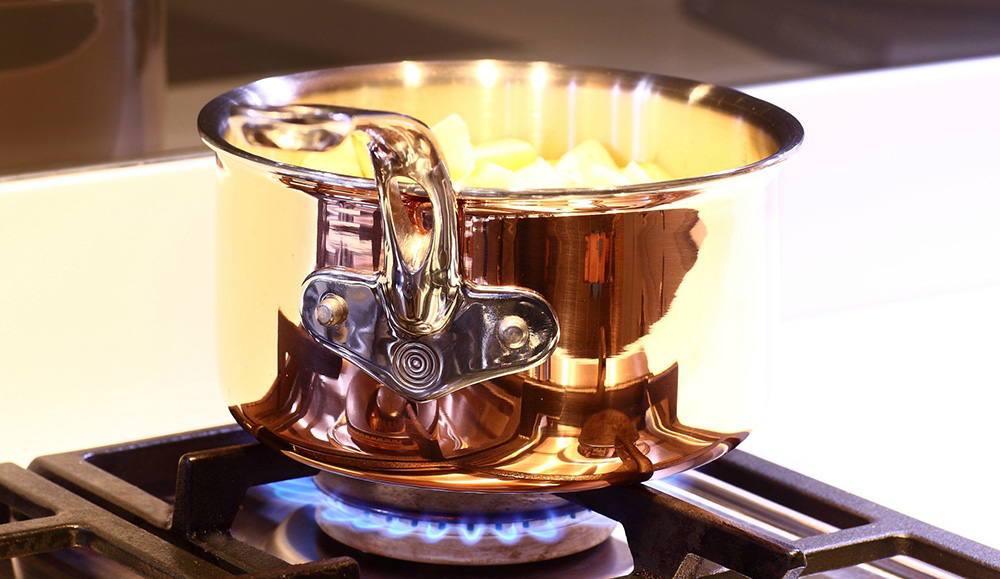 10 Things I love about my Copper Tri-Ply Pans
They're beautiful pans – visually. You can keep the copper outer layer bright and shiny, or let it burnish and age naturally.
Carefully engineered – three sheets of high-grade metals: copper, aluminium and stainless steel, are bonded together and deep drawn into a single piece body. This means that each material delivers its benefit throughout the entirety of the pan.
They'll never have a wobbly handle – the cast stainless steel handle is attached using stainless steel rivets inserted under 600 tonnes of pressure – you will never again have a wobbly handle!
Made for efficiency – the copper exterior and aluminium core work together to distribute heat efficiently and evenly.
Guaranteed performance – each pan comes with a lifetime guarantee. This cookware will see you through a lifetime of cooking and could even be passed on as heirlooms.
No more hot spots – high conductivity of copper means the body of the pan will heat much more evenly, reducing the formation of hot spots.
Versatility – these oven and dishwasher safe pans come in a variety of sizes for all your cooking needs.
Thoughtfully designed – the steep arch in the handle allows for easy stacking, while the eyelet where the handle meets the pan body disperses heat so that the handles don't get too hot. A hanging loop means you can display them beautifully on a pan rack.
They're easy to clean – the pans are dishwasher safe and you can use Brasso or a salt and white wine vinegar solution to restore the copper to its fabulous, warm glow.
They make for great gifts – they're the kind of gift that can impress even the most difficult to shop for.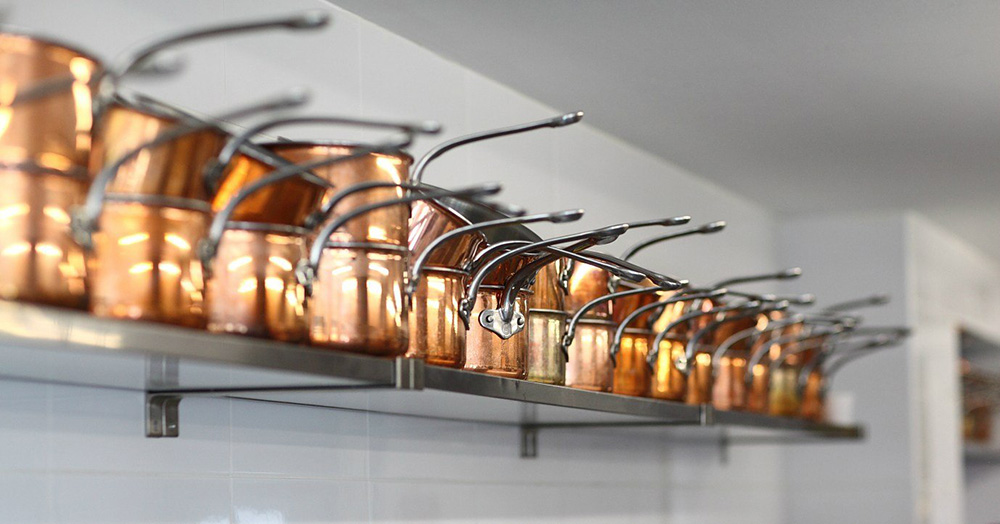 Did you know?
Copper is inherently antimicrobial. Many harmful microbes are unable to survive for more than a couple of hours when in direct contact with a surface made of copper or one of its alloys (brass and bronze). This has led to copper, brass and bronze often being used for frequently touched surfaces such as doorknobs, push plates and taps.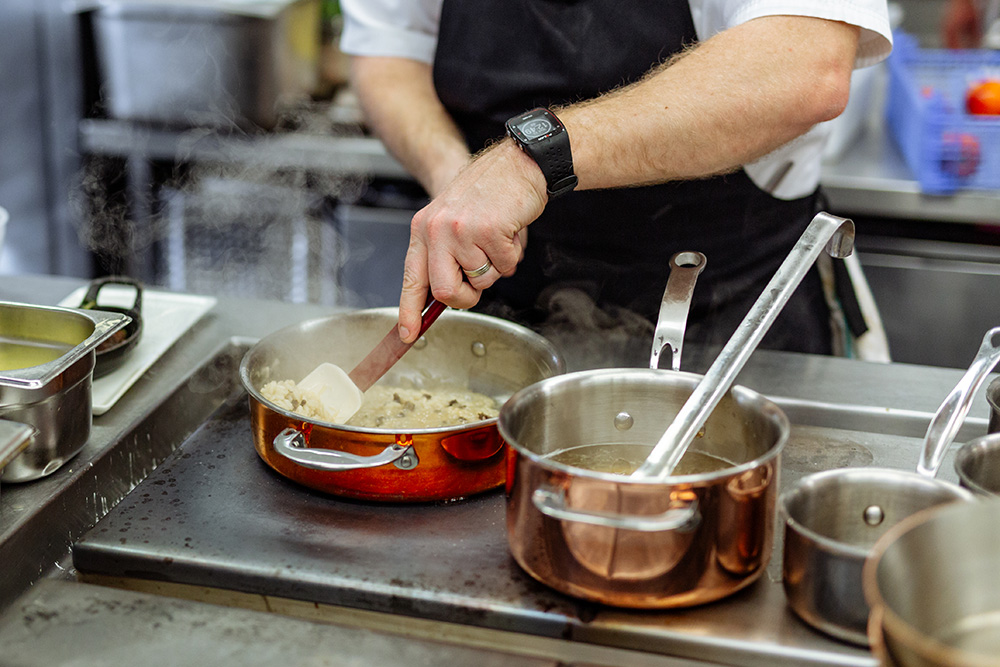 About ProWare
ProWare is a family-owned and run business with years of experience in the kitchenware industry. Knowledge and technical expertise accumulated in that time have been poured into the development of their cookware ranges. The ProWare ranges are carefully designed and engineered in Sheffield to the highest standards. They pride themselves on producing beautiful and professional-quality cookware that will last a lifetime.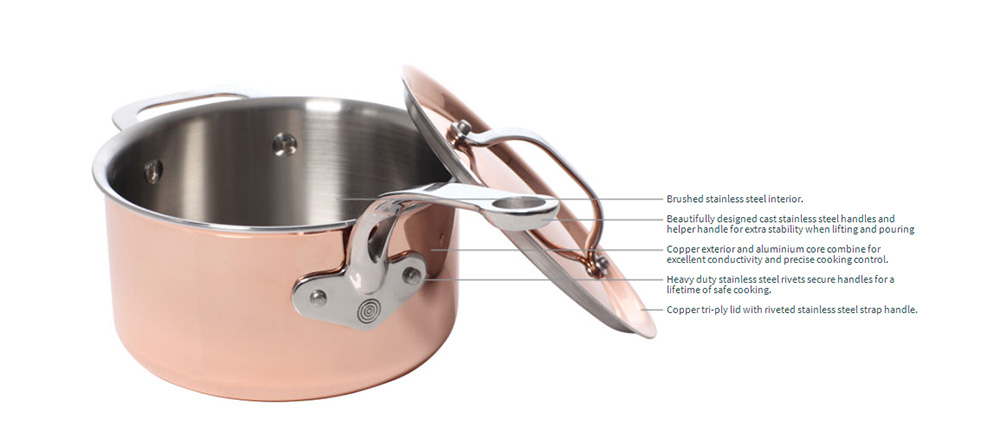 20 cm ProWare Copper Tri-Ply Pan product features
Suitable for all hob tops except induction.
Dishwasher safe.
Oven safe to 260°C.
Three-layer construction for efficient heat distribution.
Flared lip for easy pouring.
Cast stainless steel handle which has been arched for space-saving storage.
Helper handle for extra stability when lifting and pouring.
Heavy-duty stainless steel rivets provide lifelong durability.
Brushed stainless steel interior.
Copper Tri-ply lid with riveted stainless steel strap handle.
Lifetime guarantee.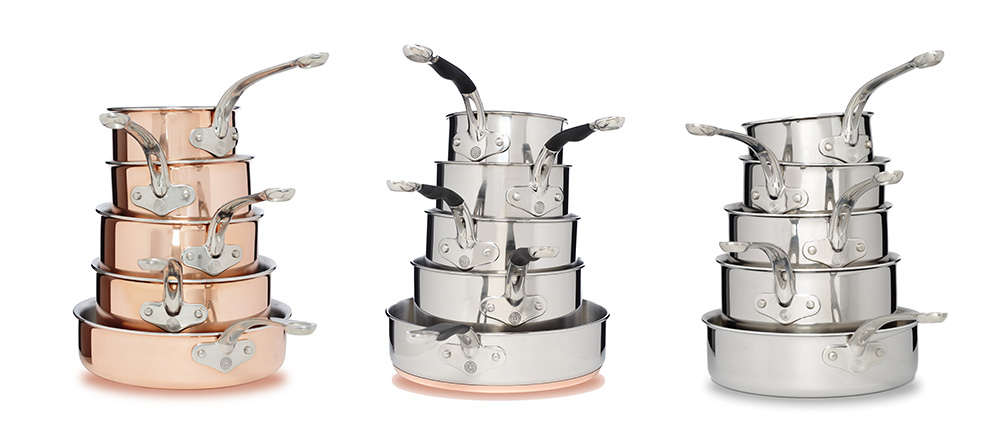 [amazon_link asins='B01LNEG36G,B01LLPYJ7C,B078H2GJC6,B0773R4BVX,B017ISI9V8,B018XR36FW,B018R3M2KW,B017ITMISM' template='ProductCarousel' store='elizskitcdiar-21′ marketplace='UK' link_id='e0475d27-5c78-4952-8d30-680fbb7432b1′]
What we love about the 20cm pan
The 20cm is a very versatile size pan. If you have hungry mouths to feed, this is the pan for you. ProWare knows that their pans can get quite heavy so they've added a helper handle to their larger saucepans, like this one, to give you that extra security when lifting. It's the perfect solution when cooking for the whole family!
Where to buy ProWare Copper Tri-Ply Pans
You can buy a wide range of copper tri-ply pans, as well as products from their other gorgeous ranges straight from the ProWare website. There is free shipping on orders over £50. Alternatively, you can find many of their collection available via Amazon.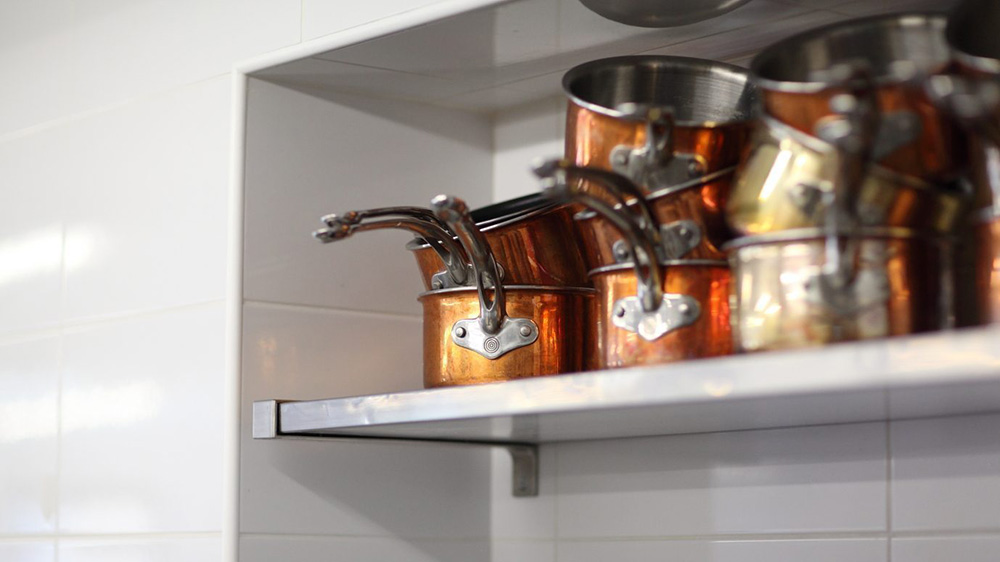 Giveaway: win a ProWare Copper Tri-Ply Saucepan worth £95
The lovely folk over at ProWare have kindly offered the chance for one of my UK readers to win one of their 20cm saucepans worth £95. To enter, simply fill out the Rafflecopter form below. Entering our giveaway indicates you have read and agreed to our Terms & Conditions. No purchase is necessary. Giveaway ends at midnight on Monday 28 October 2019 (that's Sunday night/Monday morning).
Elizabeth's Kitchen Diary has been compensated for hosting this advertorial/giveaway. All thoughts and opinions expressed are our own. Thank you for supporting the brands who make it possible for me to do what I love: mess up my kitchen and share recipe stories.