A touch of fire and a hint of sweet. This simple recipe is made with store-cupboard ingredients but it tastes utterly fantastic! Perfect for watching the game, or a Friday night in with the family. In collaboration with Bacofoil® The Non-Stick Kitchen Foil.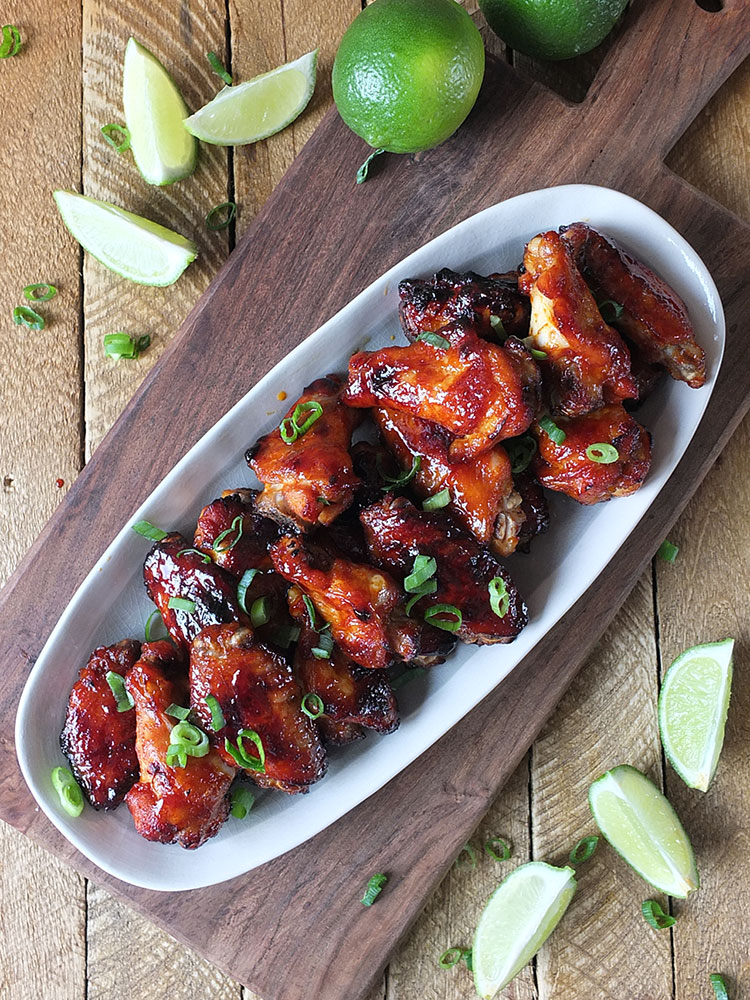 One of the things I really miss about living in Canada is the pub grub. Fiery hot chicken wings, deep fried onion rings, mozzarella sticks and zucchini all washed down with an ice cold brew, or two. Spicy chicken wings seem to be a North American thing because any of the ones I've tried here in the UK (so far) have been deep fried straight out of the freezer. I've stopped ordering them as they're just not the same.
I've since discovered that spicy chicken wings are a cinch to make at home – a few store-cupboard essentials are all that is needed.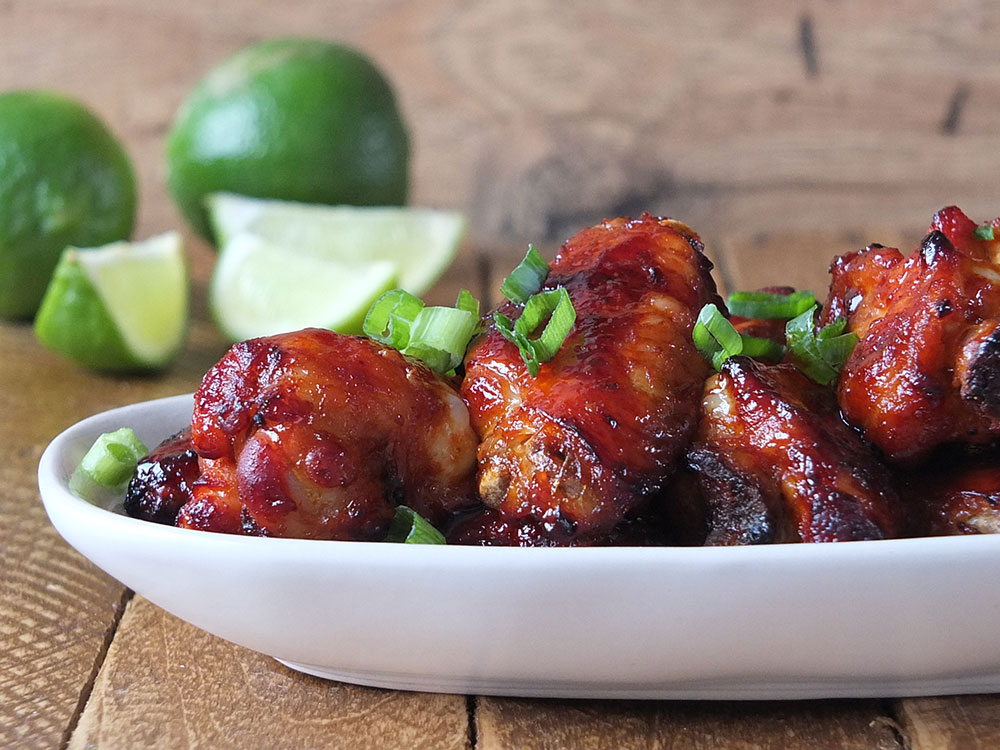 For my recipe, I've used runny honey, sriracha hot sauce and red braising sauce for the main flavours. Red braising sauce is a cooking sauce used in Oriental cuisine. It's a blend of a rich soy sauce base with just the right balance of savoury sweet taste which pairs very well with chicken wings. It also imparts a gorgeous red colour to the finished dish. If you can't source red braising sauce in the Asian food section of your local shop substitute it for dark soy sauce (not light).
I've baked my chicken wings for a healthier option, but baking with such a sticky honey sauce does mean the baking tray can get a bit messy. So, when Bacofoil® approached me and asked me to test a notoriously sticky culprit on their Bacofoil® The Non-Stick Kitchen Foil I knew that these chicken wings would be the perfect dish.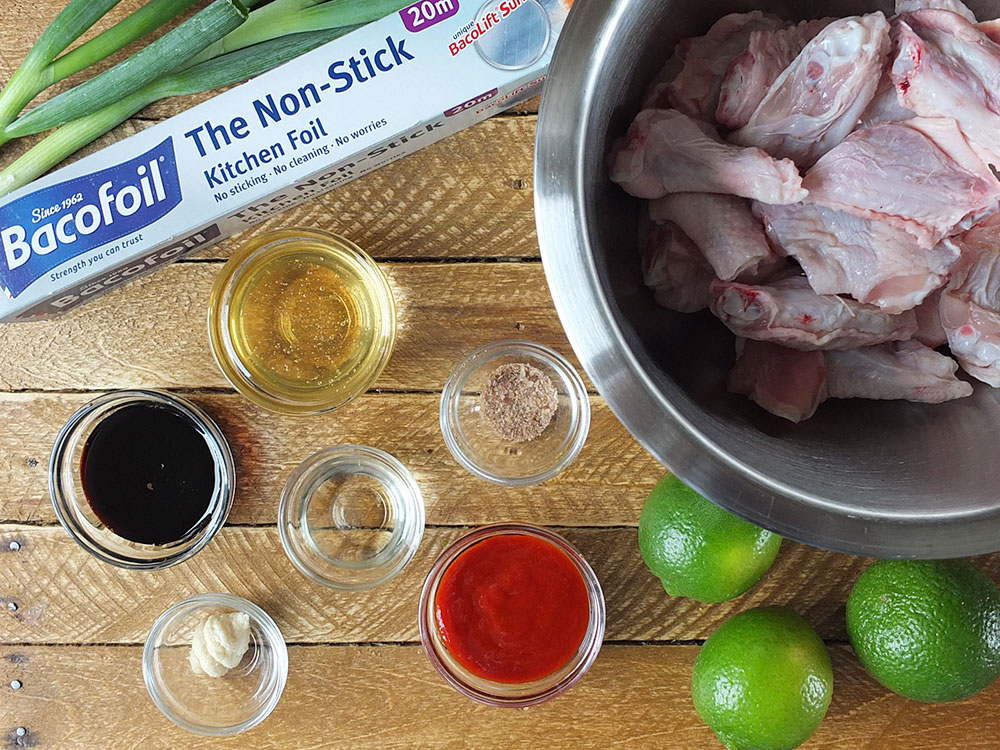 WHAT YOU'LL NEED FOR THESE HONEY-SRIRACHA CHICKEN WINGS
chicken wings – divided into drumettes, wingettes and the chicken wing tips (see below)
runny honey
sriracha hot sauce – this recipe is three chillies hot, reduce by 1 tbsp if you prefer a milder heat
red braising sauce – find this in the Asian food section of your supermarket. Alternatively, use dark soy sauce (not light!)
vegetable oil – sunflower or rapeseed oil work fine
lazy garlic puree – so there are no bits to char
smoked sea salt – to give it a lovely smoky flavour
spring onions – to garnish
fresh limes – cut into wedges to serve. Squeeze the fresh lime juice over the fiery wings and eat. Trust me, it works!
Bacofoil® The Non-Stick Kitchen Foil – because you don't want to be scrubbing your baking tray afterwards! No sticking, no cleaning, no worries!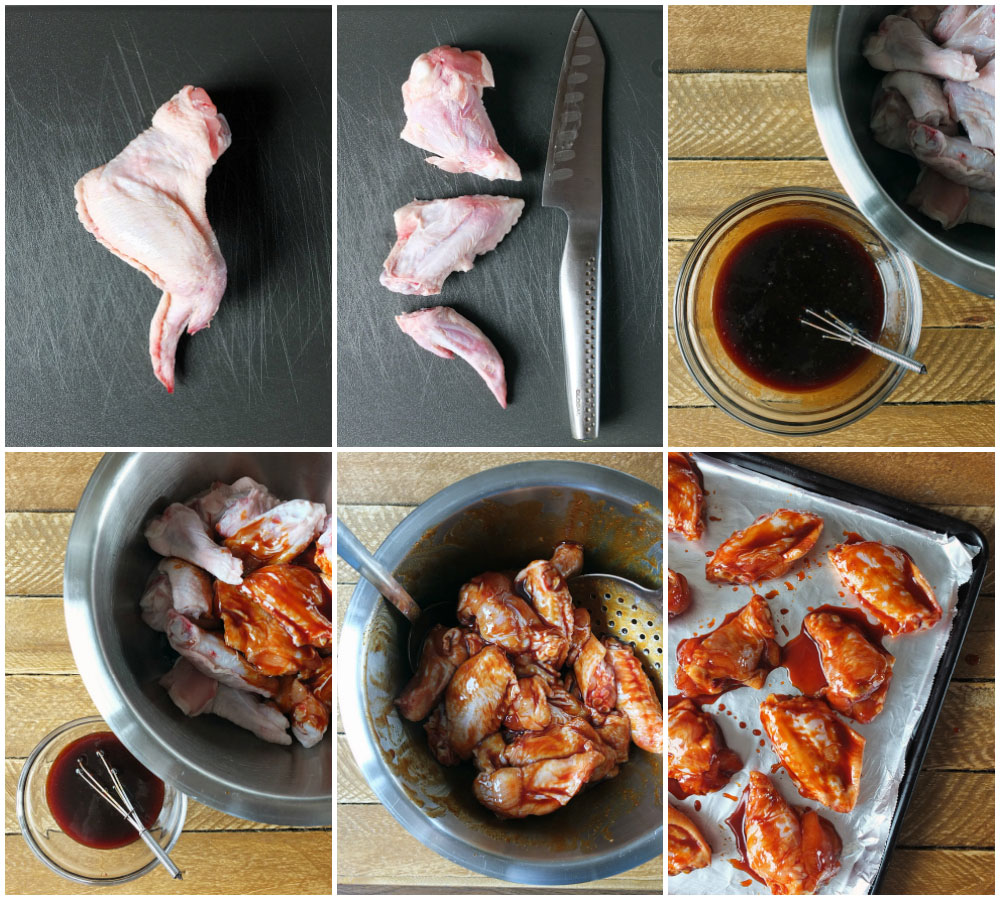 HOW TO MAKE HONEY-SRIRACHA CHICKEN WINGS
Step 1: get yourself some chicken wings.
Step 2: cut each wing into three pieces along the joints: drumette, wingette and tip. Freeze the tips to make into chicken stock at a later date.
Step 3: Mix together the sauce in a small bowl.
Step 4: Pour most of the sauce over the prepared chicken, reserving a little to glaze mid-way through cooking.
Step 5: Toss well to coat. Marinade in the fridge for half an hour.
Step 6: Bake in a hot oven for 25 minutes, turning halfway and brushing with the remaining sauce. Use Bacofoil® The Non-Stick Kitchen Foil (remember to use it shiny side down!) to  stop hem from sticking, making clean-up a breeze.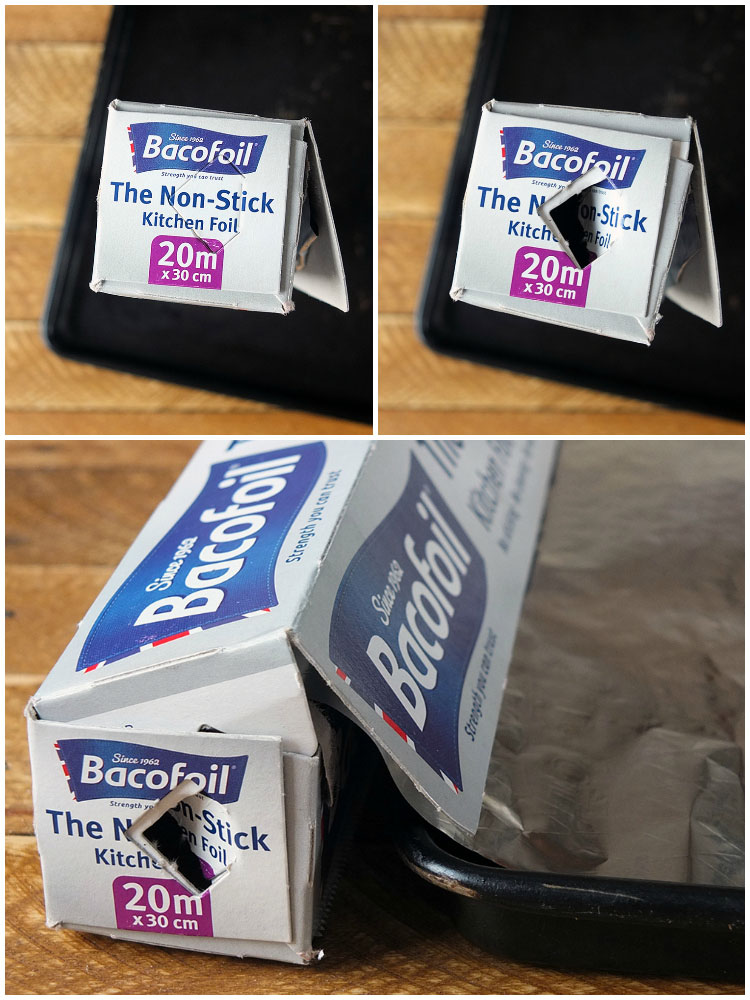 Bacofoil® The Non-Stick Kitchen Foil
Bacofoil® is a very familiar household name with over 50 years' experience. It is trusted by millions of households to help prepare, cook and store food quickly, easily and safely. Their aim is to make life in the kitchen a little bit easier by developing high-quality products that help to solve everyday problems. For example: The Non-Stick Kitchen Foil and EasyCut Dispensers.

TOP TIP WITH USING BACOFOIL® PACKS
Did you know that Bacofoil®The Non-Stick Kitchen Foil (and many of their other products) have a small triangular-shaped perforation on the short sides (see photos, above)? Press that in on both sides and that will keep your roll of foil in place during storage and while you are using it!

Bacofoil® The Non-Stick Kitchen Foil has a unique BacoLift® Surface which makes it non-stick – make sure to remember to cook on the non-shiny side which is the side with the BacoLift® Surface.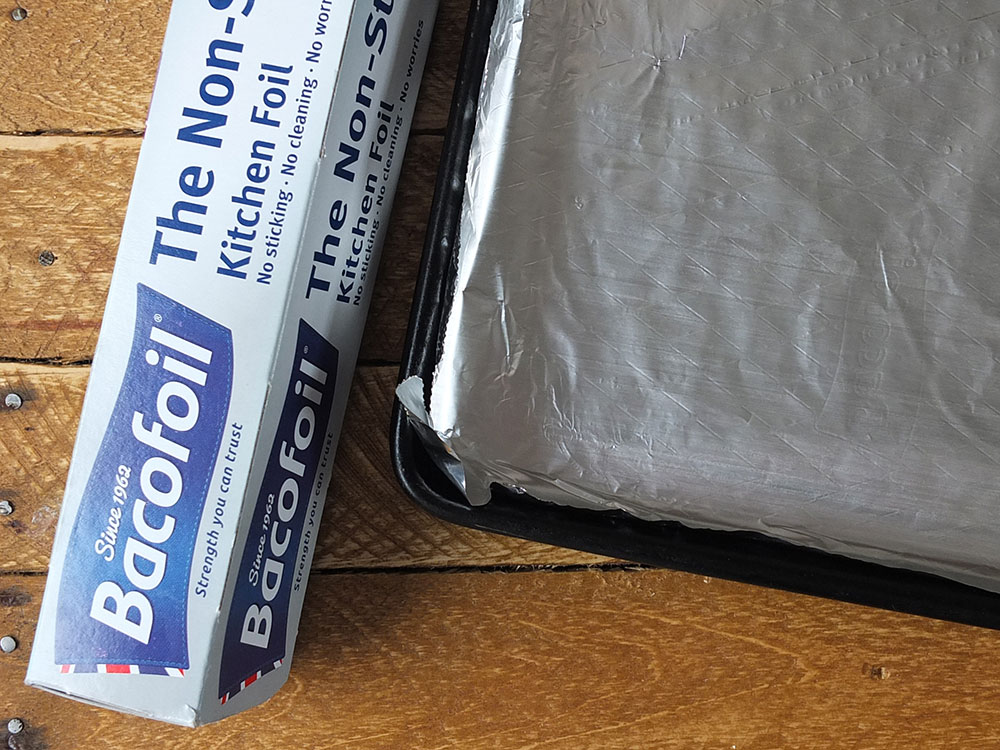 Some of the benefits of Bacofoil® The Non-Stick Kitchen Foil include:
Food looks and tastes like it should as it simply slides or lifts right off the foil (see below, right) – no sticking, no mess!
As it's Non-Stick, there's no need to use oil or butter making it the healthier option.
It's hassle free and it saves on the washing up / clean up – the foil not only protects the tray but because of the Bacolift® surface there's no worry of the food sticking creating holes in the foil allowing juices to seep through.
An everyday essential – so many foods get stuck when cooking that this product will help in the kitchen on a daily basis.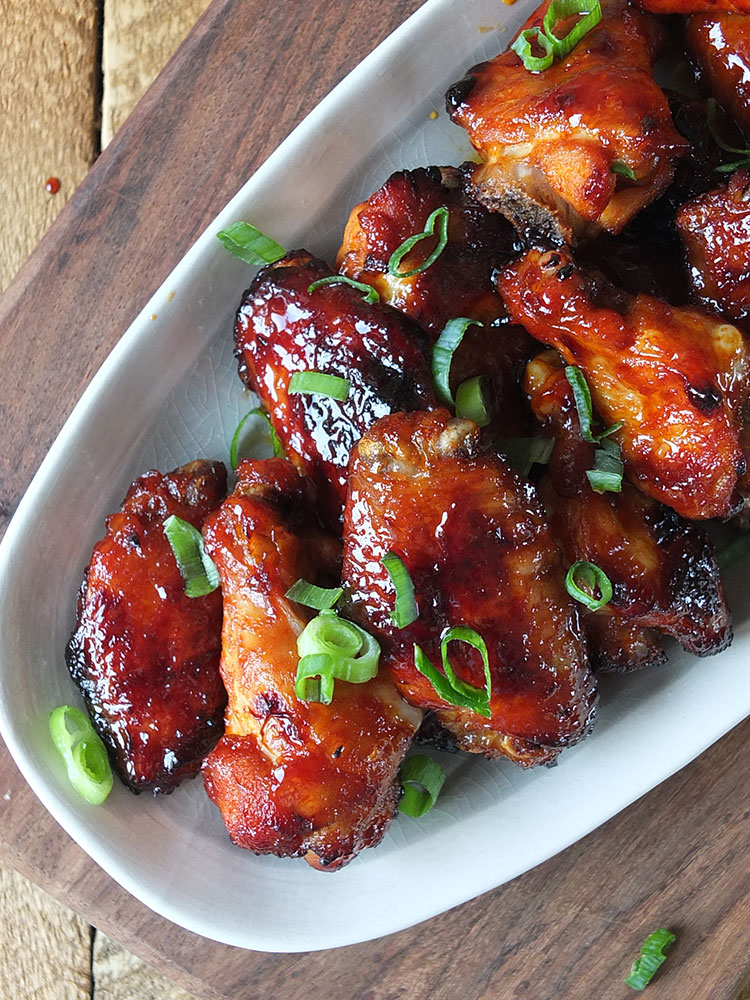 Bacofoil® The Non-Stick Kitchen Foil is available in most leading supermarkets in 5, 10 and 20 metre lengths. For recipe inspiration visit the Bacofoil®website, and don't forget to follow them on Facebook and Twitter!
Do you like your chicken wings fiery hot like me (this recipe is three chilli peppers hot!) or more on the milder version like my husband? Let me know in the comments!
Servings

Prep Time

Cook Time

Passive Time

18

pieces

10

minutes

25

minutes

30

minutes
Servings

Prep Time

18

pieces

10

minutes
Cook Time

Passive Time

25

minutes

30

minutes
First, prepare your chicken wings. Using a large, sharp knife carefully cut the wings at the two joints, dividing them into a mini drumstick, a wing portion and the tip. Freeze the tips for later.

Mix together the honey, red braising sauce, vegetable oil, garlic, sriracha and sea salt in a small bowl.

Mix the sauce in with the chicken pieces, reserving about 50 ml (two tablespoonfuls) for later. Toss to coat well and leave to marinade in the fridge for half an hour or so.

Preheat your oven to 200 C/ 400 F and line a baking sheet with The Non-Stick Kitchen Foil.

Toss the chicken wings to coat again, and arrange in a single layer, well-spaced apart, on the baking foil. Brush the tops with any sauce left at the bottom of the bowl.

Bake, in the centre of the oven, for 15 minutes.

Turn the chicken wings over once and brush with the reserved sauce. Bake for a further 10 minutes.

Arrange the chicken wings on a serving plate, sprinkle with finely sliced spring onions and serve with lime wedges.
Food waste prevention tip: freeze the wing tips to make homemade chicken stock at a later date.
Products from Amazon.co.uk
‹
›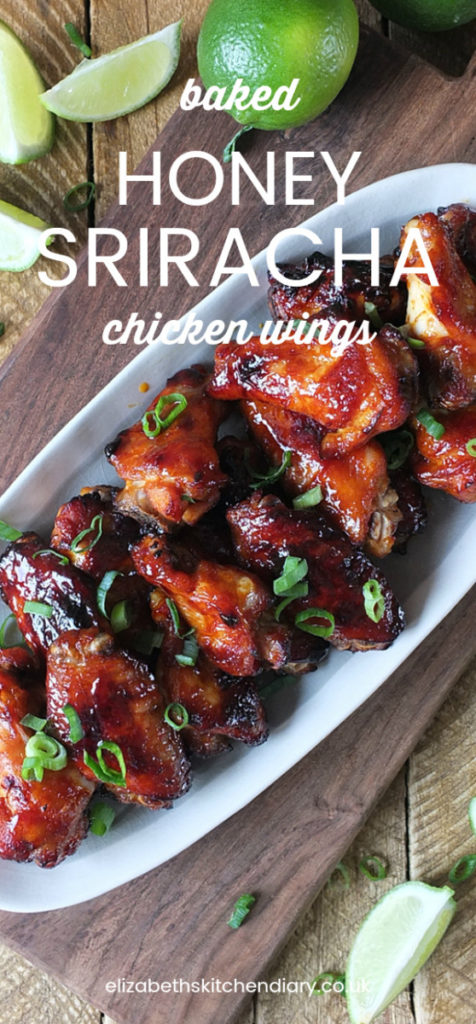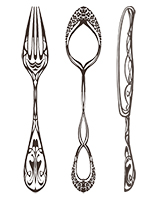 Have you made this recipe?
Take a photo and tag @tangoraindrop or use the hashtag #elizabethskitchendiary and share on Instagram and Twitter. It would make my day to see your creations!
This is a sponsored recipe post in collaboration with Bacofoil. Thank you for supporting the brands who make it possible for me to do what I love: mess up my kitchen and share recipe stories.